It Just Means More
Joe Burrow dropped a classic SEC Guy quote after balling out against the Ravens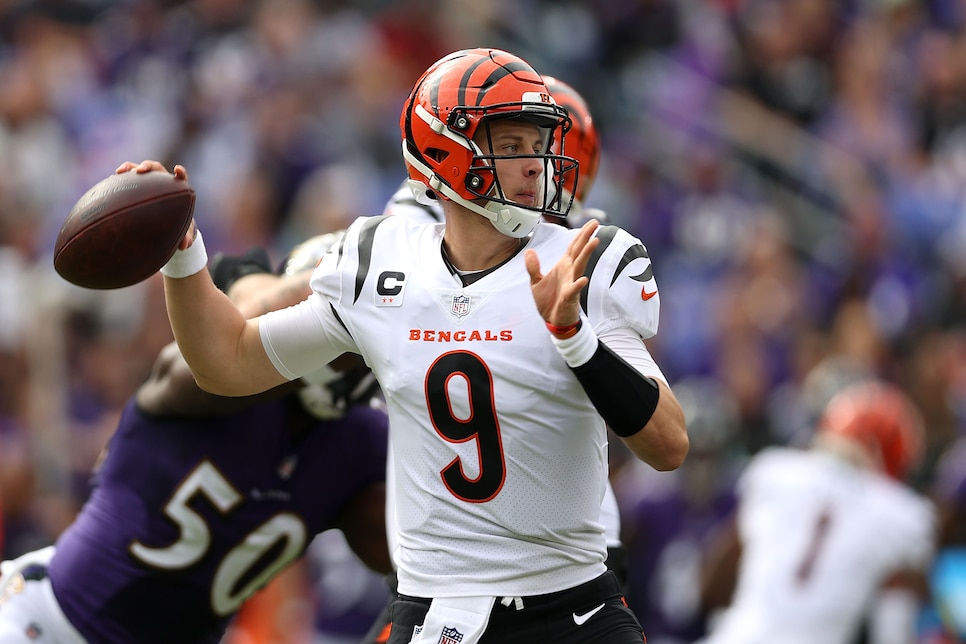 You may have already heard the news, but the SEC just means more. It's not a conference. It's not an athletic organization. It's a culture. It's wind sprinting through The Grove at 5:30 a.m. to get to the tailgate spot. It's shouting "woo pig sooie" in the grocery store. It's breaking down in tears on the Paul Finebaum Show. This isn't life in the SEC. It's just life.
But don't take our word for it, just ask Cincinnati Bengals quarterback and national championship-winning LSU Tiger Joe Burreaux Burrow, who balled out on Sunday, going 23-48 for 416 yards and three touchdowns in a 41-17 beatdown of the arch-rival Ravens. After the game, Peter King asked Burrow if the crowd noise in Baltimore was difficult to deal with, and this is what Off-Broadway Joe had to say.
"We knew that they were gonna be jacked up for us to come in, and expecting to beat our ass. But we were ready for it. Playing in the SEC definitely, definitely helped. Gets way louder in the SEC than in any of these NFL stadiums."
People forget that Burrow made his name in a little cauldron known as Death Valley. And before you say, "well yeah, but that was a friendly crowd," it sure as hell isn't if you're playing crap. It also shows why SEC players always seem to be a couple steps ahead when they arrive in the pros. Take, for instance, Burrow's former college teammate Ja'marr Chase, who reeled in eight balls for 201 yards and a touchdown on Sunday.
Like we said, it just means more.