CFB MVP
By channeling Ed Reed, Caleb Williams won the college football weekend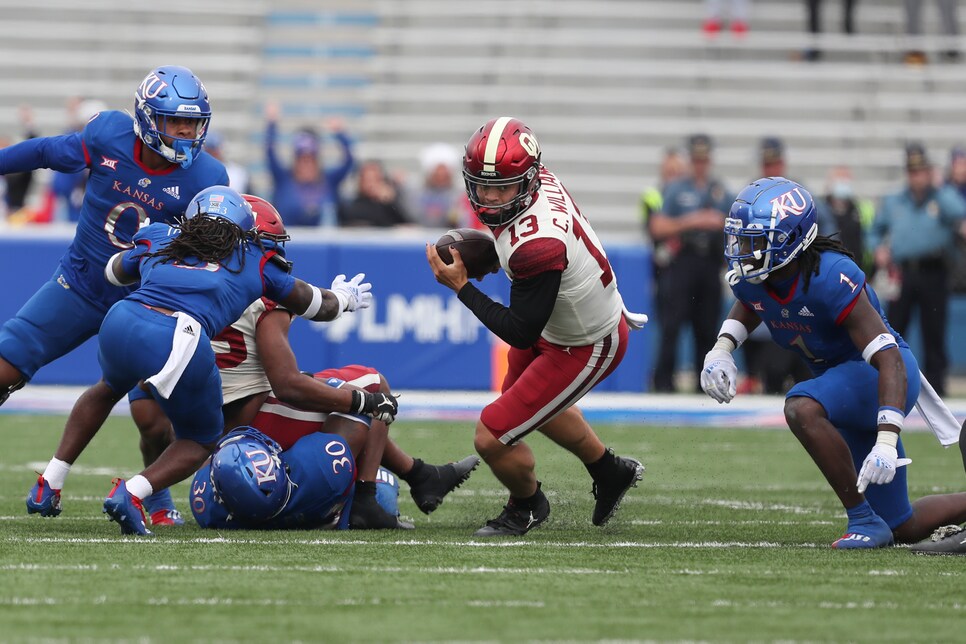 Ever since he subbed in for Spencer Rattler against Texas, Caleb Williams has had the Oklahoma Sooners offense in all-out sprint mode. The freshman quarterback had been so good in his first seven quarters that there was legitimate Heisman buzz heading into the Kansas game, a wild turn of events considering Rattler was one of the preseason favorites to win the award.
That discussion nearly ended entirely when Williams and the Sooners offense scored zero first-half points against... wait for it ... KANSAS. Yes, that Kansas, the same Kansas that had gone 1-17 in its last 18 games, losing 15 of those games against Big 12 opponents. The Jayhawks' only win during that stretch came in the 2021 season opener, a 17-14 squeaker over South Dakota, which caused Rock Chalk fans to storm the field. Reminder: South Dakota is a FCS team.
Yes, THAT Kansas was beating mighty Oklahoma 10-0 at halftime, a score so ugly to look at that it may have removed the Sooners from the playoff conversation. Making it 10 times worse was the fact that it wasn't exactly a hostile environment for OU to play in, to the point that Kansas was actively begging fans on social media to please come see the football team possibly beat the No. 3 team in the country at halftime:
People did, in fact, show up, hoping to see their Jayhawks win a Big 12 game for the first time since October 26, 2019:
Inevitably, the Oklahoma comeback happened quickly. Williams threw two third-quarter touchdown passes, cutting the lead to 17-14 with one quarter remaining. In the fourth, the Sooners scored 14 more unanswered, going up 28-17 with under eight minutes to play. Impressively, Kansas struck again, then had the Sooners in a 4th-and-1 situation at midfield with 3:25 left, trailing 28-23.
Being the offensive wagon they are, head coach Lincoln Riley had OU go for it, a risky play since if it failed, the Jayhawks would be taking over in Sooners territory. That's what appeared to happen when Sooners running back Kennedy Brooks was stoned at the line of scrimmage, which is when Williams intervened, channeling his inner-Ed Reed and winning the college football weekend with one of the cheekiest, heads-up plays in the history of college football:
Mind blown. For those wondering where they've seen this before, the former Baltimore Ravens and Miami legend Reed did it against Boston College in 2001, preserving the Hurricanes' undefeated season:
The key difference in these two plays is that Reed's is technically a backward lateral during a defensive return, which is completely legal. The Williams play was called into question immediately because Williams was in front of Brooks, seemingly making this a forward pass, which would be illegal if they had crossed the line of scrimmage. Brooks never did cross, nor did Williams, making this a legal forward handoff to Williams, which was confirmed at the stadium and later after the game by the Big 12's Coordinator of Officials Greg Burks.
Should it have taken this minor miracle to beat Kansas? Absolutely not, but no Sooners fan is complaining about 8-0, nor are they complaining about the program extending the country's longest winning streak to 16 games. If OU goes on to make the playoff, all anybody will remember is Williams' heroics, not the fact the Jayhawks had them on the ropes. Chin up, Kansas football fans (if you existed before the first half Saturday), it appears there are much better days ahead.
(In this section, we'll dole out helmet stickers for those who *almost* won the weekend.)
Five Helmet Stickers: Mike Leach on Halloween candy
The naysayers will say that Mike Leach is 8-10 so far as Mississippi State head coach. That his act will eventually come tired like it has at his previous stops. That he's not cut out for a SEC program. The rest of us will just kick back and enjoy his musings on Netflix shows and his favorite and least favorite Halloween candy:
National-treasure alert. By the way, not to rush the college football season (we'd NEVER), but the Egg Bowl cannot get here soon enough. It's back on Thanksgiving night this year, and it has the potential to get very, very weird. Lane vs. Leach on Thanksgiving might be where entertainment peaks in 2021.
Four Helmet Stickers: Anyone who bet the Wake Forest-Army over
The closing total was 53 points. Army scored 56 themselves. They lost by two touchdowns. Wake Forest might just be a WAGON, folks. Check out this insane screenshot:
70 points in 17 minutes. Pray 4 the "time of possession" people. The Demon Deacon offense showed you on Saturday that the best way to win might be to possess the ball as little as possible, so long as you score every time you have it in likes 30 seconds. Shoutout to co-worker and Wake alum Alex Myers, who can now say he went to a football school. Deacs are 7-0, ranked 13th in the country and currently the class of the ACC.
Three Helmet Stickers: Matt Araiza
Who is Matt Araiza, you ask? He's the punter for the 7-0 San Diego State Aztecs, and he might just be his team's No. 1 weapon. Feast your eyes on this 81-yard SEED:
Eighty yards in the freaking air. Apparently, this is a regular thing Araiza does, averaging 53.96 yards per punt (!) and amassing 2,428 total punt yards, 61 more than the next-closest punter in nine less punts. Did I ever think I'd Google "NCAA punting stats" in my lifetime? No, but here we are. Araiza deserves the Google search, and based off those stats and that video he might deserve to be taken in one of the first four rounds of the 2022 NFL Draft. He's that good at his job of punting.
Two Helmet Stickers: Tennessee boot man
Negative 8 billion Helmet Stickers/life in prison: The ref who called taunting here
There are literally no words to describe what a travesty this call was. Fortunately, No. 8, Xavier Hutchinson, was able to score anyway a few plays later, but this monster touchdown was taken off the board because Hutchinson ... stutter-stepped? Looked back? Put his hands up after crossing the goal line? I don't know. I just don't know. We've ragged on the refs in this space before, so there's no point in beating that very deceased horse, but man this stuff SHOULD be unacceptable. As long the officials don't have to answer for it, though, it's extremely acceptable.