the legend continues
JoAnne Carner, 84, easily(!) betters her age one more time in U.S. Senior Women's Open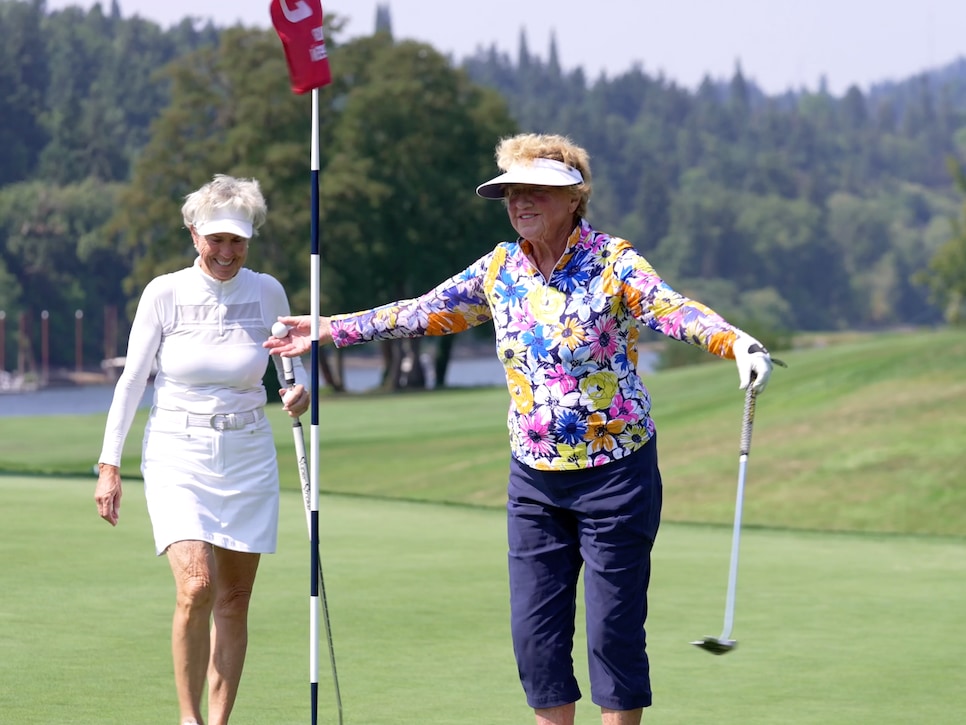 JoAnne Carner, 84, takes a bow after making birdie on her last hole of the first round of the U.S. Senior Women's Open to better her age by four shots. (Courtesy USGA)
JoAnne Carner does it again. The 84-year-old legend who won 43 LPGA titles during her Hall of Fame career, shot eight-over 80 Thursday during the first round of the U.S. Senior Women's Open at Waverley Country Club in Portland, Ore. She topped it off with a birdie on her last hole, the par-3, 123-yard ninth, when she hit her tee shot to two feet.
It is the sixth time that Carner, affectionately known as Big Mama, has shot her age or better since the inaugural U.S. Senior Women's Open back in 2018.
"It felt good," Carner said afterward. "I've been practicing a lot and really kind of spinning my wheels. Then is started to get the move here and had it on the range this morning and the first hole, then I fought it. Once in a while I'd hit one. It was just work all day."
Carner bogeyed her opening hole, the par-4 10th hole, then made double bogey on the 12th hole. But she turned in five-over 41, making a sub-84 round entirely possible. Three straight bogeys on Nos. 1-3 didn't help the cause, but she played the last six holes in even par with four pars, one bogey and the birdie at the last.
Of the birdie on No. 9, Carner said she wasn't aware how close she hit it to the pin. "My eyes aren't that good," she quipped. "But I appreciated the applause. I knew I could finally maybe make a birdie."
Carner won two major championships in her heyday, both at the U.S. Women's Open. She won the 1971 Open at Kahkwa Club in Erie, Pa., by seven shots over Kathy Whitworth and then won the 1976 Open at Rolling Green Golf Club in Springfield, Pa., in an 18-hole Monday playoff, topping Sandra Palmer. She's won eight total USGA championships—adding five U.S. Women's Amateurs and a U.S. Girls' Junior to her two Opens.
The past couple years Carner had hinted that it was unlikely that she'd continue playing in this event. Last year she said, "I think this is finally it." On Thursday, however, after shooting 80 at Waverley and besting her age by four shots she was asked if she thought it was possible to shoot a score even lower.
The answer was simple, and in perfect Big Mama fashion. "Yes," she said. "Yes."