Living legend
This latest USGA record JoAnne Carner set might never be broken, except by JoAnne Carner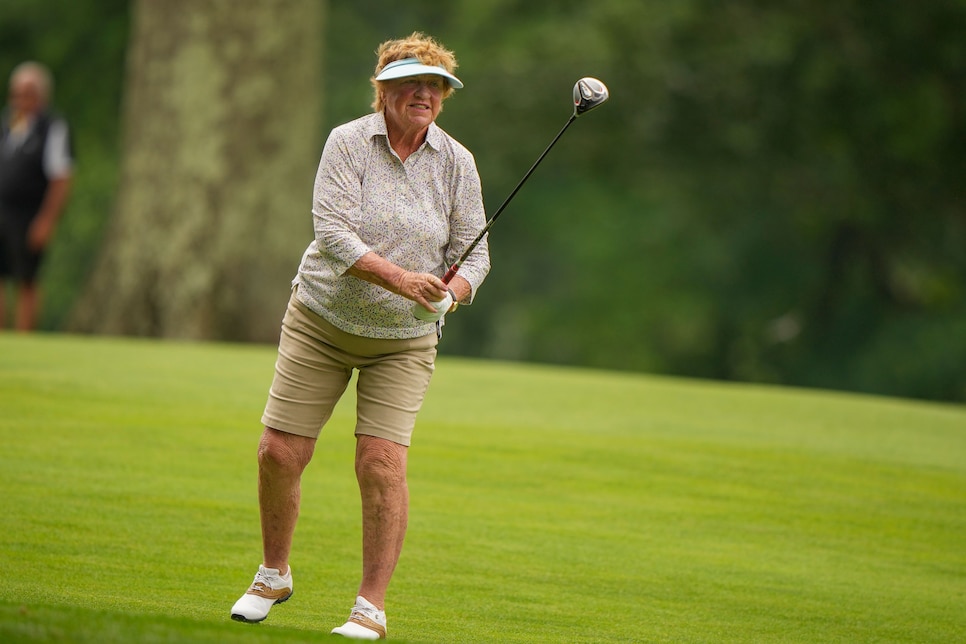 Joanne Carner plays her second shot at the seventh hole during the first round at the 2021 U.S. Senior Women's Open.
Darren Carroll
FAIRFIELD, Conn. — JoAnne Carner might be the coolest 82-year-old golfer you'll ever meet, and she's isn't done adding to her living-legend status.
During Thursday's first round of the U.S. Senior Women's Open, the eight-time USGA champion and World Golf Hall of Famer shot her age, posting a 10-over 82 at Brooklawn Country Club. This was the second time Carner has done that in a USGA championship, having shot a 79 at age 79 at the inaugural Senior Women's Open in 2018.
With the achievement, Carner became just the fifth golfer in history to shoot his/her age or better more than once in a USGA championship. She joined Jerry Barber, who pulled off the feat an amazing nine times; Tom Watson (3); Hale Irwin (3) and Harold "Jug" McSpadden (2).
Carner, who qualified for the Senior Women's Open by virtue of her two U.S. Women's Open titles in 1971 and 1976, accomplished the feat despite suffering from back spasms throughout the round, which inhibited her putting. She hit 11 of 18 greens in regulation but had 36 putts.
"Three-putted a lot," said Carner, who hadn't played golf for 14 months during the COVID pandemic but spent that last two months preparing for the Senior Women's Open, losing 24 pounds in the process. "I made two doubles missing the green. Other than that, it was three-putting."
Despite the struggles, Carner was convinced she could go even lower. And she proved it Friday when she shot a seven-under 79 in the second round to break her age for a third time in a USGA event.
"I was trying to make the cut," Carner said, falling short of that goal by seven shots by finishing a more than respectable T-90.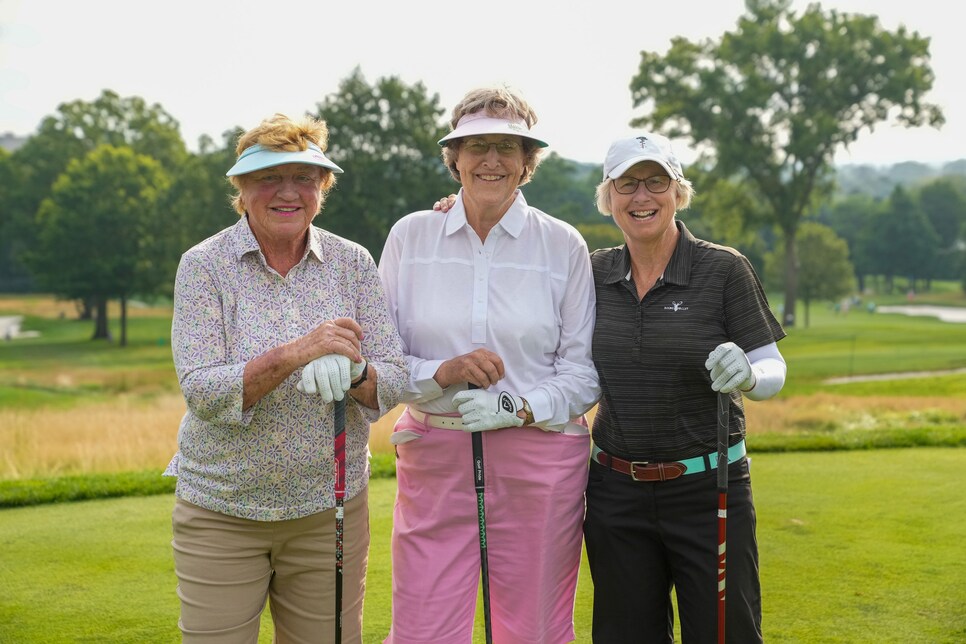 Joanne Carner, Carol S. Thompson and Ellen Port, representing 22 USGA Championship titles between them, at the 12th tee before playing their tee shots to start their first round at the 2021 U.S. Senior Women's Open.
Darren Carroll
"It was really fun," said Carner. "I mean, I started too late. Normally you come in here you're all ready. But, you know, I was still hunting and pecking for some way to get it around there. Just, you know, I would hit a really good shot and then two holes later I would drop-kick it. … was just very erratic for me."
Merely by competing on Thursday, Carner, who uses a golf cart after submitting an ADA petition to the USGA for her chronic obstructive pulmonary disease, broke another USGA record in that she became the oldest golfer to ever compete in a USGA championship. The previously record was held by McSpadden, who was 81 when he played in the 1990 U.S. Senior Open.
Carner has two more years of eligibility left in the Senior Women's Open, so if she returns to play next year at NCR Country Club, or again in 2024, she can push the age record out to a place no other golfer will likely be able reach.