USGA
Fans rejoice, rivals recoil: Annika Sorenstam looked like her old self in her U.S. Senior Women's Open debut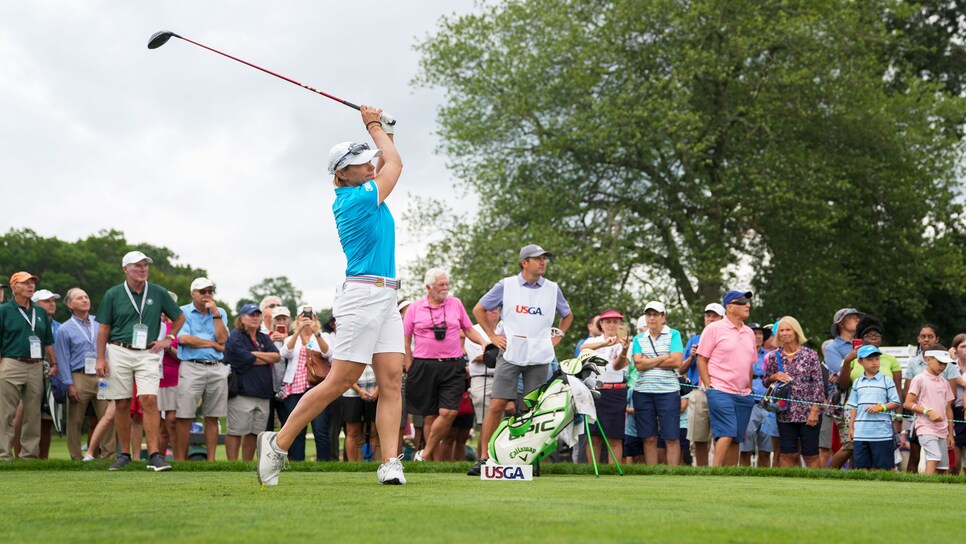 Annika Sorenstam plays her tee shot at the 12th hole during the first round at the 2021 U.S. Senior Women's Open.
Darren Carroll
FAIRFIELD, Conn. — There was a hint of incredulity in Laura Davies' voice as she spoke outside the clubhouse Thursday at Brooklawn Country Club. Davies, the inaugural winner of the U.S. Senior Women's Open in 2018, had just wrapped up an opening one-under 71 to put herself on the leader board in the 2021 edition of the USGA's youngest championship. Still, there was a name above hers, one that hadn't been seen in some time but whom everyone was familiar with, one Davies had watched play 18 holes that morning with a bit of awe and amazement.
"It's like she's never been away," Davies said. "Fairways, greens, putts well, chips well."
She was Annika Sorenstam, who retired from professional golf in 2008, but upon turning 50 last October decided to try her luck inside the ropes once more. An appearance in an LPGA Tour event in January, a Ladies European Tour start in June and a spot in the Lake Tahoe celebrity tournament earlier this month were the competitive buildup for this, a debut in another USGA championship.
And an inspiring debut it was, as Sorenstam turned back the clock, shooting a five-under 67 to take a share of the lead with Dana Ebster, a teaching pro from Modesto, Calif.
"It was very special," said the World Golf Hall of Famer. "Had a few butterflies, to be expected I guess, but it's nice to be back and see some friends in the crowd. Again, just catching up with all players makes for a great week."
Given the competitive spirit Sorenstam displayed for 15 seasons on the LPGA Tour—accumulating 72 wins and 10 majors—it's not all that surprising that upon her return she would make sure she wasn't viewed as a ceremonial golfer. But hitting 16 of 18 greens in regulation?
"I hit some good iron shots," Sorenstam said, the work she'd been putting in the spring and summer back home in Orlando at Lake Nona, often while practicing along with her 10-year-old son Will, coming to fruition. "I thought our distance control was good. We talked well around where to land it and have a good feel."
"I didn't think she'd play that well," Davies said.
"She'd been away 13 years. Not playing tournament golf, it takes away your sharpness. But she's lost none of it."
That's not entirely true. Sorenstam has lost some distance off the tee and with her irons. But her beautifully rhythmic swing remained fully restored. She made five birdies over her first 10 holes, three on par 5s. The lone missed green came on the par-5 11th, although she was only just off the putting surface on the collar. But an awkward lie and a stabby stroke left her with 15 feet to save par, and the putt came up short.
From there, Sorenstam made six straight pars before finally seeing one more fall on the par-4 18th to close out the round.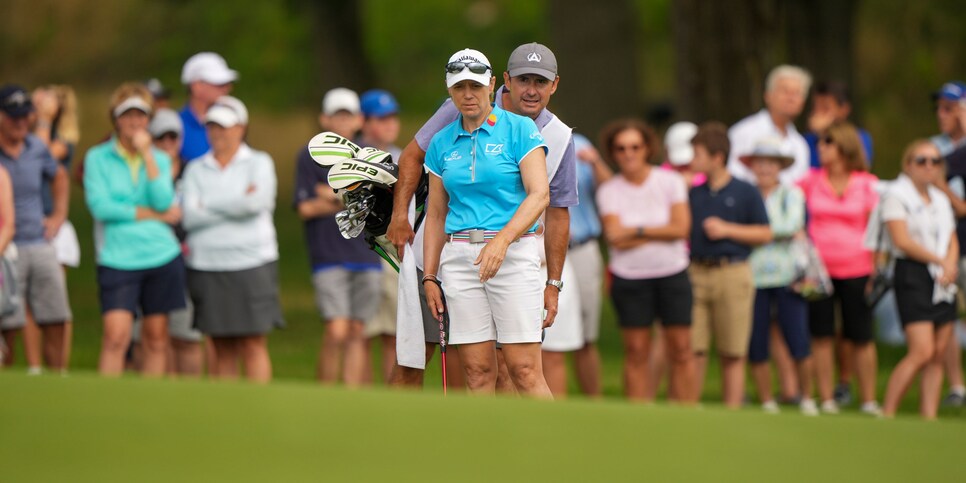 Annika Sorenstam with her caddie/husband Mike McGee on the 11th hole during the first round at the 2021 U.S. Senior Women's Open.
Darren Carroll
Sorenstam was her usual even-keel self after the round, anxious to share the details with Will on the phone (he's coming on Friday to be able to watch in person). The legend was not overly excited about what she'd accomplished but at the same time satisfied.
"Yeah, I enjoy being out here. It's nice to see a crowd, and I think playing with Laura and Lotte [Neumann, who shot a two-under 70 herself], that reminded me a little bit what used to be. But other than that, I mean, it is different. My mindset is different. What I like about being a little older and being away from the game is I can forget about bad shots quickly. Before I couldn't. I would hold onto them for a while and they would beat me up. Now it's like, 'OK, just move on.' When you don't play a lot you're going to hit a fat shot. You're going to hit it to the right. So, you know, just go find it and make the most out of that."
The scary part for the other 119 players in this week's field? Sorenstam missed at least four birdie tries from inside 10 feet. If a few more of them drop, Sorenstam could make everybody wish she'd never decided to return. Or at least everybody that is trying to beat her.