U.S. Senior Women's Open
A unique motivation is fueling Annika Sorenstam's first USGA start in 13 years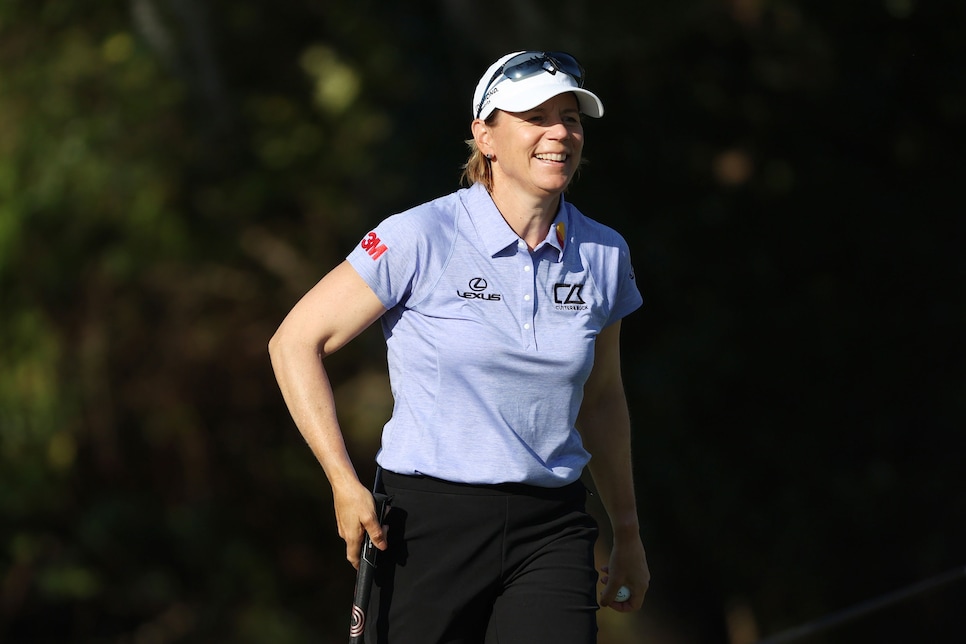 Thirteen years since retiring from the LPGA Tour, Annika Sorenstam is still one of the most recognizable names in the game of golf. The decision to spend time with her family and chase other pursuits in the sport hasn't prohibited the 72-time LPGA winner from maintaining her upper echelon status from outside the ropes. The World Golf Hall of Famer launched the ANNIKA Foundation in 2007, operates businesses in multiple facets of the game, from clothing to course design, and became the first female president of the International Golf Federation at the start of 2021.
Yet the competitor in Sorenstam never waned, which makes her debut at this week's U.S. Senior Women's Open, for which she became eligible upon turning 50 last October, both a foreseeable turn of events and an intriguing one at the same time. When the three-time U.S. Women's Open champ tees it up Thursday at Brooklawn Country Club in Fairfield, Conn., it will be her 18th career USGA championship, but the first since holing out a walk-off eagle from 199 yards on the 72nd hole of the 2008 U.S. Women's Open at Interlachen.
"Honestly, I didn't think I'd get another chance to play in a USGA event," Sorenstam said. "This one wasn't even around when I retired [the Senior Women's Open was only added to the USGA calendar in 2018]. So it's very exciting."
The two biggest questions facing Sorenstam are also foreseeable and intriguing: How will she fare against her former peers and will this be a one-time appearance of something she'll work into her schedule for years to come?
"I want to commit to the USGA, who has been so good to me throughout the years," Sorenstam said of the latter. "[The 1995 Women's Open] was my first win on the LPGA, so I wanted to be part and support this event. Then we'll see. It's like anything. Where do you want to spend your time, what's important? We'll see how it goes, how I feel at the end of the year."
How she feels may well have a lot to do with how she finishes this week. She's played in a handful of tournaments in 2021 to try and knock off the competitive rust. With memories of her dominant play in the 1990s and 2000s, it's not hard to envision her name on the leader board this week. But that's also asking a lot from a player who is far different from her former self.
"I'm trying not to put any expectations on myself," Sorenstam said last month, acknowledging she's lost a little length and accuracy over the years. "I just want to let things play out and enjoy the experience."
In contemplating her future, Sorenstam is weighing the time the commitment to playing takes versus the benefit to the presence playing gives her in the sport. Her priority remains with her family and being a mom to her kids Ava, 11, and Will, 10. Unlike her LPGA career when golf was the only thing on her mind, Sorenstam has been able to squeeze roughly two hours of practice a day over the last few months ahead of this week's championship. She's only seen her swing coach once in preparation.
"I can get back on the bike," Sorenstam said. "But you don't just enter the Tour de France."
Sorenstam's stature as an all-time great in the game is secure. But by competing again, even in a limited capacity, she believes her connection with current players and teens who she serves as a mentor to is recharged.
"It makes me a little more relevant when it comes to my foundation and working with these young girls," Sorenstam said. "Now I can talk about what it is inside the ropes, and not I used to do this, and used to do this. Now I'm doing it, right? It's a little bit more."
Sorenstam played in four tournaments this year to prepare for the Senior Women's Open. She teed it up in the celebrity portion of the Diamond Resorts Tournament of Champions in January, then made her first official LPGA start in 13 years at the Gainbridge LPGA in February, where she impressively made the cut before finishing 74th. In June, she competed in the Scandinavian Mixed on the Ladies European Tour, which she also hosted with Henrik Stenson (she missed the cut), and finished fourth earlier this month at the American Century Classic. Her decision to play as much as she did to prepare for another USGA championship came from the words her father, Tom, taught her growing up. "My dad told me a long time ago there is no short cuts to success," Sorenstam said. "You really got to put in the work. Sunny days, rainy days, days you're tired, you got to do that."
The tournaments, meanwhile, provided plenty of evidence of the value of her presence as an active player. Sorenstam was grouped alongside Nelly Korda at the Diamond Resorts in the second round. The 22-year-old alum of the ANNIKA Foundation walked off the course in awe of Sorenstam's play.
"It was really cool, honestly," Korda said. "She still has it. She has her touch around the greens. It was honestly surreal."
At the Gainbridge LPGA at Lake Nona Golf Club, where Sorenstam lives in Orlando, the tour grouped her with fellow swedes Madelene Sagstrom and Anna Nordqvist. Sorenstam's aura amongst current players remained as bright as ever, with Nordqvist hiding no excitement about playing alongside the 10-time major champion.
"I admire her so much," Nordqvist said, "And just to see her in person playing, I know she hasn't been practicing too much, but you can tell the level she's been at. This is going to be definitely one of the more memorable rounds in my career."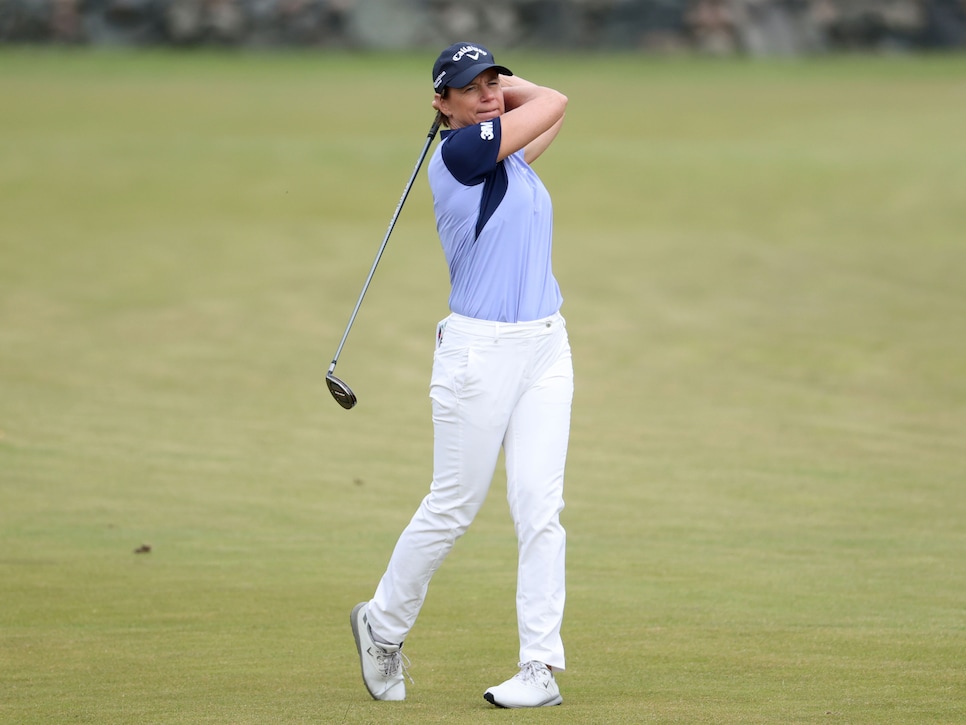 Sorenstam has played in four events in 2021 in preparation for her U.S. Senior Women's Open debut.
Warren Little
Sorenstam noticed the benefit to her presence, too. "I'm more alive with them," she said, "I'm more active, I'm more relevant, rather than saying this is how I used to do. That was 13 years ago. Now I can say I'm in the mix."
One of the most important parts of the Gainbridge LPGA was the impact it had on her family. Her play only helped fuel her son Will's passion for the game. Each night, he would strategize with her how she should play each hole. Throughout Sorenstam's preparation for her return to USGA play, Will has been his mom's practice partner, with Sorenstam's husband, Mike McGee, dropping him off after school.
"He challenges me," Sorenstam said. "I help him along with his journey. The memories we have, it's so, so much fun. I feel like I'm being a mom at the same time I'm working on my game, it's really a good thing. We have so much fun."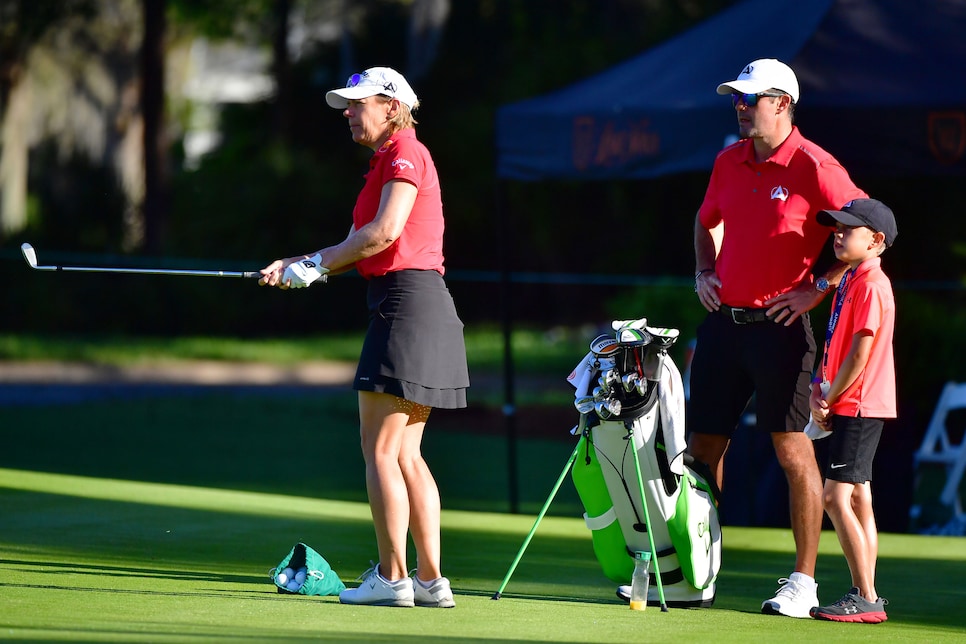 Annika Sorenstam practices her chipping with her son, Will, and husband, Mike, looking on prior to the final round of the Gainbridge LPGA in January.
Julio Aguilar
Will takes Sorenstam on in putting and chipping competitions, and recently had his mom caddie for him in mid-July on the Tahoe Truckee Junior Tour. Sorenstam's presence in golf is one of her greatest tools to teach her kids how to succeed, with words for them echoing her father's advice to her.
"I want them to know what it takes to be good at something, right?" Sorenstam explained. "You don't look up and just end up where we are. It takes a lot of commitment and sacrifices to achieve what you want to achieve."
The biggest reason Sorenstam walked away from competitive golf might end up being her greatest reason to stay.