Gainbridge LPGA
Annika Sorenstam enjoyed her first LPGA start since 2008, but says she won't be playing another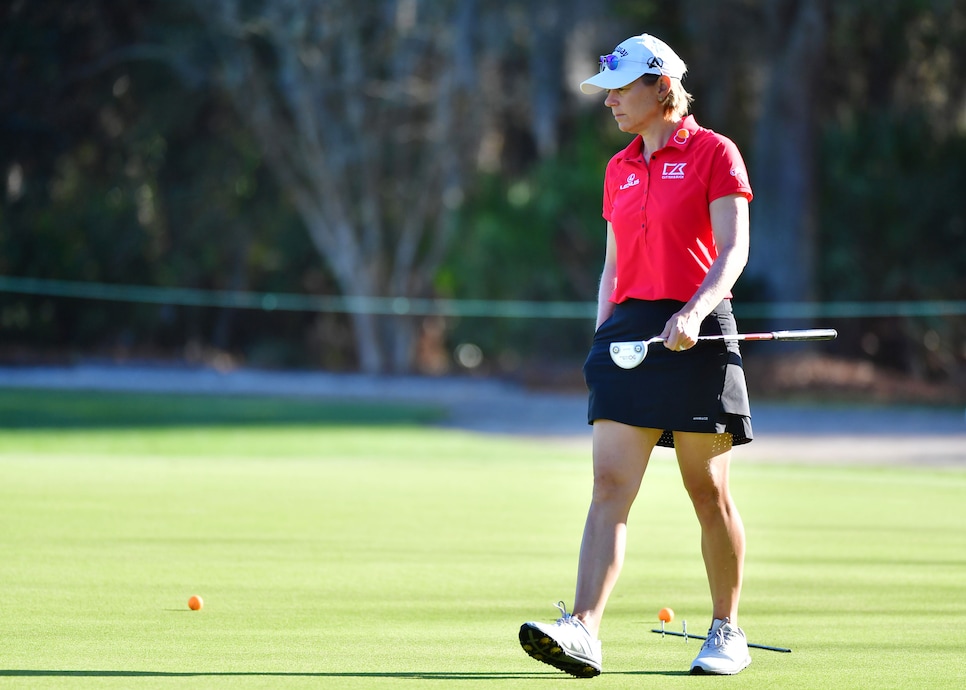 Annika Sorenstam finished 74th at the Gainbridge LPGA in her first tour start since the 2008 CME Group Tour Championship.
Julio Aguilar
Annika Sorenstam hadn't expected to play the weekend at the Gainbridge LPGA. On Friday afternoon, she said that she had been planning to take her daughter, Ava, to volleyball practice on Saturday.
Had volleyball not been canceled, Ava would've had to find a ride from someone else, as her mom made the cut in the first LPGA event she played since retiring in 2008.
In the end, Saturday and Sunday didn't necessarily turn out the way the 50-year-old World Golf Hall of Famer had hoped, rounds of 79-76 dropping her to 74th, 29 shots back of winner Nelly Korda, after opening with a 75-71 to make the cut on the number at Lake Nona, her home course. It was a case of too many bogeys, missing on the wrong side of the green too frequently, something the 72-time LPGA winner did not do often in her prime.
Still, Sorenstam had an upbeat attitude after her first start in more than 12 years on tour.
"I'm just thankful for being here, playing here and being able to make the cut," Sorenstam said. "I never gave up, even though it was not really going my way and I wasn't hitting as well as I should be to be out here. The purpose was to get some tournament rounds, and I did that."
Indeed, from the start Sorenstam acknowledged this wasn't a comeback so much as a tune-up, the thought being to assess her game and get in some reps before the U.S. Senior Women's Open in August, which Sorenstam has not committed to playing in yet but has her eye on.
Sorenstam said that she had players on tour come up to her during the week, offering to play competitive rounds with her. With the number of LPGA players who live around the Orlando area, Sorenstam could have a good roster of competitive playing partners to help continue to get her game in tournament shape.
As for the possibility of playing another LPGA Tour event, Sorenstam said no.
"There is a part of me that always felt you can do this and then you come out here and you realize it's just a different time in my life," Sorenstam said on Sunday. "My level of golf is not where it needs to be. I know I don't have the motivation to get there. I don't even know physically if it's possible.
"And that's OK. I'm pleased with that. I'm happy where I am. It's taken a lot of courage to come out here and I applaud myself for that. I need to work harder and I don't know if I have that and I don't really know if I want to do it."