LPGA Tour
Annika Sorenstam comes away encouraged after playing her first LPGA round since 2008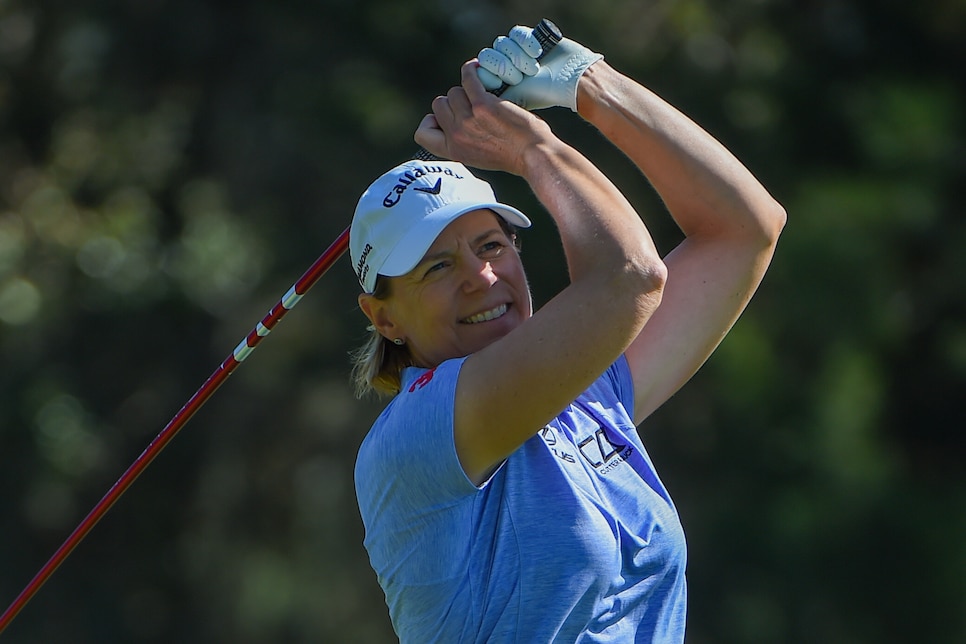 More than 12 years removed from her last official tour start, Annika Sorenstam teed it up once more in an LPGA event on Thursday, shooting a three-over 75 in the opening round of the Gainbridge LPGA.
Eyeing a possible start in the U.S. Senior Women's Open this summer, the 50-year-old World Golf Hall of Famer was seeking tournament reps and picked this event in Orlando for a simple reason: she lives on Lake Nona, the host course. That allowed her to make her return with her parents and children proudly watching.
Though Sorenstam said her game lacks the automatic quality she had when she was dominating the tour—winning 72 times between 1995 and 2008—her scorecard had only one major blemish. It was a triple bogey on the par-4 fifth hole, which included a drop for an unplayable lie and a three-putt.
"Score-wise, I would've loved to have to have been a little better," Sorenstam said. "You know, if I look at it objectively it's one hole that really messed it up."
The rest of her round included 15 pars, one birdie and one bogey. Sorenstam stands T-77, 10 shots back of leader Lydia Ko, but to make that many pars in a tour event, you have to be doing something right.
Sorenstam struck it well in her first round since the 2008 ADT Championship, and her driving distance wasn't lacking compared to the field. She averaged 240 yards off the tee on Thursday. Granted that was 37 yards less than the longest hitter playing, Anne van Dam. But it was only five yards less than Ko. Sorenstam hit nine of 14 fairways and 12 greens.
"Overall I hit some fairways, hit some greens," Sorenstam said. "Of course, I could have been more aggressive on the putts. I could have been more aggressive on some of the iron shots. But I'm at point in my life now where it's not automatic. I don't stand there and it's not going … it's not a pin seeker the way it was. Now it's more, 'OK, I'm a green seeker.' "
On the greens that she did miss, she recovered with some chip shots that left her playing partners wanting lessons.
Sorenstam was in a group with fellow Swedes: defending Gainbridge champ Madelene Sagstrom and two-time major winner Anna Nordqvist.
"Her wedge game is so stupidly good still," Sagstrom said after the round. "I'm going to get some advice and then go from there."
After 18 holes, Sorenstam is one shot off the cut. She left the course knowing that on Friday she needs to be more aggressive, especially with her putts.
"My goal was to shoot level par or better," Sorenstam said, "so I have a lot of work ahead of myself."