Be Right
The Watt brothers argue over the same thing we all argue over in weekend golf matches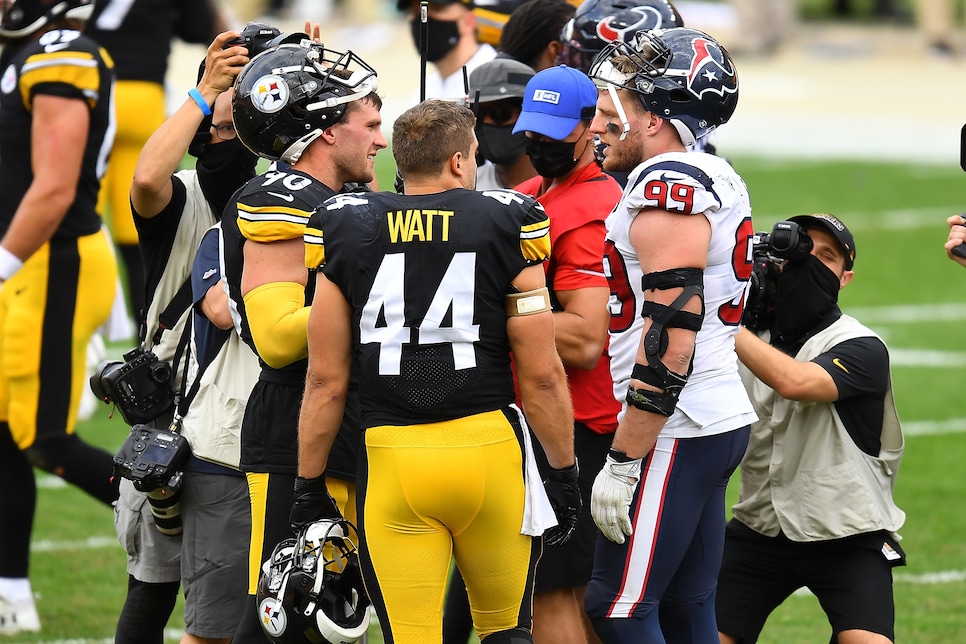 Since childhood, the Watt brothers (J.J., T.J. and Derek) have been competing with each other in some capacity. That has turned them into arguably the most successful siblings to ever grace an NFL field (non-Manning division), with J.J. and T.J. combining for four total Defensive Player of the Year awards and Derek entering his seventh year as a pro at one of the toughest, most-thankless positions in the sport: full back.
To the surprise of no one, that cutthroat competitiveness carries over from the field into just about everything else they do in life, golf included. All three have taken up the game in the last few years, with J.J. being the most experienced of all. That experience has earned him a spot on the TNT team for Capital One's The Match, which is set to take place on Wednesday at Wynn Golf Club in Las Vegas, Nevada. Tom Brady will team up with Aaron Rodgers against Patrick Mahomes and Josh Allen in a 12-hole match, which will begin at 6:30 p.m. ET on TNT with simulcasts on truTV and HLN in the U.S.
Watt, now 33 and entering his second season as a member of the Arizona Cardinals, will be joined by Ernie Johnson, Charles Barkley, Trevor Immelman and Amanda Renner in calling the action. Luckily, he's coming off one of his best rounds to date, so he plans to sound like he knows what he's talking about.
"I've shot in the 80s twice in my life," said Watt as our guest on this week's episode of Be Right. "So I feel like my golf expertise is really going to come into play here."
One of those rounds in the 80s, an 89, came just last week (his career-low is 87, which came last year). "Very happy with it. Going in the right direction. I'm now more consistently in the 90s, mid-90s, which is great," he added.
The bad news for Watt? A low round means one thing: your friends, and your other two gigantic NFL brothers, are going to want shots in your next match, and they are going to get them by any means necessary.
"I'd say the biggest thing we argue over by far is who is giving who how many strokes," Watt said. "We have a group chat of my brothers and I and probably six of our best friends from back home, and we have a set of rules that we all play golf by. So even if we're in different states we know that if you send in a scorecard we know that's a legitimate score. So you're always kind of like—like that 89 I shot last week, I'm excited to send in the scorecard because I want them to see I shot an 89, but I'm also pissed because now I know when I go play with them next weekend, they're going to ask for eight strokes from me, and I don't feel like giving them eight strokes. So it's just a haggle session, negotiating tactics, and somebody is inevitably going to be pissed. We're just like everybody else."
Yep, sounds like literally every other group of friends that has ever played for money before. The first tee often doubles as a courtroom, with opening and closing arguments, followed by a group verdict.
During our full chat with J.J., we also discussed his post-retirement plans, which QB from The Match he's enjoyed sacking most (hint: all of them, except one), and much more. We also had a fun chat with Immelman, the 2008 Masters winner-turned commentator, and made picks for The Match, this week's Memorial Tournament on the PGA Tour, and the U.S. Women's Open. Please, have a listen to the full episode below: