Sentry TOC
Why J.J. Spaun has his wife to thank for his opening-round 64 at Kapalua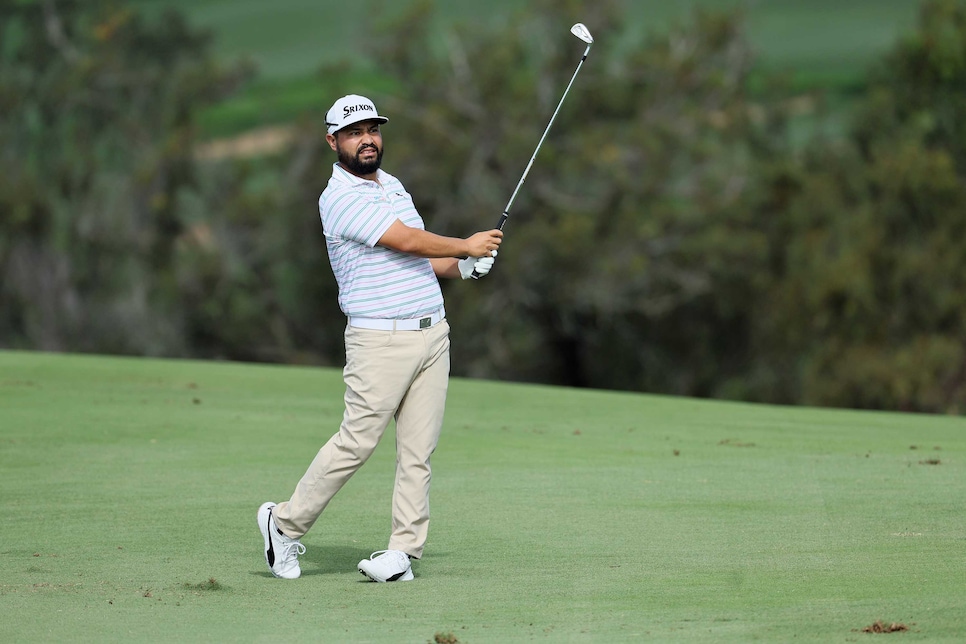 KAPALUA, Hawaii — Melody Spaun gave strict instructions to her husband J.J. upon their arrival Saturday in Maui. In the process, she might just have changed how he prepares for tournaments in the future.
Though making his debut this week in the $15 million Sentry Tournament of Champions and needing to acquaint himself with the Plantation Course at Kapalua Resort, J.J. adhered to his wife's instructions to keep his practice sessions limited to five hours a day. Although not playing particularly well in his last outing, the QBE Shootout in December, as he works on a couple of swing adjustments, he diligently kept the, uh, harmony with Melody and dutifully obeyed her wishes.
In turn, Spaun shot a nine-under 64 Thursday for a share of the first-round lead with a pair of major champions, Collin Morikawa and Jon Rahm.
"I have a 2-year-old and a wife, yeah, so beach and just being a dad, having fun, Mai Tais, chilling at the beach," the affable Spaun said about his pre-tournament itinerary the last few days. "I was only allowed five hours a day by my wife. But it was good. Maybe I should stick to it … because sometimes I can get like stuck out here for a long time."
In other words, the Melody-imposed time limit in the days leading up to the opening PGA Tour round of the 2023 forced him to focus and be more efficient.
"So, it kind of makes me productive," said Spaun, 32, who won his first tour title last spring at the Valero Texas Open, earning his spot in the 39-player TOC field. "I don't mess around and fraternize or socialize with everyone. Kind of just do my thing. Get it in there and get out."
Ranked 85th in the world, Spaun hit 17 of 18 greens in regulation and didn't make a bogey on Thursday, so he is going to have a difficult time convincing his bride that he'll ever need more time to get ready for competitive golf down the road. He seemed to accept that, though he thought she might allow him some leeway.
"I'm like maybe [I'll need] five hours, if I know my game is like really good. Which, I felt confident where I didn't need to be searching or grinding on too much stuff," he said of his pre-tournament work. "It's going to be hard. She said, 'Well, yeah, if you start missing some cuts we can adjust, we can add a couple hours there.' These are the conversations I have. I'm not even joking. I mean, this is how, our marriage ... we don't, you know, it doesn't get too sideways. Happy wife, happy life."
That cliché never seemed more apropos.