Crunching the Numbers
The unlikely story of the greatest putting day in modern PGA Tour history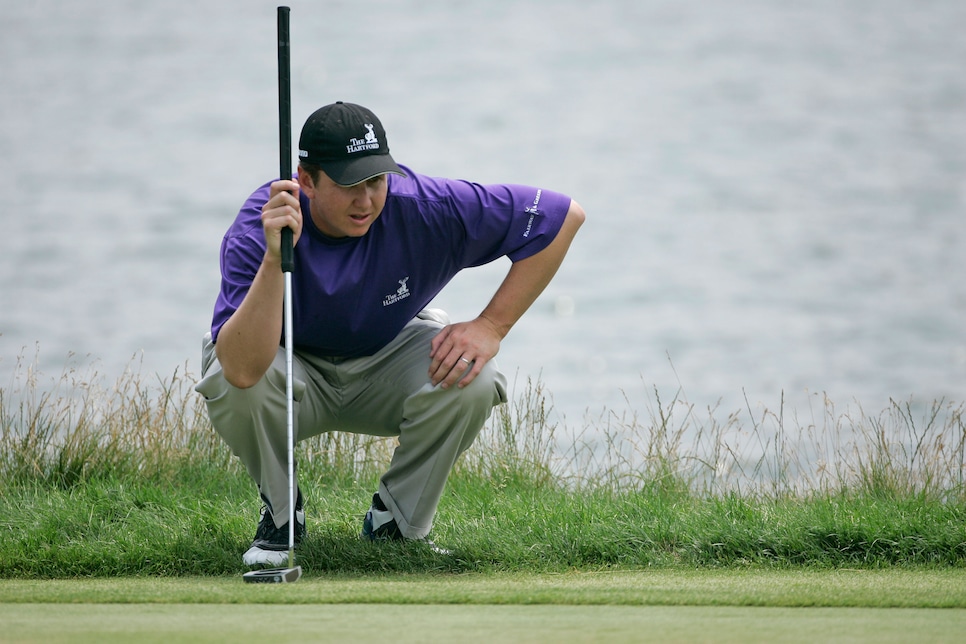 Last fall, on a Saturday at the RSM Classic, Denny McCarthy's putter caught fire. Not literally, of course, but if it had become engulfed in flame, it wouldn't have surprised those watching. On the back nine (his front) of Sea Island's Seaside Course, the 28-year PGA Tour pro shot a 29, and in the process made putts of 28 feet, nine feet, seven feet, 31 feet, 23 feet and 23 feet again before finishing his torrid stretch with an 11-footer for birdie on the first hole. By the time it was over, McCarthy had gained an astounding 5.56 strokes on the field on the greens alone. And a question emerged: Did he have a chance to set the single-day strokes fained/putting record?
The PGA Tour's Jack Ryan dusted off the record books: In the strokes-gained era, dating back to 2004, the single best one-round putting performance belonged to J.J. Henry, who accumulated 8.36 strokes gained on the field during the second round of the 2006 FBR Open (today the Waste Management). That was almost a full stroke better than anyone else, ever. By comparison, in order for McCarthy to catch Henry's record, he would essentially have to duplicate his absurd back-nine performance on the front. And even if he somehow managed it, he'd still just barely catch Henry.
For the novices, "strokes gained" is a metric of how much better or worse a player performs against the field for a given round, tournament or season. Specifically, strokes gained/putting isolates that number to just the greens. It's a stat that is relative to the other players, and which is somewhat luck dependent; it rewards long putts, and while those putts still have to go in (which is hard enough), a truly historic round relies on having more than a few long attempts in the first place.
McCarthy never caught Henry, of course—even for a great putter like the former U.S. Amateur runner-up, the odds against McCarthy's nine-hole stretch were enormous. And to do it again on the same day would have required an impossible combination of skill and luck.
But it left us with another question: What the hell happened with J.J. Henry that Friday at TPC Scottsdale 16 years ago?
When reached by phone at his home in Fort Worth last month, Henry, a 46-year-old three-time PGA Tour winner who joined the tour in 2001, first had a question for us:
"So, some guy that's renowned as a really good ball-striker and a marginal putter has the best strokes gained/putting day of all-time?"
His laughter gave him away. In fact, someone had told Henry years ago that he owned the mark. And my biggest fear, which was that the Connecticut native wouldn't remember a thing about an isolated round so long ago, was unfounded. He remembered it well and was happy to talk about it. On a group text with friends, he had just shared a video from that day, and he wrote, "winners win, boys. Here's when double-J used to be able to putt with that belly putter." Earlier, he had shown his teenage son, telling him, "Watch this. Your daddy could putt with the best of them back in the day."
(Henry was steadfastly self-deprecating in our conversation, but though it's true that he was never among the game's best on the greens—his best SG/putting finish was 55th in that 2006 season—it's also true that in his prime, he was rarely worse than average.)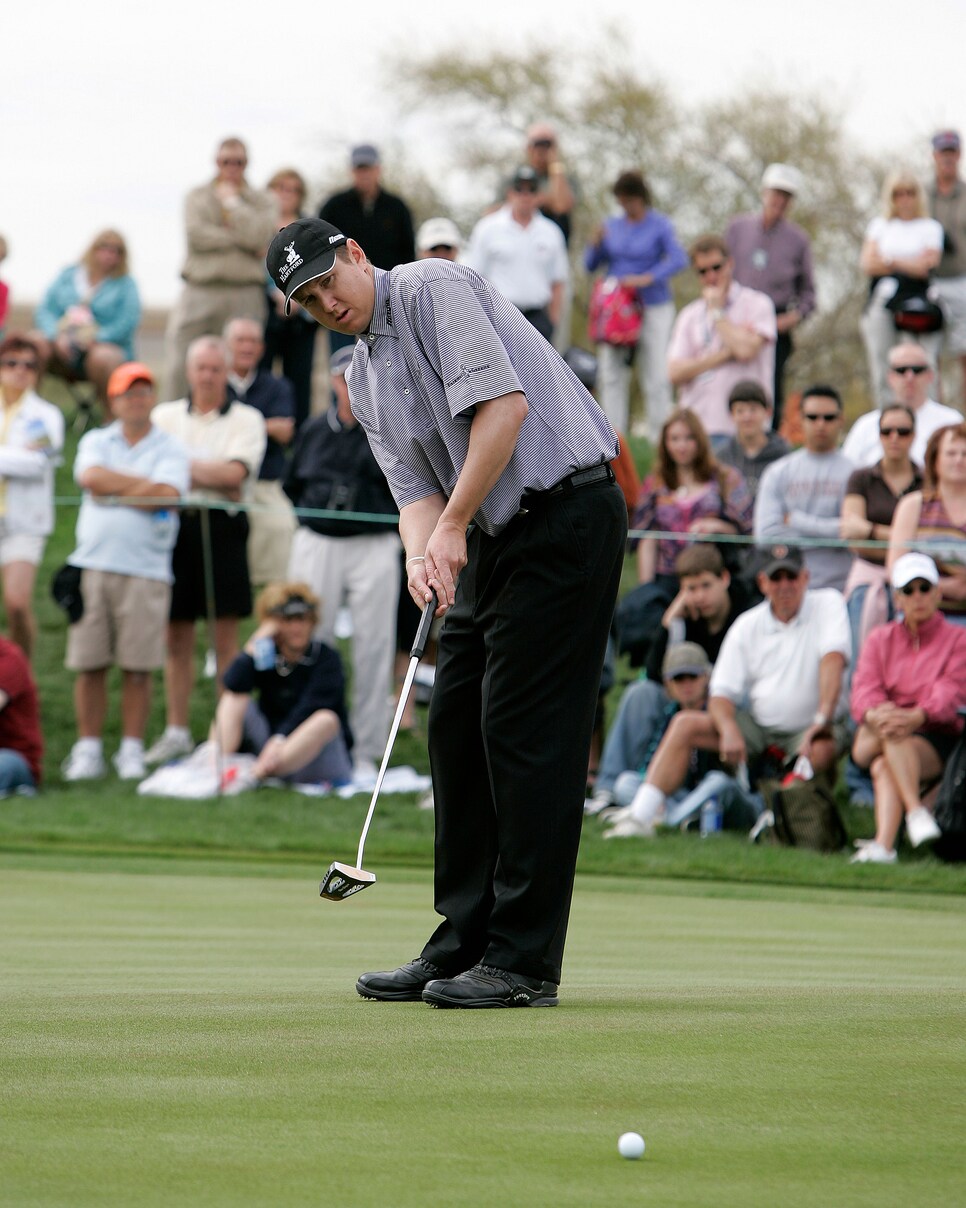 Henry couldn't seem to miss during his historic round at TPC Scottsdale.
Stan Badz
In fact, that week in the Arizona, Henry had just switched back to the belly putter. He called himself one of the "original on-and-off belly putters," someone who was very long off the tee back before that became almost universal, but who had his struggles on the greens. He was entering his sixth season on tour and started the year with two missed cuts at the Bob Hope Chrysler Classic and the Buick Invitational. His putting confidence had been shattered, particularly by the bumpy Poa annua greens at Torrey Pines.
"You finally get to Phoenix, everything's perfect, the greens are overseeded, you're fired up," Henry remembered. "I was 30 years old at that point, and I said, 'It's time to go.' And sure as s***, it was one of those days where the hole looked like an ocean."
The round did not start auspiciously. Coming out of a frost delay on a cold morning, Henry stepped to the first hole planning to hit a simple 3-wood/wedge combo and, hopefully, make a nice birdie to start the day. Instead, still feeling half frozen, he hooked his drive into the desert, punched out and hit his wedge to 28 feet. Looking back, though, that's where it became evident that he was on the verge of something special. It started there, because he buried the long par putt.
What followed the next five hours was stunning, but it started slowly. A nine-footer on three. A 16-footer on four. A series of made putts inside 10 feet to take him through the front. By the time he reached the turn, he had gained three strokes on the field—a solid number, highlighted by the long par putt on No. 1, which gained him 0.96 strokes alone, but not on pace to be anywhere near the all-time top 10.
Then, on the back, Henry just couldn't miss—rolling one in from 16 feet on 11, 27 feet on 12, 26 feet on 14, again on 15, again on 17. It culminated on the 18th, his gray khakis rippling in the wind, as he buried a final eight-footer for par. In the midst of this streak, he made seven straight birdies—missing a PGA Tour-tying eighth in a row by inches on 16—and finished with 10-under 61.
Video: Henry's historic putting round
By the 17th hole, when he drained his third 26-footer in four holes, his playing partner Jesper Parnevik and Parnevik's caddie Lance Ten Broeck just shook their heads at him.
"I do this every day," Henry told them. "What are you worried about? This is normal."
It was anything but normal. By round's end, Henry had made 218'6" of putts in 18 holes, with an average make of 12'2". More importantly, he had accumulated 8.36 SG/putting on the field, and if the last 20 years are any indication, it may be one of golf's most unbreakable records. On the top-10 list, he's a full stroke clear of Paul Goydos in second place, but numbers two through 13 are within .7 strokes of each other. Henry is way out in front, and it's not particularly close.

Henry finished in a tie for second that week ("J.B. Holmes ended up clipping me," he remembered, sarcastically, as Holmes won by seven shots). Even so, Henry credits that day with spurring him on to a career year. He earned his first professional victory that summer at the Buick Championship, in his home state of Connecticut. That fall, he fulfilled a dream by playing in a Ryder Cup, where he was one of the few bright spots in a particularly dismal year for the U.S. in a drubbing at Ireland's Celtic Manor.
"Why is it that one day, all of a sudden, you seem to make everything, and then the next day, you can't make it from three feet?" he wonders now. "It's a crazy-ass game, you know what I mean? I wish I could give you the secret sauce, because we could probably bottle it and we'd all retire on it."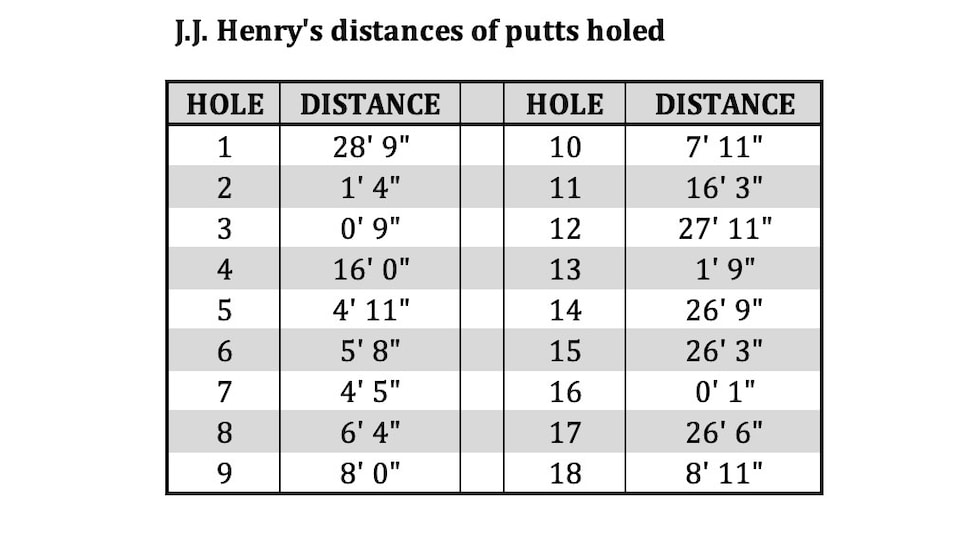 But his next question went even deeper: How would his life be different if it had never happened? That round, after two straight missed cuts, infused him with confidence. He had been a college All-American at TCU, and his professional career had been solid to that point, but he credits that round in Phoenix with turning 2006 into something career-defining.
"That day, you're matching the line with the correct speed, and you see the ball, and your body and mind work in unison," he said. "Who's to say I would have done the same thing that day if the 28-footer doesn't go in for par on the first hole? Suddenly, I'm down on myself, going, 'gosh, if I don't shoot a good score, I'm going to miss the cut this week.' And next thing you know, you're 14 under and leading the tournament, and going to the tee Saturday morning with your shoulders back. Who's to say this didn't spur me on to winning and playing in the Ryder Cup? And here I am 16 years later, still kicking it around." Indeed, Henry has made 566 starts on tour and earned nearly $17 million. "It's wild how some minute thing that happened on a coldish day in February 2006 could have changed things."
To his fans watching on that day, the most notable thing about Henry's round was his near-miss at setting the consecutive birdies mark. Henry didn't have a clue about that while he was playing and wouldn't be aware of the strokes-gained achievement for years.
In the end, his week at TPC Scottsdale was a blip on the golf radar—a second-place finish in the desert in the winter. It's only with time and advanced statistics that we know what happened that day, that without knowing it, Henry had put together one of the greatest single-round putting performances in the history of golf. It's the kind of performance every PGA Tour pro dreams of, but that, at least in this century, only one has achieved.