News
Jim Richerson succeeds Suzy Whaley as PGA of America president as golf looks to build on recent participation surge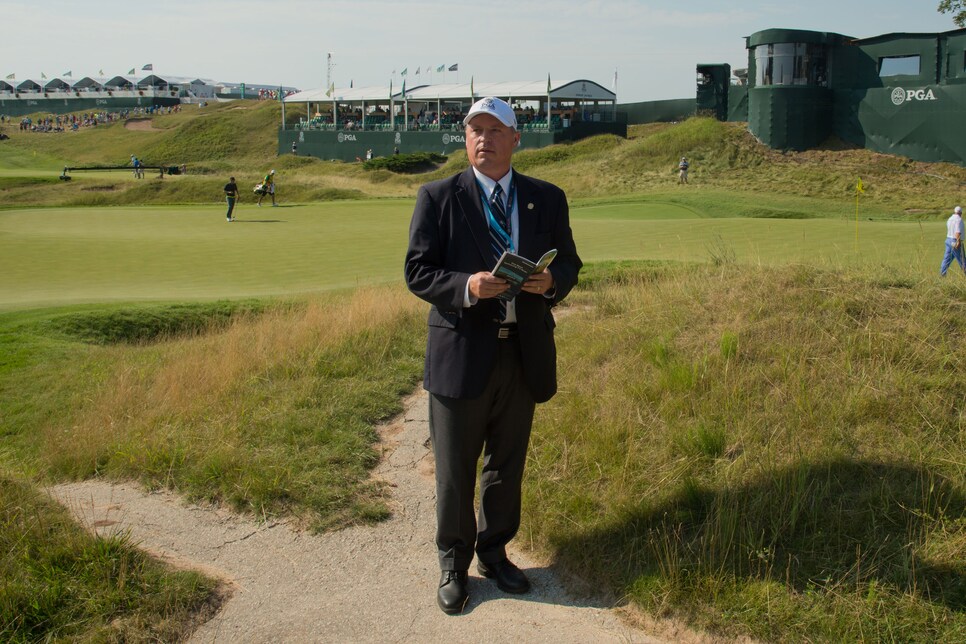 Jim Richerson, shown officiating at the 2015 PGA Championship at Whistling Straits, where he was the director of golf, begins his two-year term as PGA of America president on Thursday.
Montana Pritchard/PGA of America
The biennial transition of leadership at the PGA of America, notwithstanding COVID-19, took place as scheduled Thursday, the trailblazing reign of Suzy Whaley giving way to incoming president Jim Richerson.
The 104th annual meeting of the PGA of America, scheduled for Hartford, Conn., instead was conducted virtually, with Richerson voted in to succeed Whaley, the first woman president in the association's history.
"I've loved my tenure, loved being part of leadership," Whaley said via telephone. "I started in leadership locally in my Connecticut section. I've always enjoyed the people I'm surrounded with and to give back. It's something pretty incredible."
Whaley's second year as president was a challenging one, given the pandemic, but ultimately it was a rewarding one for the association and the game, Whaley said.
"Obviously, March and April were down," she said, "but due to the efforts of the PGA of America and its Back to Golf initiative, we were really showcasing to government officials that golf could be a socially distant sport and really run responsibly by the PGA of America. COVID was super challenging. As we came through it, I'm really proud of the way our PGA professionals stepped up in their communities to bring golf back.
"June was up 20 percent. July was up 20 percent. August was up 20 percent. September was up 28 percent. Manufacturing was up 300 percent. We were up a half a million junior golfers who had never played the game. Of course, all deference to those who have suffered, but golf is in a really amazing place."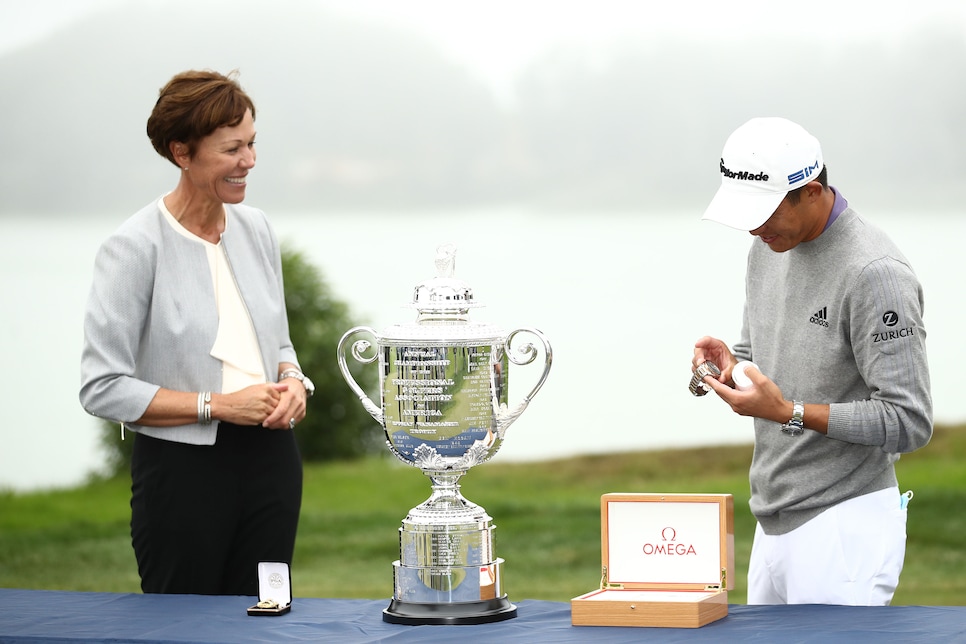 Suzy Whaley congratulates new PGA Championship winner Collin Morikawa after his victory in August at TPC Harding Park.
Ezra Shaw
In Richerson, the PGA of America is getting a golf professional with an extensive background in business. He played college golf at William Jewell College in Liberty, Mo., and became a PGA member in 1995.
He spent 18 years with Marriott and Ritz-Carlton Hotel & Golf Corporation in a variety of management and executive positions. He then took a job with the Kohler Company as general manager and director of golf at Whistling Straits and Blackwolf Run in Wisconsin, as well as The Duke's Course in St. Andrews, Scotland.
Now he is a senior vice president operations for Troon, located in Scottsdale, Ariz.
"I'm very excited, being a PGA member and to be able to represent our members and associates at a national level," Richerson said via telephone. "It's unbelievably humbling and rewarding. It's a large responsibility, adequately representing our members and trying to drive additional resources to them."
Richerson was on the PGA Board of Directors, representing his Wisconsin district, from 2013-'15. In 2016, he was elected secretary of the PGA and two years later was elected vice president.
He, too, commends the PGA members for their efforts in navigating the obstacles presented by the pandemic. "It's a complete team effort," he said. "Our association is never about one person or a small group. It's about our 29,000 strong members. We've seen a big uptick the last few months, showing it can be a responsible way to have an outdoor activity.
"It was all done at a local level, our golf professionals working harder than ever with all that was going on."