Jim Nantz: My All-PGA Tour NFL Team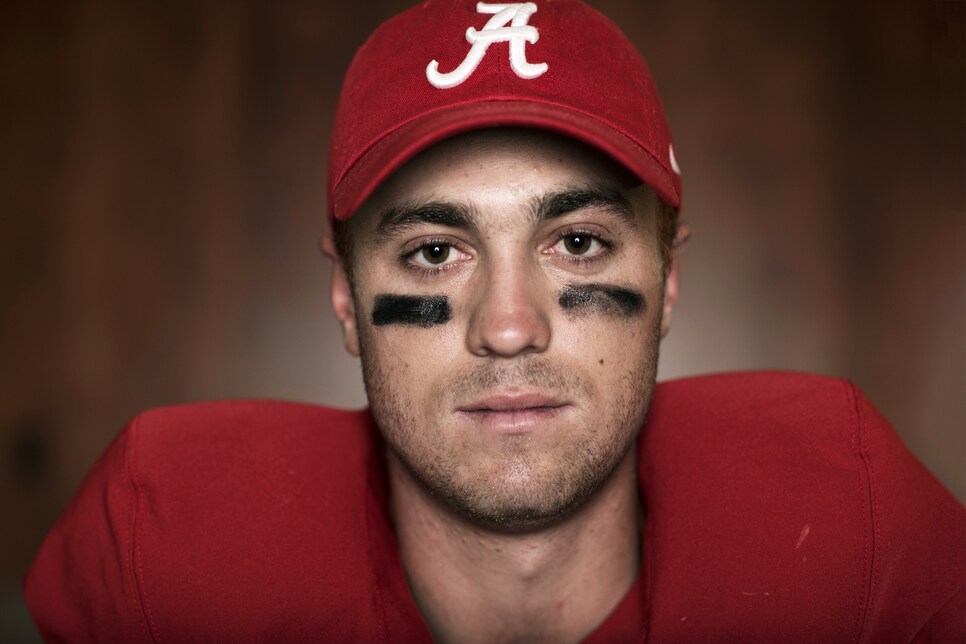 Standing alongside Bill Belichick at a New England Patriots practice in preparation for a game broadcast, I asked the modern-day Lombardi to take me through his roster by position group. At first, Coach Belichick appeared more interested in discussing the FedEx Cup playoffs that had recently visited TPC Boston than talking football. After all, he's an enthusiastic golfer and fan who has played in several AT&T Pebble Beach Pro-Ams. But with a pivot faster than Tom Brady seeking his fourth option on a pass play, he delivered a detailed summation of each player.
Soon he blew his whistle and took off to midfield to resume coaching the finer nuances of his sport, leaving me alone on the sideline to ponder what it must be like to assemble a championship team piece by piece. Of course, golf is never far from my mind, either, so I performed a pivot of my own and began imagining my own team—one manned by players from the PGA Tour.
I began my roster by building in the trenches with a great offensive line. At the all-important left-tackle position will be GARY WOODLAND. GW is nimble enough to have played basketball at Washburn University and is ferociously strong. I wanted him protecting my quarterback's blind side. At the other tackle: KEEGAN BRADLEY, another good-sized lad with long arms that will hold off any pass rusher. At the guards: KEITH MITCHELL and TOM LOVELADY, barrel-chested fellows raised on SEC football at Georgia and Alabama, respectively. The center position was a no-brainer: the immovable KIRADECH APHIBARNRAT. Packing 228 pounds on his 5-feet-8 frame, his low center of gravity is just what the position demands.
My wide receivers flaunt speed and athleticism, and they will perform wonders downfield. On one side I'm taking the freakishly talented DUSTIN JOHNSON—his big, soft hands will gather even errant passes with ridiculous ease. The other WR is TONY FINAU, once the Utah state high school rebounding champ. Tony will be my go-to guy in the red zone. At slot receiver is JUSTIN THOMAS. Don't be fooled by his slight build. He's feisty and fast—notice his clubhead speed?—in the Wes Welker-Julian Edelman mold.
That practice day at Gillette Stadium, while staring at the formidable presence of Rob Gronkowski, I longed for a dominating player at tight end. My Gronk is BROOKS KOEPKA, Godzilla strong, immune to pressure and defiant of shots from even the most intense competitors in the game.
At running back, I'm taking XANDER SCHAUFFELE. Not only is he fearless and blessed with young legs, he inherited quick feet and reflexes from his great-grandfathers, who played soccer at the elite level. Xander is a three-down back who smells the end zone. Blocking for him at fullback will be PATRICK REED, a stout, team-oriented performer who will do the necessary grunt work with little acclaim. In goal-line, I might bring in ANDREW (BEEF) JOHNSTON for that tough yard.
And now for quarterback. PHIL MICKELSON might be in the twilight of his career, but as I was watching the 41-year-old Tom Brady fling it around in practice, I was reminded that for some guys, age is just a number. Phil has leadership qualities similar to Tom's, and who but Lefty can comprehend my playbook better? Although blessed with decent arm strength, Phil might have bouts of wild inaccuracy. When he makes judicious decisions, we will be hard to beat.
Defensively my all-PGA Tour football team will operate out of a 4-3 scheme. My ends are KEVIN TWAY, who at 6-3 and chiseled, arrives football ready. On the other side is PAT PEREZ, who has the right combination of smarts and recklessness. Think Mark Gastineau. At the tackle spots, I want raw power. J.B. HOLMES and MARC LEISHMAN are beastly strong and will fill the positions nicely. As for my linebacking corps, I want JON RAHM in the middle. Shades of Dick Butkus. The outside choices are easy. HENRIK STENSON is sure to perform like the great Ted Hendricks' evil twin, and CHARLEY HOFFMAN will immediately bring to mind Clay Matthews.
And now for my secondary. JORDAN SPIETH and BILLY HORSCHEL have the positive attitudes and grittiness to occupy the corners, and RICKIE FOWLER will be my nickel. Watching him stick motocross landings on his dirt bike, it's obvious that jarring impacts are nothing to him. At free safety, BRIAN GAY behind his tinted face guard will be a stone-faced killer. The strong safety is TIGER WOODS, who I've always felt was in the Ronnie Lott mold. Tiger could be the defensive MVP if his back holds up like it did at the Tour Championship.
Completing my lineup are two gifted special-teams weapons. My kicker is BUBBA WATSON, who at once possesses a leg capable of nailing a 65-yarder, and at the same time flaunting the finesse necessary to negotiate a wicked crosswind. The punter is RICKY BARNES. After all, his father, Bruce Barnes, punted in 1973 and '74 for the very New England Patriots franchise I watched that day in Foxborough, Mass.
One more thing. Up and down the Patriots sideline that day were assistant coaches, 14 in all, who in number typify the makeup of modern NFL teams. Also vital to the Patriots is Ernie Adams, their primary analytics guy. My answer to Ernie is BRYSON DECHAMBEAU, who can compute stats, data and the complications of the salary cap—without using a calculator.
Bring it on, Coach Belichick. My band of believers stand ready to scrimmage your guys. If not at Gillette Stadium, then maybe at Pebble Beach. In the offseason, with no pads. Let's go!