Worlds Colliding
Jeff Van Gundy's story about the time he DIDN'T play Oak Hill is the most Jeff Van Gundy story imaginable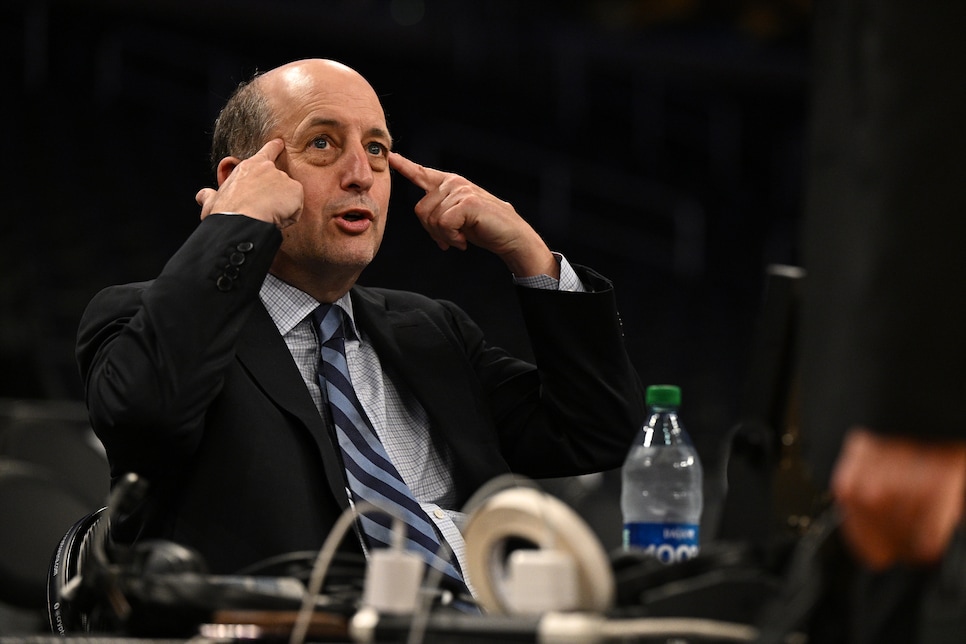 For basketball fans simply trying to take in Game 1 of the Western Conference Finals, it was a forgotten moment early in the third quarter. For golf fans, it was the type of moment that made us all sit up and point at the TV screen like Leonardo DiCaprio, AKA Rick Dalton, in "Once Upon a Time in Hollywood."
Coming out of a commercial break, Mike Breen began promoting ESPN and ESPN+'s first-round coverage of the PGA Championship at Oak Hill on Thursday, complete with some exquisite overhead B-roll of the golf course. Van Gundy, as he's prone to do, chimed in immediately after.
"MIKE THAT'S RIGHT DOWN THE STREET FROM MY ALMA MATER, NAZARETH COLLEGE," screamed Van Gundy, because he's always screaming for some reason.
"Beautiful course [Oak Hill]," he added. "I've only walked it, never played it."
Breen replied, humbly, with "Oh, it's wonderful to play, and get double bogey after double bogey." OK, we see you Breen! Man definitely gets around, and as a golfer there are few better places to "get around" than the Tri-State Area.
The ever-astute Mark Jackson, just as confused as all of us at home, asked "what do you mean you only walked it, why wouldn't you play it?"
"It was a shortcut ... to Wegman's," Van Gundy replied.
At some point, Van Gundy needs to give standup comedy a go. His deadpan delivery and ability to stretch out a joke / story is truly impressive, and we know he has an endless amount of bits on referees, why basketball ain't what it used to be and other assorted old-man quips and one-liners.
For those unaware, Wegman's is a supermarket chain that started in Rochester, NY. A few of them have made it to my home state of New Jersey and let me tell ya, it's a special, special place. Not quite as special as Oak Hill, but close. No surprise that Van Gundy would do everything in his power to get there as quickly as possible in college, even if it meant trekking through one of the great major venues in golf but never actually hitting a shot on it.