Tough to Watch
Watch Javy Baez get punched out on two of the ugliest strikeouts you will ever see
What has happened to Javy Baez? The artist formerly known as El Mago has been a feast-or-famine hitter his entire career, but since moving to the Detroit Tigers this offseason, it's been only famine. Baez has become one of the worst hitters in baseball in 2022—an offensive blackhole hoovering up 96 strikeouts and just 10 homers in 368 at-bats. His average bottomed out at a grisly .188 in mid-June, and although he's been seeing the ball a little better of late, Tuesday night turned ugly once again. And when we say "ugly," we mean UGLY.
On the first K, Baez seems to be heading for the dugout before the ball even crosses the plate. It's unclear what exactly happens here—he turns to the umpire as if to argue the call or ask for time, but the ball is right down the middle and already in the catcher's mitt. It's mystifying. You hate to say a guy just gave up, but if it walks like a duck and talks like a duck, well, you know how the saying goes.
The second whiff is perhaps even more egregious. Guardians reliever James Karinchak spikes his pitch nearly two feet in front of home plate and Baez swings through it anyway. He's earlier than your in-laws showing up for dinner, breaking the plane as the ball skips off the dirt. By the time it's over the plate, Baez is osetnsibly headed for the showers.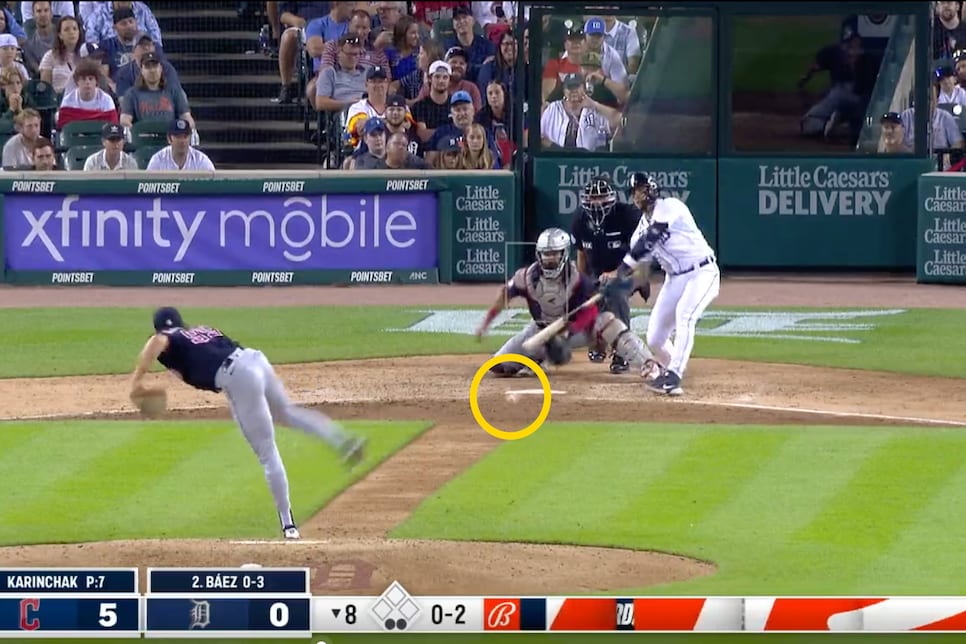 Worst of all, those were just two of Baez's three strikeouts on Wednesday, his sixth game with three or more strikeouts this season. We're rooting for the guy. Really we are. We hope he gets this figured out and proves to be an important piece in the Tigers' slow crawl back to respectability. But judging by the evidence on display on Tuesday, El Mago might simply be out of mojo.