News
Here's how Jason Kokrak ended a decade of wondering and wandering with his first PGA Tour title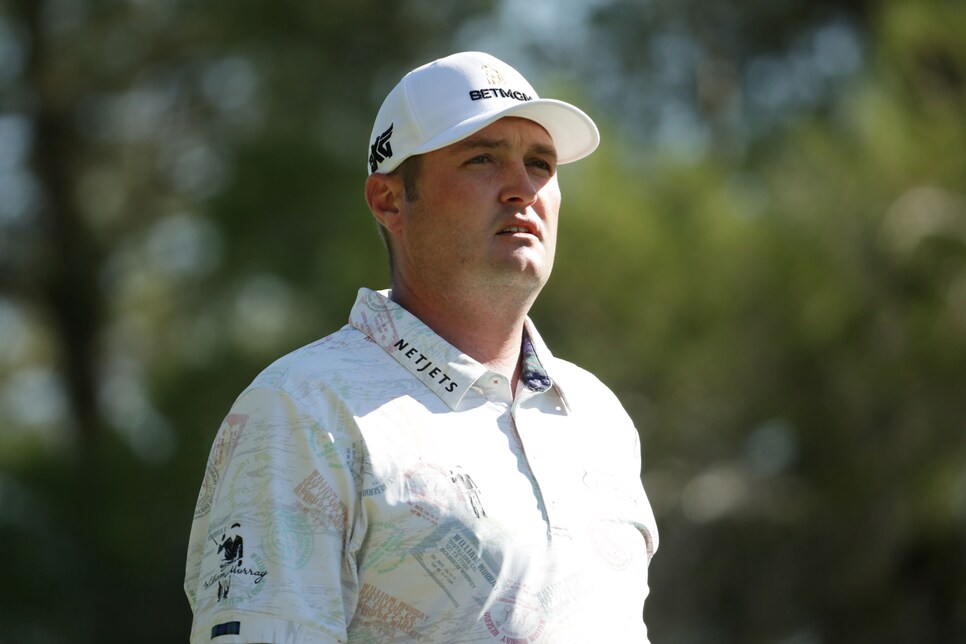 Talk about a nifty parlay. ¶ Well, of course, Jason Kokrak was going to win his first PGA Tour title in Las Vegas of all places. A favorite disguised as a long shot, the Ohio product possessed more local knowledge of Shadow Creek than anyone, having served for several years as an ambassador for MGM Resorts, which owns the posh, exclusive oasis painted on the Nevada desert floor. And it just so happens that BetMGM, whose logo adorned Kokrak's hat, also signed a multi-year marketing relationship with the tour in August to become an official betting operator. This week, they provided live betting odds during all four rounds of television coverage on Golf Channel, a first for the tour.
If we didn't know any better, we'd say the fix was in. And it was. Kokrak, a lumbering 6-foot-4 power player, fixed his putting, which had been the only thing holding him back in his first 232 career PGA Tour starts. And he was money on Sunday, shooting a bogey-free eight-under 64 to win the CJ Cup. In his 10th year on tour, Kokrak outdueled world No. 8 Xander Schauffele to win by two strokes with a 20-under 268 total.
"It feels like home," said Kokrak, 35, who has family in Vegas and has played Shadow Creek more than 20 times, he estimated. "I've played this golf course enough that I should know it by now.
Kokrak and Schauffele, who can't seem to buy a win this year and now owns eight career runner-up finishes, put on a pretty special duel, one that was far better than a certain over-hyped, ahem, "match" two years ago at Shadow Creek between Tiger Woods and Phil Mickelson. Kokrak's eight birdies on Sunday was one fewer than the two stars had combined to register in regulation in their $9 million winner-take-all showdown.
Schauffele was no slouch with seven birdies after each man began the final round three strokes behind 54-hole leader Russell Henley. Paired together, Kokrak and Schauffele were tied until a costly bogey by Schuaffele at the par-5 16th, set up by a wayward drive, proved the difference. Kokrak saved par from a greenside bunker on the same hole, converting a four-footer.
For the first time in his career, Kokrak led the field in stroke gained/putting, gaining 2.573 strokes on the field. He made a little more than 401 feet of putts. A putter switch, to a club with a longer, stiffer shaft, that he made late last season has made a huge difference for a guy who ranked 151st in strokes gained/putting in the just completed campaign.
Experience on the tricky greens didn't hurt. And reliance on his caddie, former tour player David Robinson, to help read those greens was another ace in the hole, so to speak.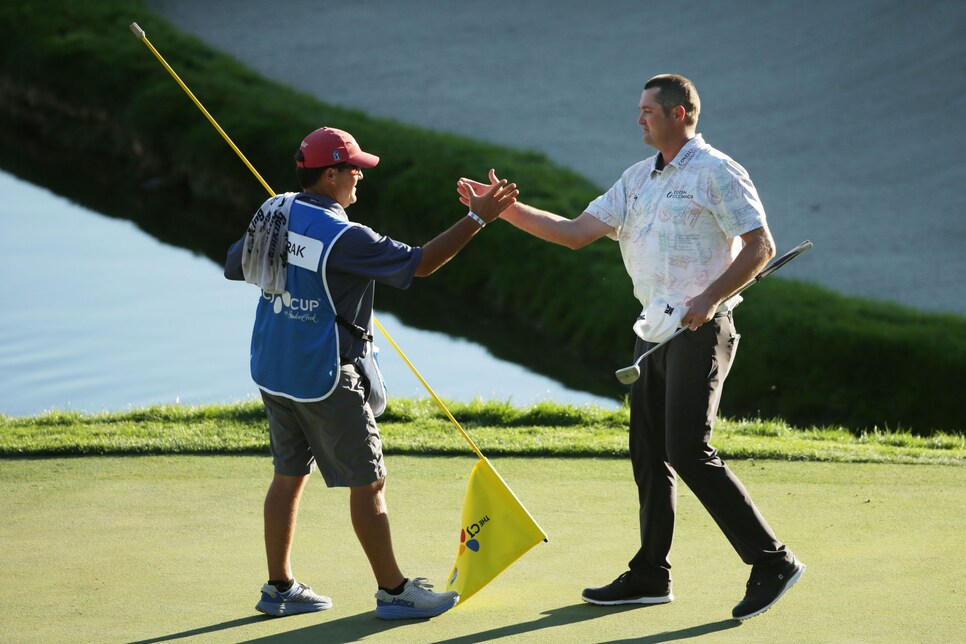 Jason Kokrak praised his caddie, former tour pro David Robinson, for his assistance throughout Sunday's closing 64.
Jeff Gross
"I would characterize it more D-Rob's work," Kokrak said, magnanimously. "I mean, he reads them pretty dang good. I did a good job of hitting the spots where we were trying to putt it to. Very happy with how I've been putting and kind of paying off with all the work I've been putting in."
Make no mistake, though, Kokrak produced a stellar final round overall, hitting 12 of 14 fairways and 17 greens in regulation. In other words, to use another Vegas term, he ran the table.
Quite impressive for a guy who had won more than $10 million in his career but had never hit the jackpot. Twice a winner on what is now the Korn Ferry Tour, Kokrak three times had finished second and also had three third-place finishes since joining the PGA Tour in 2011. But there he was calmly steering his way around Shadow Creek in a two-ball with Schauffele after the third member of their group, Jason Day, withdrew early because of a neck injury.
The duel with Schauffele might have helped because he certainly knew all day what he had to do. And the California native wasn't bad company either. "It was good because Xander and I, we're friends," Kokrak said. "Him and his caddie could not be any nicer. A lot of conversation, you know, put my mind at ease in between shots. It's hard to concentrate for all of five and a half hours straight, so it was nice to chit chat up the fairways.
"He pushed me along just as I was probably pushing him along, making a couple birdies here and there."
"We talked all day," Schauffele said after his third straight top-five finish. "I think I was lucky and so was he. We got along really well, and we definitely fed off each other, and it definitely showed in our scores."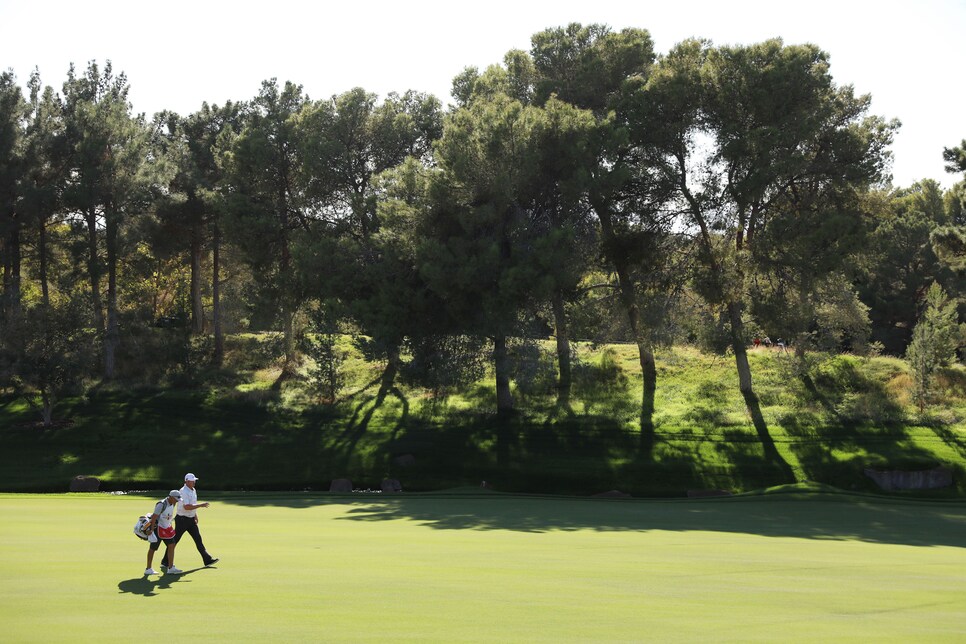 Kokrak and his caddie walk on the 15th hole during the final round of the CJ Cup.
Christian Petersen
Still, Kokrak could have buckled when Schauffele made three straight birdies for a tie at 19 under. The Xavier University product talked later about nerves and about scar tissue. And doubts. "I think anytime that you've been out here for that length of time, you definitely have doubts in your mind," he said.
And now he doesn't. He was solid until the end. This week's event, which was moved from Jeju Island, Korea, because of the coronavirus pandemic, was just the right combination of circumstances for a breakthrough. Not that he ever really doubted himself, scar tissue notwithstanding.
"I think I knew, I knew in my own mind that I was going to get it done, it was just a matter of time of me getting out of my own way and letting it happen," said Kokrak, who with the win, worth $1.755 million, rose from 53rd to 26th in the world, a career best. "Because my game is right there with the best players in the world and I just need to continue to believe so and if the putting's there for me, we're going to be right there in contention."
Odds are, he's probably right.