PGA Tour
Jason Day once helped Tiger Woods with the chipping yips. Years later the gesture was repaid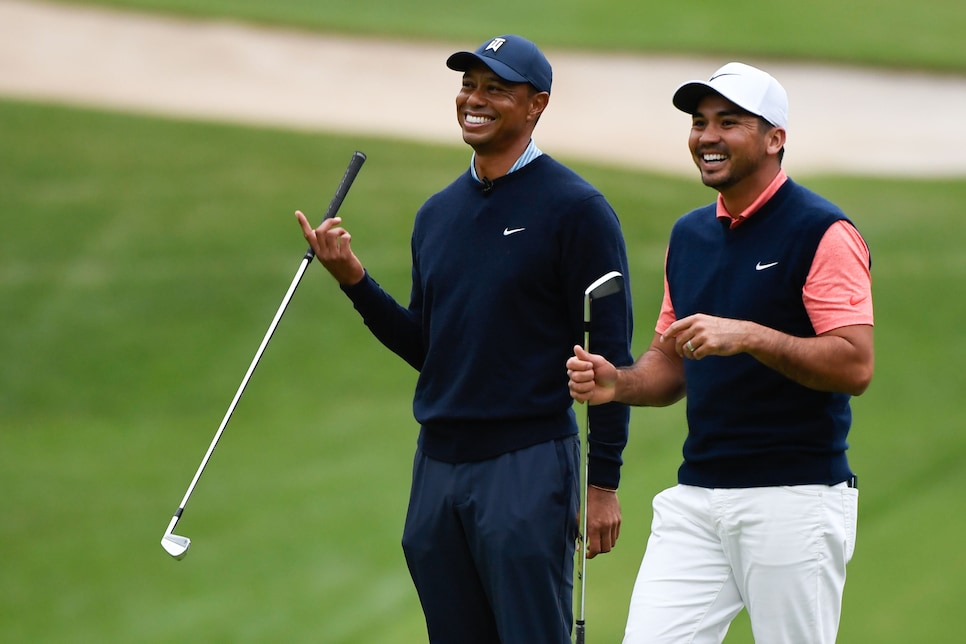 In 2015, Jason Day was on top of the golf world. The Australian star had won five times on the PGA Tour, including a maiden major at the PGA Championship at Whistling Straits. He also made his debut as World No.1 in the fall.
His success was built on long, straight driving and a delightful short game. In fact, Day's chipping technique was so revered in the golf world—his lack of wrist hinge reminiscent of Steve Stricker—that a struggling Tiger Woods sent Day an SOS message that year. Woods has developed a close friendship with Day.
Woods had been battling back injuries and the chipping yips, evident in a career-worst 82 at the WM Phoenix Open, as well as a withdrawal from his beloved Torrey Pines for what was his third WD in eight tour events.
Day, whose first golf lessons as a child came via reading Woods' How I Play Golf, was honored. Woods' coach at the time, Chris Como, was running the session, but Day had no idea how valuable it would be eight years later.
"When Tiger was going through the chipping yips, Tiger invited me out to kind of go over chipping technique," Day said after winning last week's AT&T Byron Nelson. "Chris Como had seen a ton of 3D bio-testing of my chipping and they wanted to pick my brain, I guess, about what I thought in regards to chipping. And I remember coming out of that meeting with Tiger and Chris and thinking 'there's something about Chris.'
"He was very quiet, listens very intently, but you could tell that he knew a lot about the game and knew it at a deeper level, what the club should be doing."
Fast forward to 2021 and Day was now in a slump. His struggles were so severe he reached out to Como, and the pair began a swing rebuild that intended to alleviating pain from Day's chronically injured lower back. The pair worked on eliminating a lateral backswing shift Day struggled with, and an increasing body rotation to produce a fade. Day grew up hitting a high draw.
"I'd have a swing thought at 1 a.m., and I'd call a Chris and ask, what do you think? Then if work on it the next day."
The success was not immediate, and Day admitted to having more than 8,000 swing videos in his phone documenting the changes. A year into the work with Como, Day had plummeted to 175th on the World Ranking as recently as October last year. He missed three of the four majors in 2022. Not missed cuts, missed playing.
But Day's blistering 62 at TPC Craig Ranch last week earned a 13th PGA Tour win, and first in five years. He's now back to World No. 20 courtesy of the win and five other top-10 finishes this year. And he's arriving at Oak Hill Country Club with good memories. The last time the PGA was played in Rochester, Day finished in a tie for eighth.
The 35-year-old Day said he may not have had the technical renaissance had he not reached out to Como.
"He was the only guy I reached out to in regards to the swing, and I feel I made the right call," Day said.