News
Jason Day is saving a star-challenged leader board at Quail Hollow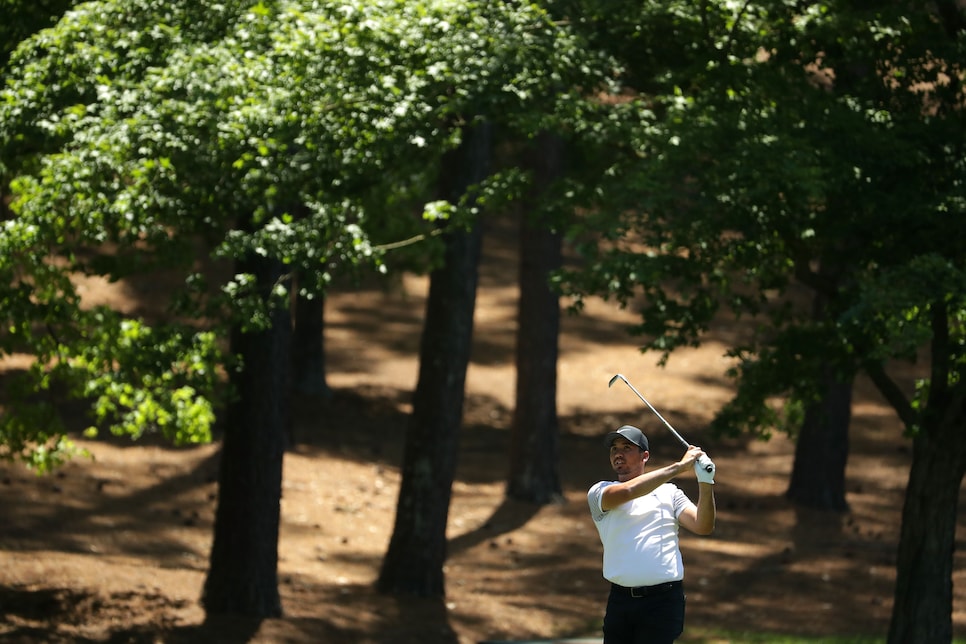 Streeter Lecka/Getty Images
CHARLOTTE, N.C. — An air of fatigue permeates an ordinary PGA Tour event on Fridays. The excitement of the first round has worn off and the drama of the weekend remains in the blurred distance. These are the doldrums, and the situation grows tangibly more stultifying when the leader board is bereft of household names. Unless you have the rare gift of getting excited about the cut line—in which case I both envy and pity you—these are the hours of ennui.
Concerning star quality, the Wells Fargo Championship has a mixed record. Past winners include Rory McIlroy (twice), Rickie Fowler, Tiger Woods and Vijay Singh, but they also include players who require two names, like Derek Ernst, James Hahn, and J.B. Holmes. And while it's true that every player has a story of some kind, and in fact the lower-profile winners are often the most intriguing, it's easy to lose your perspective on a Friday afternoon when the leaderboard is looking a little too anonymous. Oh, that guy won an NCAA championship? Oh, that guy lives locally? Great.
That was the case at the Wells Fargo on Friday, when the grumbles could be heard around the media room as Rory faded to the point of near-transparency, Rickie hung on the periphery, Justin Thomas hovered around even, and Tiger fought just to give himself a chance at making the cut—a chance he seized with a birdie on 18. Without them, the languor set in. Tedium and apathy threatened. We needed a savior.
Enter Jason Day. With birdies on seven and eight and an eagle on 10, he separated himself from the peloton and surged to within a shot of the lead. On the long par-3 17th, he buried a 27-foot birdie, and a closing par left him in second place, just a shot off the lead. Paul Casey followed close behind with two back-nine birdies of his own, and suddenly the weekend looks significantly more attractive.
Bearing the enervated ambience in mind, I asked Day whether there was a particular day, at an average event, when maintaining the necessary levels of concentration posed the greatest challenge. The answer was no—it's about the situation.
"I think it gets gradually harder and harder the further you're away from the lead," he said. "When you're close to the lead, then everything tightens up. You know that you've got a chance, you're trying to focus, you're doing all the right things. When you're at the back of the pack, you're trying to make it through … But yeah, there's some lulls, and that's why we talk about momentum. I don't think momentum's more so about the shots that you hit, I think it's just like a lack of concentration that happens out on the golf course when you're playing and you're just not quite on because it's very difficult to stay on every shot for 72 holes."
Writ large, Day doesn't need to worry about minute-to-minute focus. There's something motivating him without relent, and that's his desire to regain the No. 1 ranking currently held by Dustin Johnson. He's a good ways off, no thanks to a lackluster 2017, but he made his intentions to pursue the top spot clear after Thursday's round. And while Quail Hollow's new grass is making things easier on him—the overseeded rye is prominent, while the difficult Bermuda from last year's PGA Championship is near dormant—he needs no help on the greens. Day had the best strokes gained/putting season in history two years ago, and he's once again ranked first on the PGA Tour. That fits in with his career narrative—I called him the human yo-yo two months ago in reference to his consistent inconsistency, and he's the first to admit that his mother's illness, along with general burn-out, robbed him of his motivation last year. That focus is back, and gone is the cruise mentality he referenced this week—the creeping comfort that comes from earning plenty of money, and the subtle impairments that come from accepting that average is good enough.
He's shaken off those cobwebs and stands an excellent chance to add another title to his resume. He's surrounded on the leader board by inexperience, and though he's already saved our weekend by his mere presence, there's no doubt that he wants more.