Asia-Pacific Amateur
James Leow's amateur career is nearing an end after quite the unusual journey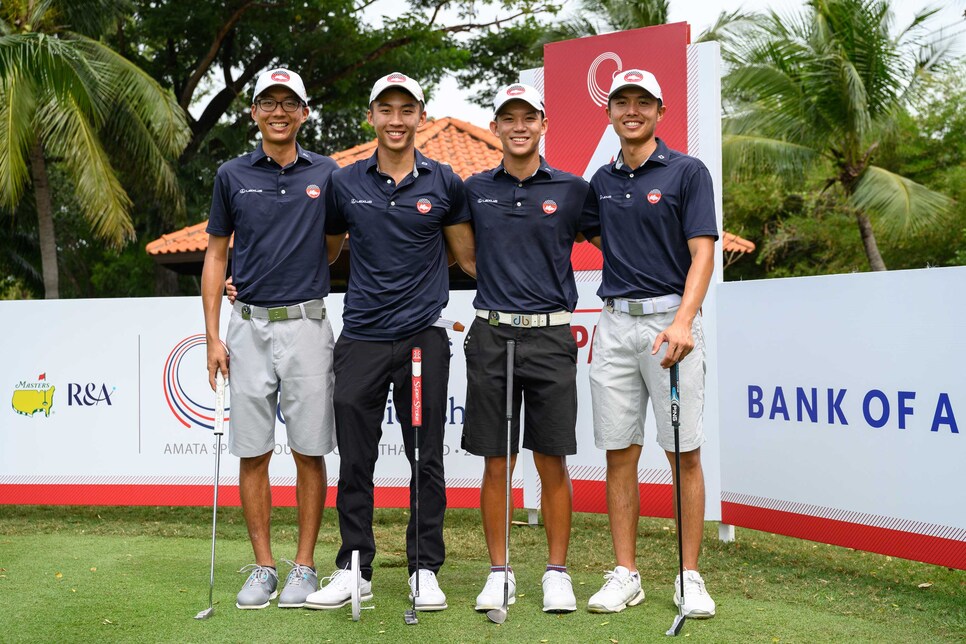 Singapore teammates Ryan Ang, Sean Lee, Brandon Han and James Leow pose during a practice round ahead of this week's Asia-Pacific Amateur Championship in Thailand.
Graham Uden
CHONBURI, Thailand — One of the most attractive aspects of the Asia-Pacific Amateur Championship (AAC) is the diversity contained within the 120-player field. This year, 38 countries and territories are represented, as well as a range of ages (from 14 to 60) and abilities. Sometimes too, upon closer inspection a competitor isn't quite what he first seems. Take James Leow.
At first glance this 25-year-old from Singapore is just another college graduate spewed out by the endless conveyor belt that is the U.S. college golf system. Leow, in fact, did emerge from four years at Arizona State with a Bachelor of Science degree in finance and a reasonably formidable record. This spring, he was part of the ASU squad that lost to the University of Texas in the final of the NCAA Championship.
Throw in the fact that Leow is currently the Pacific Coast Amateur champion, was a member of the winning International team in the Palmer Cup, represented Singapore in last month's World Amateur Team Championship and has finished in the top 10 at each of the last two AACs and we have reason enough to expect him to be in contention come Sunday afternoon.
Indeed, so far so typical.
Hang on though. Leow's journey to the Amata Spring Country Club outside Bangkok also includes a year lost to injury and 22 months of military service in the Singapore Military Defense Force, where he was a platoon sergeant instructing new recruits in fire-fighting. All of which only added to the importance of his time as a Sun Devil.
"My college golf career changed my life," Leow says. "ASU is such an awesome facility. My short game and putting improved so much over my time over there just because there is such a variety of conditions. That helped me so much, as did competing against all the top colleges and players. I was forced to give 100 percent every day in an effort to get better. There was a lot of pressure just to qualify for the team. I had to play well every time I went out. All of that has made me a better and different player."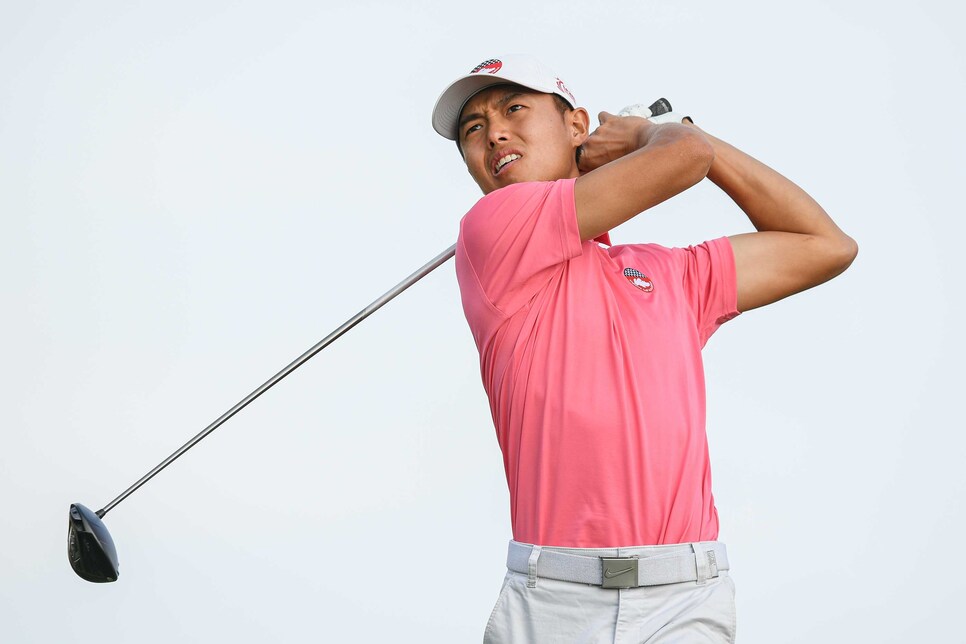 James Leow wrapped up his college career at Arizona State in June, won the Pacific Coast Amateur in July and played for Singapore at the World Amateur Team Championship in September.
Octavio Passos
It hasn't all been onward and upwards though. Just last week, there was a potentially momentum-killing disappointment at the second stage of the Korn Ferry Tour Qualifying School at Murrieta in California. Leow missed advancing by two shots after making bogeys on two of the last four holes.
"Last week was quite emotional for me," he admits. "I thought the cut level was going to be seven under par. When I checked the leaderboard, it looked that way. But I got ahead of myself. Instead of staying in position and giving myself chances, I was forcing something I ended up not needing."
There was much soul searching on the five-hour drive back to Arizona. "I'll be honest, I haven't cried very often over my golf," Leow said. "I'm known for being a tough guy. But I broke down in the car thinking about what lies ahead. I was worried about my career. There was a little bit of anger, too. I stopped after three hours to get gas and tried to re-energize. But my disappointment is lingering. I'm trying not to talk or think too much about it. So this week is a great distraction. It has given me something else to focus on."
Indeed, like so many, Leow is appreciative of what the AAC is all about. It isn't just a contest to see who makes it to Augusta National and Hoylake next year, the notable spoils of winning the tournament.
"I'm a big fan of this event and what it is trying to achieve," he says. "The same can be said for the Latin-America Amateur Championship. This event throws a great spotlight on Asia-Pacific golf. It gives guys who don't normally see events like this a taste of what golf can be. It shows them how hard they have to work to get to the next level. It's just a cool experience. Then there are many up-and-coming players, who will be on a number of tours in the years ahead. It used to be that the Asian players stayed close to home. But that is changing, and this event helps in that regard. Now our players are going everywhere."
Where Leow is headed remains to be seen. There is the prospect of the Asian Tour Qualifying School. Victory this week would see him into the final stage and the verge of a card on a tour that is on the rise, not least financially.
"This event represents such an amazing opportunity," he says. "But playing in it four times already has taught me one thing: never think about the end product. Obviously everyone is here to win with the ultimate goal of playing in the Masters and the Open. But the key, at least for me, is staying in the present. I'm hoping that my experience in this event will help me in that regard. The aim is always to play my game, keep things simple and not put myself under too much pressure. Having said that, doing all of the above is a little harder this week."