News
Jack Nicklaus OK with PGA Championship moving to May, leaving his Memorial Tournament 'in a great spot'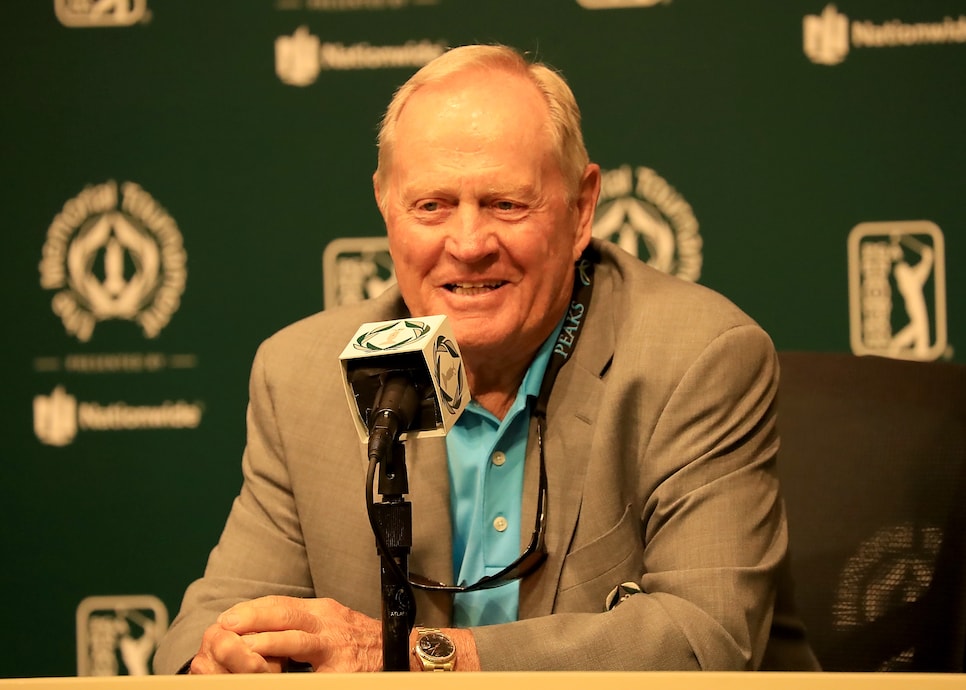 DUBLIN, Ohio -- The PGA Championship shifts to mid-May starting next year, causing a jumble to the PGA Tour schedule in the fifth month that includes the Players Championship, the tour's flagship event, returning to a March date. The Memorial Tournament, however, will remain in its contractually guaranteed slot two weeks before the U.S. Open.
That leaves the Memorial, hosted by golf great Jack Nicklaus at his Muirfield Village Golf Club, sandwiched between the two major championships with a week's buffer on either side. While it doesn't appear to be the most favorable spot, Nicklaus, winner of a record 18 majors, figures that he'll still draw a field as strong as this year's has garnered.
The 43rd edition of the Memorial, which begins Thursday, features eight of the top 10 in the world rankings and the top seven in the PGA Tour's FedEx Cup standings -- plus five-time Memorial winner Tiger Woods.
"First of all," Nicklaus said, assessing the full golf landscape, "the couple of players that we're missing this year have requirements to play in the Italian Open, which is a Ryder Cup qualifying event [this year]. And guys, some good players, they're there. That's being changed next year. The week before the Memorial Tournament next year, which was the [BMW] PGA Championship that they just had, it's getting moved to fall [in 2019]. There's going to be two lesser events in Europe next year. So there will be no reason why we won't have, even though we have the best field this year, no reason why we won't have a better one next year.
"And sitting two weeks after the PGA Championship and two weeks before the U.S. Open, I can't imagine anybody who really is serious about wanting to win the U.S. Open not being here. I mean they're going to have to play golf some time and I don't think, of course that's just me, I never liked to play the week before or the week after. So the Memorial Tournament sits in a great spot. We're still in the same place we were, and the Tour's respected our wishes and worked with us on the scheduling.
"I don't know," Nicklaus added, "what's going to happen in May in Oak Hill in Rochester, but I wish them well. I hope the weather is good. That's going to be a tough time."
Which is something the Golden Bear knows a little about.
His Memorial Tournament has had its share of challenging weather over the years -- and could have more this week with tropical storm Alberto bearing down on the Midwest in the coming days. But Nicklaus said he always intended for weather to be a factor in his tournament, and that he prefers weather, even if it's just wind, impacting golf's biggest events.
"Now with the Players in March we'll have weather," he said. "Masters always has some weather; you never know what's going to happen there. Now the PGA will have some, maybe a lot. We always have had a little bit of weather, which is one of the reasons why we wanted to schedule at this time of year because I wanted that uncertainty of what the wind and other things can happen. The U.S. Open has always had weather because they always schedule in June and they have always had an issue with that. British Open always has weather. The PGA event in August never had weather. It was always pretty benign. Maybe had thunderstorms and so forth, but that's not the kind of weather when we talk about weather because you don't play in that.
"So all the tournaments next year that are significant tournaments will have a little element of weather to them and I think that's probably good for the game, it's good for the players, it's good to have the variety."