News
The PGA Championship is moving to May and players are on board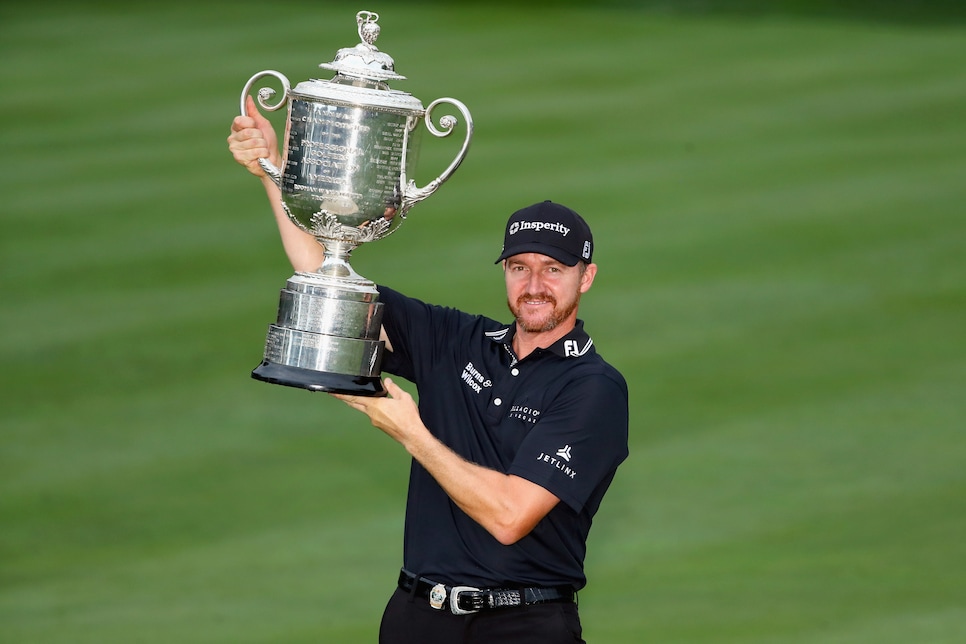 The PGA of America's decision to move its flagship event, the PGA Championship, from its long-running August date to May starting in 2019 largely has been met with approval by PGA Tour players, though mostly because of expectations of the ripple effect in the split-calendar season.   The move, which sources tell Golf Digest will be announced Tuesday, is believed to be the first domino in a series of changes that includes an anticipated shift of the Players from May back to a March slot it occupied from 1977 until 2006 and the conclusion of the FedEx Cup Playoffs by Labor Day.   "I know why it's happening. I get it. I certainly applaud the PGA of America in helping the PGA Tour out," said two-time major winner Zach Johnson. "It does help us. I think it makes our schedule much more seamless. I think it will be better all around. Now, as far as where they are going to go in the future with that earlier date, that's the part that I don't really know how that is going to work. Oak Hill coming up [in 2023] … can you play in the northern part of the country in May? You can, but you probably shouldn't. You've got to get lucky [on the weather]."   Related: What would a PGA at Bethpage be like in May? We tested it out
Charley Hoffman, a member of the PGA Tour Policy Board, also was looking at the big picture. "They laid it out in front of us. First for TV negotiations, you want a Players Championship in a prime spot and maybe a better time of year for course conditioning, and then the reality is we want golf done before football. Football runs TV in that time of year. Only time will tell. Everyone was against the FedEx Cup at the start, and it's turned into a great thing for the tour. And I think it will be a great thing for the PGA."
By having a schedule that condenses golf's biggest events into a six-month window (including the Ryder Cup and Presidents Cup in September), there's the potential to create a more defined tournament calendar for PGA Tour pros, particularly marquee golfers, as well as international players.
"I think it doesn't matter from the standpoint of the PGA being in August or May because it's a major and we'll all be ready no matter when it's played," Rickie Fowler said. "From a scheduling standpoint, it might be a lot better for us to have an actual off-season like every other sport. The schedule will be more uniform from March to August as far as big events, which will probably be a good thing."
Like Fowler, Adam Scott likes the idea of a leaner schedule that enables players to take time off. "I would prefer that there was a real break with no events in the fall," said the former Masters champion. "Why not have a few months off and starve everyone of PGA Tour golf? If they run tournaments the whole time and [players] do take the fall off, then you are so far behind when you do come back. I don't see the value in running tournaments all the time. It seems to weaken the overall product."
Scott knows that reducing playing opportunities isn't a popular opinion, but he isn't sure that it will have the negative implications some suggest. "Some events may suffer because of it. Some might benefit, too," Scott said. "You start squeezing it all together, something's got to give. There is a question of how you fit it all. But maybe that guideline of playing one tournament every four years balances that out a bit. I don't know."   "Depending on how the schedule looks, it could be a challenge for everybody," said Jimmy Walker, this week's defending champion at Quail Hollow Club. "But as far as the PGA, I mean, does it really matter what month they have a major? We're all going to show up."
Phil Mickelson believes it does matter when the PGA is held, predicting that a move to May will strengthen interest from fans.
"I think it will be a really good thing for the PGA, because it would be earlier on in the rotation when there is maybe more excitement for the majors," the 2005 PGA champion said. "We get to August, and that excitement kind of dwindles a little. It's at a time of year where golf seems to linger on, so maybe there will be more energy behind the PGA earlier in the year."
"In the long run, I think this is good for the tour and good for the PGA," Hoffman said. "Yes, it could limit some choices for PGA sites, but it could open up choices, too, like in Florida and other parts of the country. The history of the PGA Championship is what carries the championship, not the time or the date. So the PGA is going to be just fine."