News
After an uneasy few days at the Travelers, the tournament begins with a message delivered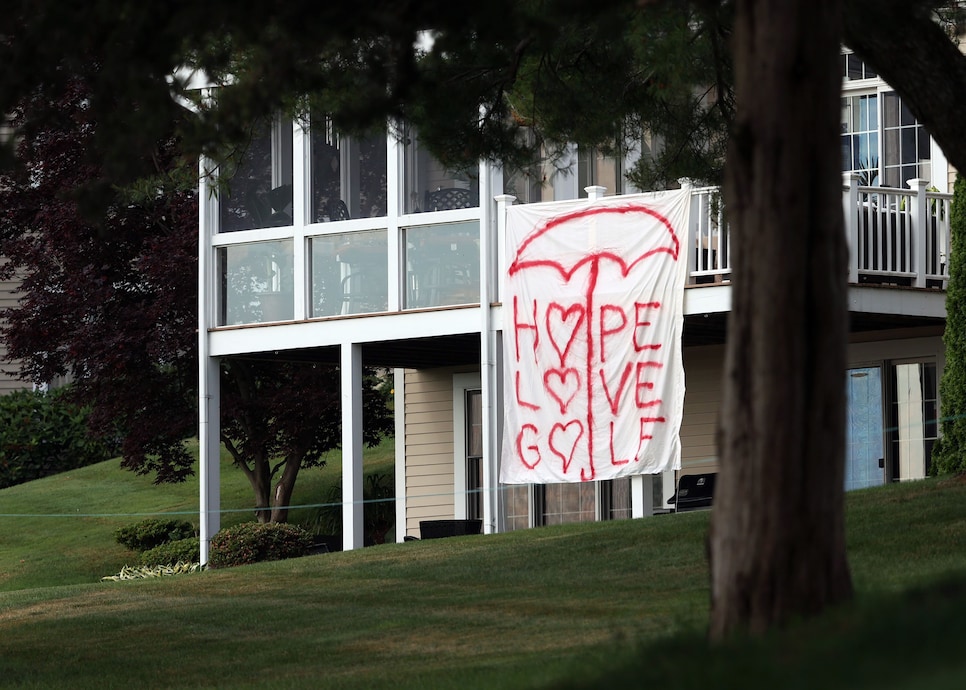 CROMWELL, Conn. — There was a dad on the right side of the first hole. At least, it seemed like a dad, had to be a dad, for this was a dad-like thing to do and he was receiving "Dad, stop doing what you're doing" looks from those around him. But being a dad means doing the work that no one else has the stomach for. Which is why our hero—with purpose in his heart, Dunkin Donuts mug in his hand—was entrenched at his post throughout the morning, singing a chorus as group after group walked past.
"THANK YOU GUYS FOR COMING! WE LOVE YOU! HAVE A GREAT WEEK!"
Players getting yelled at is a daily occurrence on the PGA Tour. Even post-pandemic, with the first five events (and it appears many more after) enforcing a spectator ban, fans found ways to watch—and howl at—the sport they love through fences, on rooftops and in backyards abutting Colonial and Harbour Town. And those cries … well, they're usually pretty empty. They're merely screams of a player's name ("TIGER! PHIL! JORDAN!") or unfunny barbs ("Hey Brooks, do you have an extra s-medium I can borrow?"), said so often they fall unnoticed.
There was something different about this chant off the first at TPC River Highlands. It was initially jarring, the voice crackling through the silence like a lightning bolt, yet what it lacked in creativity it compensated for in heart. Each shout was punctuated by a pump in the air, letting the players know his words were sincere. Should there be any doubt on those intentions, there was the giant banner draped over the siding of his house: "HOPE. LOVE. GOLF."
Sure, it was a bit campy. Not that there's anything wrong with that, especially on a day when golf very much needed some levity.
It's been an odd start to Travelers Championship week. That was to be expected, what with the world waving bye-bye to ordinary long ago. Still, in a period when "normal" is recalibrated daily, something was off as the tour gathered in southern New England.
In the wake of the tour having its first player test positive for COVID-19 in Hilton Head, golfers, caddies, officials, volunteers and, yes, the media, mostly went about their Tuesday in Connecticut as if they were living in a pre-pandemic reality. There were few, if any, masks worn. On the driving range and first and 10th tees, groups of eight-plus congregated without regard to physical distancing. Instructors were handing out back-slaps and rock-taps. Multiple out-of-towners were asking what restaurants to visit.
Then word spread late Tuesday that a second player had tested positive, which turned out to be Cameron Champ. This was followed by Graeme McDowell pulling out Tuesday night after his caddie was discovered to have the virus, with Brooks Koepka following suit for the same reason Wednesday morning. Webb Simpson and Chase Koepka also withdrew with coronavirus-related concerns, prompting an impromptu press conference from tour commissioner Jay Monahan.
Despite social media's over-the-top speculation that Monahan's appearance could signal a tournament cancellation, or possibly season suspension, the Travelers' fate was never in doubt. Players continued with range work and course prep Wednesday. It wasn't chaotic, nor did it have the air of insurgency; Saturday at the 2018 U.S. Open, this was not. But the mood wasn't great, either.
Privately, players and caddies were beginning to raise questions, particularly regarding the areas one of the positive testers might have visited Tuesday. Worse, it appeared the laissez faire attitude hadn't necessarily changed following Champ's announcement. Monahan's press conference was needed, for a simple reason: The tour had to remind everybody what was at stake.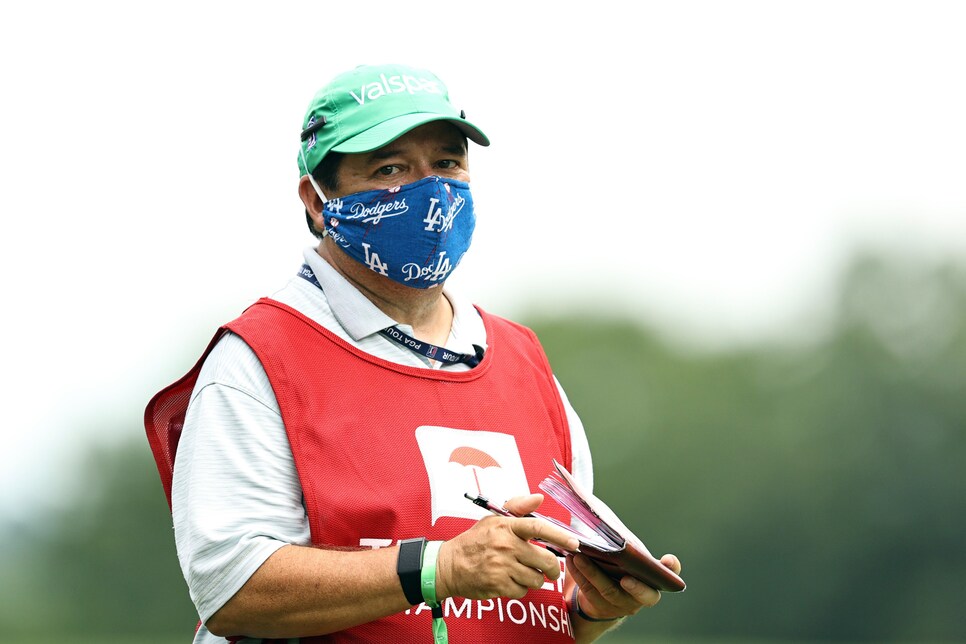 "All of us have an extraordinary responsibility to follow those protocols," Monahan said Wednesday. "For any individual that does not, there will be serious repercussions, and I'm not going to get into the specifics of it.
"But everybody knows and needs to know that our future, our ability to sustain this business and to impact the communities where we play and to create so many jobs is contingent on our ability to follow those protocols."
It was what needed to be said. And yet, it also brought with it an air of uncomfortability as Wednesday ended, fueling an uncertainty of what Thursday would bring.
If you've never been to a PGA Tour event, something happens between Wednesday and Thursday. Come Round 1, chatter is light, grins are replaced with grimaces, men turn into machines. There's a palpable sense of nervous energy, only the energy has nowhere to really go. Now, imagine that setting, only weighed down by a herd of elephants, and you have the gist of Thursday morning at TPC River Highlands.
Players were keeping their distance from one another, leaving as many as three hitting bays open between them and their competitors. Almost everyone on property had their face covered, and those that didn't were sometimes admonished. The handful of withdrawals and Monahan's message had been heard.
Shane Lowry said it has been a "kick in the backside." Sergio Garcia remarked "What we don't want is people doing the wrong things and then putting other people in danger." Even Phil Mickelson, never one for conformity, was complimentary of the tour's mission.
"I feel like the tour has done an amazing job of playing golf in a safe environment, given how many people are out here playing, competing and staying safe," Mickelson said.
The final word, as it is increasingly becoming common, belonged to Rory McIlroy. The four-time major winner wasn't thrilled with how matters played out at the Players Championship, but following his first-round 63 at the Travelers, McIlroy noted the air of the tournament changed with Monahan's edict.
"I thought Jay did a wonderful job yesterday, just relaying the information and where the PGA Tour stands and where we're going going forward," McIlroy said. "I think people—you hear one or two positive tests and people are panicking, and I saw a couple of calls to shut the tournament down, which is silly from my point of view. You know, I thought he did a really good job explaining. There's been almost 3,000 tests administered. The percentage of positive tests is under—it's a quarter of a percent.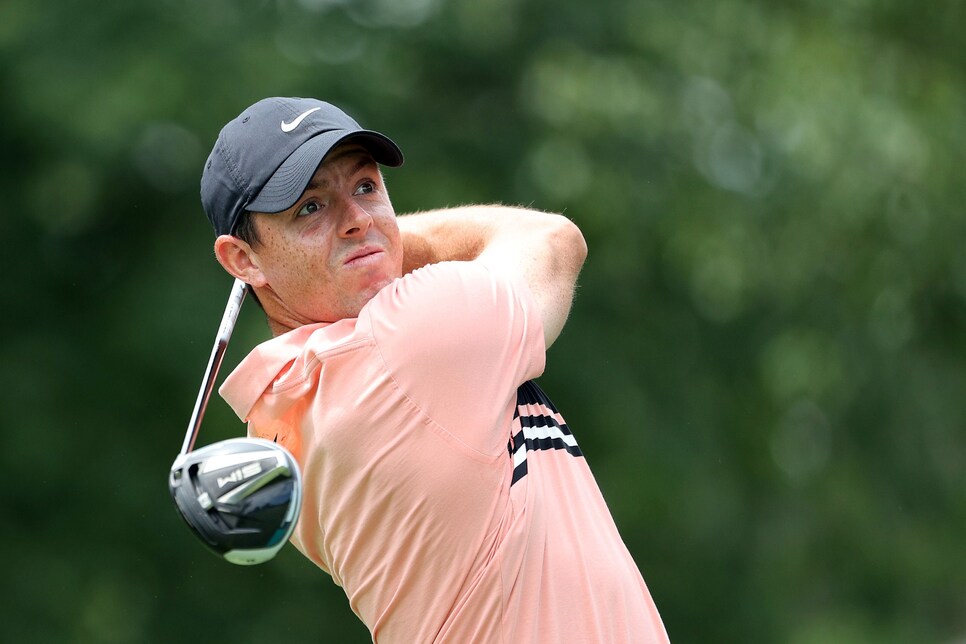 "I think as a whole, it's been going really well. There's a couple of loose ends that we needed to tidy up, and I think we've done that. So yeah, I feel like the mood and the tone of the event was probably lifted by Jay yesterday."
Conversely, it is a sporting event. It's supposed to be entertainment, a distraction. Once balls were in the air, the somber tones dissipated. Players began talking with one another after a few holes, joking around, enjoying themselves. There were the occasional breaches of safety measures, but nothing deserving reprimand. Most importantly, thanks to the morning wave painting the score board red, we can—for now—move the spotlight to a place that feels familiar.
Which is why those cheers off the first hole were so vital, cheers the players returned with a wave or smile or tip of the cap. Tuesday to Thursday morning was an uneasy stretch, and as we have been told repeatedly, things remain fluid. But there is a tournament to be played. We hope they have a great week.