RBC Heritage
In his first tour round since 2019, Morgan Hoffmann is effective ... with an asterisk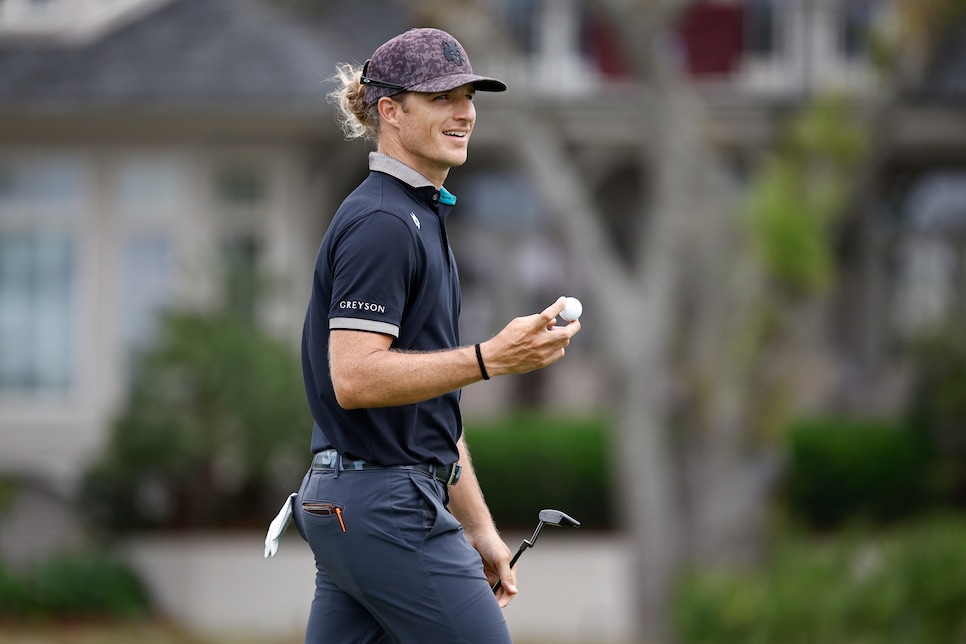 HILTON HEAD, S.C. — If you didn't know anything about golf, Morgan Hoffmann looked the most impressive of his Thursday trio at the RBC Heritage. Tall and slim, in a form-fitting black shirt, with a hat of deep purple from which a shock of dark blond hair emerged from the back in a messy bun. His gray pants stopped above his ankle, but it somehow worked, as did the bright green Jumpman logo on his shoes. He walks with his shoulders thrown back, usually alone and out front, gliding along the grass like a more nimble, less intimidating Dustin Johnson. When his group crossed paths with Justin Thomas and Jordan Spieth, he was the one they acknowledged, Spieth with a sincere, "good to see you back" and Thomas with a light joke: "It's going to take a while to get used to seeing you in Jordans."
Throw a neutral observer into the fray with the other two members of the threesome—Harold Varner III, who talks nonstop from the first shot to the last, and Matt Fitzpatrick, in an orange shirt that looked too big for him—and you'd pinpoint Hoffmann as the leader of the pack.
Instead, as Digest reported earlier this year, he's been in Costa Rica for the better part of two years searching for an alternative cure for the muscular dystrophy that withered his pectoral muscles and brought his career to a sudden halt in late 2019. In his first press conference on Tuesday, he spoke of spiritual white lights seen and felt under the influence of ayahuasca, and said that his only expectations for the week were "smiles."
The last time he played on tour, he missed the cut at the Shriners Children's Open in October 2019. Since then, he's worked to build muscle in defiance of his diagnosis, and continued that work even through a December motorcycle crash that left him with broken bones. The question on Thursday was simple: Could he still play?
Striding through the front nine at Harbour Town Golf Links on a cool, slightly overcast day, Hoffmann gave himself two 15-foot birdie looks on the first two holes, though he failed to capitalize on those, a brilliant approach to 3 feet from 203 yards on the third hole put him in red numbers for the first time. He quickly followed by dumping his tee shot in the water on the par-3 fourth by flirting too directly with the left side of the peninsula green, but after dropping 40 feet away, he drained the par putt. His second shot on the par-5 fifth ended pin high, just off the green, and a simple up and down moved him to two-under. And on the ninth, rather than take driver and aim for the front bunker like Varner and Fitzpatrick, he laid up off the tee, hit his approach to 10 feet, and buried the downhill putt to go out in 34.
You wouldn't call it the perfect start, but it wasn't far off. As he paced beneath the twisted live oaks with their long fingers of Spanish moss swaying from each branch, and crossed the bridges with their ominous "don't feed the alligators" signs, he wore the tight, private smile of someone experiencing a measure of satisfaction; the sense that he could still do this.
The back nine was a slight return to earth, with bogeys on 15 and 18 consigning him to an even-par finish in his return to the tour.
As for that asterisk, it's simple—he's just not hitting it very far. Last year, Varner was 60th in tour driving distance, and is worse this year. Fitzpatrick is even lower, sitting at 139th for the current season. Hole after hole, they were out-driving Hoffmann by 30-40 yards. Hoffmann's longest drive was 291 yards, but that was an outlier, and most were significantly shorter. He admitted on Tuesday that part of his rationale for choosing Hilton Head for his return was that the course wasn't "crazy long" like other tour stops.
That meant that in order to score, he had to hit excellent approaches, some of them from very far away, and scramble his way out of every mistake since it would never be as easy for him to regain lost strokes. It worked for a while, but the lack of length caught up with him on the back nine especially, leading to several holes where he couldn't get his approach close enough to hope for anything but a tough two-putt.
In that sense, it's tempting to see his round as a mirage, or a kind of false dawn—a bit of luck that simply can't hold. As Fitzpatrick said after the round, Hoffmann's score could have been better, had he holed a few more putts. That said, it could also have been worse.
"Obviously you see it," Fitzpatrick said of Hoffmann's shorter drives. "It's something I've read about, but it's early doors...and I think this is obviously why he chose to come back here, because it's a short course."
"I don't think it really mattered," Varner said, of the length disparity. "On No. 3, I outdrove him by 30 yards, but he hit it to four feet and I'm sitting there at 20, 25 feet."
It's a nice sentiment from Varner, but expecting to hit 200-yard iron approaches to near-gimme distances is not a sound or sustainable plan, and Hoffmann was more open about this shortcoming.
"I'm driving it really short," he said. "So I'd love to have a little bit more speed. I think it's repetition. I was playing with Camilo [Villegas] yesterday, and he took a lot of time off and came back. He was like, 'it took me three to seven months or so to really get the ball speed back to where I wanted it to.' He was kind of scared in the beginning of how slow it was. He was like, 'man, I'm going to have to quit the game because I'm hitting it short.' He just reiterated that over time it's going to come back and don't worry."
Time, though, is at least a minor concern for Hoffmann. He has two more starts left on his medical extension, and he said on Thursday that if he can't get his card back after that, he'll "go by the seat of his pants," look for sponsor exemptions and perhaps try to Monday qualify. He's staying in Florida for the summer while his home in Costa Rica is being renovated, so the commute shouldn't be too taxing.
Length issues aside, he looked and felt optimistic following his 71.
"I had a great time out there," he said, the ever present smile now looking almost beatific. "I think the game's closer than I thought, and it's exciting. I'm pumped."
Then he said something that any golfer can relate to in his deepest heart, from the lowest amateur to the most decorated professional to a man trying to work his way back into elite form after a period of restorative self-exile in Central America.
"I love this game so much," he said. "It's so difficult."