The Loop
I tried (and failed miserably) in an attempt to make a hole-in-one to win $40,000 and a car at the 2018 PGA Show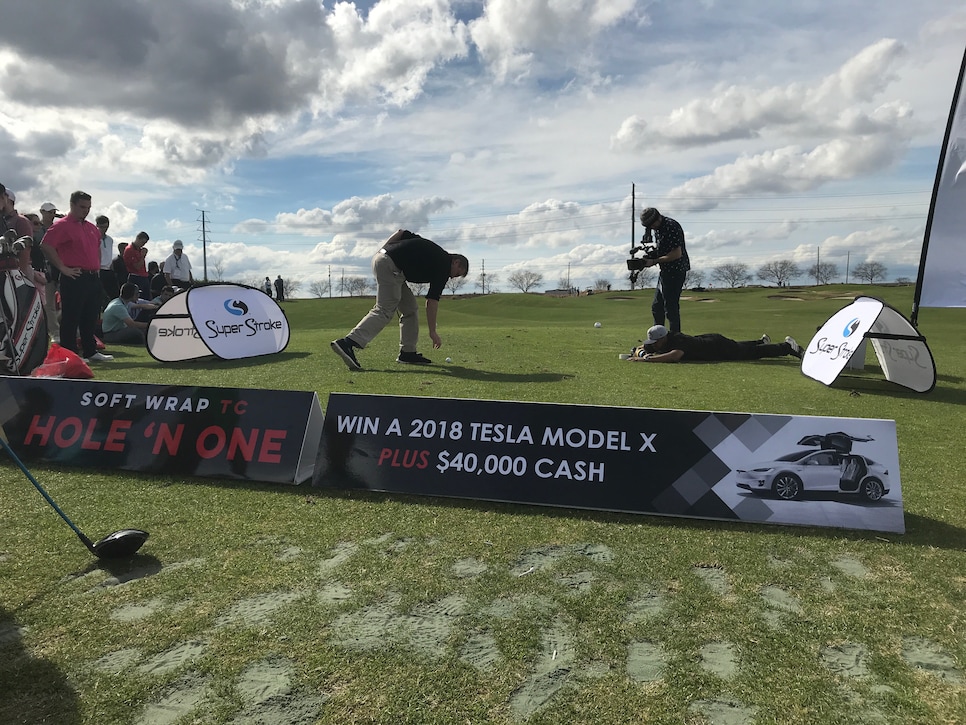 ORLANDO—Golf instructors, avert your eyes. Taking a month off without swinging a club, a couple blisters on my fingers and a paper cut (yes, I'm a nerdy editor)—I have all the excuses. But I overcame all of that and competed in SuperStroke's contest yesterday at the 2018 PGA Merchandise Show in which the company was offering $40,000 cash and a new Tesla car for anybody who made a hole-in-one, in promotion of its new Soft Wrap TC grip.
The hole was a stout 175-yard par 3 at Orange County National playing into a healthy wind. Remarkably, a golfer came within 3 inches of holing his shot. A couple contestants came close, but there was no cash or car in anyone's future. Particularly not for this writer. I did not come close.
People were really serious about the contest. One 12-year-old kid from the Orlando area, Ethan Badillo, competes in U.S. Kids and other junior events. He paced around the tee boxes as he waited for his name to be called: "I was definitely a little nervous," he said after.
There was definite pressure. Average golfers aren't used to hitting in front of others. Let alone 50+ people huddled around the tee box. Social-media influencers like Kenzie O'Connell, Patrick Koenig and Chelsea Lynn Pezzola tried their luck. And a videographer and photographer hired by SuperStroke huddled around the tee to document the event. I was worried I was going to shank one into them—let alone try to ace it.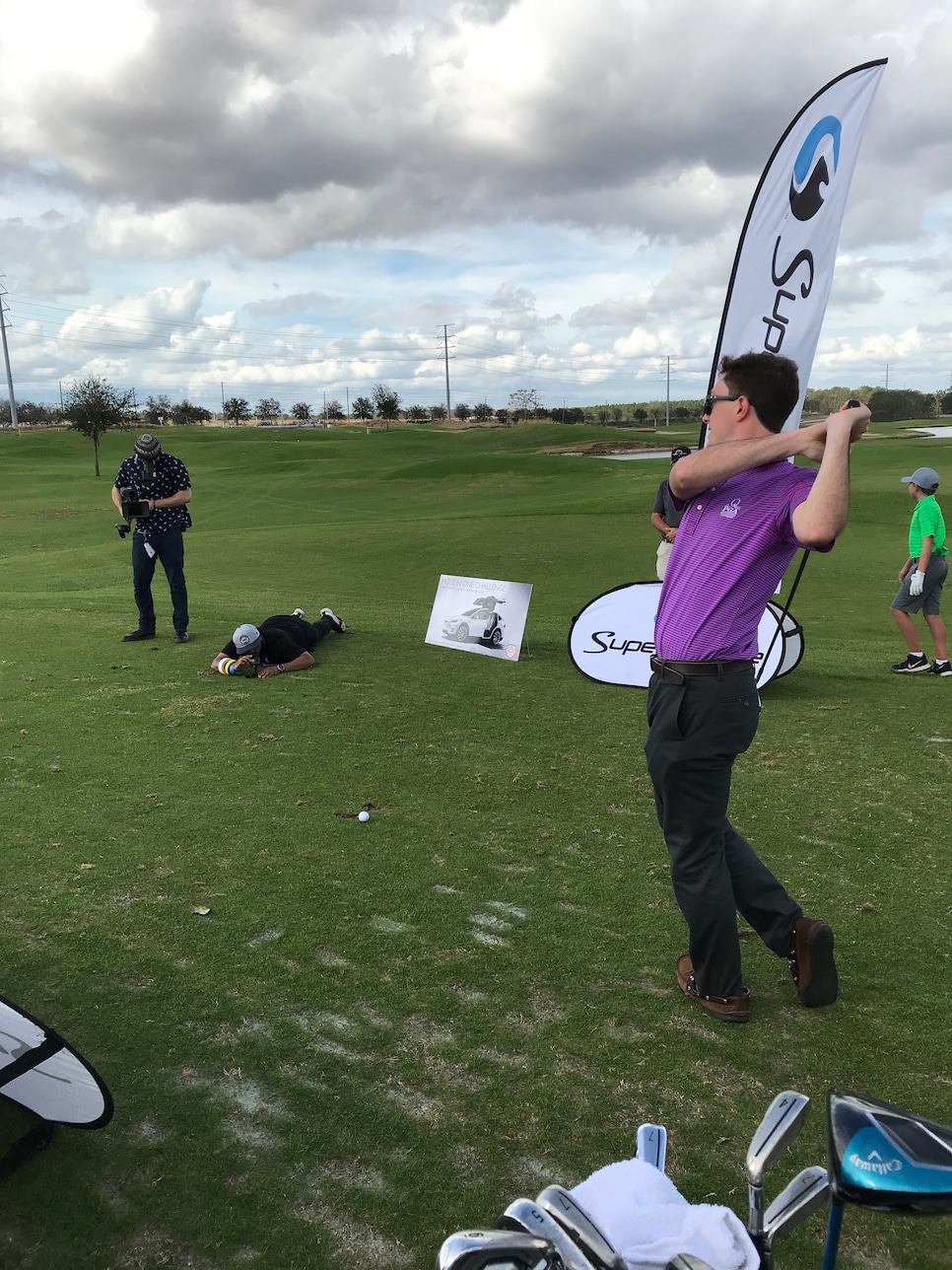 Like I said, I have all the excuses. Here's the shot. No, I didn't make enough of a turn. And yes, it was mighty thin. But it was airborne... and almost got to the green.
Kudos to SuperStroke for a fun contest for Demo Day participants. It afforded folks like Ethan Badillo, with his grandfather, Gary Methot, a golf professional from New Hampshire, to share an experience they'll remember forever. Here's Ethan watching his grandfather, Gary, hit the last attempt of the day.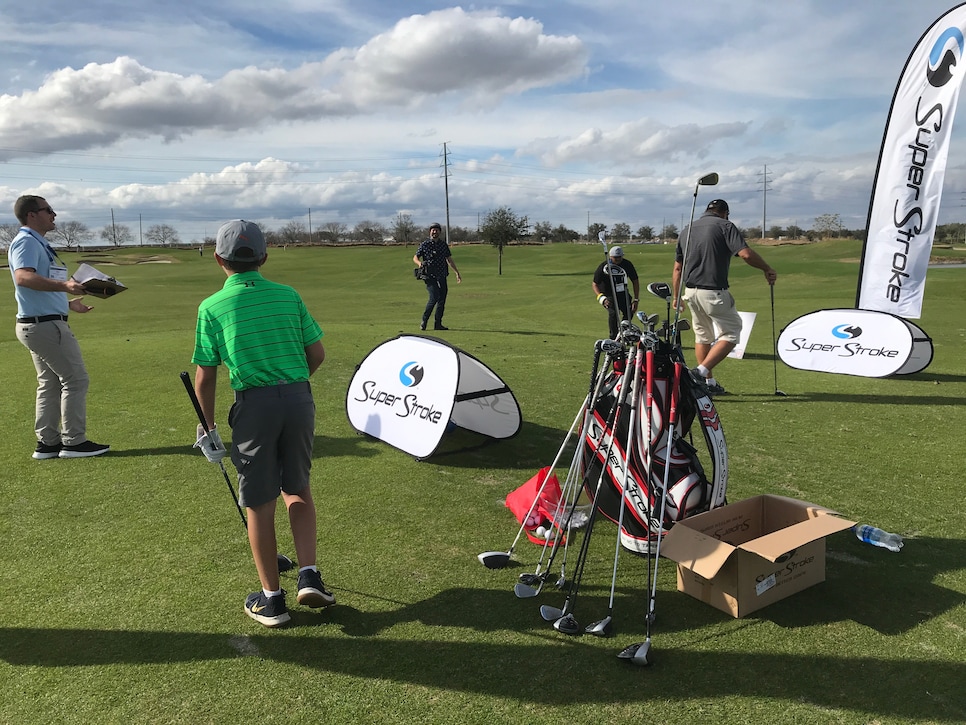 Needless to say, they were both way better than this writer. Time to hit the range.