News
Cool stuff at the 2018 PGA Merchandise Show
ORLANDO — The 2018 PGA Merchandise Show, golf's annual feast of golf products of all shapes and sizes, is upon us to showcase the latest innovations in our industry—from clubs, to swing aids, to apparel, to gadgets, to … well just about anything. Golf Digest editors are combing the floor of the Orange County Convention Center for the freshest and most intriguing new products. We'll update as we go, so check back often to see what we've surfaced.
Teaching tempo and rhythm in the putting stroke to average players can be tough. It's one thing to teach method, another to instruct a golfer how to develop a smooth stroke.
A newly available training aid, the Flex Putter, aims to train the proper release of the putterhead with a graphite shaft that flexes if it's not struck with a smooth tempo. Some PGA Tour players, including Patrick Reed and Fabian Gomez, practice with the training aid—and world-renown putting instructor Dave Stockton endorses it. Here's a video that explains the Flex Putter:
Jones Golf's Utility Rover, $169.
There's something nostalgic about playing with a Jones Golf bag, The way you sling it over one shoulder and lay it on the grass as you hit your shot pays homage to the early days of golf. But a single-strap bag isn't for everyone and it takes a good bit of getting used to.
Enter, the Utility Rover, Jones' first-ever double-strap bag.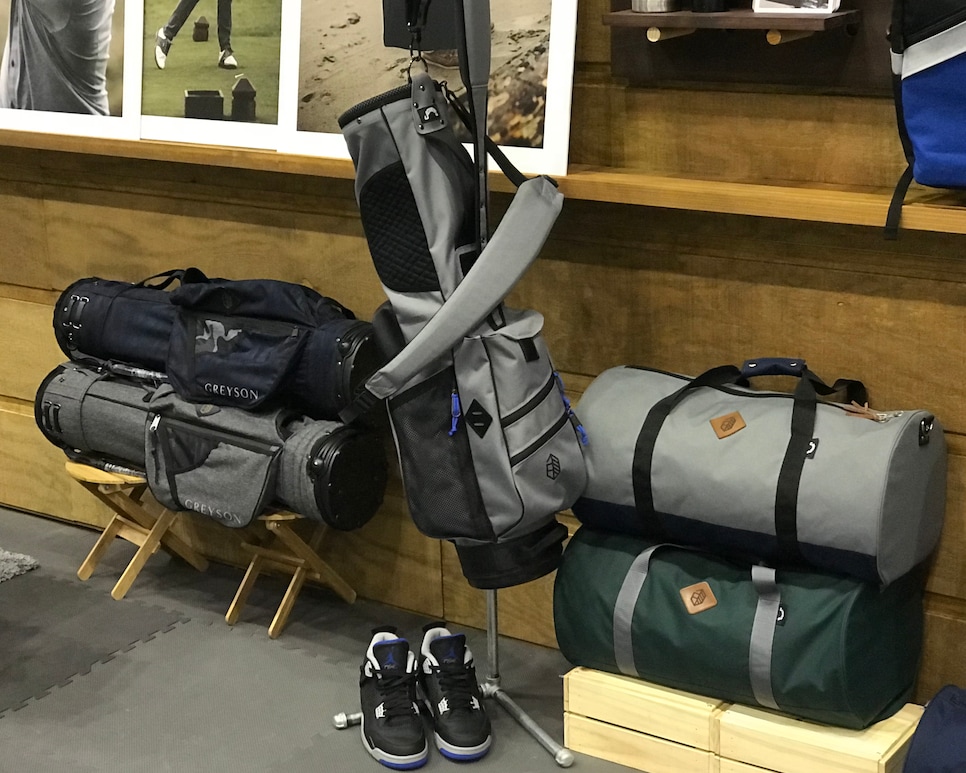 The sleek, leg-less bag that Jones fans love will soon be designed with the more comfortable double-strap system we've all come to rely on. The Rover is the product of feedback from many golfers who said they wished Jones would make a carry bag with two straps.
It has plenty of pockets (including a large, insulated compartment that accommodates multiple beverages) and its aesthetic is inspired by the Air Jordan kicks shown in the image. It lands on May 1. —Ashley Mayo
Hand-painted Seamus headcovers
Seamus, who is widely known for its patterned-wool headcovers and sharp accessories, has ventured into uncharted territory by making hand-painted headcovers—bringing literal works of art to the golf equipment space.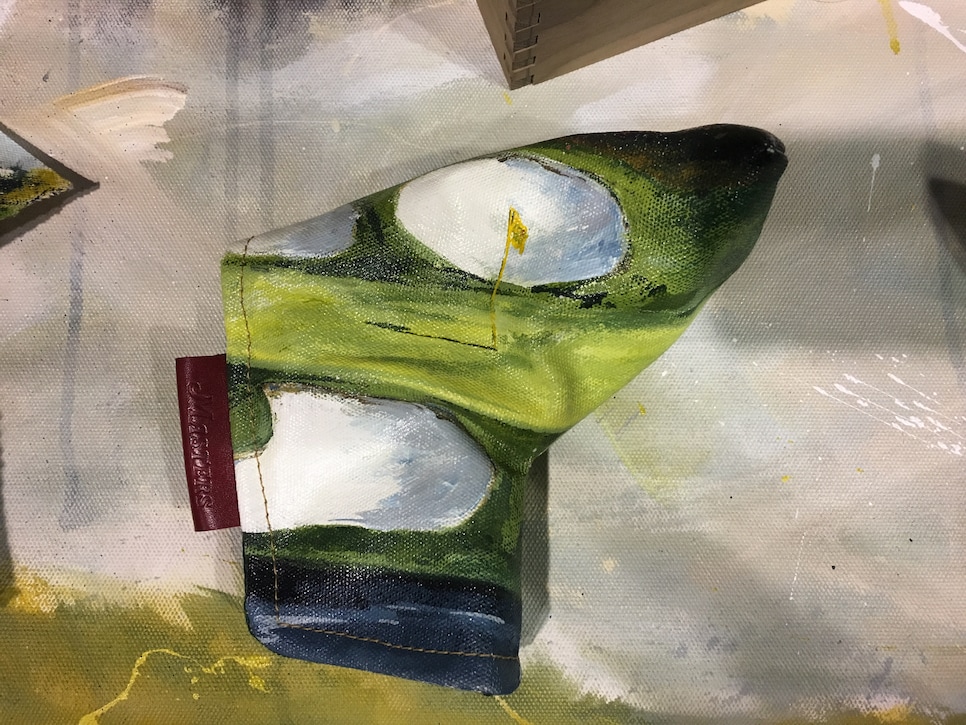 The idea came from something Seamus brass saw in Matt Kuchar's bag. Artist Dave Baysden had painted Seamus headcovers for Kuchar, and the team at Seamus realized they had the opportunity to do something really cool and original—and bring it to average players.
The folks at Seamus worked with Baysden to make some prototypes. Akbar Chisti, one of the co-owners, says that the price of these hand-painted headcovers depends on the piece, and right now all pieces made are only via special orders. —Keely Levins
Cornhole Meets Night Golf?
Visitors to the Indian Wells Golf Resort in Palm Springs, Calif., have already experienced NextLinks' "patent-pending pinpoint spotlight technology." Say that five times fast. Basically, it's a system of spotlights that project spots and shapes onto a putting green to guide players through games. The light can project the cornhole rectangle (pictured), the rings of a bocce court, and a host of other games that use putting as the fundamental element.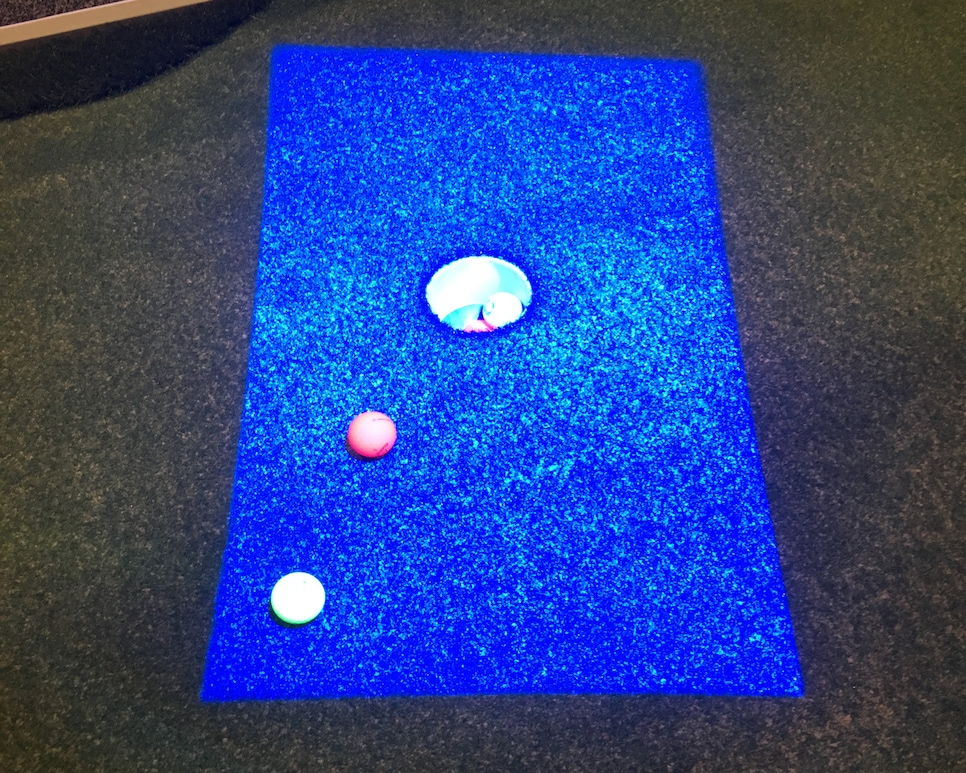 Though Indian Wells has erected spotlights on its practice putting green for night use, the company is also aiming at indoor applications. Later in 2018, a version is scheduled to open inside a casino run by the Lummi Nation near Seattle.
How will that work? Varying length putts on the contoured green will have different odds values (3:1, 5:1, 35:1, etc.) and so a player could buy balls just as one would chips to go try his or her luck.
The inventor, Dave Schultz, a former engineer for G&E, also has plans to incorporate the technology with full swing simulators so players can "putt out" to score a round after hitting greens virtually. Stay tuned. —Max Adler
Dormie Competition Keeps Collection Fresh
Canada-based Dormie is known for its innovative, durable headcover designs. Though they never seem to run out of one-of-a-kind ideas, the company's recent Instagram competition tapped followers for new designs.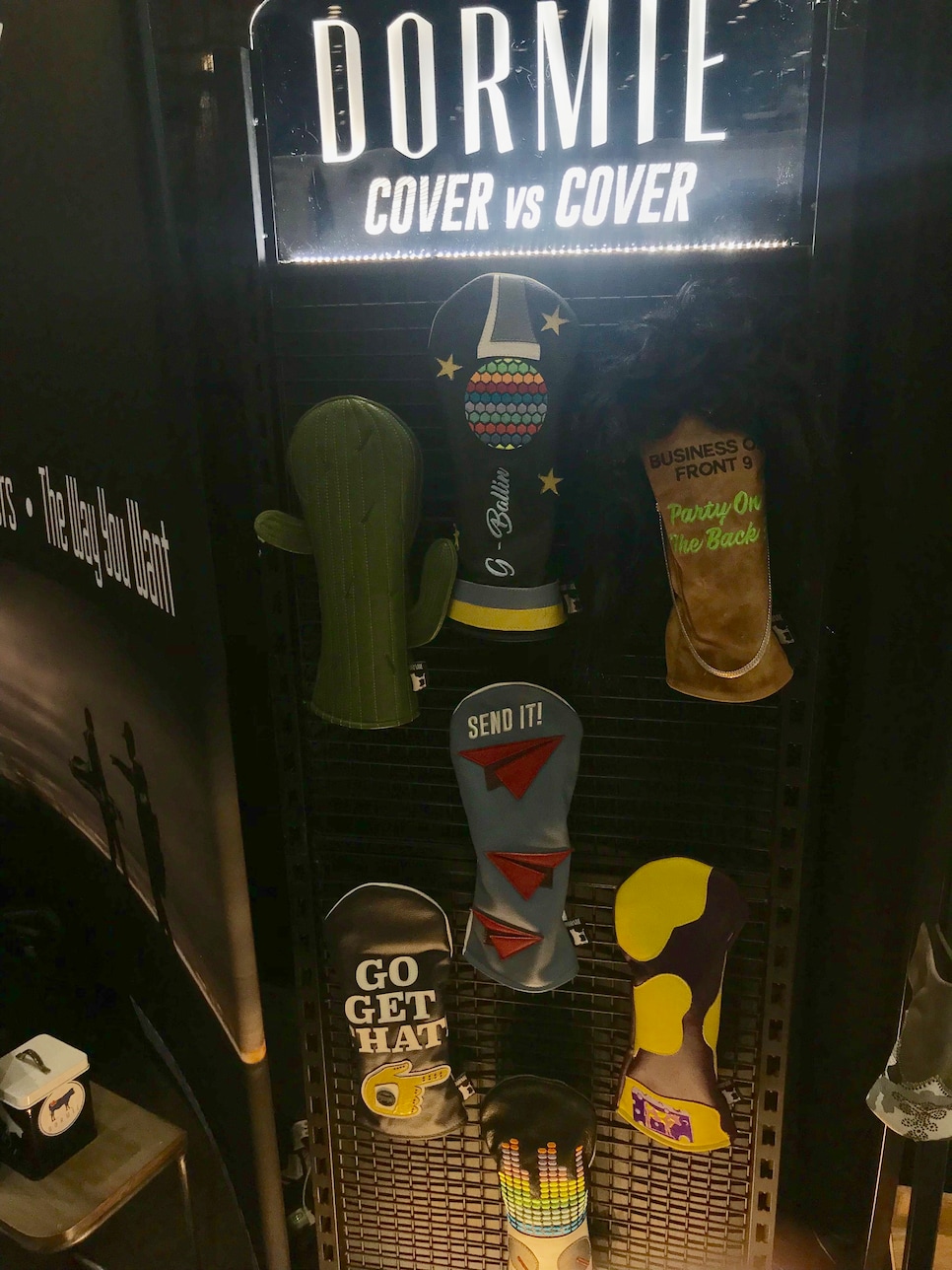 The team at Dormie sorted through submissions, selected the seven finalists (above) and manufactured the designs into real headcovers displayed and voted on at the show. Would you buy one of these?
The winners were announced Friday morning; the blue and red "Send it" design was the overall winner, while "Go get that" earned people's choice honors. —Brittany Romano
Crab & Cleek Changing Up Golf Flag Game
Inspired by the trend of repurposing sailing materials, Crab & Cleek uses the materials from actual golf flags for shoe bags, valuable bags, placemats and pillows.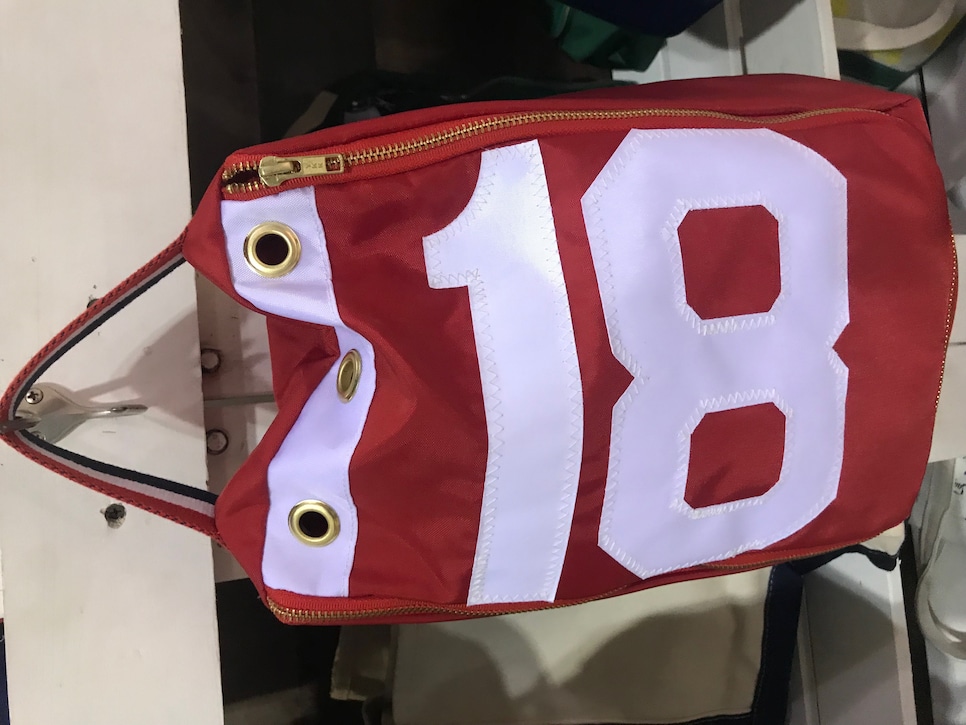 Primarily available at individual golf shops, the company is expanding its online collection, which includes unique and customizable canvas totes (the golf tote goes for $50). Keep an eye out for pricing and availability. —B.R.
Transrover (not at retail yet).
Stories like Thinh Tran's are what the PGA Merchandise Show is all about.
Tran quit his job after 10 years of being a graphic designer at a marketing firm to pursue a dream: Developing a golf bag that people could convert into a push cart. Nearly eight years later, Tran's product is generating buzz in Orlando. (You might've seen Tran discussing his journey and his product—the Transrover convertible hybrid push cart meets golf bag—on Golf Channel's "Morning Drive" on Thursday.)
The Sacramento-based inventor went through thousands of hours of building prototypes in his garage with materials he'd buy from Home Depot to develop this product. He took some time with Golf Digest to explain his invention—as you really need to see it to understand how the wheels fold out of the lightweight bag.
The videos below are split into two parts, with partial overlap between the beginning of the second. It will give you an idea of how Tran's product works. Though it's not at retail yet, Tran hopes to have products ready for golfers to purchase by May. —Stephen Hennessey
"The Caddy" Clips Your Tablet/Smartphone to Your Cart
This will be most exciting to instructors and parents of junior golfers. Founder Humphrey Wesenhagen has developed what he calls a GPS sidekick—a contraption that allows you to clip an iPad or iPhone to a golf cart, so you don't have to be holding it as you drive or ride in the cart.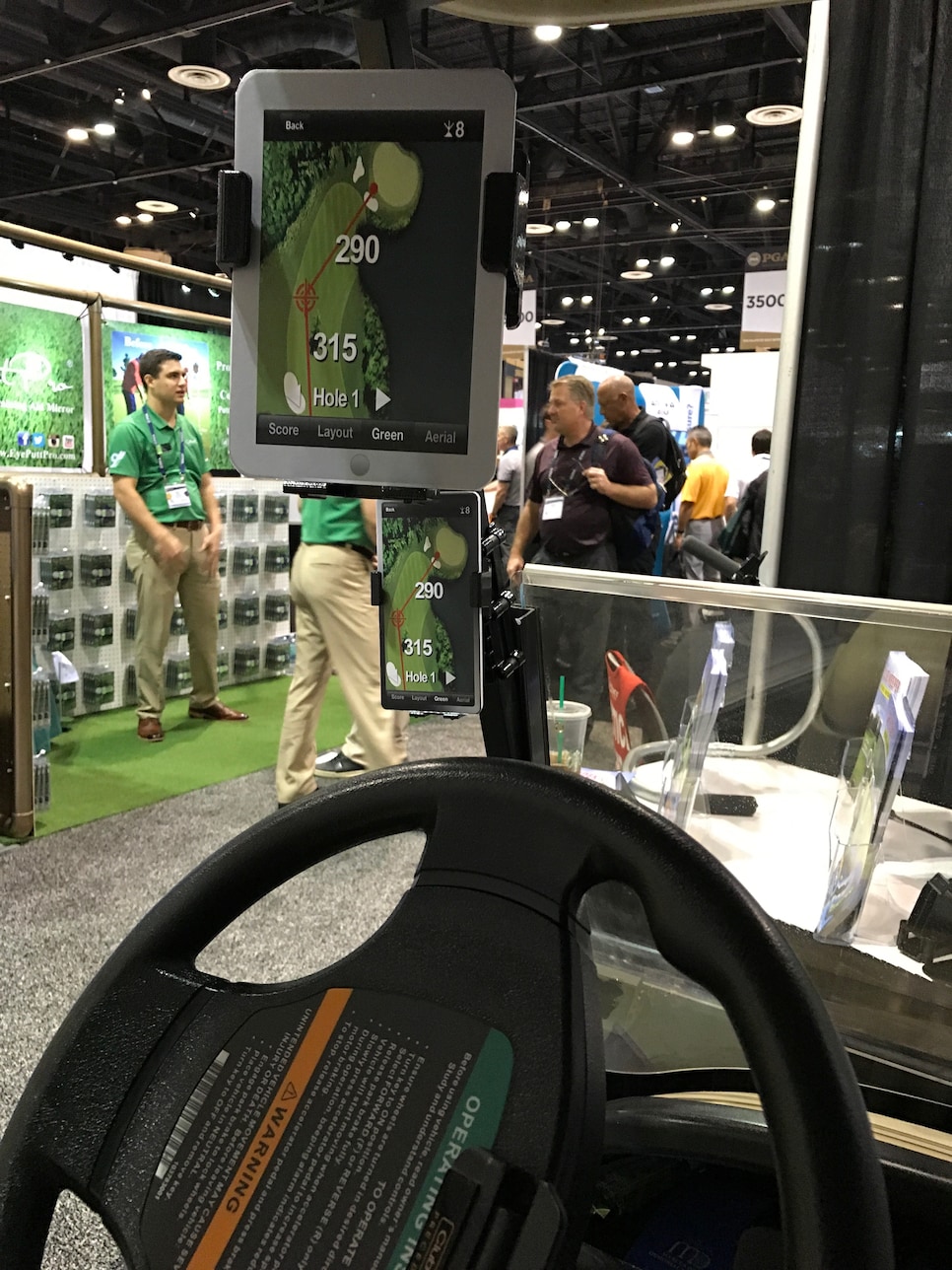 The neat thing, too, is that the design allows you to rotate the device up to 140 degrees, so you can play it while you're standing outside the cart. You can picture instructors driving around the course, being able to play captured video in front of their students—while not having to hold the device. Seems like there'd be good utility for parents who could play movies for their kids via the tablet, too.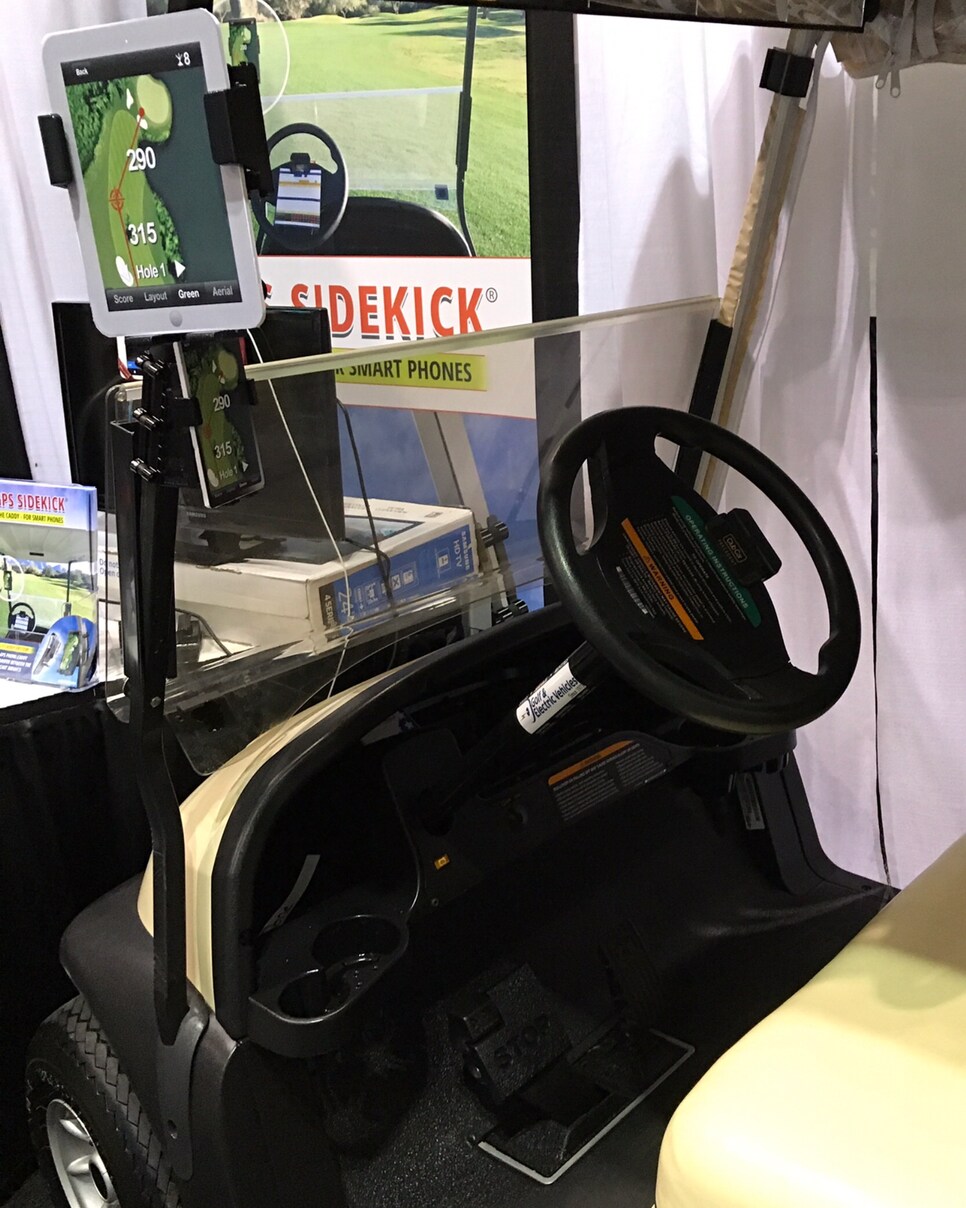 Wesenhagen says the prototype needs a little work: In order to accommodate any size phone, he will tweak his design to include a rubber top-half of the case that will snap in the phone/tablet, so it doesn't move at all. It's a neat idea that we'll look forward to tracking in the future. —SH
U.S. Adaptive Golf Alliance
While products are marketed in the town-square parameters of the U.S. Adaptive Golf Alliance center—including carts, clubs and apparel—the real pitch involves awareness.
"Everyone here loves golf, right?" asks Mark Johnson, director of advancement. "So do we. And we just want to make sure the industry recognizes that push too."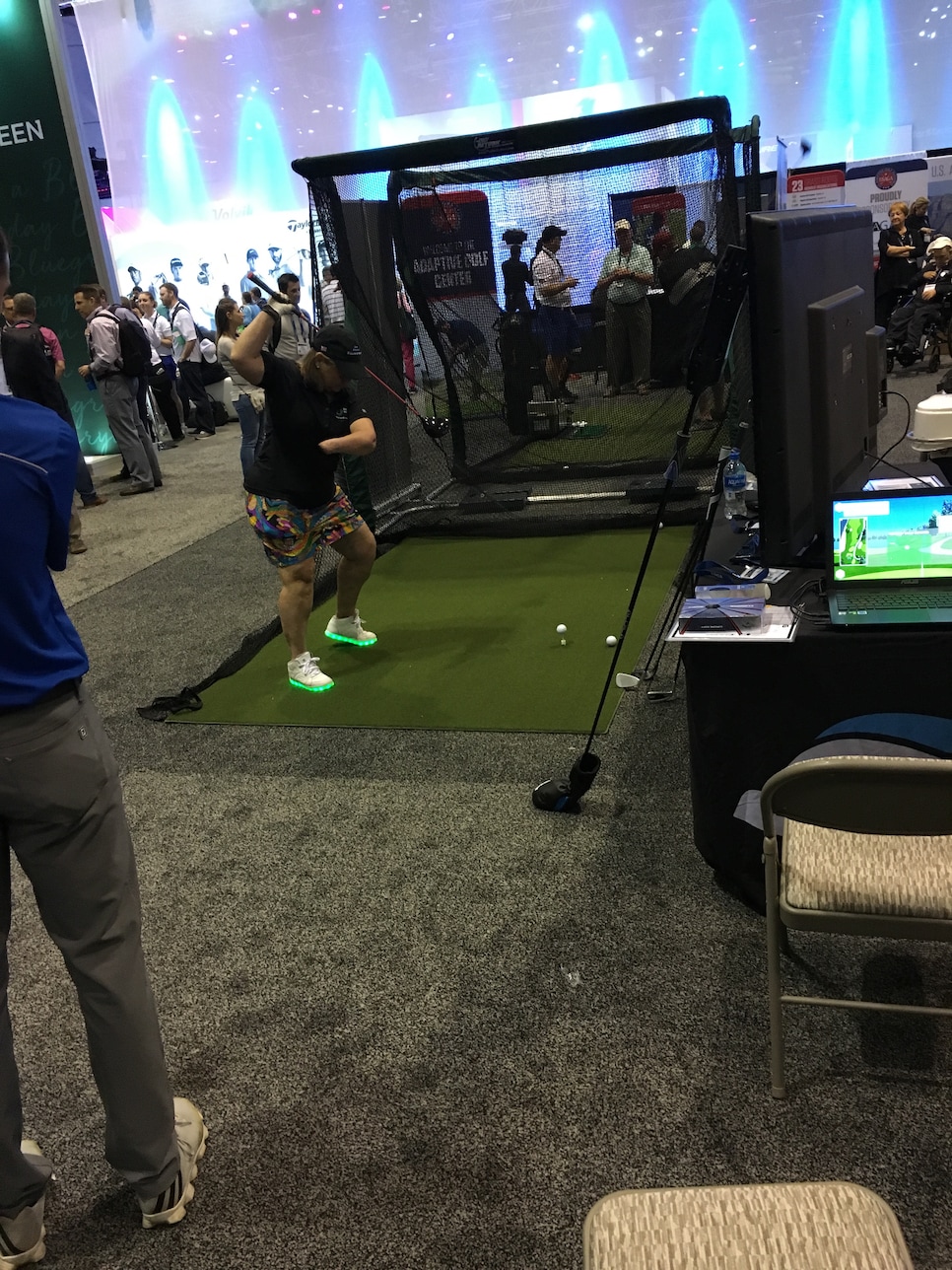 The USAGA is an umbrella organization for 23 groups, all which act as their own entities. They're spread throughout the country, but all have the same mission: to help those with disabilities play golf. The Middle Atlantic Blind Golf Association of Blue Bell, Pa., gives blind and visually impaired men and women access and opportunities to the sport. Fairways for Warriors, based in Orlando, provides hope, healing, and camaraderie for combat wounded veterans and their families. ​​North American One-Armed Golfers Association caters to, you guessed it, one-armed golfers.
Together, these organizations have work to promote and advance the game to a part of society that's often overlooked. It sounds like an easy concept, but it often runs into obstacles. Many courses still prohibit handicap carts from touching their greens, while the group is still awaiting USGA certification to allow their players a chance at the amputee world rankings (a necessity to get into the Paralympics). This group merely wants to be treated like everybody else.
"There are 20 million disabled people in the United States, a large majority we've identified as having interest in golf," says Johnson. "If you want to grow the game, starting with us might help." —Joel Beall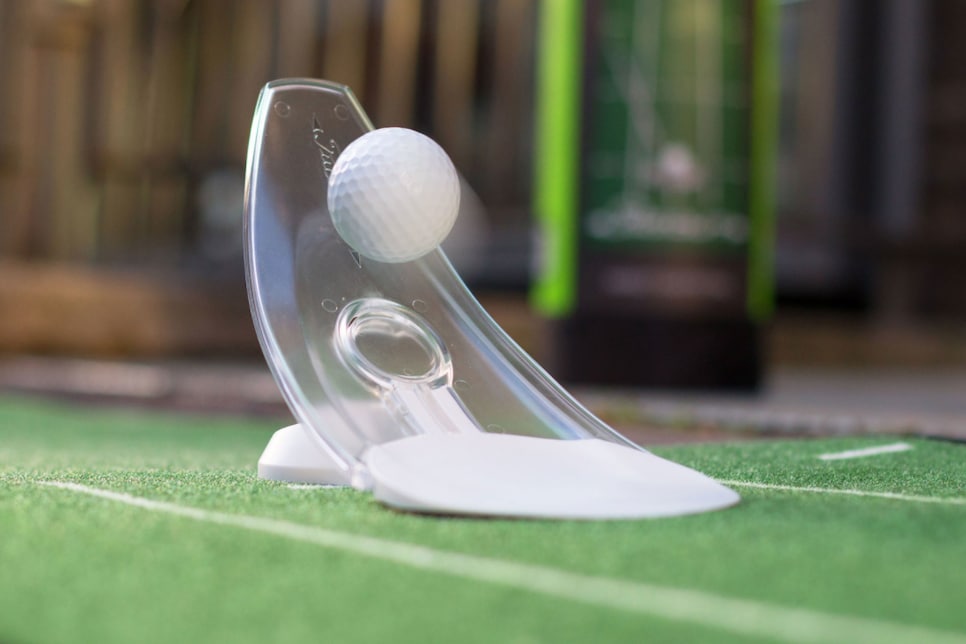 Sometimes, the most simple designs are the ones that bring the most utility. The Putt Out is a cool little putting device that helps you work on both your aim and your speed.
The ramp makes your ball roll back the same distance it would've rolled past the cup—showing you how far off you might be. It conveniently folds up for easy transport to your home or office or practice green. For more, click here. —MA
The PGA Merchandise Show isn't just about merchandise: It's also about having conversations about how to improve the game and launching initiatives that take on that task. One conversation was about how to improve the golf experience for women. To help do that, the LPGA announced the LPGA Women's Network.

The overarching message from the launch was that for the number of women golfers to increase, it's not enough for women to know that they can play golf. There also needs to be a community for them to join. In the past, the majority of girls and women who've stuck with golf have had to be comfortable learning the game and playing it almost entirely with boys and men. And not all women or young girls want to do that – they want the opportunity to learn how to play with other women, in an environment that's less intimidating. So, to help support and grow the women's golf community, the LPGA Women's Network was launched.
On the site you'll find instruction tips, a blog and video series featuring LPGA players, a platform to connect and share stories with other female golfers, stories about fashion, discounts from LPGA partners, and more. It's an online golf hub for women that promotes inclusion, education and works to inspire. Check it out here. --KL
As golfers continue to crave more and more data, companies are developing products that cater to their needs. Bushnell's latest product introduction, a rangefinder meets GPS the company has dubbed the Hybrid, offers the benefits of laser and GPS technology.
The company says it's the first combo unit that integrates laser and GPS into one LCD screen. Upon locking in your target, yardages to the front and back of the green, plus the distance to the flag. And the exterior GPS readout includes that yardage, too.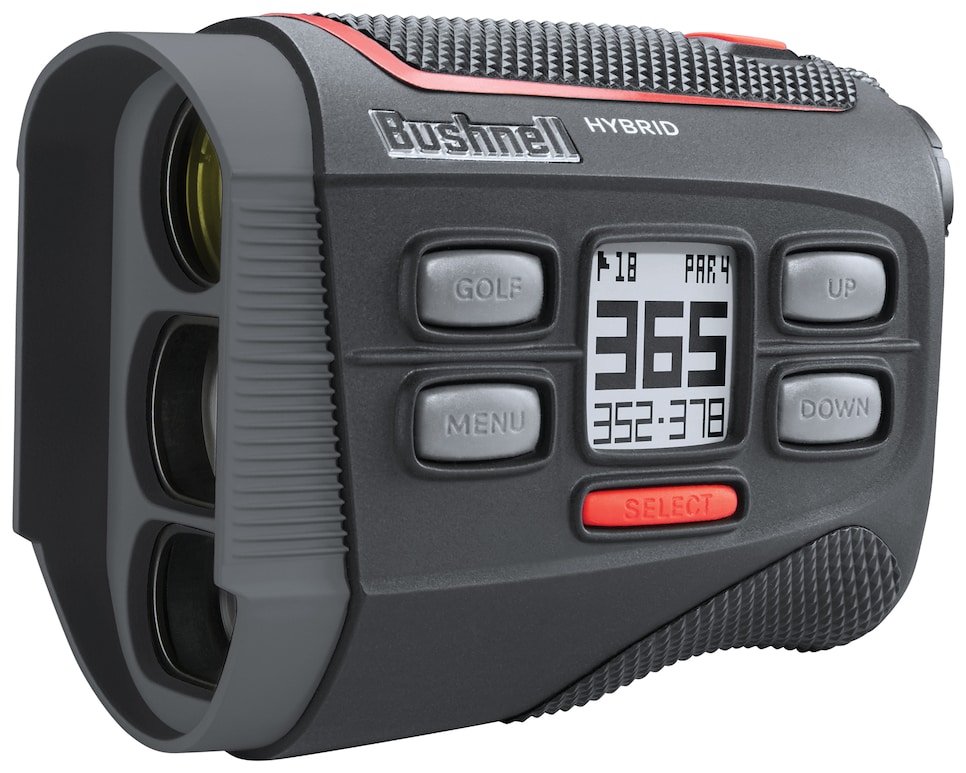 The Bushnell Hybrid features the same vibration-JOLT technology as previous models. It also has Bluetooth technology to identify course updates, which will pop up within the Bushnell app. The unit comes pre-loaded with 36,000 courses across 30 countries, as does all the company's products. It will be at retail in mid-April, says Bushnell marketing manager Derek Schuman.
The company also announced two other new products: a handheld GPS device, the Phantom, which will be available at an affordable price ($99) in late February. A magnetic clip on the back allows users to place the unit on your cart. And the iON 2 watch ($180) will be available in late April, and includes a reversible band to switch up color schemes. It also includes fitness-tracking, so you can track your steps in addition to keeping tabs of your score. —S.H.
Chef's Cut beef jerky, 16 pack of 1.0 oz. sticks for $30.
If you're tired of the same-old golf course snacks—a hot dog or a candy bar at the turn—you're not alone. Eating healthy on the golf course can be a struggle. But if you pack a healthy snack before you get to the course, your on-course eating habits can rapidly improve.
Gaining popularity over the past couple of years is beef jerky. It's a great option because it's easy to toss in your bag. It's also high in protein, so it'll keep you satiated longer.
The guys who started Chef's Cut were both working as caddies when they decided to start their own jerky business. They wanted to bring homemade jerky made from real ingredients to the masses. And they have a ton of tasty options.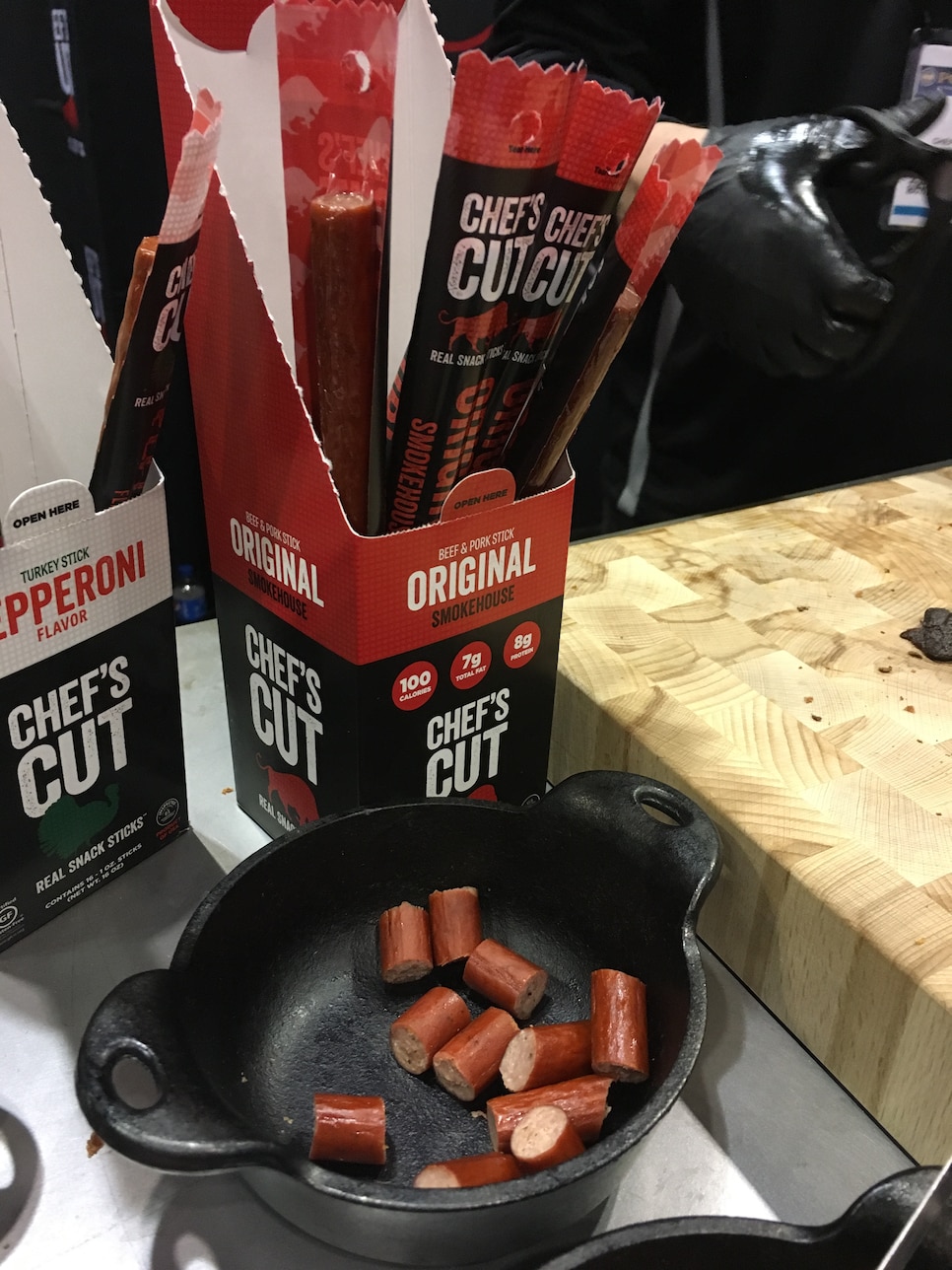 One of their new products is the Turkey Pepperoni Stick. What's great about it is that it tastes like beef, but since it's actually turkey, it's lower in fat. It's a healthier option without compromising taste. —K.L.
GolfLogix's Putt Break Maps, $50 a year, available for trial basis
The impressive green-reading books that tour players use to figure out the breaks of putts has inspired companies to offer this data to average golfers.
GolfLogix's new Putt Break green-reading technology is now available to golfers—bringing 5,000 charted courses to users of the app. More than 6 million data points are gathered by GolfLogix's greens-charters in registering the breaks on just one green. The result is tour-caliber advice on how your putts will break.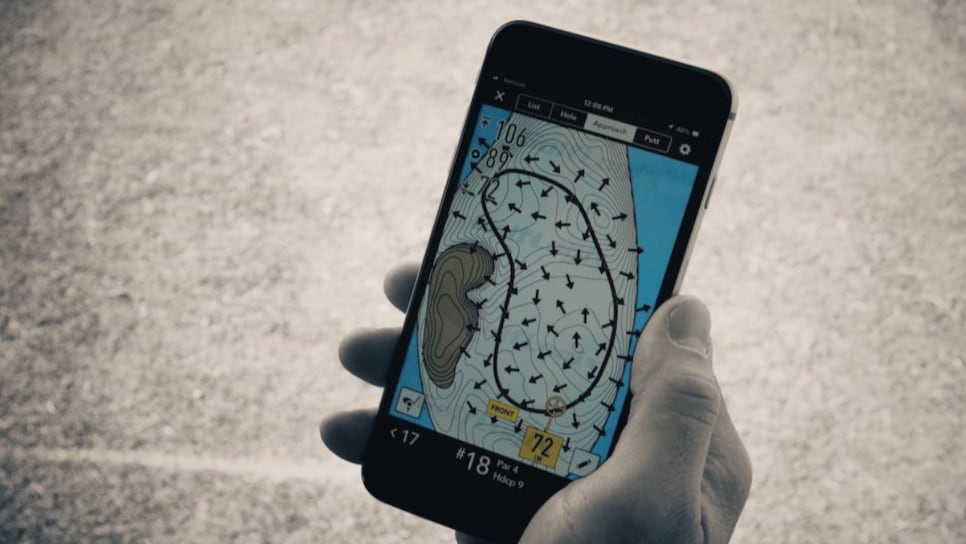 One of the coolest gestures by GolfLogix this week: It is offering its services free of charge to PGA professionals. Pros are encouraged to head to the company's PGA Booth (#900) to sign up.
GolfLogix says you can download the Putt Breaks version on a trial basis for a small fee before upping to the yearly amount. And if your course isn't already charted, you can submit a request for GolfLogix to come chart your greens. If they get enough requests, they'll make sure someone gets out. —S.H.
OnCore's Genius Ball, price TBD.
A golf ball that's trackable via an app? Yes, OnCore is close to releasing one.
The Buffalo, N.Y.-based company, which first made a name for itself by making hallow metal-core golf balls, then released a tour-level urethane ball last year, has officially announced a new project it's been working on: the Genius Ball. And there's more technology to this prototype than simply locating your golf ball.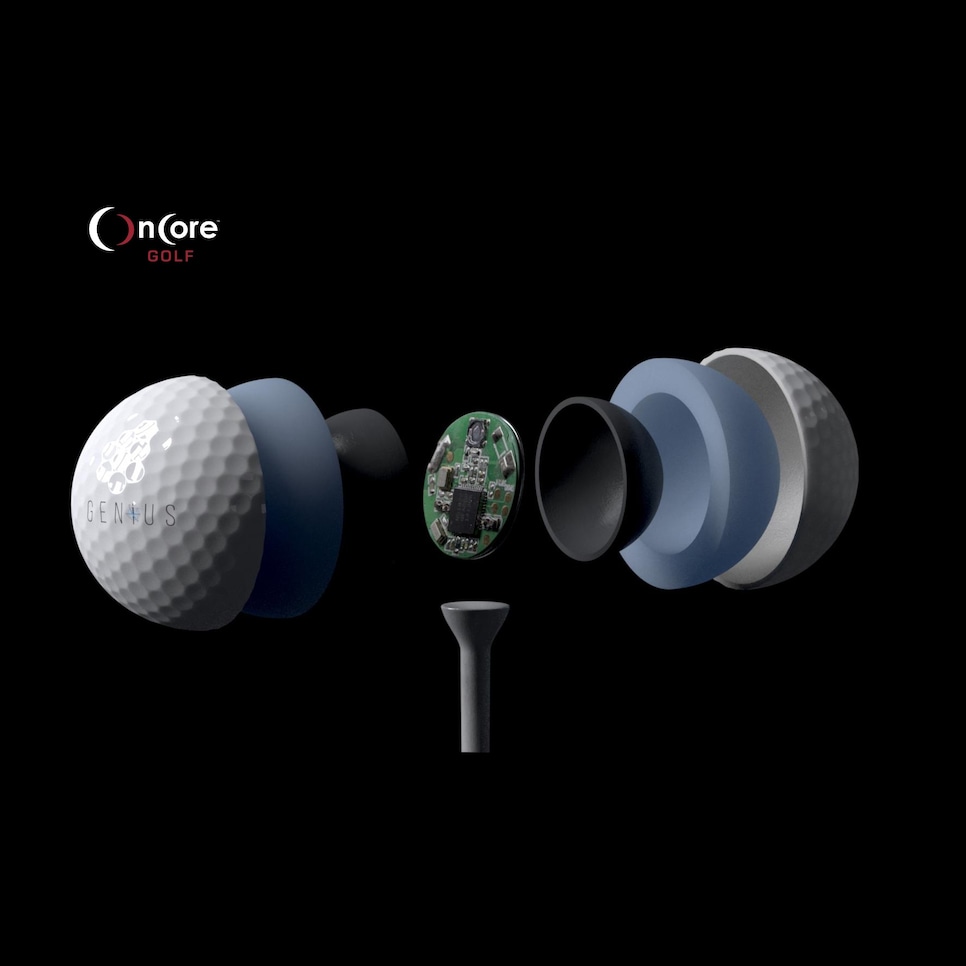 The accompanying app to come from OnCore will show stats from each shot: carry distance, velocity, spin rate, how much it rolled, launch angle, etc. The app will also have a map of the course you're playing and show you all of your yardages.
So, while it's awesome that you'll be able to find your ball no matter how wayward your tee balls are, the Genius Ball will also be able to teach you a lot about your game so you'll know what you need to work on to improve.
There isn't a price on this product yet, but OnCore is planning to launch in the end of the summer. Here's a photo of the design of the prototype: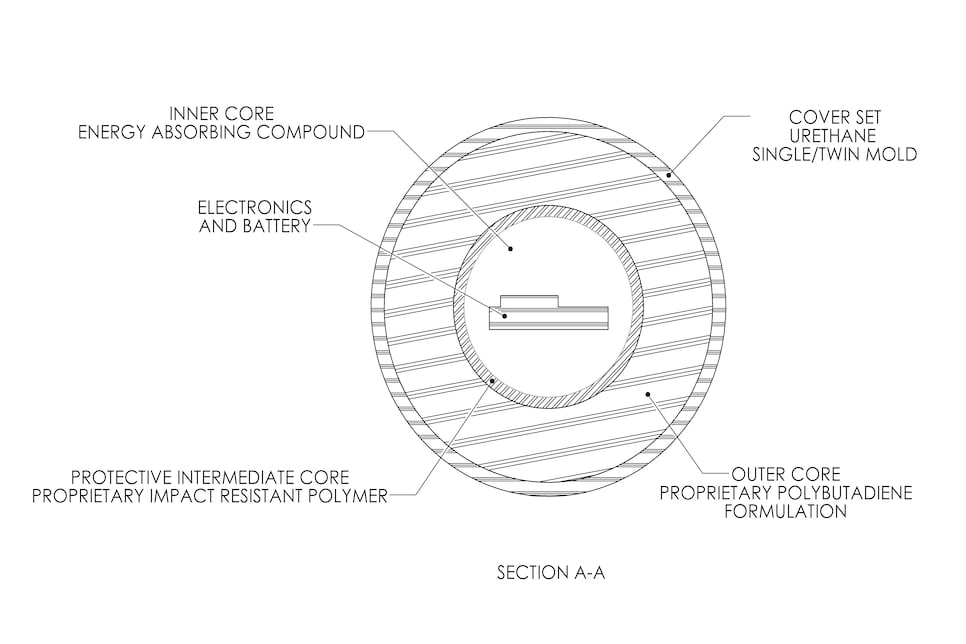 The company has the prototype in-hand at the Show, too: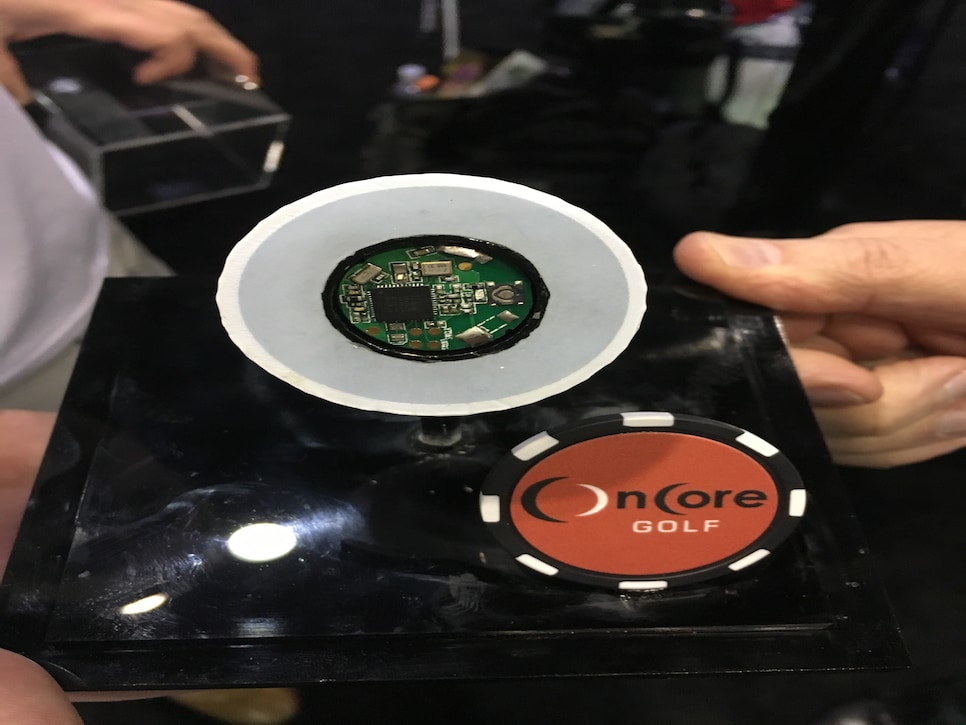 Limited-Edition 'Art Polos' from J.Lindeberg
The always style-conscious J.Lindeberg is mixing up the golf-shirt game yet again with a limited-edition line of hand-painted shirts. A New York artist painted four designs that will be transformed into a screen print.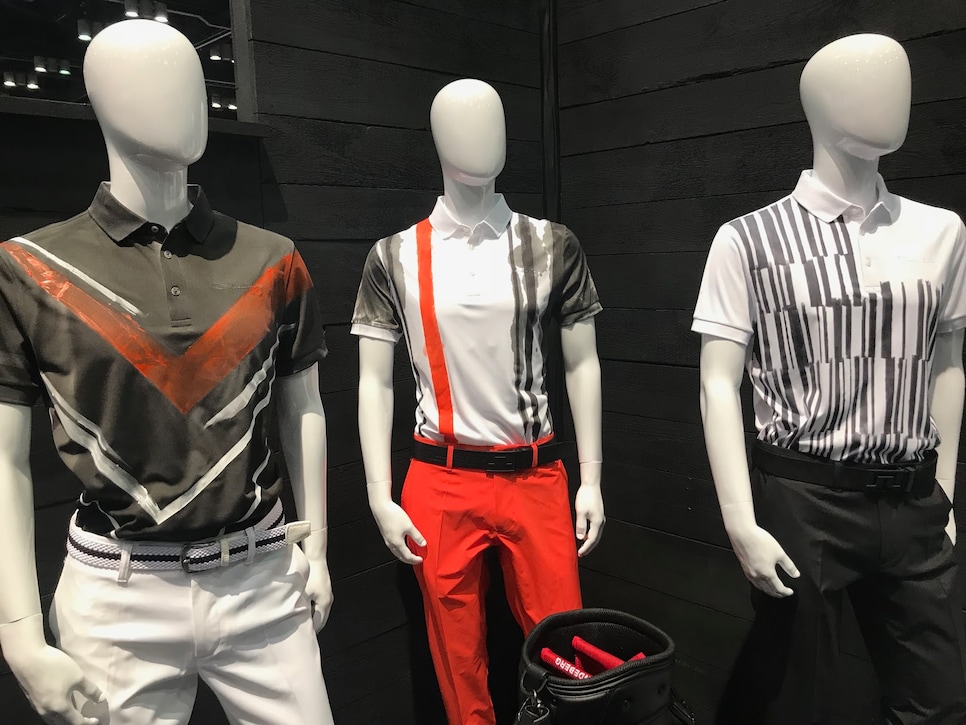 The traditional right-breast logo will be replaced with the signature of founder Johan Lindeberg. This 'Art Polo' line will be available this summer, if you can grab one before they sell out.
The company also just announced a few additions to its team of ambassadors, including long-drive champion Troy Mullins, who stopped by to check out the new additions to the women's collection. She highlighted a navy bomber and quilted skirt ensemble from the Fall '18 collection.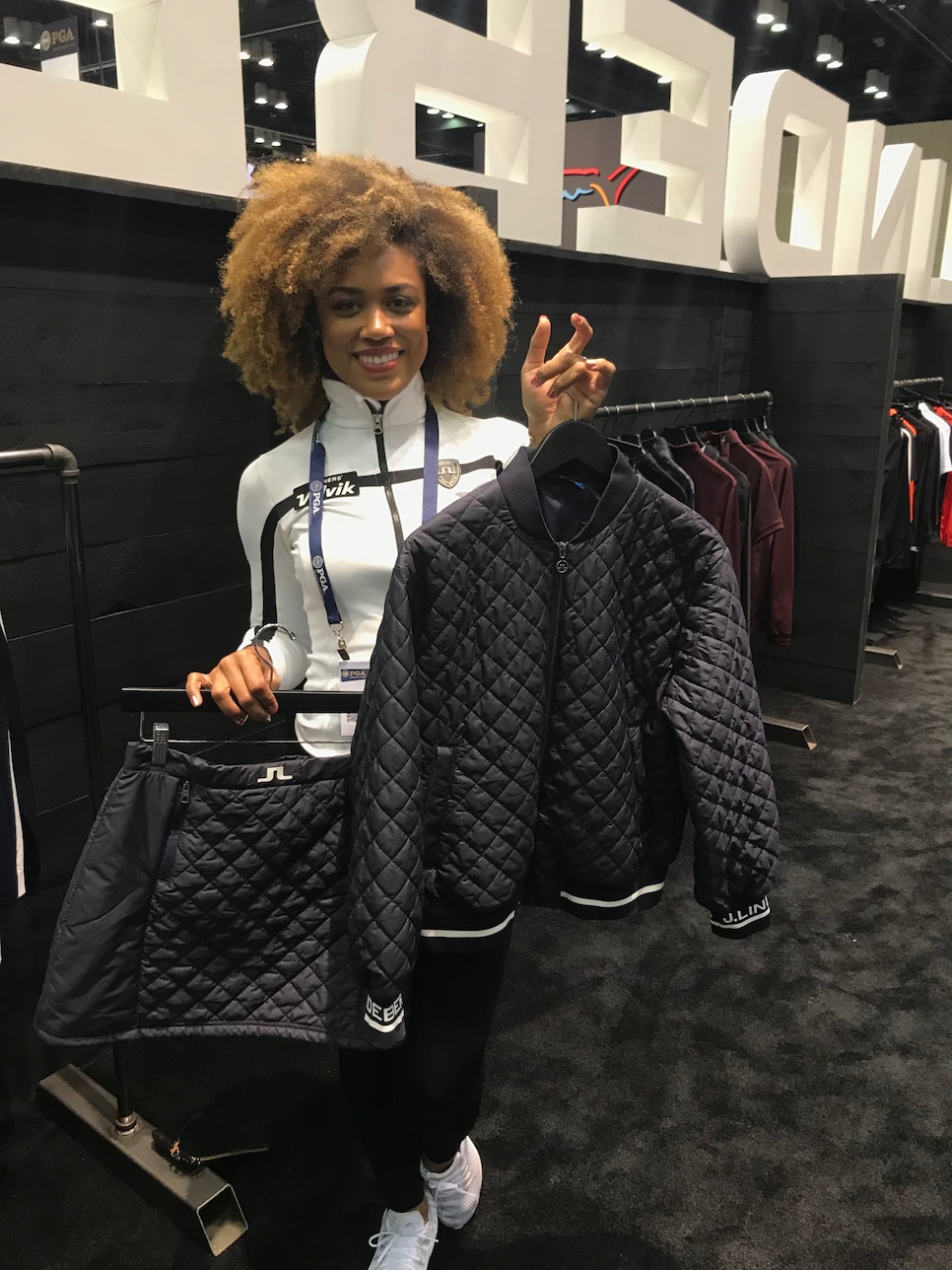 Zamst, Filmista Series wrist band, $30
Products for sports-injury prevention might not be considered thrilling, but Zamst is launching a new wristband that is worthy of our attention.
Aimed to replace ratty medical tape, the Japanese company announced a non-adhesive wrist band as part of its Filmista Series for comfortable wrist support. After heeding feedback that the current wrist band is too bulky, the company designed the Filmista to fit seamlessly under a golf glove to prevent or recover from sprains or tendonitis and combats instability.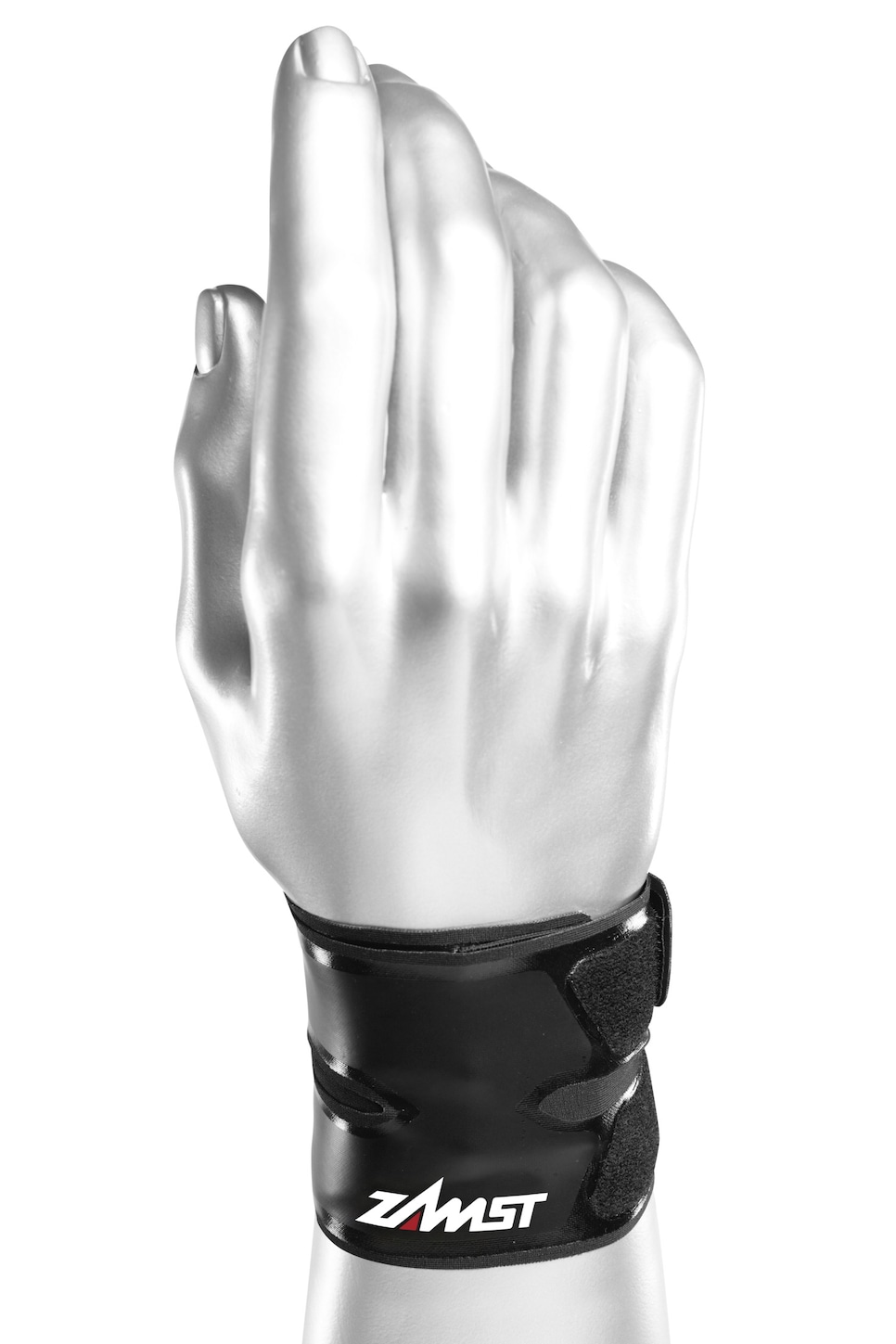 Launching in May, Filmista's material is washable and developed to hold up for long-term use. It's also been popular in baseball and tennis. The Filmista wrist band, joins the collection's similarly designed ankle brace that is available now ($40).
And if knees are the bigger problem, the IW-1 is a gamechanger for post- or between-round icing. The compression knee band ($55) holds a reusable ice bag to make recovery portable, so no more excuses on skipping ice sessions. For more information, click here. —B.R.
Links & Kings headcovers, $85
You might know Links & Kings for its sharply made golf bags, satchels and belts, but it's the company's headcovers that grabbed our attention at this year's PGA Show. Made from select leathers with cushion lining for protection and contrast stitching, the headcovers' artistry is really strong, offering an aesthetic rarely seen in this forum.

They are available for custom design and offered in driver, fairway wood and hybrid. Given the company's recent acquisition by Titleist, it'll be exciting to see how the brand grows beyond this year. —JB
Garmin Approach X10, $200
Some GPS golf watches have it all, which is great, but the newest addition to the Garmin collection aims to keep golf, and golf only, the centerpoint of your wrist game. The Garmin Approach X10 is a simplified version of the Garmin X40, which launched in 2016.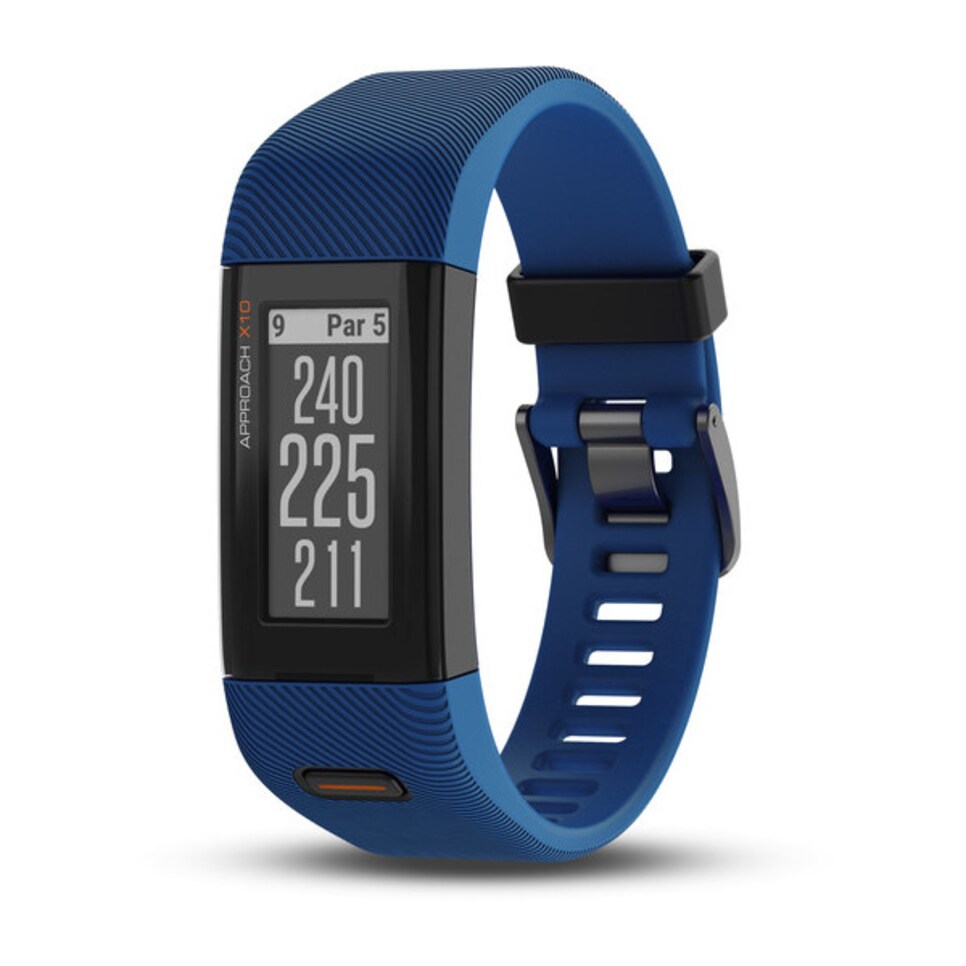 The X10 is designed for those who want to focus on golf—those who quite frankly don't need the text and email alerts clouding their minds. The X10 has a touchscreen display that shows the distances to the front, back and middle of the green, in addition to each hazard. The band also automatically transitions holes as you progress, so you're getting the correct yardages every time. It comes with 41,000 preloaded courses on a slim, barely-know-it's-there band design in matte black or bolt blue.
As with the company's other models, the Garmin Golf app adds a competitive edge to any experience-level. Players can set up virtual tournaments and compete with other golfers playing the same course each week. That way, beginners can start competing day one, without the pressure of competitors staring down your tee shot. —B.R.
NormaTec Recovery, $1,895
Golf might not be a contact sport (unless your usual foursome includes one prone to chucking their sticks in anger), but it can still do a number on the body. From walking an arduous 18 to the soreness indigenous to the swing, golfers need to recover after their round. The NormaTec aims to alleviate that pain by acting as a dynamic squeezing device aimed at rehabilitation and rejuvenation.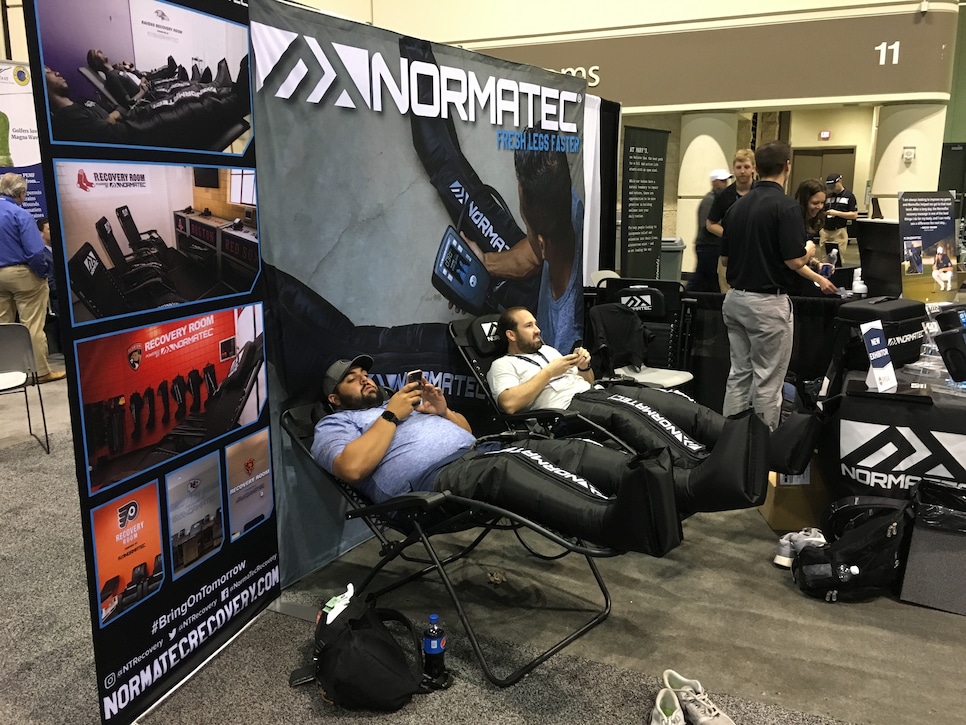 Used for the legs, arms and hips, the NormaTec uses compressed air to knead and stroke your body, much in the same manner as a massage. It reduces aches and improves circulation, getting you back on the links for an emergency nine in no time. —J.B.
Weatherman Golf Umbrella, available in 62-inch ($89) and 68-inch ($95) options.
TV meteorologist Rick Reichmuth has designed a golf umbrella that does all of the basic things really well. It's made out of teflon-coated fabric to keep you (and your clubs) dry. It also has extra supports attached to the ribs so that it can withstand high winds (up to 55 mph). And it's available in four different colors.
It's the small details, however, where this umbrella really shines. Up in the canopy there's a mesh pocket where you can store your glove between shots or while you're on the green, so it's staying safe and dry. You can also store your scorecard there. One of the ribs is coated with silicone, making it nonslip. Hang your towel there, and the silicone keeps it from slipping out and falling to the wet ground.
If you're the kind of person who has a tendency of losing things, you'll like the Bluetooth feature that umbrella has as well (yes, we said Bluetooth). The umbrella has Bluetooth tracking that pairs with an app on your phone to show you the location of your umbrella if you lose it. The app also can tell you the weather at the course you're going to be playing, letting you know if you actually need to bring your umbrella or not. That's next level. —K.L.
TaylorMade's Spider Interactive, powered by Blast Motion, $399.
We've seen a handful of major manufacturers partner with golf-data companies in recent years to create smarter products that offer significant knowledge to the golfer. TaylorMade did so with Microsoft in creating MyRoundPro fitness tracker a couple of years ago. Now, the company is bringing intelligence to a putting product.
TaylorMade has partnered with the motion-capture company Blast Motion, and SuperStroke, to create Spider Interactive, allowing golfers to analyze their putting strokes based on data captured in each stroke.
Blast Motion's sensors have been built into the grip of TaylorMade's Spider putters (similar to Arccos' sensors within Cobra's drivers) to deliver information to golfers via an app that will be available on iOS on March 1 and for Android devices in Q2 of 2018, according to the company. —S.H.
Phat Scooters' Phatty HD and Sport HD riders, $2,399 to $2,999, depending on volume.
Innovative golf-course transportation products have really taken off with the success of GolfBoard's launch at the 2014 PGA Show. Subsequent items like the Golf Bike and others have followed suit.
The next product to enter this space aims to take it up a notch. Enter the Arizona start-up company Phat Scooters, which launched its Phat Golf brand on Tuesday at Demo Day. The Phatty HD and the Sport HD, the company's first two vehicles, each can hit 20 mph, have front- and rear-wheel suspension, and come equipped with removable, rechargeable electric batteries that last about 36 holes.
Already touting a relationship with PGA Tour player Pat Perez and his wife, Ashley, it appears PhatGolf means business.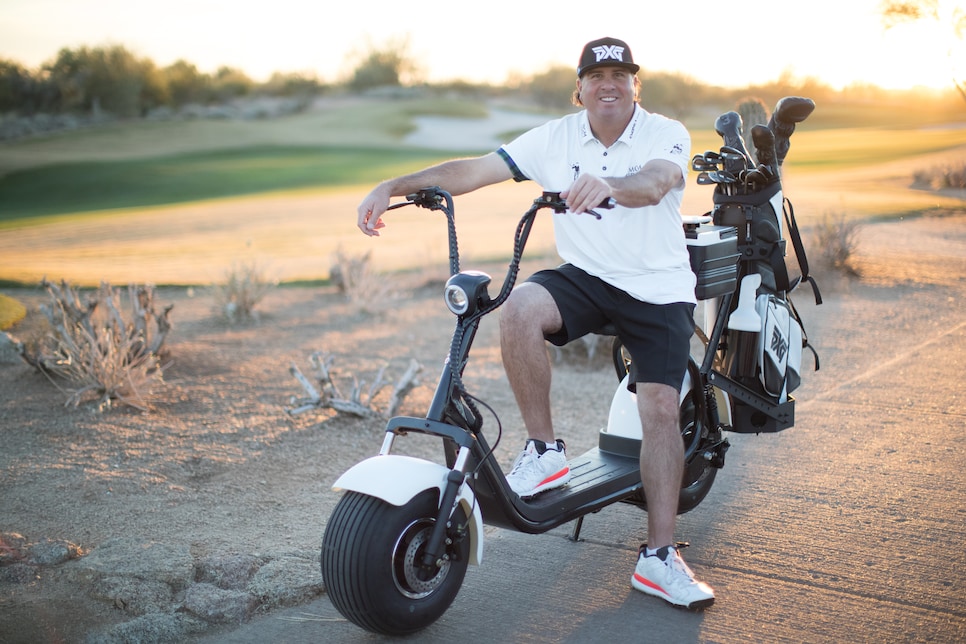 The company says its lighter weight will not harm turf, and its 28-inch height provides a comfortable seating surface to sit as you motor around the course. The company, which launched a lifestyle cruiser as its initial product in 2017, says its vehicles are available on just three golf courses right now, but it will be interesting to keep an eye on this up-start vehicle. —SH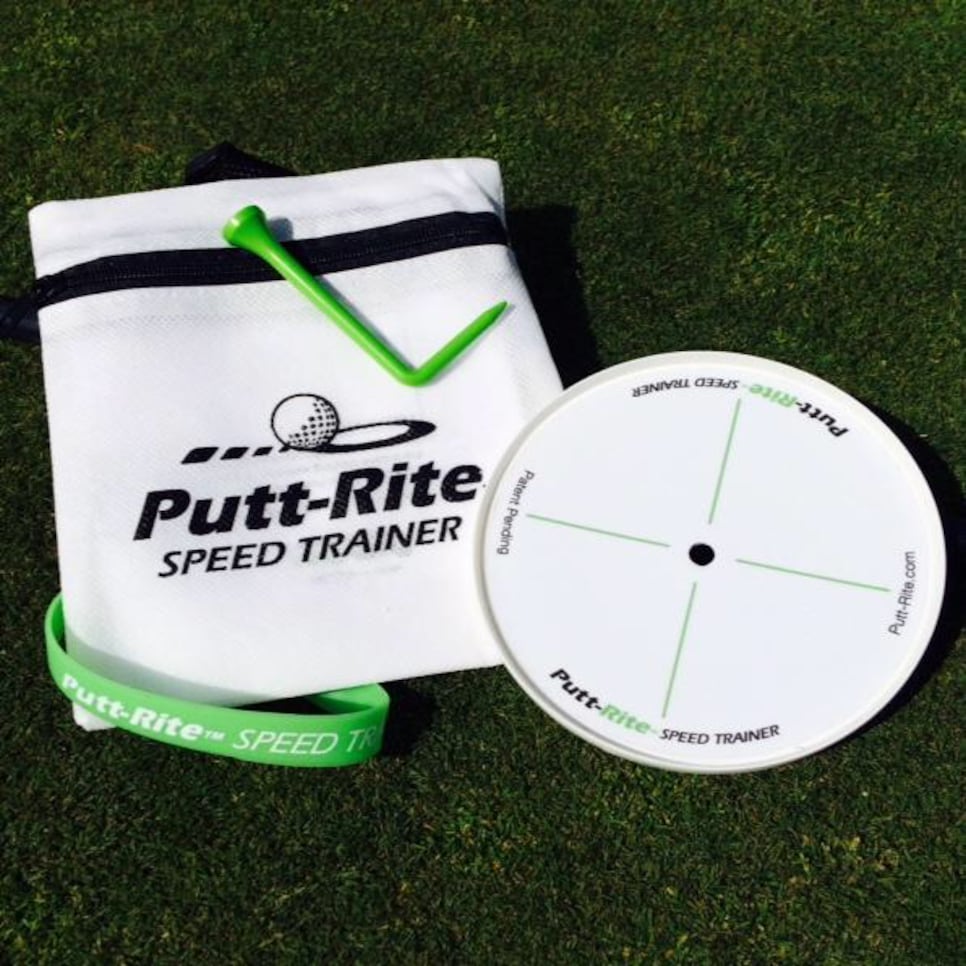 Putt-Rite Speed Trainer, $30.
A product doesn't need bells and whistles to be a damn-fine instrument. The Putt-Rite Speed Trainer is an uncomplicated contraption, almost resembling a lid, with a goal to aid pace on the greens. By placing the Speed Trainer in a cup with the lip up, a player can practice dying the ball into the hole, with the Trainer kicking out balls with too much oomph. Turn the lid down, and a golfer can see how far their putts would fly past the hole if the cup didn't get in the way. It's a simple concept, yes. But those often make the best products. —J.B.
Big Max, a push cart and bag company that's popular in Europe, continues to introduce its products to the American market. Their newest push cart is the Blade IP.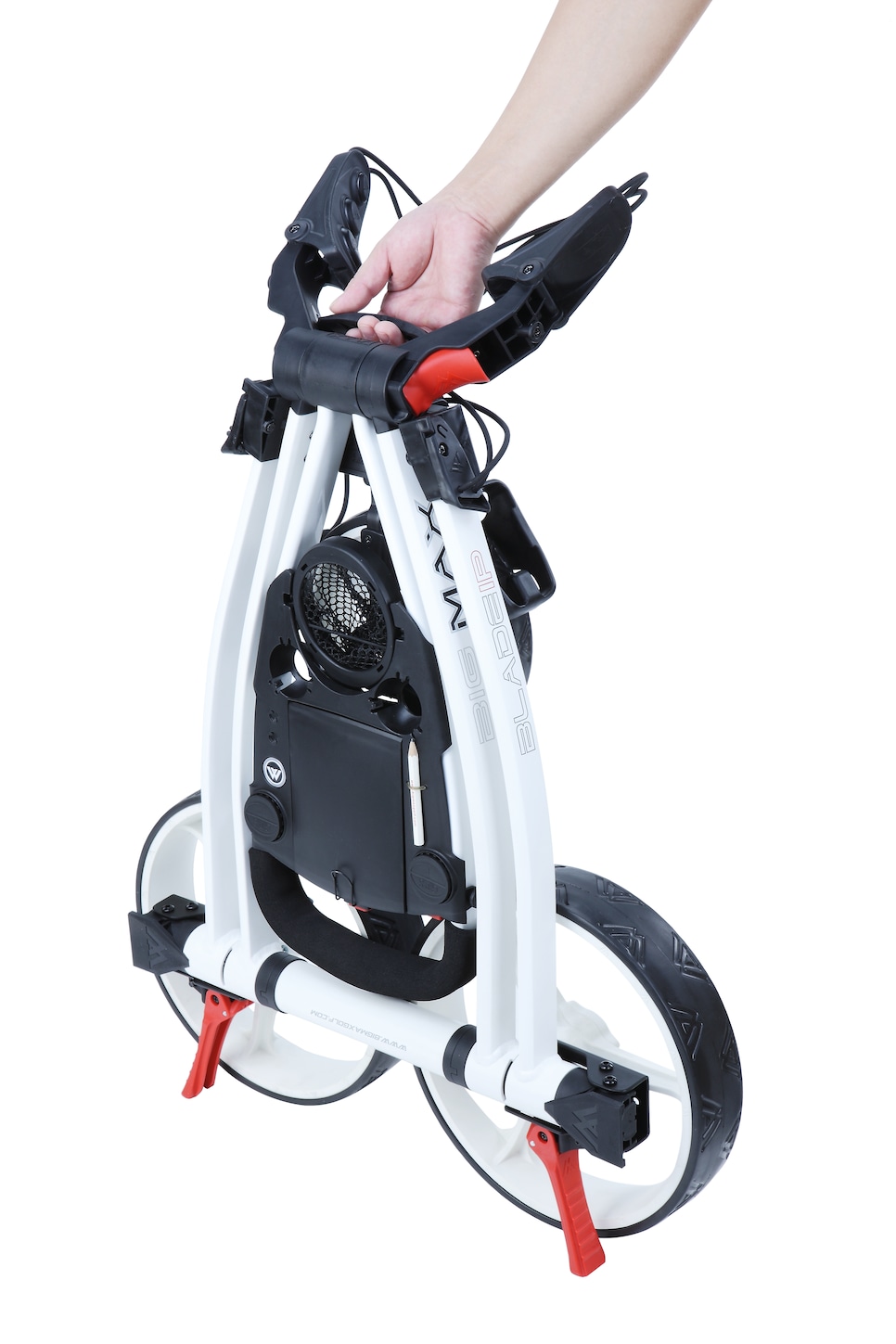 This is the fourth generation of Big Max's flatfold technology. Aptly named, because if you look at the photo you'll see that these push carts really do fold down flat. The Blade IP folds flatter than any of Big Max's previous versions, folding down to a slim 5 inches in height. This, coupled with the fact that it weighs less than 15 pounds, makes it easier to transport and store. Their new folding mechanism allows for the push cart to fold smaller than previous models. It takes three steps to fold it down and then again three steps to unfold it when you're ready to play.
The Blade IP has three wheels, and adjustable straps to secure your bag so that many different bag sizes can fit on the push cart. Though its frame is efficient size, it has everything you need: There's storage space and the ability to attach your umbrella. It's available in five different colors, and retails for $350. —KL
Putting Stick training aid, $80.
The Putting Stick is a putting training aid that's 46-inches long and 1-inch wide. It's made out of cast acrylic, which means it rolls very fast. That's important, because it makes your putting mistakes more apparent, more quickly.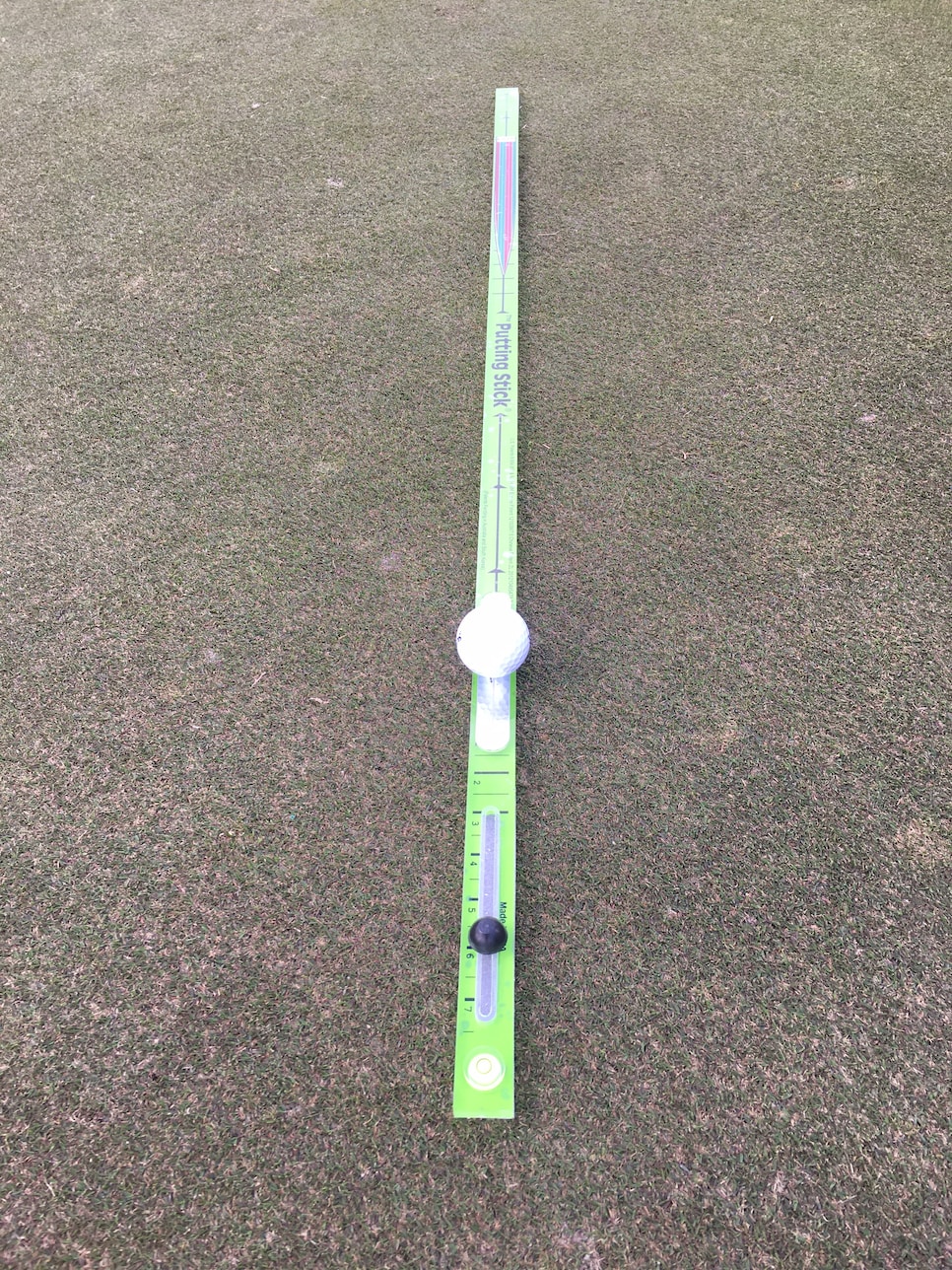 There's a small section of the stick that's a mirror. In the center of that there's a spot marked where you place your ball. The mirror is there so you can check and see if your eyes are over the ball. A few inches behind the ball, there's a bumper that you can slide and secure. Put the bumper further back for longer putts and closer to the ball for shorter putts. (It's designed to be used to practice putts around six feet and shorter.) Its purpose is to prevent you from making too long of a backstroke. The issue with long backstrokes is that people often compensate for them by decelerating as they through the ball. And that produces inconsistent rolls.
So, set your bumper and take your stroke. If you hit the ball square, it'll roll straight down and off the track. If you hit it with a slightly open face, the ball will roll off to the right. It'll roll off to the left of you shut the face at impact. Try to get your putter to follow the straight line of the Putting Stick to help you take it straight back and through.
One of the best things about this putting aid is that you don't have to be on a putting green to use it. You can do this on your carpet in your living room just as easily as you can do it on a practice green.
This version, the Sir Nick Faldo version, retails for $80. —KL
Momentus Sports' Bomb-It Mini, $150.
If you've been around golf awhile, you know the evolution of clubhead design has continued to get bigger and bigger over the years—all the way to the 460-cubic-centimeter driver heads that are sold at retail. This product is the opposite of the trend.
One of the most unusual things we saw on Tuesday at 2018 PGA Merchandise Show's Demo Day was the latest training aid from Momentus Sports. You've probably seen the commercials for the company's Swing Trainer or Weighted Driver. This is a little different.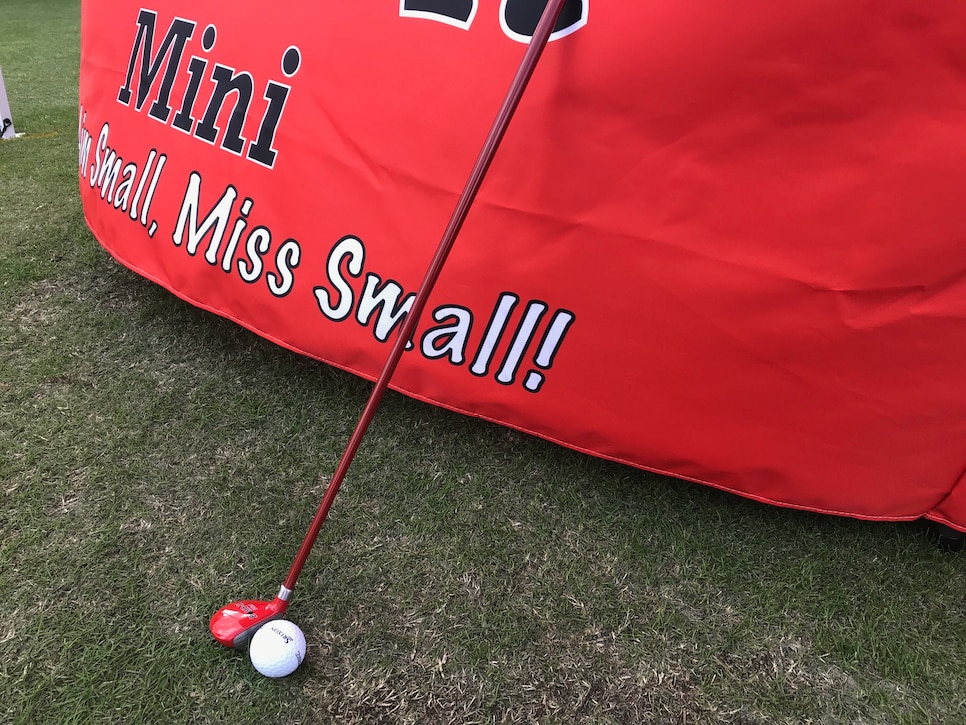 At just 37 cubic centimeters, the Pro Mini is just about the size of a golf ball. Momentus founder Jim Sorensen, a member of the 1987 U.S. Walker Cup team after winning the '86 U.S. Amateur Public Links, says his latest training aid is meant to instill proper contact. "If you can make good contact with this, you can hit the sweet spot on any club."
The company also has a 55cc clubhead it dubs its Am Mini. We're told the company has an innovative solution to replace bunker rakes that will be released in the next few weeks. Keep your eyes peeled for that, too. —SH