100 greatest public
Hunting for low-cost golf in the era of 'Bandonization'
How did public golf become so expensive? And how can one find value amid the steep prices?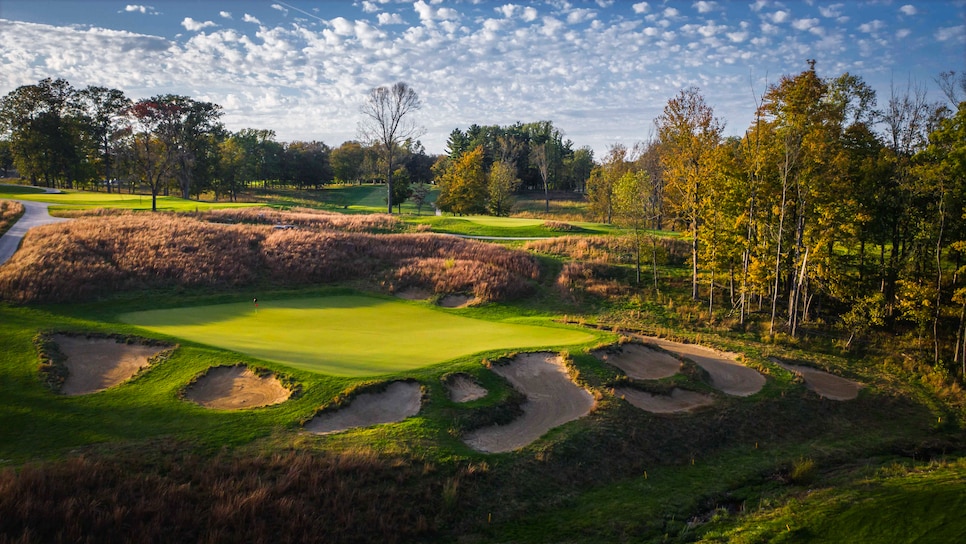 Photograph courtesy of The Pfau Course
A common reaction to our most authoritative ranking, America's 100 Greatest Golf Courses, is that a majority are largely inaccessible—only 15 of the first 100 courses and just 31 courses in the top 200 are open to the public. Our 100 Greatest Public Golf Courses ranking was founded in 2003 as a democratic counterpart, a guide to the best courses anyone can play. This year's list might be the deepest yet, showcasing an extraordinary range of architecture, settings, climates and experiences.
However, in assembling the 2023-2024 ranking, one truth became evident: There is a distinction between a course being available to public golfers and a course being accessible. Yes, a round of golf at each of these 100 courses is on the table for anyone who can get to them, though some require a stay at the resort (Pinehurst, Shadow Creek and Fallen Oak are examples). Most emphatically, the cost of playing them can preclude anyone on a budget. The green fees for the top 10 courses in the ranking average more than $400, with rounds at Shadow Creek, Pebble Beach, The Ocean Course at Kiawah Island and TPC Sawgrass typically ranging from $600 to $1,000. (Note: Rates for most courses in the ranking fluctuate by season, availability, residency, time of day and resort pricing—the fees here reflect basic weekday and weekend rates.)
The pricing should be of little surprise—these courses offer prestigious products. Combined with other top-15 staples like Pinehurst No. 2, Pasatiempo and Whistling Straits, they represent some of the most original, invigorating course architecture on the continent. Yet the trend toward luxe pricing continues throughout the 100 Greatest Public list. Few offer a rate of less than $100, and those are often off-season prices. Pebble Beach was once the extreme-price outlier for public courses, but it now costs $300 to $400 or more to play places like Kapalua's Plantation Course (No. 23), Harbour Town (27), Karsten Creek (31) in Stillwater, Okla., The Pete Dye Course at French Lick (19) in Indiana and Crosswater (54) in the middle of Oregon.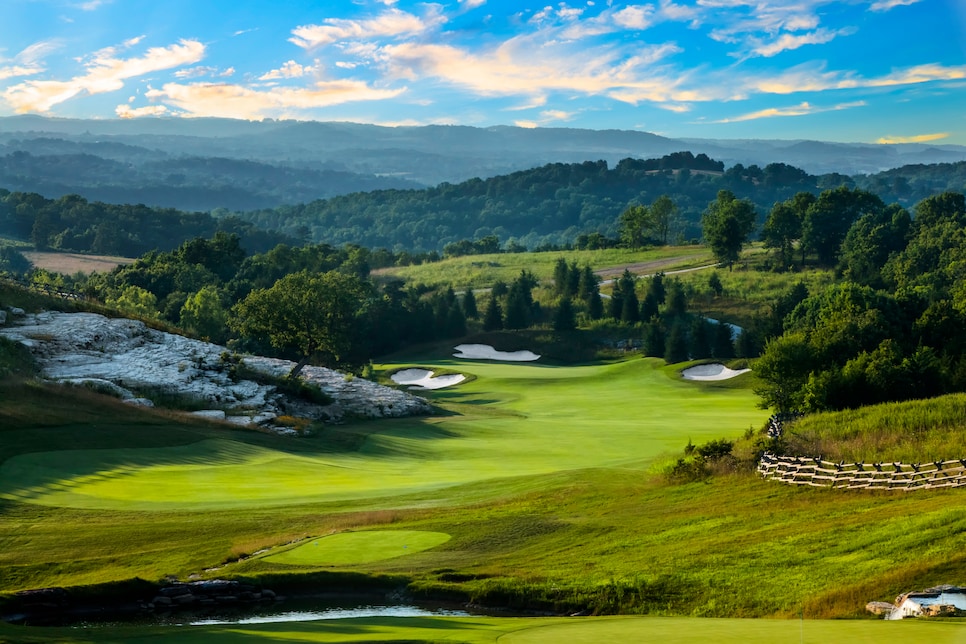 Off-season rates of just over $100 make Tom Fazio's Buffalo Ridge a compelling option. Photograph courtesy of Buffalo Ridge
How did public golf become so expensive? The direct explanation is the market—more courses and resorts can justify elevated green fees based on increased demand to play them. It's not uncommon for many of the top resorts to sell out rooms and tee times early each year (meaning book now for 2024 and 2025). As rounds have risen in the past three years, so have the aspirations of a wave of new enthusiasts to play unique designs that offer revelation and discovery. This can often include the expectation of exceptional playing conditions that come at a cost. It becomes a chicken-egg scenario: Do facilities need to charge more to maintain ideal turf and course presentations, or are they able to charge more because their conditions are immaculate and thus desirable?
The biggest factor may be the "Bandonization" of golf during the last 20 years. When Bandon Dunes (No. 8) opened in 1999 with a single course designed by a young, unknown Scot named David McLay Kidd, it was a mystery whether anyone would venture hours to the lonely, blustery Oregon coast. The history of golf development to that point had been consistent: Courses were built where people were already going.
Public courses flourished near population centers, and private country clubs were established in the quiet places where members retreated to hunt, ride and get away from the hustle of the city. Resorts, too, fed off the popularity of recreational locations like the coast of Florida and California, or the Rocky and Appalachian mountains. Bandon Dunes shattered that paradigm. Tee times sold out the first year, and the resort began expanding, building five 18-hole courses in all (each currently ranked among the top 16) to feed the appetite of a golf public that did not understand how hungry it had been for a new kind of hardcore golf in sublime environments. The journey was part of the appeal. Escapist golf was born.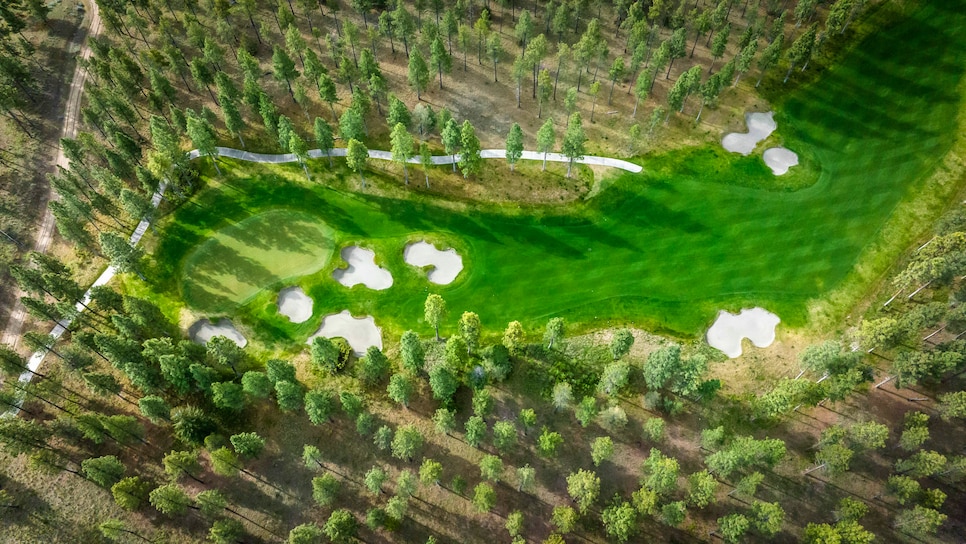 NO. 44 Wilderness Club in northern Montana is the most remote course on our ranking. Photograph by Patrick Koeing
Bandon paved the way for the elevation of obscure regions that never would have been given serious thought as transformative golf destinations: hot, landlocked south-central Florida (Streamsong); the rural woods of central Wisconsin (Sand Valley); the cold, forlorn north coast of Cape Breton in Canada (Cabot Cape Breton, formerly Cabot Links); and the Ozarks region of Missouri near the Arkansas border (Big Cedar Lodge). In fact, more are coming. Sand Valley will open the Lido Course this summer, a painstaking recreation of C.B. Macdonald's extinct course on Long Island that closed in the 1940s, with a fourth course next year, Tom Doak's Sedge Valley. Michael and Chris Keiser, the operators of Sand Valley and sons of original Bandon developer Mike Keiser, announced the groundbreaking of the first two public courses at Rodeo Dunes near Denver on a site that has the capacity to contain well over 100 holes. The Cabot group is also remodeling and expanding the former standalone 36-hole World Woods property on the west coast of Florida, now called Cabot Citrus Farms, a facility that once offered one of the country's best bargains for exemplary public golf (pricing will be announced when the two refurbished courses open in December).
One of the most intriguing courses is Belvedere Golf Club in northern Michigan, which returns to the ranking after a two-year hiatus. William Watson, whose career began in Minnesota building courses like Minikahda and Interlachen, designed the course in the mid 1920s. Recently it has been under the stewardship of architect Bruce Hepner who has kept the layout sharp and pure. Belvedere is a graceful example of a design that reacts to the land with fairways that flow over links-like ripples and greens sited on natural landforms and benched into slopes. The putting contours are from another era, full of dimples, knobs, swales and bubbles that enliven short-game intrigue—chips and putts demand as much attention and creativity as full shots, the sign of great architecture. Belvedere is a private course that welcomes outside play, and it can be walked in the early season for as little as $62.
Another course that fits into this category, back in the public ranking for the first time since 2014, is Black Mesa in New Mexico (below). Though not far from the town of Española, there is no development on or near the vast, high desert property. The Baxter Spann design feels worlds away, flowing through a Martian landscape of buttes, sagebrush-dotted ridges and dry arroyos. If the idea of hitting shots through canyons, along bluffs and over rock outcroppings to blind targets isn't enticing enough, the weekday green fee of $79 should be.

NO. 95 Escapist golf doesn't have to cost a lot: Fees at Black Mesa in New Mexico are frequently less than $80. Photograph by Patrick Koeing
Among the best 100 Greatest Public week-to-week rates are those at No. 93 The Virtues, another golf-only establishment near Nashport, Ohio. The holes wander through dense hardwoods and open meadows, rising, falling and bending across the gentle terrain with the absence of distraction. The Arthur Hills design, which won Golf Digest's Best New Upscale Public Course award in 2000 (when it was called Longaberger), can be played for $64 weekdays, $80 on weekends. Rates in May and October at the No. 88 course, The Bull at Pinehurst Farms, a Jack Nicklaus design in Sheboygan Falls, Wis., set amid lakes, creeks and ravines, are less than $70. Fees rise to $119 during the summer and early fall ($99 for in-state players), but that's still economical compared to the rates at the neighboring Kohler courses, Blackwolf Run and Whistling Straits, which can easily be triple that price.
Golfers from around the world visit Wisconsin for the public-golf bonanza loop that includes stops at the Kohler properties, Sand Valley and 10th-ranked Erin Hills. Rounds at these courses vary between $200 and $500, but golfers can offset some of the cost by stopping along the way at places like The Bull, or the Links at Lawsonia, ranked 62. A darling of the architecture cognoscenti, the Links, designed and built in the 1930s by William Langford and Theodore Moreau, circles through grassy meadows and past an occasional stand of oaks. The purposefully modest and functional design invites players to rip driver, then buckle down for precise shots into large, platform greens perched above deep trench bunkers dug out with pre-modern steam shovels. Rates start at $85.
Another cognoscenti darling is Wild Horse (No. 79) in Gothenburg, Neb., near the edge of the Sand Hills in the west-central part of the state. It, too, is a no-brainer stopover for those traveling to Sand Hills or Dismal River, or anyone else passing on nearby I-80. Dave Axland and Dan Proctor, who built bunkers and shaped Sand Hills for Bill Coore and Ben Crenshaw in the early 1990s, used that inspiration for their Wild Horse design, creating fescue-banked, wind-whipped bunkers that lurch into fairway lines and mask portions of low-to-the-ground greens. For strategic architecture, it's one of the best deals in public golf with green fees set between $61 and $75.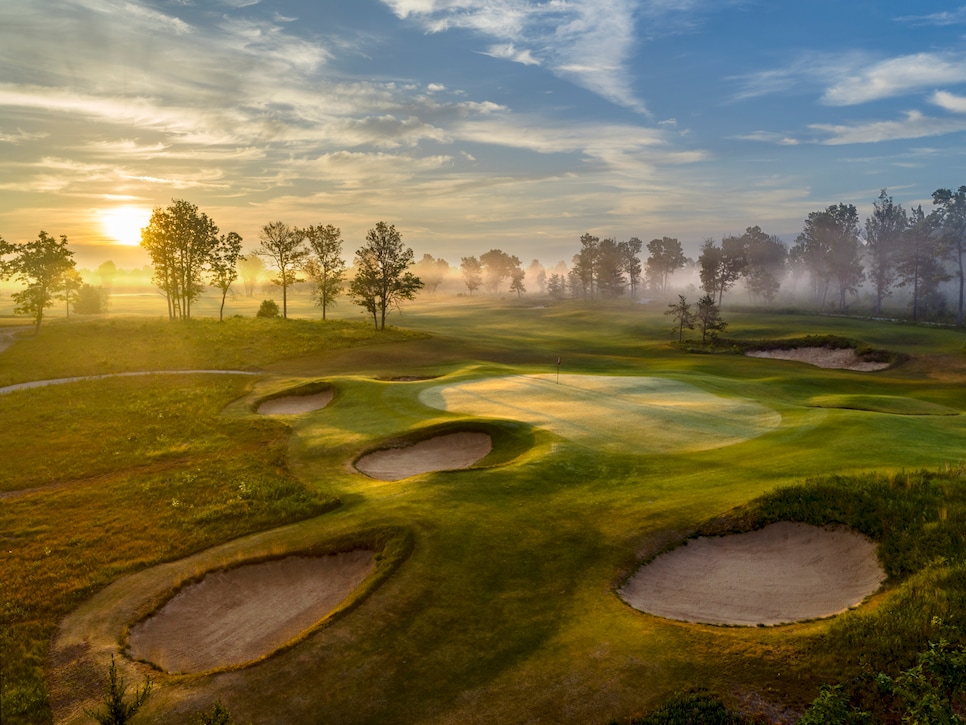 Sunrise on a misty and mystical morning at The Loop at Forest Dunes. This view is looking back over the 12th green on the Black Course which also serves at the sixth green of the Red Course. A wonderful reversible golf course designed by Tom Doak.
Evan Schiller
A rival for "best deal" is the Pfau Course at Indiana University, ranked 76th (opening photo). Several years ago, architect Steve Smyers rerouted a narrow, tree-lined course built in the 1950s to create more spacious holes bordered by meadow grasses. It's a clever design that can challenge the country's top amateurs with sly driving angles, hidden landing zones and difficult hole locations, yet is appealing to students and regular handicap golfers who get open green fronts, different tee angles and light rough that's easy to play from but impacts the distance control and spin precision of elite players. Public rates vary from $80 to $95.
Meanwhile, weekday rack rates at The Wilderness (No. 67) at Fortune Bay in northern Minnesota begin at $78 and top out at $85 on the weekends. One of two courses in the public ranking from architect Jeff Brauer (along with No. 43, The Quarry at Giants Ridge, $87-$120), it outpunches its price with heroic, hopscotch holes carved from an Ice Age landscape of rock, thick forests, wetlands and lakes gouged by retreating glaciers.
As the representatives of America's 100 Greatest Public Courses make clear, we are living in a golden age of public-access golf. Never in history, at least in the United States, has there been as much exceptional, diverse architecture available for widespread consumption. It's also never been as expensive. Fortunately, the most prestigious courses live up to the hype. These places offer golf you won't soon forget, and some find it enriching to spend the money to see golf in various forms. Amid the steep prices on this list, you can find value. You just have to know where to look.