1 / 10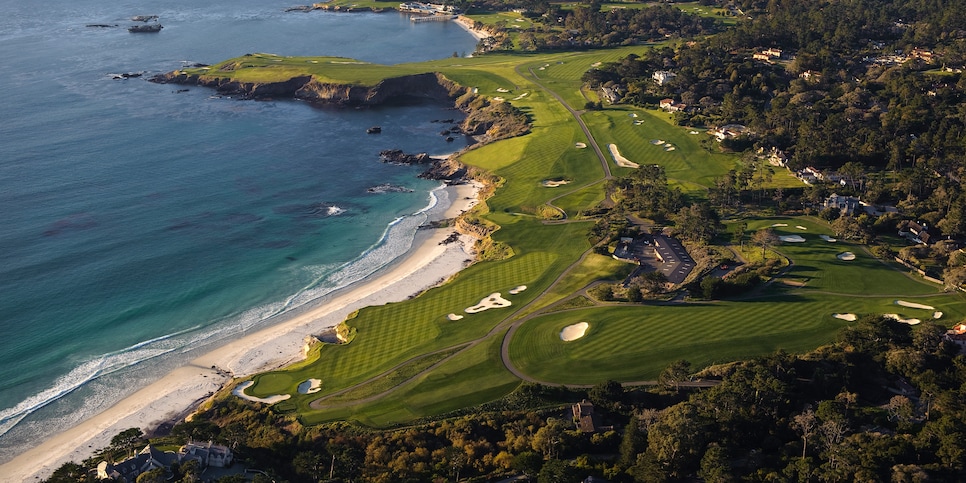 2 / 10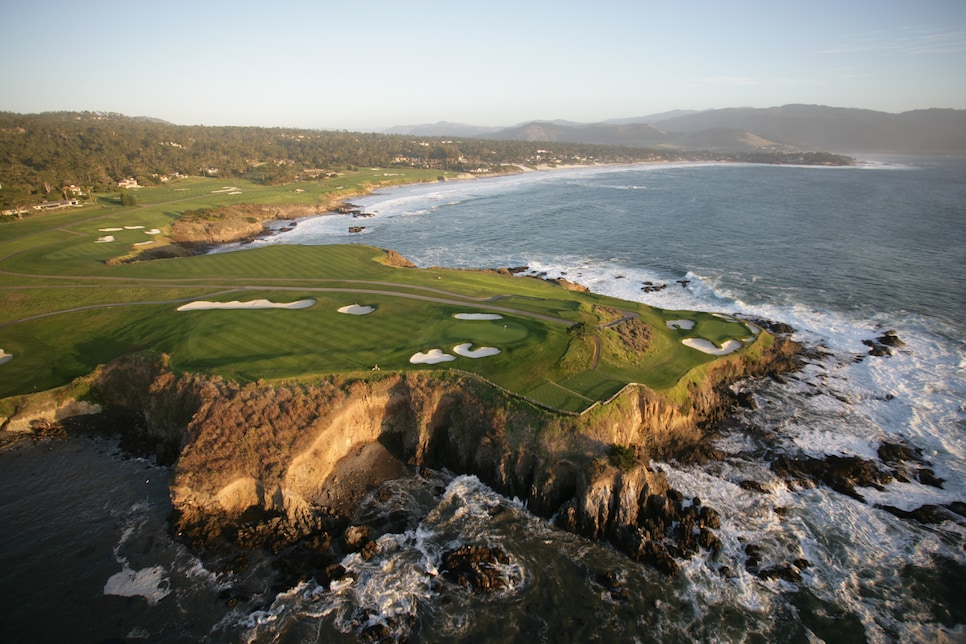 3 / 10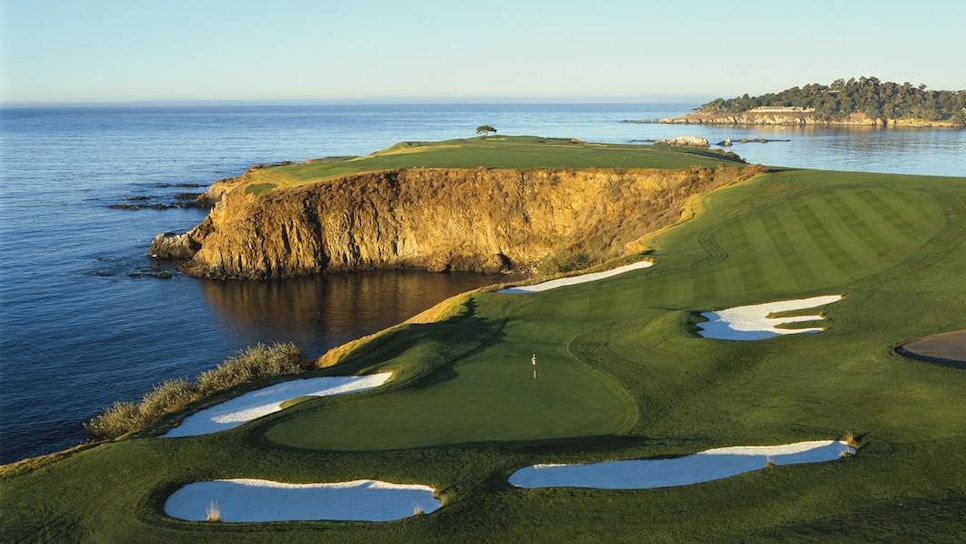 4 / 10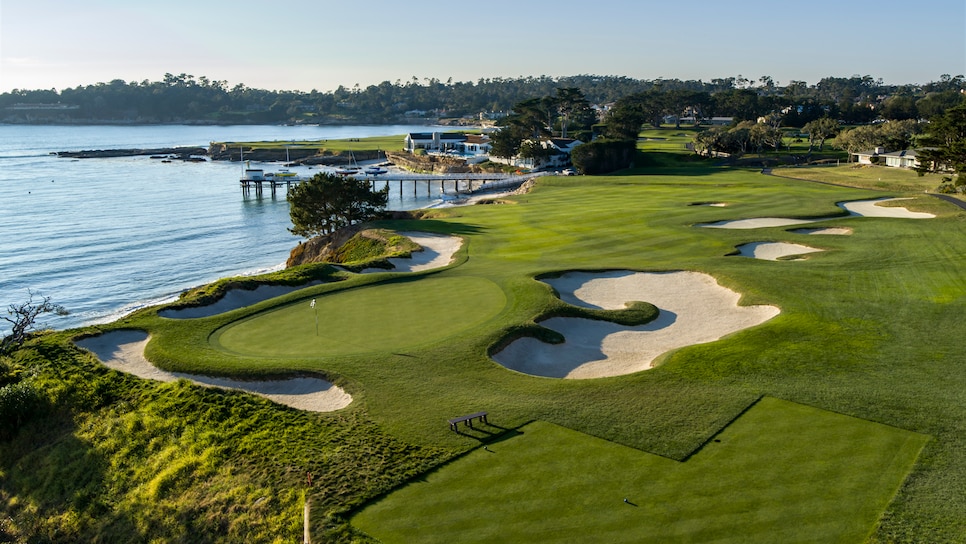 5 / 10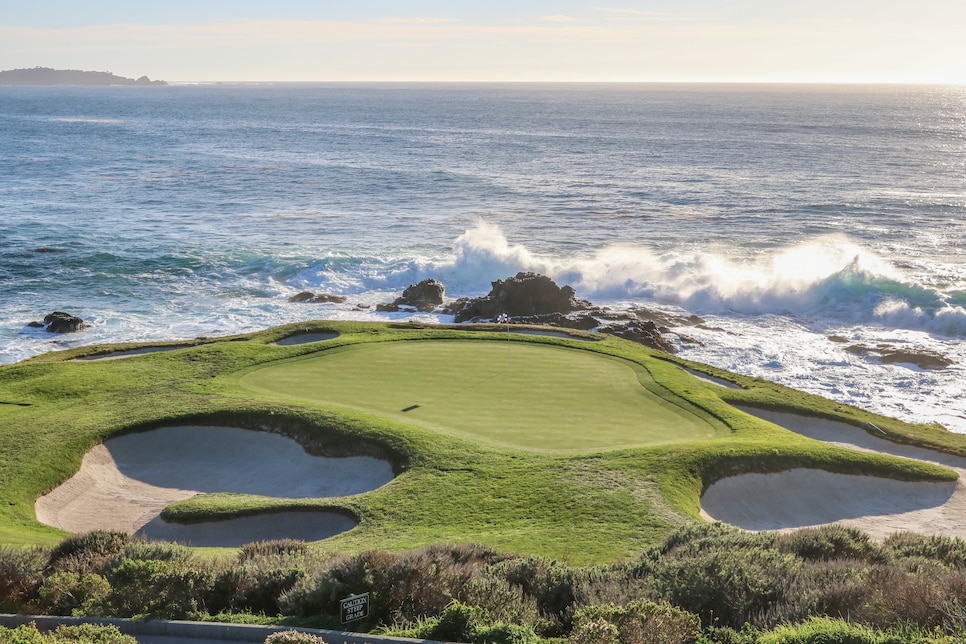 6 / 10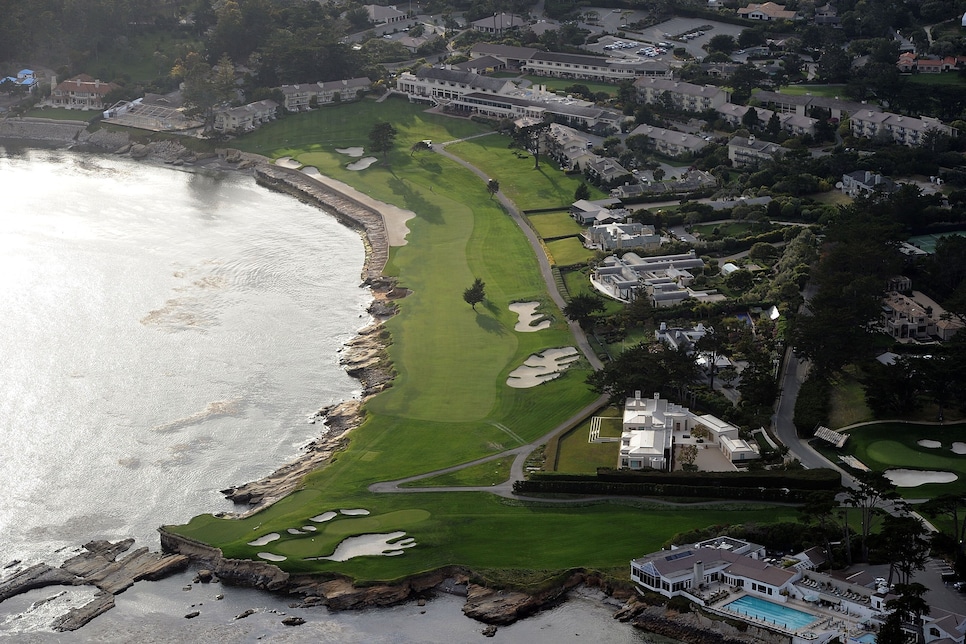 7 / 10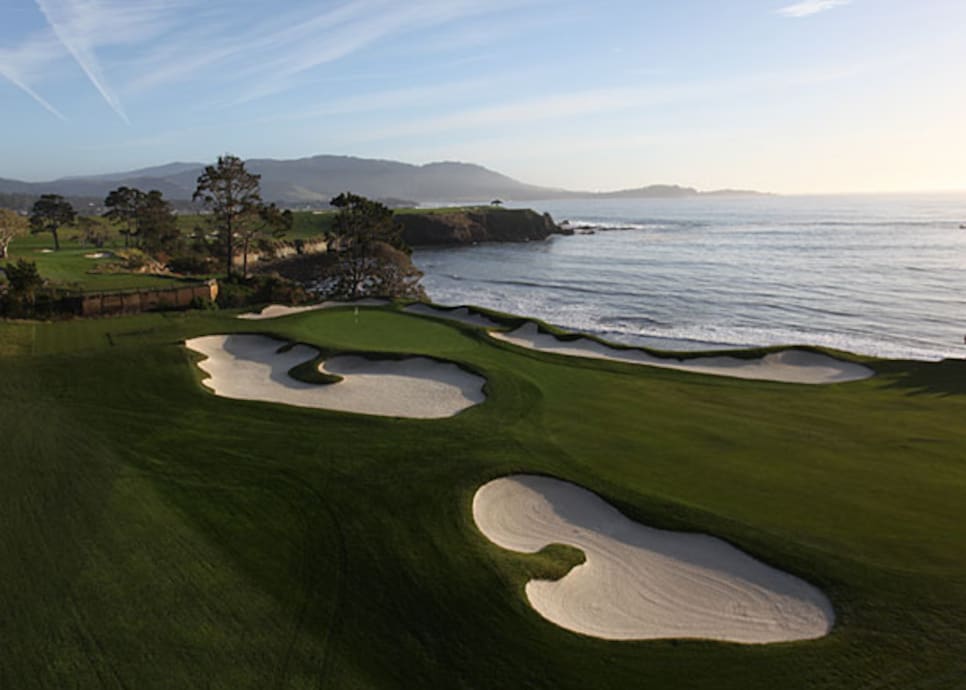 8 / 10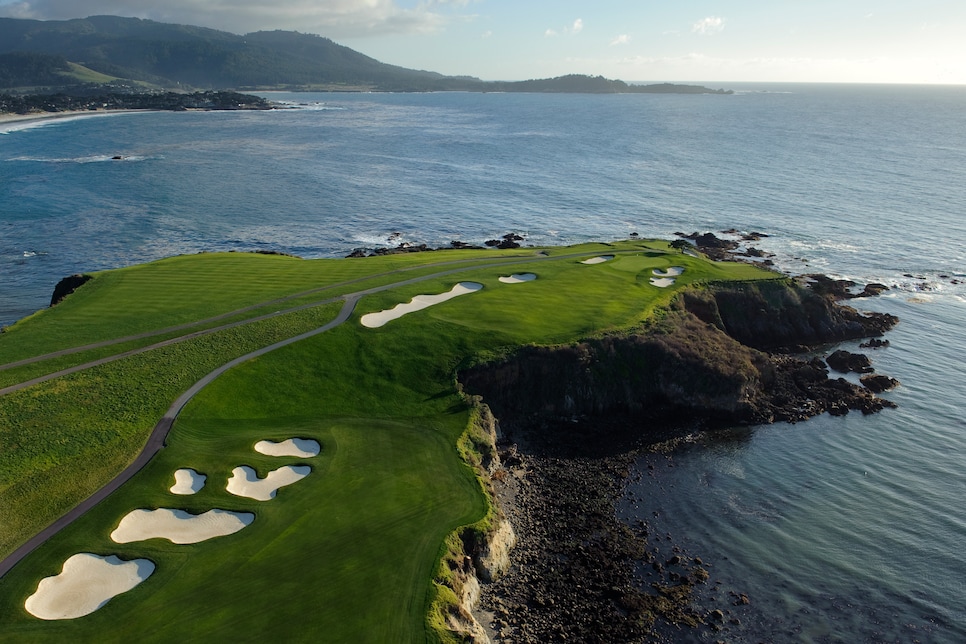 9 / 10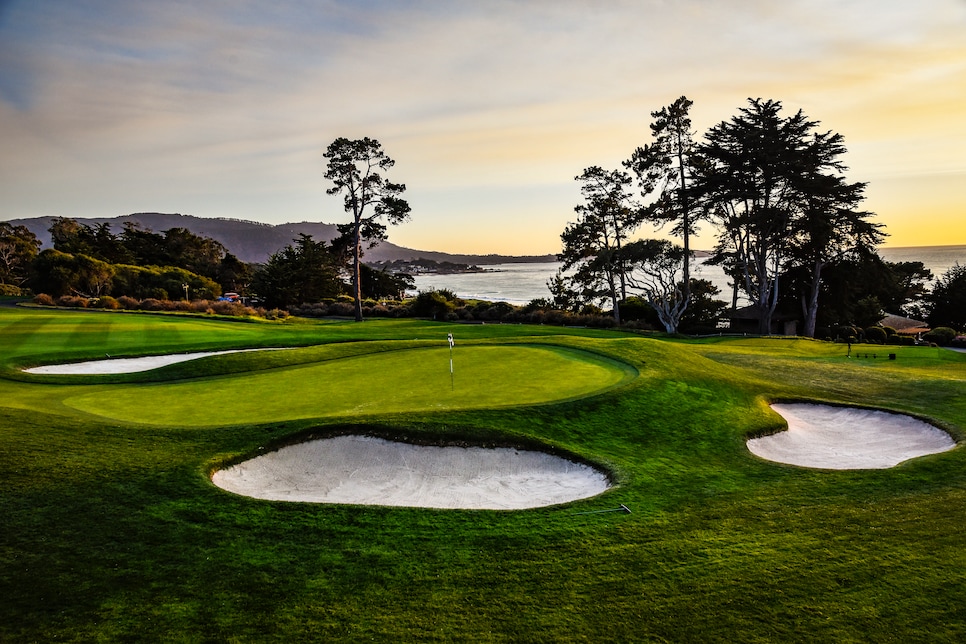 10 / 10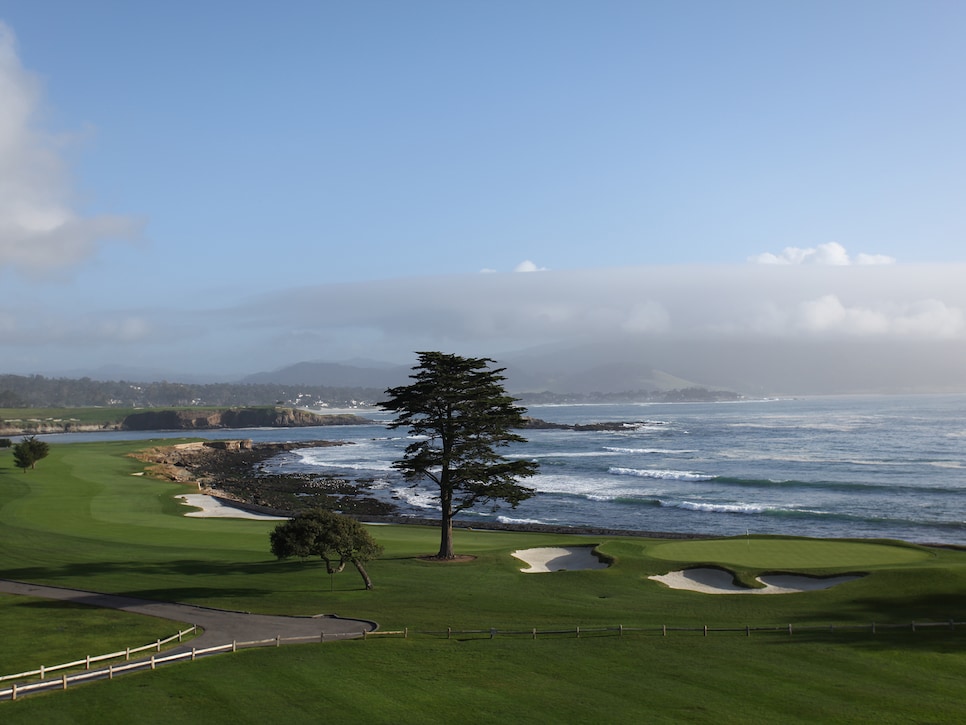 Overview
Not just the greatest meeting of land and sea in American golf, but the most extensive one, too, with nine holes perched immediately above the crashing Pacific surf—the fourth through 10th plus the 17th and 18th. Pebble's sixth through eighth are golf's real Amen Corner, with a few Hail Marys thrown in over an ocean cove on the eighth from atop a 75-foot-high bluff. Pebble hosted a successful U.S. Amateur in 2018 and a sixth U.S. Open in 2019. Recent improvements include the redesign of the once-treacherous 14th green, and reshaping of the par-3 17th green, both planned by Arnold Palmer's Design Company a few years back—and the current changes to the iconic eighth hole. Pebble Beach hosted the Women's U.S. Open for the first time in 2023.
About
Designer
Jack Neville & Douglas Grant
Awards
100 Greatest: Ranked since 1966. Ranked among the top 10 since our inaugural edition in the 1960s.
2023-'24 ranking: 12th.
Previous ranking: 8th.
Highest ranking: No. 1, 2001-2002.
100 Greatest Public: Ranked No. 1 since 2003.
Best in State: Ranked second from 2011 through 2024.
Watch our exclusive drone tour
Panelists
Ratings from our panel of 1,900 course-ranking panelists
100 GREATEST/BEST IN STATE SCORES
Reviews
1 / 21
Review
"Outstanding golf course in all respects. A tremendous variety of golf holes and shot requirements throughout the round all set beside / in view of Stillwater Cove and the Pacific Ocean. Small firm rolling greens and well-placed bunkering made club selection and shot accuracy key to scoring. Greens were firm and receptive to accurate approach shots. There was a good mix of back to front and vis-versa slopping greens with moderate contours - putts ran true. When played, fairways were soft and did not provide much rollout due to the recent heavy rains. However, this added to the challenge in terms of length and shot accuracy especially given the heavy rough. Unparalleled ocean side vistas were in view throughout the round starting on the 4th hole and continuing to the uphill turn at the 11th tee and then finishing on the 17th and 18th holes. The course moved right and left with some level of elevation changes on the majority of holes. Walkable course adds to the ambiance of playing especially when playing the 18th hole along the ocean to conclude the round."
Read More
2023
2 / 21
Review
"Excellent use of hazards (e.g. the pacific ocean!) and tremendous variety in elevation and slope. several holes are truly unique, not only to the property, but to the game of golf (6, 7, 8, 9, 10). the only thing holding it back from elevating to the top 30 in this category are some of the less unique holes before hole 4 on the front and especially between 12 and 16 on the back. Although these holes utilize a variety of doglegs and elevations, they are rather unspectacular and could be found on a course of much lower caliber. "
Read More
2023
3 / 21
Review
"Despite it's imbalanced routing, it's still the Grand Dame of public golf courses. With it's small greens, old-fashioned golf is rewarded here. Through the years, many alterations have been done on greens to have more pinnable locations as well as eliminate slopes that are too severe for modern greens speeds. The ocean holes are mostly both spectacular and solid. The inland holes are a little less interesting."
Read More
2023
4 / 21
Review
"Played PB in a gale warning with a steady 20-30 mph breeze blowing down on holes 8-10 and back into our face as we headed for home. Here is where the genius of PB was able to shine. Shot options galore under these conditions... what to hit on 4 tee, going to 6 in 2, running shots onto the 9th and 10th and flighting the ball down on the inward holes was a combination of trepidation, exhilaration and immense respect for a design that too often is disregarded as only having a handful of world class holes."
Read More
2023
5 / 21
Review
"Holes 3 thru 10, 17, and 18 provide a lot of memories, incredible design variety, and aesthetics tough to match anywhere in the world. Greens are much smaller in person than one would expect having seen Pebble Beach on TV so much. 14 Green didn't seem too severe although they have softened it the undulation recently. Plays longer than the yardages. Yardage book is a necessity for any first timer here. Much better condition than I would have expected w/ the amount of play the course receives."
Read More
2022
6 / 21
Review
"Pebble exceeded my expectations. With nine holes playing alongside the ocean how can you not be entertained. These golf holes are really good golf holes. The inland holes can be a bit of a let down, but the finish of 17 and 18 cure all of that. Pebble does get a lot of play so conditions can be variable. Overall experience is one of the best."
Read More
2022
7 / 21
Review
"As good as it gets for a publicly accessible course. Fantastic all around. First time golfers at Pebble Beach will likely be surprised by just how large the fairways are and how small and sloped the greens are. It is very much a second shot golf course."
Read More
2022
8 / 21
Review
"Outstanding design and experience. Great use of the property. Wonderful shot quality and risk reward with hazards, ravines and elevation changes. Generous enough fairways to hit driver, but also some holes that put positioning off the tee at a premium. Excellent variety and changes in wind direction. Good mix of long & short holes as well."
Read More
2022
9 / 21
Review
"I appreciated Pebble even more after being a GD panelist for several years. The setting is spectacular, sure, but each and every hole is amazing and presents a different challenge with lots of options. The small, sloped greens reward well-played approach shots, and even the less "famous" non-waterfront holes (e.g., 1-3, 11-16) are all well crafted with subtle nuances. Conditioning is terrific, particularly considering how much play the course gets, and the ambiance is about all you could ask for."
Read More
2022
10 / 21
Review
"What's not to like, other than the expense? Green fees caddy makes this a once in a lifetime for some of us but you gotta do it once."
Read More
2021
11 / 21
Review
"A true bucket list experience -- some of the most jaw dropping golf holes you'll ever experience. There are some lulls inland and the greens seem to keep getting smaller and smaller, but the highs are about as high as golf gets."
Read More
2020
12 / 21
Review
"Playing Pebble Beach is an experience that every golfer should pursue. Its course is world class and its accommodations are excellent, as expected."
Read More
2019
13 / 21
Review
"This really is an amazing place. The history and location are top notch. The cost and pace of play detract from the experience."
Read More
2019
14 / 21
Review
"Pebble Beach speaks for itself. Amazing, unbelievable setting. For golf it has the highest of highs (#4-#10, #16-#18), but also the most pedestrian holes on a world class course I can think of. #1 is a dreadful start for a course of this caliber. #12, #13, and #15 also don't match the quality of Pebble's best. However, taken all together this is an absolutely can't miss for any golfer."
Read More
2018
15 / 21
Review
"There is not another course in the U.S. that marries the seaside with such compelling golf. Throw in the memoriable major championship history with the US Open and PGA Championship, plus all the other events hosted there, and it is like you have walkied into your TV and teed it up. Arguably, the stretch from 6 to 10 is one of the best stretches of holes in all of Golfdom. And, the round finishes on such a strong note on 17 and 18. Total satisfaction that lingers long after the round is finished."
Read More
2018
16 / 21
Review
"Holes #6-#11 "
Read More
2018
17 / 21
Review
"One of the best in the US. Great course on a great piece of property. Worth the money to play it once. The only downside is the glacial pace of play due to high handicappers who are playing their dream round."
Read More
2018
18 / 21
Review
"Loved the experience but was a little let down by some of the non-seaside holes. Certainly one of the must-play courses for the serious golfer regardless of ability but I wouldn't call it 18 great holes."
Read More
2018
19 / 21
Review
"Some of the smallest greens in golf. A genius routing. You can't help but be excited while playing some of the game's most iconic holes."
Read More
2018
20 / 21
Review
"There is a short list of courses that can compete with the scenic views and pure golf experience of Pebble Beach. Pebble is spectacular with views on a sunny day that are incredible. The course is very well conditioned to be a public course with lots of play. The greens are small and demanding. The slope of the greens are a wonderful defense and truly make putting at Pebble a blast. The holes at Pebble fit together in a wonderful way. There are short shots, demanding drives, impossible chips, and a sense of golf history. The atmosphere surrounding Carmel and the Monterey Peninsula make this a top destination for couples and golfers. You can play one of the best courses in the world in the morning, walk on the beach in the evening, and then enjoy an incredible restaurant and art scene. This is one of my favorite places in the world."
Read More
2018
21 / 21
Review
"The Pebble Beach restaurant overlooks the 18th hole and Stillwater Cove, making it a great spot to cap off a memorable round."
Read More
2018
Readers
Collection of reviews from our readers
There are no reader ratings yet
Reviews
There are no readers reviews yet. Be the first to write a review.