1 / 5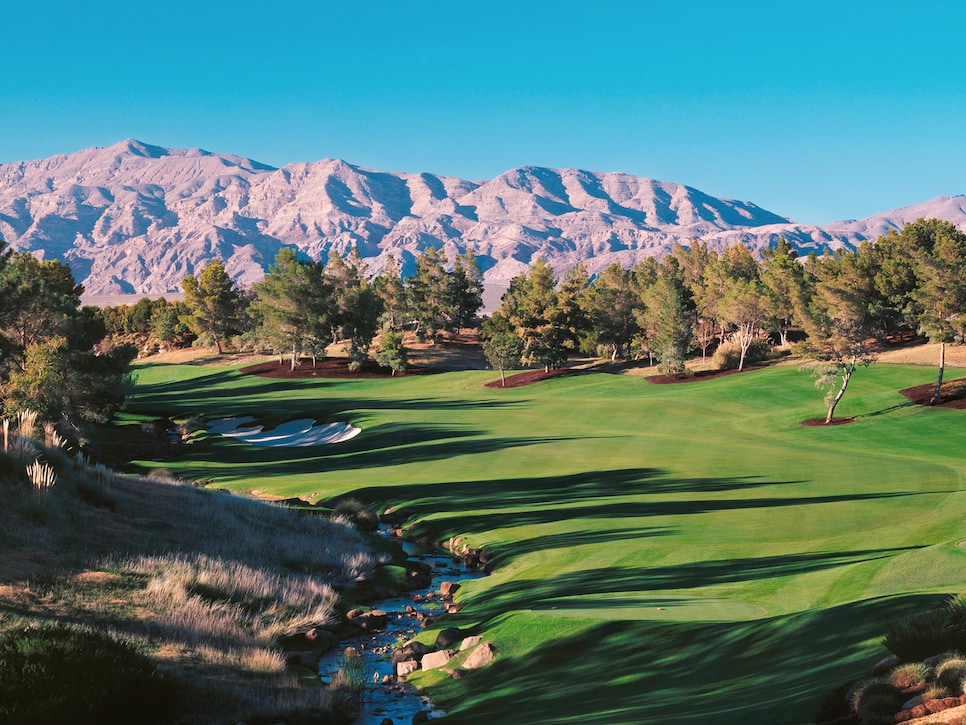 The Henebrys/Courtesy of Shadow Creek GC
2 / 5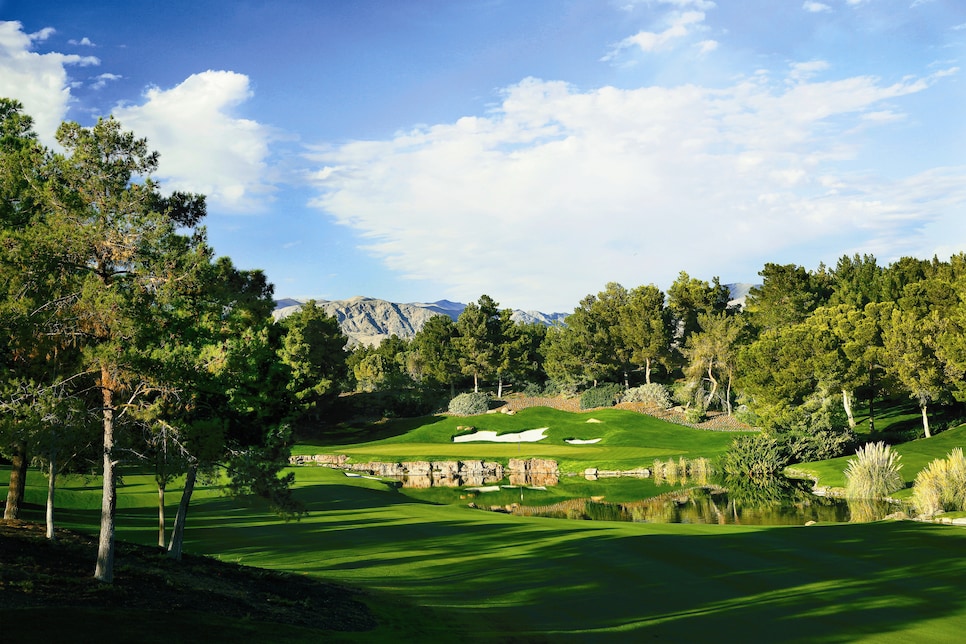 Courtesy of Shadow Creek GC
3 / 5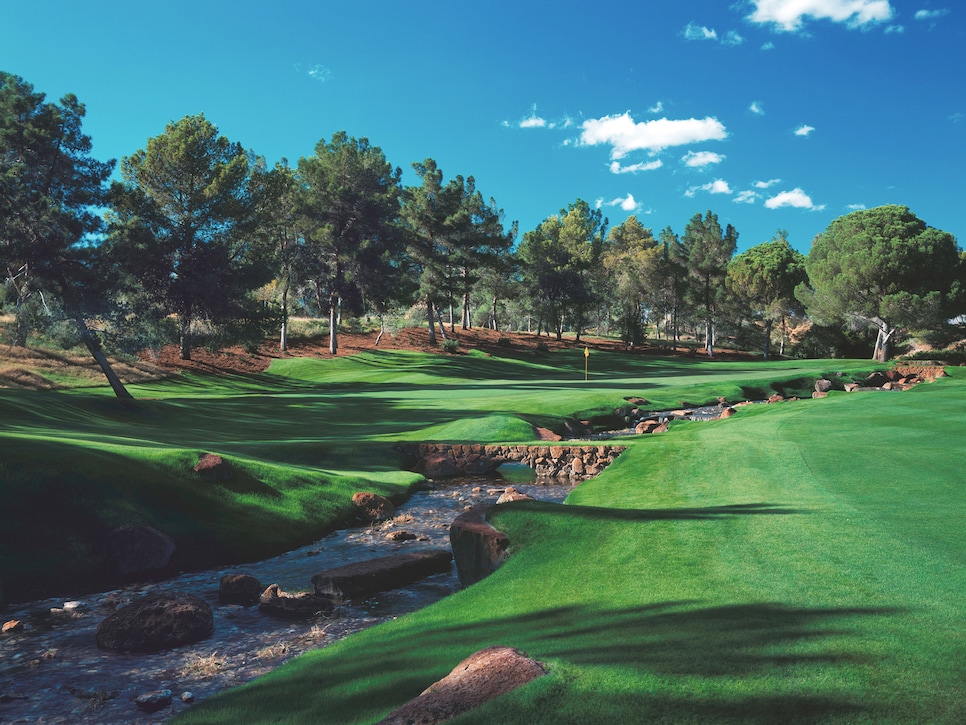 The Henebrys/Courtesy of Shadow Creek GC
4 / 5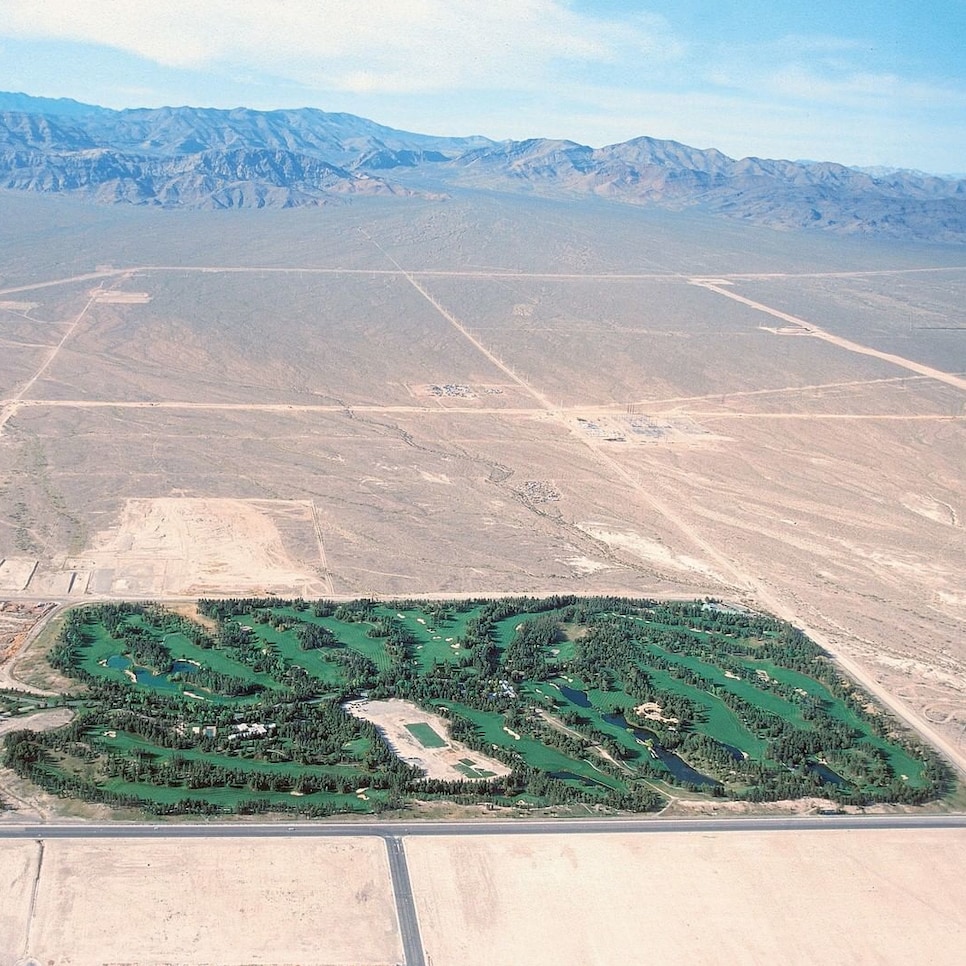 5 / 5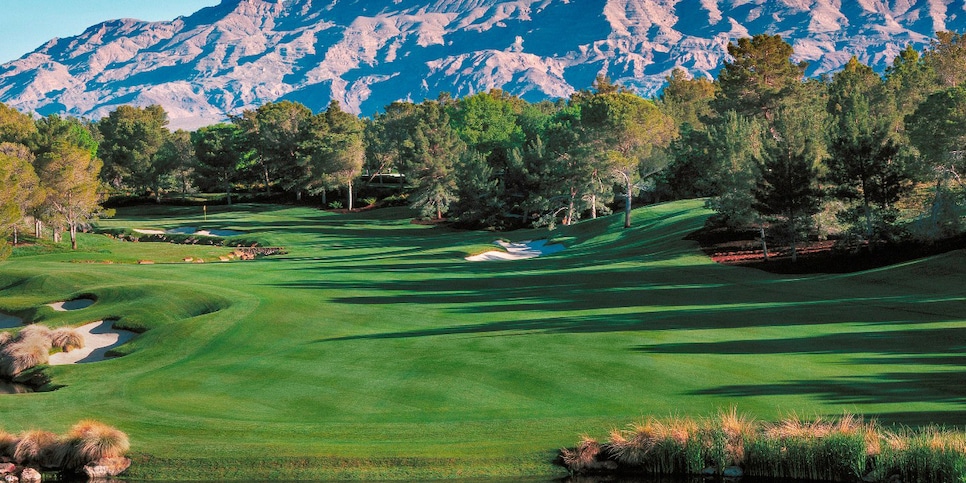 Overview
The Match between Phil Mickelson and Tiger Woods may have fizzled as a pay-per-view spectacle, but the venue was certainly a showcase during the Black Friday, 2018 broadcast. Shadow Creek has the reputation of being one of the most expensive courses built in America, a reported $47 million at the time. Designer Tom Fazio said that budget was necessary at Shadow Creek to perform what he now calls "total site manipulation," creating an environment where none existed, by carving rolling hills and canyons from the flat desert floor north of Las Vegas and pumping in plenty of water. Alas, this once-in-a-lifetime dream design has been too successful, triggering many equally expensive, but inferior, imitations.
About
Designer
Thomas Fazio & Steve Wynn
Awards
100 Greatest: Ranked since 1993.
2023-'24 ranking (and previous): 27th.
Highest ranking: 8th, 1993-'94.
100 Greatest Public: Ranked since the inaugural edition in 2003.
Highest ranking: No. 3, 2005-'06.
2021-'22 ranking: No. 5.
Best in State: Ranked first since 1991.
Panelists
Ratings from our panel of 1,900 course-ranking panelists
100 GREATEST/BEST IN STATE SCORES
Reviews
1 / 11
Review
"Excellent golf course. Feels like a course from North Carolina. Very interesting land formations created. Most shots very well thought out. A few green complexes have slightly strong slopes near the edge so a shot that trickles off the green is a nearly impossible pitch/chip as the slope carries the ball far past any hole locations that are 15 feet or so from the edge. More East to West holes would have been nice as the wind was mostly upwind or downwind, but aside from that, one of the top courses in the country. In my top 20 or so. Not a big fan of the chipping/putting areas in front of the green but other than that, this is a tremendous golf course!"
Read More
2023
2 / 11
Review
"To play Shadow Creek is quite the experience. It begins with the booking, which is only available to the general public Mondays-Thursdays with steep prices ranging from $750-1000. On the day of play, a limo picks you up and takes you to the course which feels absolutely nothing like the surrounding desert. Lush fairways, pines, and large trees predominate, making it feel like you're playing a parkland course in the Pacific Northwest. The practice facilities here are excellent and the high price made it so that the course was basically all mine the day I played. The clubhouse is reserved but features more amenities than most private courses. The course itself is classic Fazio, with extremely strong conditions, large greens, and well-placed, visually appealing hazards. I found the course to be very fair. While there are many excellent holes, the par threes really stand out and are quite unique. This is certainly the best "public" option in the Las Vegas area and one of the finest public rounds of golf in America."
Read More
2022
3 / 11
Review
"This course is a marvel, being in the middle of the desert, bringing in all of the trees and individually watering each one. It is really hard to believe that it can be done. The par 3 17th is one of the great short par 3s you will ever play."
Read More
2022
4 / 11
Review
"Incredible course conditions and great Fazio design. Had the entire course to ourselves for the day and great upside from the caddie program. What a treat of golf!"
Read More
2021
5 / 11
Review
"lives up to the billing. A real oasis in the desert. Fun challenging golf course. Every hole is a new look, and conditioning was a high priority."
Read More
2021
6 / 11
Review
"A fantastic course! Hard to believe that the entire course was manufactured on a barren piece of land. Not a bad hole on this course and the conditioning was exceptional."
Read More
2020
7 / 11
Review
"Almost a surreal golfing experience. Arriving at the course is like arriving at another world that is totally at odds with the Southern Nevada landscape. Gorgeous, extremely well-manucured. Very captivating. Fanstastic mens locker room - could spend a few hours in there. Stay at an MGM resort - that and a wad of cash will likely get you in."
Read More
2018
8 / 11
Review
"One of Fazio's best projects. Once on the property you forget that you are in the middle of a desert. It looks more like Ohio than Nevada. The course is fun and challenging. Expensive but worth the money to play it once."
Read More
2018
9 / 11
Review
"This is one of the miracles of technology. It is completely manufactured. Fazio took a dead flat piece of desert and created Minnesota. Additionally, he created an excellent test of golf that you just don't want to end."
Read More
2018
10 / 11
Review
"Fabulous course. Transports you to North Carolina."
Read More
2018
11 / 11
Review
"Great golf course! Tremendous experience. Excellent conditions. Really fun slopes around the greens to play shots into and chip shot from."
Read More
2018
Readers
Collection of reviews from our readers
There are no reader ratings yet
Reviews
There are no readers reviews yet. Be the first to write a review.