The Loop
How would Alabama fare against NFL teams? A Vegas oddsmaker's eye-popping betting lines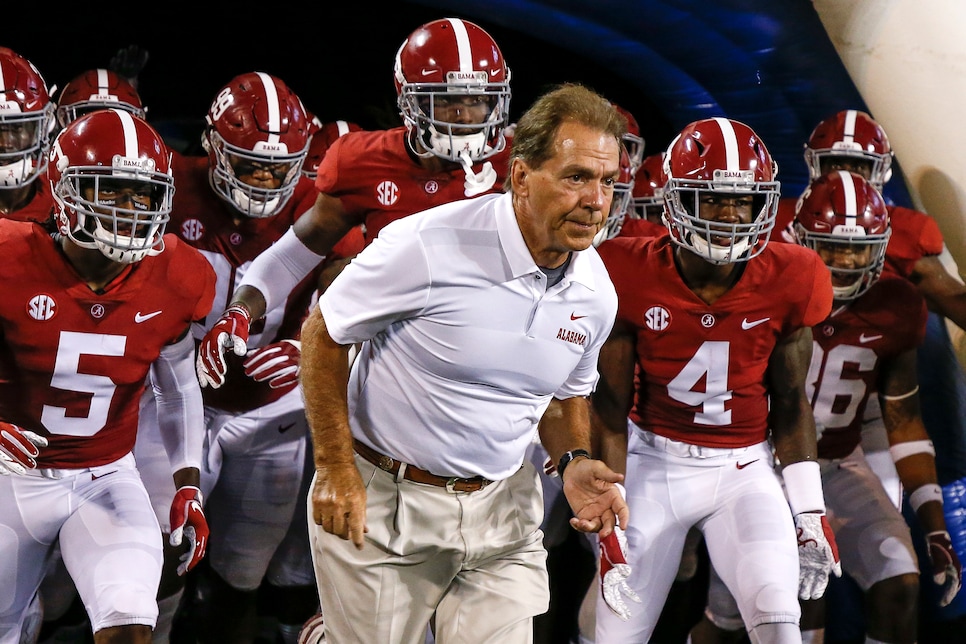 Is there a dumber sports argument than "(insert powerhouse college football team, usually Alabama) is better (insert lowly NFL team, usually the Cleveland Browns)"? This is obviously a rhetorical question because this is by far the dumbest argument in sports. It's why I'm calling it an "argument" and not a debate, because a debate is actually something you can debate. Yet, without fail, this cockamamie suggestion pops up every year at some point.
While Nick Saban might have his best Bama squad yet, this season's Browns, thanks to Baker Mayfield starting to do some serious cooking, aren't the pathetic pushovers we've gotten used to. The NFL's worst team, according to Vegas and anyone who has watched them for more than five minutes, is the Buffalo Bills. But if you think the Crimson Tide should be favored to beat the Bills, you probably also think that Jon Gruden was worth $100 million.
Let's start with the Bills, who Sherman would instill as a 28.5-point favorite against No. 1 Alabama in a game on a neutral field and under NFL rules. So yeah, it's not happening. Well, unless the recently cut Nathan Peterman was forced to play the entire game. Then the spread might only be 7.5. Sorry, Nate.
As for the Browns, they'd be favored by 35.5 points, or an additional touchdown. Remember what Baker was doing against college defenses last year? And now he's got NFL talent around him? Saban's vaunted defense wouldn't stand a chance.
As for the most lopsided spread, try the 49.5(!) points the Patriots would be favored by. That's nearly how much Alabama is favored by this week against the Citadel where you'd have to risk $750,000 to win $100 if you take the Crimson Tide on the money line.
So yeah, please stop with this argument. It doesn't matter if it's a historically great Alabama team or a particularly woeful NFL squad, the pro team is always better. And they would usually win BIG.