The Loop
How to bet the Raiders vs. 49ers game, because that's the ONLY reason to watch it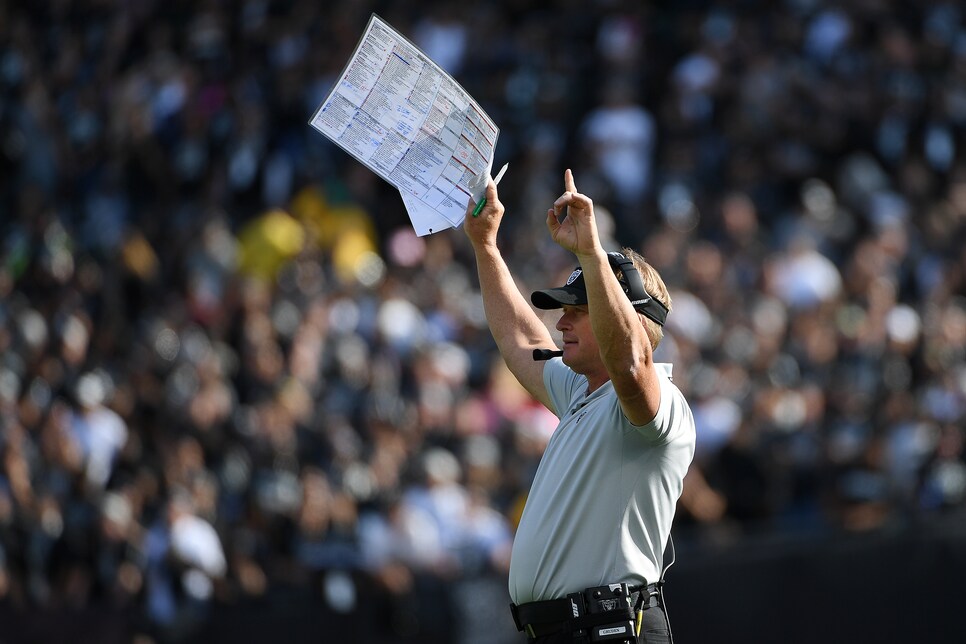 One of the pleasant surprises of this NFL season has been the quality of the primetime games, and that includes Monday Night Football and its abysmal broadcasting crew. Among the league's many issues over the last few seasons, bad primetime matchups were one of the most frustrating ones, but that simply hasn't been the case in 2018.
Thursday Night Football's matchups have surprised the most, something no one ever believed would happen given that teams are on short rest and the games tend to be sloppy and riddled with injuries. But so far we've been treated to the electric, mid-game debut of Baker Mayfield in a win over the New York Jets, a classic shootout between the Minnesota Vikings and the now 8-0 L.A. Rams and last week's five-TD pass performance from Houston Texans quarterback Deshaun Watson. There's been a few duds of course, but any good, watchable Thursday night game is a win for the NFL.
That brings us to this week's TNF matchup, which is by far the worst of the season, and not just on Thursday night. It might be the worst matchup period, featuring the 1-6 Oakland Raiders on the road against the 1-7 San Francisco 49ers. Before the season, this was probably one that was circled on the calendar. Gruden, Garoppolo, two classic franchises. It had everything. Instead we have a midseason primetime game between two teams fighting for the No. 1 overall pick. Unwatchable.
Unless of course ... you bet on it! Now, anyone with a functioning brain would tell you to not touch any part of this game with a 10-foot pole. You'd be better off betting on the MAC game between Ohio and Western Michigan, and the quality of that game will probably be similar to Niners-Raiders. But the hell with that. It's still NFL football, you've probably got a few fantasy players in the game and let's be real, what else you have going on? Here's how to attack Thursday's toilet bowl from a gambling standpoint.
The Line: San Francisco -2.5
Do NOT bet the spread in this game. If anything, there's a little value in taking Oakland money line, since they may be facing a guy who has never made an NFL start. Other than that, stay away. It's hard enough betting NFL spreads on games you think you have a read on.
Pick: Raiders ML. Godspeed.
The prevailing thought for a game between two terrible offenses is to smash that under and hope for a sloppy punt-a-thon that the broadcasters dub a "field-position battle" just to be nice. But both these defenses rank in the bottom half of the league in total defense, and when it comes to points against, there are very few teams worse. San Francisco ranks 28th, giving up nearly 30 points per game, while Oakland ranks near the very bottom at 31st, giving up 31.1 points per game. It's not out of the realm of possibility that this ends up being a shootout, although, with freaking Nick Mullens under center, you have to assume 49ers head coach Kyle Shanahan would have a very conservative game plan. Again, under appears to be the right play, but unders stink, and the NFL is apparently now an over league. Also, according to oddsshark.com, if you blindly took the over for every Thursday Night Football game this season, you'd be 6-2. That's enough for me.
Pick: OVER 45. Riding the Nick Mullens train! Sling that rock tonight kid.
Prop bet (odds from Fanduel): Jalen Richard Receiving and Rushing Yards total -- 57.5 (over -108, under -118)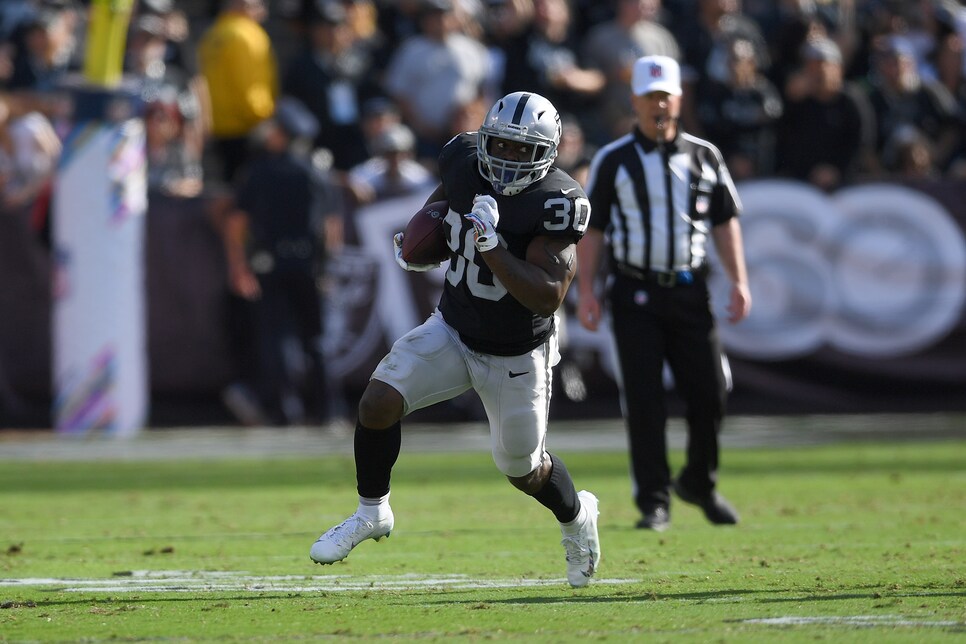 Jalen Richard fantasy owners who thought he'd see an uptick in carries following the Marshawn Lynch injury news were likely disappointed with what happened on Sunday against Indianapolis. Richard actually had another great receiving day, hauling eight balls for 50 yards, but unless you're in a PPR league that doesn't quite help you enough. He had just two carries to Doug Martin's 13, but he did gain 14 yards on them. If he gets a few more looks on Thursday, and gets his standard amount of touches as a receiver, it should be a strong night for the third-year back. He's had at least six catches for 48 yards or more in five of seven games, and there's no reason to believe he won't match both those totals against SF. Add in a few extra carries and he'll get plenty of yardage.
Pick: Over 57.5 Rushing and Receiving yards total for Jalen Richard
Prop bet: First touchdown, Alfred Morris (+1700)
Alfred Morris is second to only Matt Breida on the team in carries, with Raheem Mostert a distant third with just 27 carries. Both Mostert and Breida are apparently banged up, but will play according to Adam Schefter. Even if they do, you have to figure Morris will be the short yardage guy, and the 49ers will have an opportunity to move the ball right from the start against this poor Oakland defense. If they get down near the goal line on one of the first few drives, expect to see Morris, who only has one touchdown this season. Have to imagine he's dying for another, and those are some JUICY odds for a guy that used to have a nose for the endzone.