News
How Spieth 'found' his Zurich partner, Bryan's victory meal, and Poulter's untimely putting woes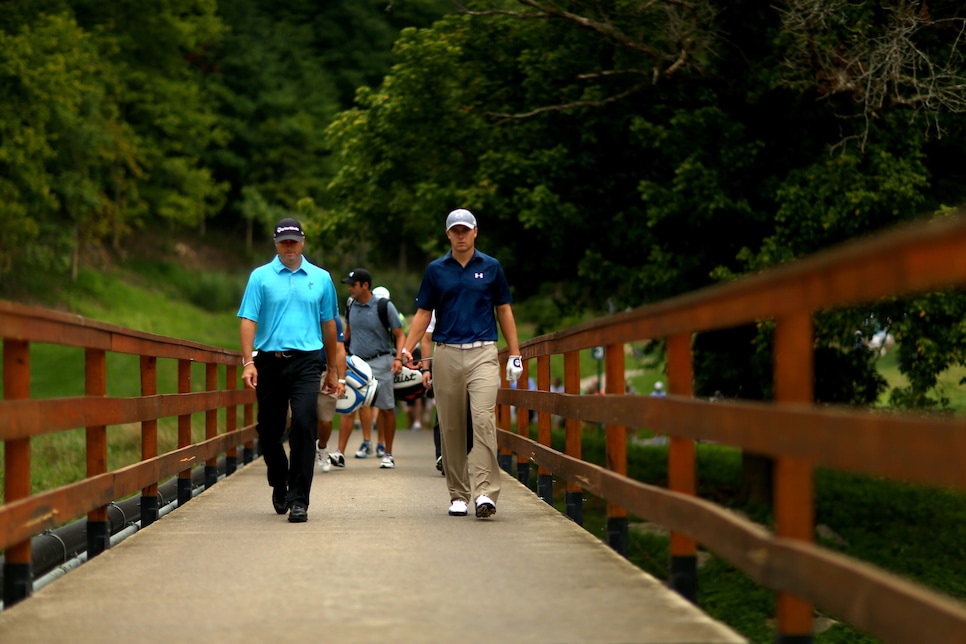 Jordan Spieth, Ryan Palmer and their caddies, Michael Greller and James Edmondson, were on the driving range at Trinity Forest in Dallas before a friendly match last November when Edmondson cracked to Spieth, "If I beat you today, you have to be Ryan's partner in New Orleans next year."
Edmondson, a former college golfer and four-time club champion at Colonial C.C. in nearby Fort Worth, shot 71, and Spieth lost, straight up. At least that's how Palmer tells the second half of the story.
"We'll go with that," Palmer says.
The format change for the event at TPC Louisiana is an appealing one. The golf calendar is so stuffed with tournaments that anything to differentiate one event from another helps attract players, with this year's field being Exhibit A.
In addition to Spieth, Jason Day, Hideki Matsuyama, Henrik Stenson, Justin Rose, Rickie Fowler and Justin Thomas are playing. That's seven of the top 10 ranked players in the world.   "It's awesome," Palmer said of the format. "I think players will be relaxed, and they'll enjoy the different format. I know we're excited about it."
Given a change from the mundane stroke-play events and with a playing partner who has been a Ryder Cup and Presidents Cup stud, can you blame Palmer?
It was nearly midnight on Monday when Wesley Bryan and his wife, Elizabeth, arrived home in Augusta, Ga., a few hours' drive from Hilton Head, S.C., where earlier in the day Wesley won the RBC Heritage for his first career PGA Tour title.
One of the few places open to eat in the wee hours: a Taco Bell, about 12 miles south of Augusta National.
Next year, Bryan can look forward to driving down Magnolia Lane to play in the Masters. The native of the Augusta area, who has played the course a few times and been to the tournament as a fan at least a half-dozen times, will be playing in the event for the first time thanks to the win Sunday.
"It didn't even hit me until I got in the CBS booth and they started asking me about it," Bryan said via phone.
He had a lot on his mind. After all, the 27-year-old's rise has been impressive—from YouTube trick-shot sensation, to Web.com Tour Player of the Year, to PGA Tour winner in just a few short years.
Still, he's trying not to get too far ahead of himself.
"You can't ever expect [to win] in this game," he said. "You're going to get crushed more weeks than you prevail.But the success I had last year [on the Web.com Tour] validated that I was good enough to be out here, and I knew when I got in contention on the weekend [on the PGA Tour] that I was good enough to win on this level."
And now good enough for the Masters and the course he lives just a few miles from but has yet to drive past since the victory in Hilton Head.
"Oh yeah," Bryan said. "It's on the agenda for the weekend."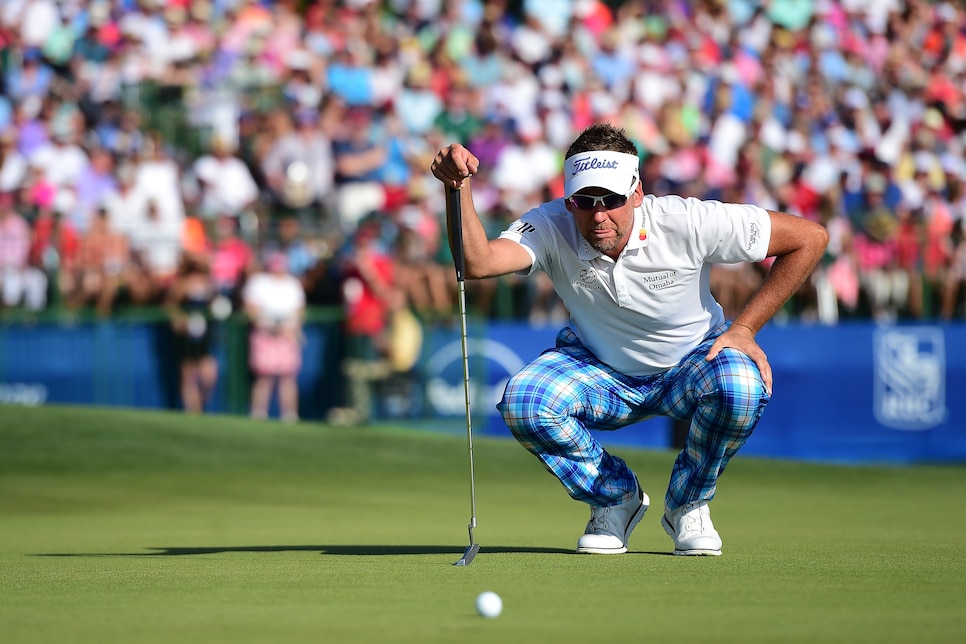 Putting has always been one of the better parts of Ian Poulter's game.
The 41-year-old Englishman ranks 139th in strokes gained/putting, losing .171 strokes to the field this season.
Sunday was a continuation of that with a final-round 73 made worse by a couple of costly three-putts late and other missed opportunities in Hilton Head, where he went from in contention to a tie for 11th.
The timing was particularly cruel for Poulter, playing in his second-to-last start on a medical extension after being sidelined much of 2016 with an ankle injury and needing to bank $144,669 to keep his PGA Tour card. Earning $114,045 for his effort, Poulter now must finish around T-40 at this week's Valero Texas Open in order to keep his playing privileges for the rest of the 2016-'17 season.
"I could have got it done today, and I should have got it done today," he said Sunday at Hilton Head. "Three-putt is unacceptable, especially from the distances I was. I pride myself on being a good putter. But the flat stick didn't do what I needed to do. I didn't close out any of the putts that I expected to close out.
"I missed putt after putt after putt. I need to continue to work harder on the putting, less on the rest of the game of golf."
Give Poulter this much: He didn't blame it on anything other than what he should have blamed it on.
Tiger Woods was at Missouri's Big Cedar Lodge for the unveiling of his latest course design on Tuesday and offered the following self-assessment: "I have good days and bad days. I've had three back operations, and that's the nature of the business unfortunately. That's all I can say." That sound like someone who plans on playing anytime soon? …
Gary Player vs. Booger MacFarland? In golf? Point me to the sports book that would have odds on that one, and I'm laying all future paychecks on the guy who won nine majors, even if he is 81. I'm also taking him in a sit-up contest. …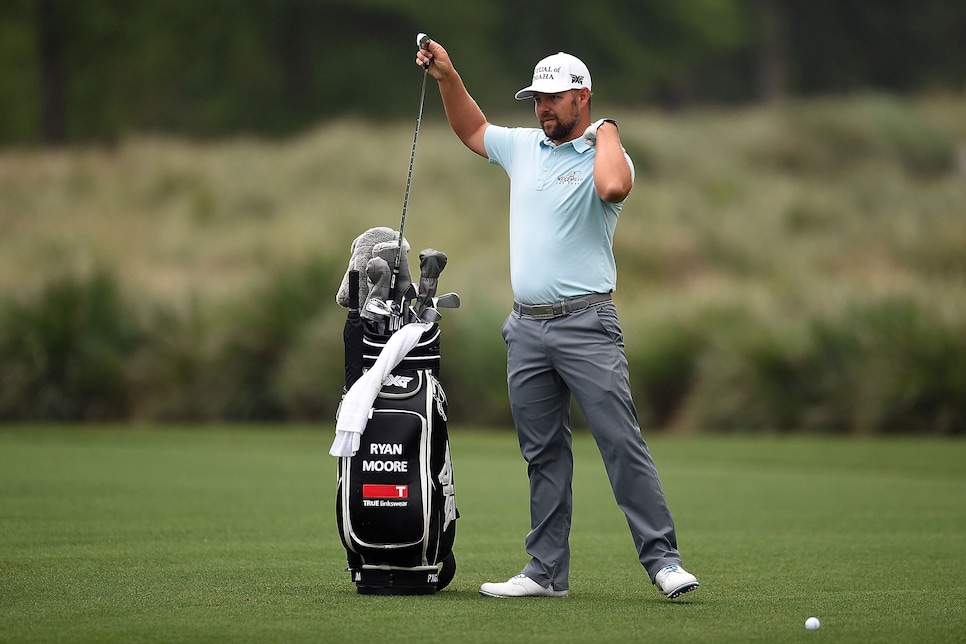 This week's Valero Texas Open is a home game for 2015 champ Jimmy Walker, and he comes in with five top-25 finishes in his last six starts. But he hasn't won since last year's PGA Championship and for a variety of reasons I don't see that changing this week. Call it a hunch. Two players whose chances I like better? Another (sort of) local, Ryan Palmer, who has four top-15s at TPC San Antonio, including a T-4 last year and T-6 the year before, and Ryan Moore, who tied for ninth at the Masters and was T-8 in this event in 2012.