News
How a seven-year romance with his putter helped Patrick Cantlay become a PGA Tour winner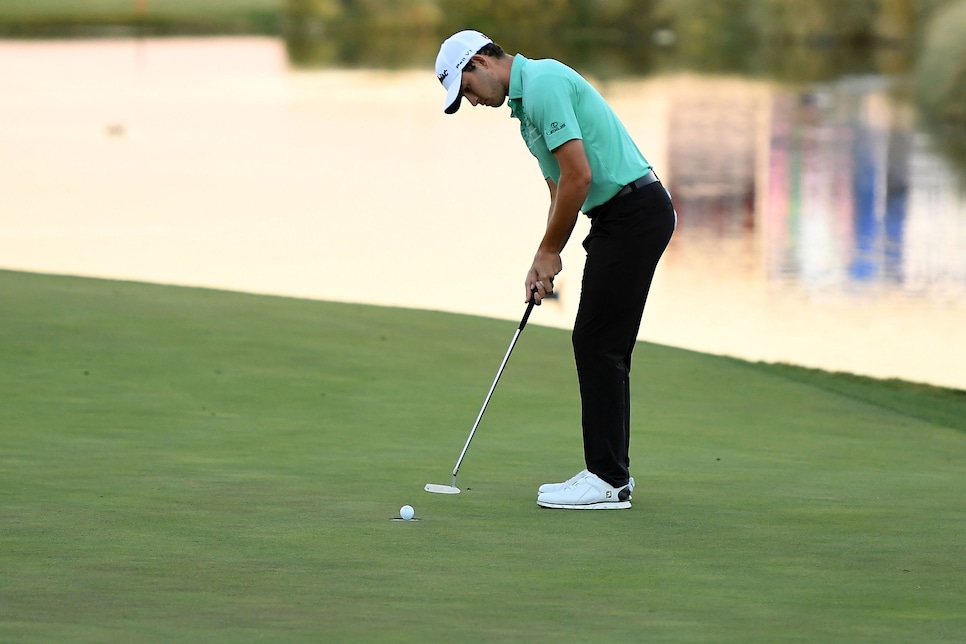 Stacy Revere/Getty Images
"I feel like it's just a culmination of a lot of hard work for a long time," said Cantlay, who despite playing only 12 events in the 2016-'17 season earned his way into the FedEx Cup Playoffs and reached the Tour Championship. "No mindset wasn't any different or confidence level wasn't any different. I just keep trying to go about my business as best I can. I think if you put yourself in that position enough times, you're going to win your fair share."
That no-nonsense attitude may have been the key to his victory, too. On the second playoff hole, Cantlay's aggressive 4-iron approach shot skidded just over the 18th green and left him with the choice of how to handle the greenside shot of some 70 feet. About an hour earlier, he had failed to get up and down from the side of the 16th green in what for all intents and purposes seemed like a similar shot. It wasn't, Cantlay said.
He chose a wedge in regulation, but went with putter in the playoff.
"It probably looks very similar on TV, but it's totally different," Cantlay said in a phone interview on Tuesday. The shot on 16 was into the grain, steeply uphill and short, but the lag putt in the playoff on 18 was "so flat and gradual that it made sense to use putter and get it on the ground as fast as possible.
"I never really considered chipping because of how nice it would run through that flat fairway cut there. I thought the putt was the best chance of getting it down in two and getting the first one close."
Cantlay nearly holed the shot, making the two-footer to secure the par and his first win of any kind since the Web.com Tour's Colombia Championship in March 2013.
Putter most likely also made sense because it's the club that's been in Cantlay's bag longer than any other. The Scotty Cameron by Titleist Newport 2, which he's used for the last seven years, is distinctly Cantlay's, and not just because of its 33-inch length, shorter than most other putters played on tour, which tend to be in the 34- and 35-inch range.
"I wanted one with a thin topline, and it's got one of the thinnest toplines around," he said, noting he's been going to Cameron's legendary Southern California studio since his high school days. "I've pretty much always used a Newport 2 for many, many years, back to junior golf.
"I can't really tell you why [it's 33 inches], I just feel comfortable with it, and I don't feel like I'm going to change ever."
As it turns out, just last week he was down at the Cameron studio putting in some work with director of putting fitting Paul Vizanko, who's helped Cantlay with his stroke for years. The two weren't making any equipment alterations, just working on technique and building back his confidence.
"It's the Indian, not the arrow," Cantlay said. "You've got to take responsibility for it. It's not the equipment, it's me."
Cantlay, who's planning to take the rest of the year off, will be working on putting Titleist's new 718 AP2 irons into the bag in January. He'll likely make the same deliberate change he made when he switched from the D3 shape in the 915 driver to the D2 shape in the 917 last year. Cantlay's dialed in the driver with a draw-biased sole weight and custom painted scorelines that make the face look more square at address. That attention to detail is just his style: patient, deliberate, self-reliant.
"When I do change, I'll have practiced with it a bunch and really feel comfortable with it," he said. "I'm not one to tinker with something in the middle of a tournament or even at the beginning of the week. I don't understand that. If you've only hit a club a couple of times, I don't feel like you want to be trying to win a golf tournament with that club on Sunday."
Hence, the trusted putter from off the back of the green on the 18th hole in the playoff on Sunday.
"It's very traditional, very square," Cantlay said. "I just like it. No fancy story."
In other words, no nonsense.