News
Patrick Cantlay enjoys the delayed gratification of his first PGA Tour win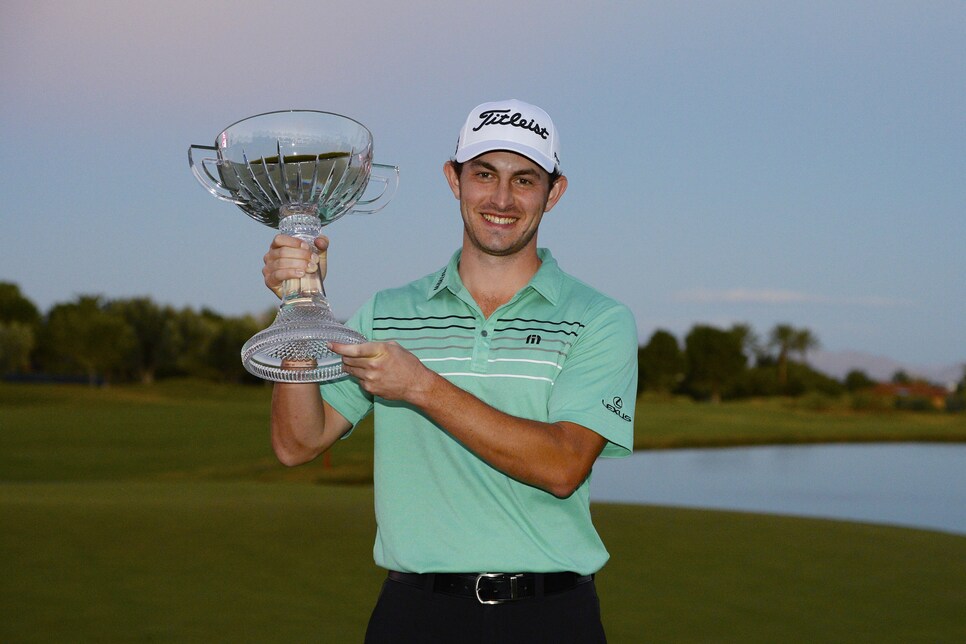 Photo By: Robert Laberge/Getty Images
LAS VEGAS — Before all the pain, the exhausting and frustrating rehab sessions, and before the long interludes in which he wasn't allowed to so much as pick up a club, Patrick Cantlay had talent and promise and hardly a care in the world.
That was five years ago, when he turned professional after a stellar amateur career and was expected to be the next big thing before Jordan Spieth, Justin Thomas and their peers began their incursion into the game's upper ranks.
On Sunday at TPC Summerlin, Cantlay proved he still has talent and promise. He is still that same golfer.
He's just not the same person.
Cares in the world? Got 'em. So be it.
With a par on the second hole of a sudden-death playoff, Cantlay defeated Alex Cejka and Whee Kim and won the Shriners Hospitals for Children Open for his first PGA Tour title. This day was supposed to come much sooner for the California native. But at least it came.
"I feel like getting your first one can sometimes be the toughest one to get," Cantlay, 25, said after shooting a final-round 67 to finish at nine-under 275 and then surviving extra holes to become the 11th player to win his first tour title here since Tiger Woods broke through in 1996. "Hopefully, I can start getting some more wins. I hope they pile up."
It wasn't supposed to be tough at all for the UCLA All-American who won the Jack Nicklaus Award and Fred Haskins Award in 2011 as the top collegiate golfer and who occupied the top of the World Amateur Golf Ranking for a record 55 weeks before making his pro debut at the 2012 Travelers Championship.
Meticulous, stoic, and adroit, Cantlay heralded his potential a year earlier in the same event when he fired a second-round 60 at TPC River Highlands, the lowest score ever recorded by an amateur in a PGA Tour event, in grabbing the 36-hole lead. That came after finishing T-21 at the 2011 U.S. Open at Congressional.
The kid had the skills and the head for the game. Just not the back.
Cantlay first was sidelined after withdrawing from the 2013 Colonial with a back injury that turned out to be a stress fracture in his L5 vertebrae. Somehow, he came back in the fall for one start in the Web.com Tour Finals, finishing second in the Hotel Fitness Championship to retain his PGA Tour card.
In the next three years he would make just six starts.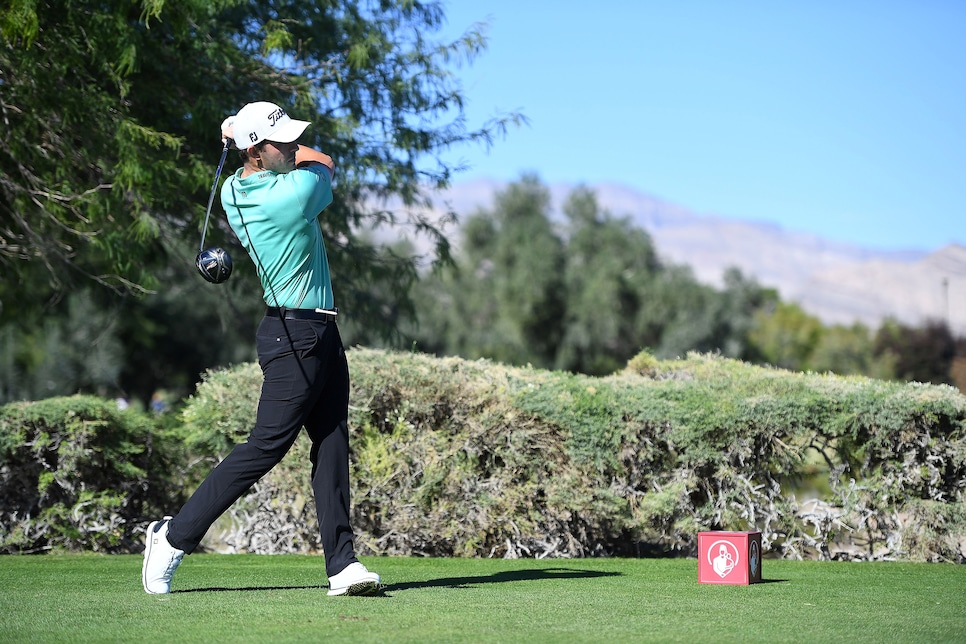 Stacy Revere/Getty Images
Doubt and discouragement were constant companions during that period, especially in 2016 when he didn't play at all. But he never felt defeated.
"There's not a lot of give up in me. I never really thought about giving up," he said. "I thought maybe there was a chance my back would never feel good enough to play again … but I knew that I'd be able to get to where I wanted to be if I felt healthy. My main goal was just to get 100 percent healthy. I knew if I could get 100 percent healthy, everything else would take care of itself."
The first win is the toughest, and Cantlay made it harder on himself when he bogeyed the last two holes. Starting the final round four strokes behind J.J. Spaun and Beau Hossler, Cantlay had forged into the lead with four straight birdies starting at the 11th hole.
Fortunately for Cantlay, the closing stretch at TPC Summerlin was inhospitable to a host of contenders as late afternoon winds kicked up. Kim, who closed with a 66, also bogeyed the 18th, as did Chesson Hadley, which cost him a spot in the playoff. Spaun, meanwhile double bogeyed the final two holes. Conversely, Cejka, who fired a brilliant 63, birdied his last four holes before the breeze brought havoc.
All three players bogeyed the 18th on the first extra hole, and when they came around again, it looked like that might be the case again. Cantlay, however, managed to steer a 4-iron under and around a tree from the right rough to the back of the green and then got up and down from 70 feet for par. Kim made double bogey after a poor drive while Cejka just missed extending the playoff when he missed his par save from 18 feet.
Cantlay looked relieved after tapping in from two feet for the title, worth $1.224 million, but not overwhelmed. Part of that is who he always has been. Part of it is who he is now.
That's because of the terrible loss he suffered in 2016 while working his way back to health. In February, he watched in horror as his best friend and caddie, Chris Roth, was struck and killed by a hit-and-run driver. Cantlay was just 10 feet away when the accident occurred at an intersection in Newport Beach, Calif.
Not a day goes by that he doesn't think of that terrible night.
But he won't make that tragedy a part of his comeback narrative, a comeback that already was impressive when he qualified for this year's Tour Championship after just 12 starts.
"I don't really associate the two together that way," Cantlay said. "It feels good to be doing what I feel like I was born to do, and what I practiced to do for such a long time. The other part is so separate, and it was such a heartbreaking deal that I don't even … it's not even on the same level as golf.
"I'd say I'm better because of it, as tough as those moments were."
And maybe he's tougher, too. He takes up the chase now to catch up to Spieth, Thomas and his peers, and he doesn't much care if they have a head start on him, though he corrects a questioner who says it wasn't long ago when he was mentioned in the same breath with them. "It feels like a long time ago," he said.
"It feels like someone put the pause button on playing," he explained. "But I feel like I picked up right where I left off, where I was playing good before. I feel like this year has been really good. I don't feel like I'm behind the eight ball with those guys. It's been great to see those guys play well because I know their games. I know who they are as people. I know how hard they work. I know what they do.
"I feel like I've always been right there with those guys, so looking forward to working hard and hopefully having some battles with them in the future."
And he is ready to battle. "Yeah, of course. I want to be the best player in the world, and I want to win a bunch of tournaments," he said. "I feel like if that's not what you're out here for, you shouldn't be out here."
Yes, he's still that same golfer. He has found his old self in a new man.