News
Patrick Cantlay ready to join Jordan Spieth-led youth takeover, 'he was No. 1 amateur in world for a reason'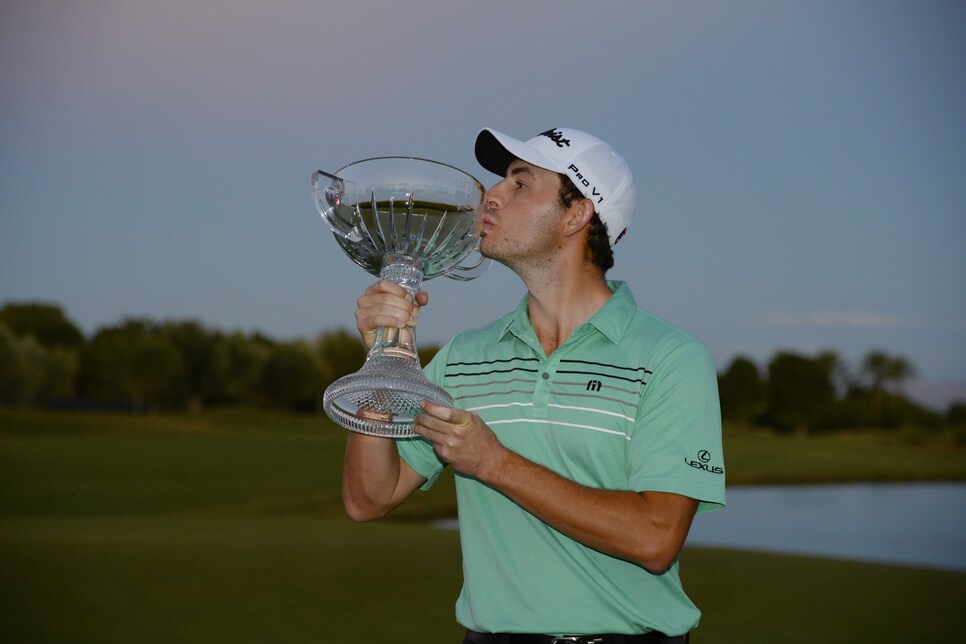 The Jordan Spieth-led millennial battle royale that has transformed the PGA Tour post-Tiger was always missing a singular name from its impressive ranks: Patrick Cantlay.
It is not a stretch to suggest that Cantlay, only 15 events into the de facto start of his PGA Tour career, warrants mention in a group that includes Spieth, Justin Thomas, Hideki Matsuyama, Jon Rahm, Brooks Koepka and others.
"It wouldn't be our style to say something like that until it happens," Cantlay's long-time instructor, Jamie Mulligan, CEO of Virginia Country Club in Long Beach, Calif., said on Monday. "But when Jordan and J.T. and Patrick Reed and Harris English were coming up, Patrick was very competitive with them. He was the No. 1 amateur in the world for a reason."
When Cantlay was only 19, he finished tied for 21st in the 2011 U.S. Open and the following week shot a 60 in the second round of the Travelers Championship. He played five tour events that year, all as an amateur, and finished in the top 25 in four of them. A UCLA sophomore, he won the Fred Haskins Award and the Jack Nicklaus Award denoting the top college player.
He turned pro the following year and since then?
"I think the best way to put it is that he lost his best buddy and had a stress fracture [in his back] and was out of golf for four years," Mulligan said. His buddy and caddie was Chris Roth who was killed by a hit-and-run driver in early 2016. Mulligan and Cantlay both separate Roth's death from the stress fracture and that he is coming back only from the latter.
"He's always been a wise soul," Mulligan said. The two have worked together since Cantlay was 7. "He worked at being more patient, more poised, and in turn got bigger, stronger and faster and is a better athlete. And he's had a lovely year."
To say the least. Cantlay through his medical exemption had 10 events in the 2016-'17 season to earn $624,746 and retain his PGA Tour card. He achieved that quickly by finishing second at the Valspar Championship and tied for third in the RBC Heritage. He made the cut in all 13 events he played, finished in the top 25 in eight, and earned more than $2 million.
He began the year 1,866th in the World Ranking and is now ranked 42nd.
"Contrary to popular belief he didn't have surgery on his back as been said about 100 times this week," Mulligan said. "It was a stress fracture. He went to a bunch of doctors until we found the right formula. If you look at this year, he's only played about one tournament a month. We were really careful at how many events he played.
"But he was ready to go. He's felt really healthy for a long time. Everybody in this sport gets dinged from time to time. We treated him more carefully, until he felt like he was 100 percent. They say you can come back too soon but you can't come back too late. We preferred to err on the side of caution.
"He's worked very hard. This is a game of quality work, not quantity work. He's always been really impressive since he was a little kid. There was no dilly-dallying around. He does his work all the time."
Mulligan declined to rank this victory among others he has experienced as an instructor whose pupils have included John Cook and Paul Goydos, other than to say "the best one is always the last one."
But he will compare the crop of great young talent to which Cantlay is has to be considered a part to one from his own generation. "I grew up in the John Cook, Freddie Couples, Curtis Strange, Mark O'Meara, Peter Jacobsen, Blaine McAllister era," he said. "That was a really special tour class. I think these guys are very much like that. Socially, too. They all have a great deal of respect for each other. All work really hard.
"It's a beautiful and fun time for golf."