Weird Golf News
Hole-in-one photo leads to arrest of suspect in death of Florida man
A suspect has been arrested in the death of an 87-year-old Florida man. And it was a hole-in-one photo that wound up assisting authorities in tracking him down.
The wild, sad tale from The Villages was reported last week by Villages-News.com, the same outlet that reported Robert Moore's hole-in-one back in February. But now Moore, a 75-year-old Massachusetts native, has been charged with aggravated manslaughter of an elderly person.
The charge stems from the tragic death of 87-year-old Dean Zook on July 16. A couple weeks prior, Zook and his wife were going out to dinner at Glenview Country Club when Zook bumped a parked vehicle with his own car. A man thinking his car had been damaged began punching Zook before realizing it wasn't his car that had been hit and walking away. But the damage had been done.
Zook suffered brain bleeding and had to be flown to a nearby hospital. He never recovered. In the meantime, a search for his assailant began, led by the Sumter County Sheriff's office posting surveillance photos of a man who fit the description picking up food at Glenview Country Club earlier that day. Surveillance footage also showed the man bumping into a server and spilling drinks on a customer at the bar.
That led to police being sent a tip and a photo of a man fitting that description and going by the name "Bob." When detectives did a Google image search using the picture they came across the following photo of Moore from Villages-News.com in which he was posing after making an ace at Tarpon Boil Executive Golf Course earlier this year.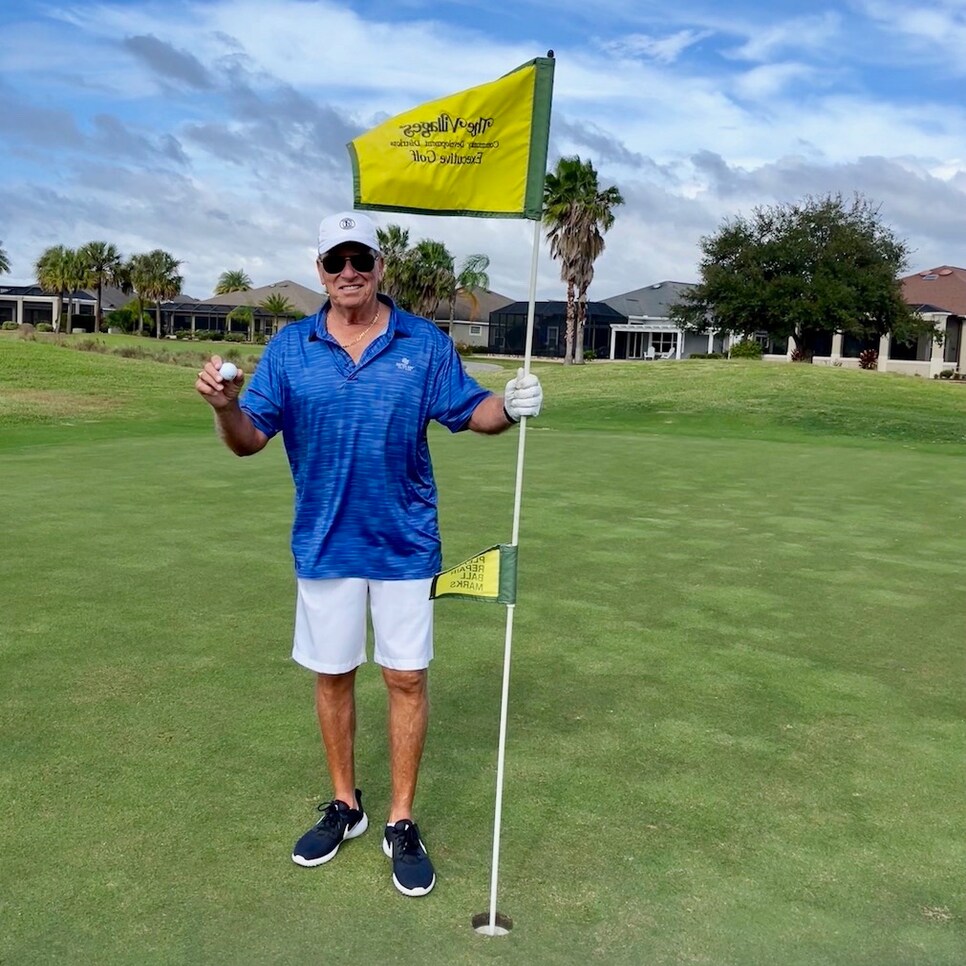 Photo from villages-news.com.
"Moore appeared to be wearing the same shoes, shorts and sunglasses as seen in the video surveillance from Glenview Country Club," the detective wrote in the affidavit of probable cause, according to Villages-News.com. The detective also noted Glenview's close proximity to Moore's home in the Village of Polo Ridge and the fact that his black Lexus RX350 was a close match to the vehicle struck by Zook on June 28.
Moore was booked at the Sumter County Detention Center on July 27 and released after posting a $30,000 bond.