News
Here's what makes Medalist such a popular hangout for Tiger Woods and other tour pros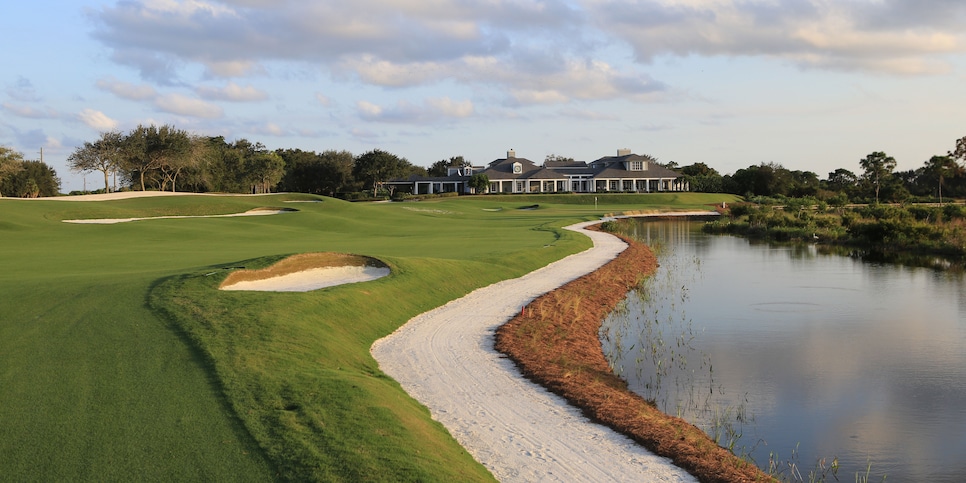 The 18th green and clubhouse at Medalist (Courtesy of Medalist).
Seminole and Medalist are separated by less than 20 miles on South Florida's east coast, linked by U.S. 1, a busy four-lane road that stretches north and south, spans the Intracoastal Waterway and speeds past low-slung strip malls, nature preserves and condo developments. But when it comes to the membership, vibe and golf course, the two enclaves are worlds apart, in almost every way.
Yes, both are golf clubs in the sense that there isn't anything else to do—Seminole has the least-used swimming pool in America, and Medalist has no pool at all. But the latter counts Tiger Woods, Rory McIlroy, Brooks Koepka, Justin Thomas, Dustin Johnson and Rickie Fowler among its members, along with dozens of other PGA Tour players. The former once denied Jack Nicklaus membership, and only two tour pros (Ray Floyd and Nick Price) have ever been extended one.
Last week, Seminole was showcased on television for the first time in the TaylorMade Driving Relief charity event. On Sunday, its Hobe Sound neighbor to the north gets its turn for just the second time. The Match: Champions for Charity will pit Tiger and Peyton Manning against Phil Mickelson and Tom Brady to raise money for COVID-19 relief efforts.
So what exactly are the differences between the two venues?
"I don't wanna say [Medalist] is tailored for PGA Tour players, but they embrace having us there and are used to having tour players around," said Patrick Cantlay, who recently traded his native Southern California for Jupe Life and is a member at Medalist as well as nearby Bear's Club. "It's got a great feel to it, and it's laid back."
To Cantlay's point, at Seminole, only lunch is served and the course has a hard close at 6 p.m. every day, no matter how many majors you've won. Ask Ernie Els, who one day was on the 15th hole with South African billionaire Johan Rupert when Rupert looked at his watch, noticed it was nearing closing time and headed toward the cart to go back to the clubhouse—just as one of the club's professionals was arriving in a cart of his own.
At Medalist, breakfast and lunch are served, there's the occasional Super Bowl party and there's now a ladder by the ninth tee. Why? According to a few loopers there, Chris Farley once fell off the tee box into the adjacent swamp and had to swim 100 feet through the water because his group couldn't pull him out.
There is some serious golf, of course, although often with a twist. On any given morning, there's a rush for early tee times at Medalist—the afternoon is for boating, fishing and drinking, after all—but there is a gregarious tone to it, with groups lined up, heckling and applauding one another as they go out.
"The halfway house is next to the first tee and is a hit before, during and after rounds," says one former caddie. "There's always a band of loud, degenerate gamblers roaming the clubhouse, and the members love when the caddies get in on the action, too.
"Most tour pros there are young and have a camaraderie among each other, but it's a place for fun, so many of them have a hard time using it to focus."
In other words, Medalist is a hangout. Michael Jordan is a member and used to be a more regular REGULAR before he created his course, The Grove XXIII, though he still comes by often enough. So does Dan Marino, who is also a member. Medalist's affable and longtime head pro, Buddy Antonopoulos, retired three years ago but is so beloved that he was made an honorary member and sometimes still gives lessons. (The club's annual member-guest now called the Buddy Cup.)
"You can relax and play there," says former PGA Tour pro Olin Browne, a longtime Medalist member and a member of its board who also played Seminole numerous times over the years with his father, who was a member there. "You don't have to worry about what you say or do."
There's a reason Tiger's yacht is named Privacy, after all. He gets plenty of it at Medalist, too. Though he's friendly to staff and fellow members, and in recent years has taken a liking to teeing it up with young stars Thomas, McIlroy and Fowler, he also has a corner of the range that is off limits to everyone else. Fifteen majors come with certain privileges. He'll often go out there solo, or with caddie Joe LaCava. Medalist also has been something of a boon to Woods through the years—there was his course-record 62 in 2011, a "worst ball" 66 before the 2015 Masters, and the round he was blowing it by Fowler in the days ahead of the 2017 Hero World Challenge and the start of his most recent comeback.
As for the course, the one time Medalist was broadcast into living rooms was in 1995 for a "Shell's Wonderful World of Golf" match that featured Greg Norman against then-No. 1 Nick Price. The most notable connection between Norman—who co-founded Medalist that year and was a co-designer (with Pete Dye)—and the club these days is an epic falling out years ago. The Shark is still a member because he's a founding member, and he shows up on the odd occasion, but the relationship is tempestuous. The course has since been redesigned, or restored, by Bobby Weed, to many players' liking.
Unlike Seminole, a seaside course that's largely wide open and short by today's standards at around 7,000 yards, Medalist is a couple of miles inland, rife with wetlands and can be stretched to nearly 7,600 yards, thanks to the addition of "Tiger tees" a few years ago that also brought its Slope Rating to 155 and Course Rating to 77.9.
"Off the tee, it's very penal," Cantlay says. "The fairways are wide, but if you get a crosswind and do hit a bad tee shot it can be a lost ball really quick. On a nice day, you won't miss many fairways, but it's visually intimidating off the tee."
"There are three or four holes where you can take the safe line off the tee, but it adds 15 to 20 yards to the hole," Cantlay said. "Tour players aren't afraid of challenging the little cheat [angles], though."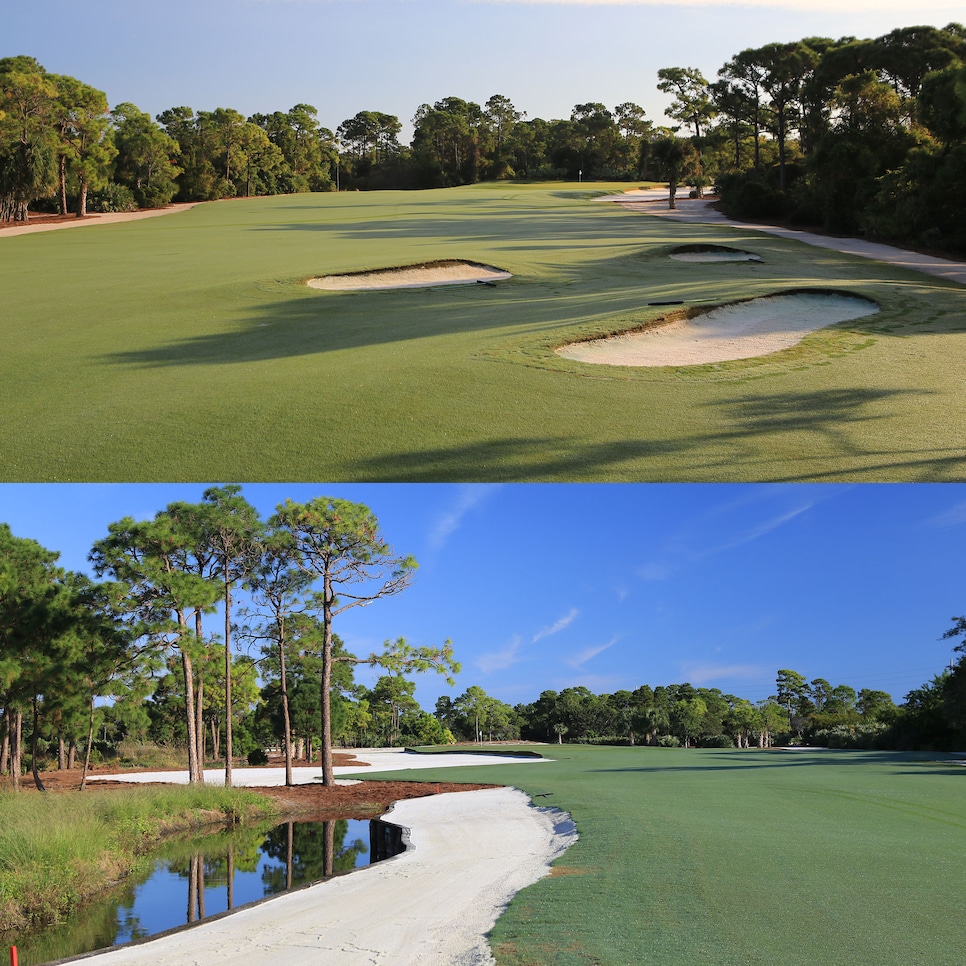 The ninth (top) and 15th holes at Medalist. (Courtesy of Medalist)
One such example is the ninth. Another is the 15th. Both are par 4s that dogleg left around sand, scrub and water, but taking on the corner, which requires a carry of around 300, shaves off as much as 50 yards from the approach. The same philosophy holds on 17, a dogleg right.
Then there's the quality of the greens. They often roll at 13 or 14 on the Stimpmeter and are kept in pristine condition.
"I play a lot of places where they look faster than they are," Cantlay said. "Medalist is one of the rare places where they're faster than they look.
"It's set up for tour golf. You have a lot of 5-, 6-, 7-irons into greens. The greens are fast. That lends itself to getting ready to go out on tour."
Not surprisingly, there's a financial element as well. In short, tour players get a break. A membership for regular folk costs $110,000; most tour pros pay only yearly dues of $14,000, with some not being required to pay anything at all. Not all clubs in the area are as forgiving—McArthur Golf Club, just two miles up the street, offers no tour-player discount.
Members at Medalist don't seem to mind. They're happy to have the pros among their ranks.
"They accept them," said former tour player and past Medalist member Marc Turnesa of the membership's attitude toward the tour pros. "They're welcomed with open arms."
For a few hours on Sunday, the rest of the world will be, too.