Payday on the Jersey Shore
Here's the prize money payout for each golfer at the 2023 ShopRite LPGA Classic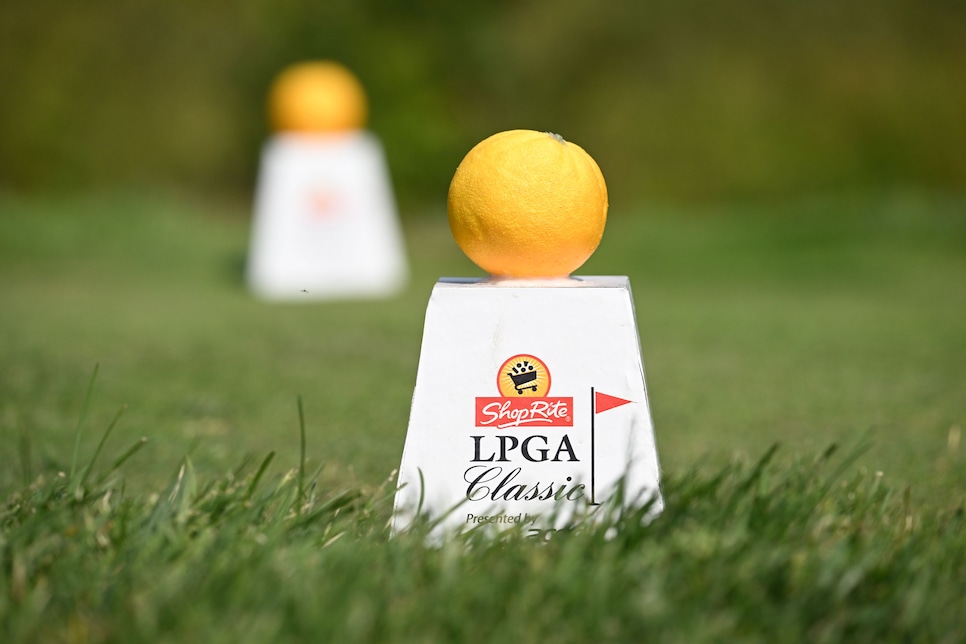 The ShopRite LPGA Classic celebrated its 35th anniversary this week at Seaview's Bay Course just outside Atlantic City, N.J. World Golf Hall of Famer Juli Inkster won the inaugural tournament in 1986, kicking off a list of notable champions in the event that included Betsy King (1987, 1995, 2001), Nancy Lopez (1989), Jane Geddes (1991), Se Ri Pak (1999), Annika Sorenstam (2002, 2005) Ai Miyazato (2010) and Karrie Webb (2013).
Other recent major winners to capture the title are Stacy Lewis (2012, 2014), Anna Nordqvist (2015, 2016) and Lexi Thompson, who counts this as her last LPGA win back in 2019.
Now, add Ashleigh Buhai to that list. Last year's AIG Women's Open champion at Muirfield claimed her second career LPGA title, charging from three back entering the final round and closing with a seven-under 65 to win by one shot over Hyo Joo Kim.
Buhai, 34, earned a first-place prize money payout of $262,500 from an overall purse of $1.75 million. Here's the prize money payout for each golfer who made the cut in the 54-hole event.
Win: Ashleigh Buhai, -14, $262,500
2: Hyo Joo Kim, -13, $161,615
3: Yan Liu, -11, $117,240
T-4: Nanna Koerstz Madsen, -10, $81,847
T-4: Dani Holmqvist, -10, $81,847
T-6: Haru Nomura, -9, $43,652
T-6: Albane Valenzuela, -9, $43,652
T-6: Soo Bin Joo, -9, $43,652
T-6: Atthaya Thitikul, -9, $43,652
T-6: Jenny Shin, -9, $43,652
T-12: Marina Alex, -8, $29,995
T-12: Chiara Noja *, -8, $29,995
14: Ayaka Furue, -7, $27,253
T-15: Marissa Steen, -6, $22,272
T-15: Lauren Stephenson, -6, $22,272
T-15: Mel Reid, -6, $22,272
T-15: Minami Katsu, -6, $22,272
T-15: Ruoning Yin, -6, $22,272
T-15: Anna Nordqvist, -6, $22,272
T-15: Brianna Do, -6, $22,272
T-22: Haeji Kang, -5, $16,624
T-22: Alexa Pano, -5, $16,624
T-22: Lindsey Weaver-Wright, -5, $16,624
T-22: Gerina Mendoza, -5, $16,624
T-22: In Kyung Kim, -5, $16,624
T-22: Mi Hyang Lee, -5, $16,624
T-22: Paula Reto, -5, $16,624
T-22: Wichanee Meechai, -5, $16,624
T-30: Yuna Nishimura, -4, $11,866
T-30: Jing Yan, -4, $11,866
T-30: Brooke M. Henderson, -4, $11,866
T-30: Jodi Ewart Shadoff, -4, $11,866
T-30: Linnea Strom, -4, $11,866
T-30: Lee-Anne Pace, -4, $11,866
T-30: Sarah Schmelzel, -4, $11,866
T-30: Georgia Hall, -4, $11,866
T-30: Matilda Castren, -4, $11,866
T-39: Allison Emrey, -3, $8,052
T-39: Jennifer Chang, -3, $8,052
T-39: Sung Hyun Park, -3, $8,052
T-39: Jasmine Suwannapura, -3, $8,052
T-39: Sei Young Kim, -3, $8,052
T-39: Jeongeun Lee5, -3, $8,052
T-39: Celine Borge, -3, $8,052
T-39: Peiyun Chien, -3, $8,052
T-39, Emily Kristine Pedersen, -3, $8,052
T-39: Lauren Hartlage, -3, $8,052
T-49: Dana Fall, -2, $6,034
T-49: Aditi Ashok, -2, $6,034
T-49: Mariah Stackhouse #, -2, $6,034
T-49: Dottie Ardina, -2, $6,034
T-54: Bailey Tardy, -1, $4,878
T-54: Annie Park, -1, $4,878
T-54: Dewi Weber, -1, $4,878
T-54: Wei-Ling Hsu, -1, $4,878
T-54: Bianca Pagdanganan, -1, $4,878
T-54: Ana Belac, -1, $4,878
T-54: Ruixin Liu, -1, $4,878
T-54: Jeongeun Lee6, -1, $4,878
T-62: Stacy Lewis, E, $4,070
T-62: Linnea Johansson, E, $4,070
T-62: Angela Stanford, E, $4,070
T-62: Gurleen Kaur, E, $4,070
T-62: Alena Sharp, E, $4,070
T-67: Samantha Wagner, +1, $3,760
T-67: Lindy Duncan, +1, $3,760
T-69: Riley Mae Rennell, +2, $3,584
T-69: Kelly Tan, +2, $3,584
71: Sophia Schubert, +5, $3,496
72: Sierra Brooks *, +6, $3,450
73: Manon De Roey, +7, $3,406