Payday in Detroit
Here's the prize money payout for each golfer at the 2023 Rocket Mortgage Classic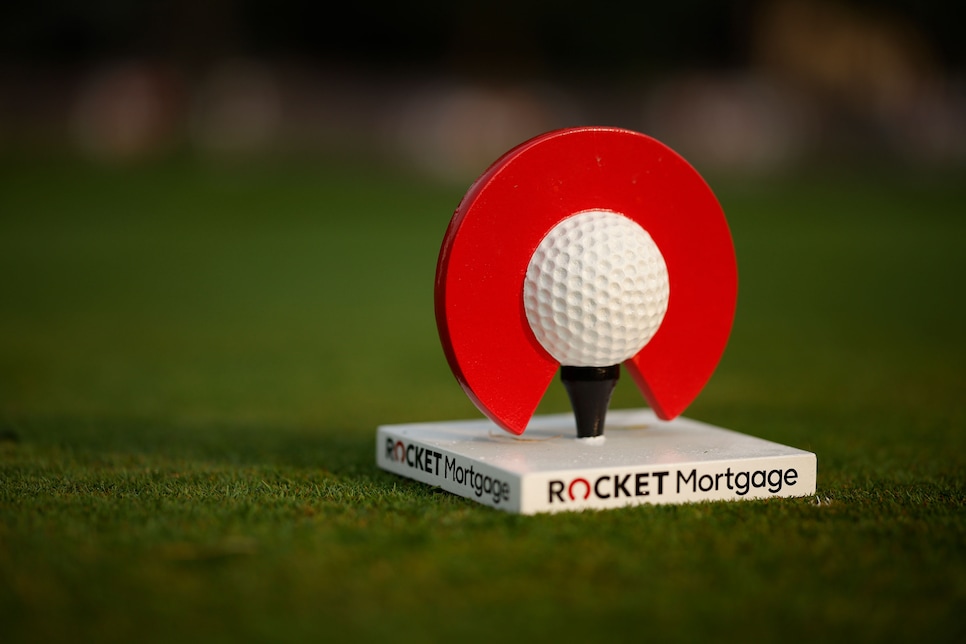 Rickie Fowler, the 54-hole leader entering Sunday at the Rocket Mortgage Classic, had been in contention enough lately that even casual golf fans knew the drill. The 34-year-old was trying to win his first PGA Tour event since the 2019 WM Phoenix Open, claim his sixth career tour title (and a $1.584 million first-place prize money payout) and put an exclamation point on a career turnaround that had seen him fall outside the top 150 in the World Ranking only to return to No. 35 entering this week at Detroit Golf Club.
The final hurdle for Fowler remained crossing the finish line on Sunday. The popular pro was leading entering the final round for the 11th time in his career but had gone on to win just twice in the previous 10 attempts, the most recent stumble occurring when he shot a closing five-over 75 at the U.S. Open two weeks ago, letting Wyndham Clark take the title as Fowler fell to T-5.
But Sunday was different, even when it didn't look like it would be. After holding the lead much of the afternoon at Detroit Golf Club only to watch Adam Hadwin and Collin Morikawa surge past him late, a birdie on the 72nd hole gave Fowler a four-under 68 to tie him with Hadwin and Morikawa at 24 under. And then a birdie from 11 feet, 10 inches on the first extra hole, the same par-4 18th, gave Fowler that win he'd been so desperately looking for, four years, four months and 29 days since his last.
"It's hard to put it all into words," said Fowler, holding his 1-year-old daughter, Maya, on the 18th green. "Obviously, a lot of good stuff this year … I knew it was just a matter of time with how I've been playing."
The overall purse at Detroit Golf Club was $8.8 million. Here are the prize money payouts for each golfer who made the cut in Detroit.
Win: Rickie Fowler, 264/-24, $1,584,000
P-2: Adam Hadwin, 264/-24, $783,200
P-2: Collin Morikawa, 264/-24, $783,200
T-4: Taylor Moore, 267/-21, $370,333.34
T-4: Lucas Glover, 267/-21, $370,333.33
T-4: Peter Kuest, 267/-21, $370,333.33
7: Adam Schenk, 268/-20, $297,000
8: Justin Lower, 269/-19, $275,000
T9: Brian Harman, 270/-18, $222,200
T9: Stephan Jaeger, 270/-18, $222,200
T9: Peter Malnati, 270/-18, $222,200
T9: Alex Noren, 270/-18, $222,200
T9: Aaron Rai, 270/-18, $222,200
Donald Ross designed two 18-hole courses at Detroit Golf Club on a tight plot of land in the middle of the city. An extensive renovation project was completed by Bruce Hepner in 2015 to restore the greens and bunkers. Most holes are framed by trees and are mostly up and back on flat land, though subtle rumbles in the land provide enough movement to offer strategic value and demanding shotmaking into these Ross greens, which average 5,150 square feet.
View Course
T-14: Chris Kirk, 271/-17, $160,600
T-14: Taylor Pendrith, 271/-17, $160,600
T-14: Carl Yuan, 271/-17, $160,600
T-17: Cam Davis, 272/-16, $129,800
T-17: Zecheng Dou, 272/-16, $129,800
T-17: Troy Merritt, 272/-16, $129,800
T-17: Chad Ramey, 272/-16, $129,800
T-21: Keegan Bradley, 273/-15, $99,586.67
T-21: Max Homa, 273/-15, $99,586.67
T-21: Nicolai Hojgaard, 273/-15, $99,586.66
T-24: MJ Daffue, 274/-14, $73,480
T-24: Sungjae Im, 274/-14, $73,480
T-24: Vincent Norrman, 274/-14, $73,480
T-24: Davis Thompson, 274/-14, $73,480
T-24: Dylan Wu, 274/-14, $73,480
T-29: Sam Bennett, 275/-13, $58,960
T-29: Chez Reavie, 275/-13, $58,960
T-29: Brett Stegmaier, 275/-13, $58,960
T-29: Callum Tarren, 275/-13, $58,960
T-33: Doug Ghim, 276/-12, $45,948.58
T-33: Ben Griffin, 276/-12, $45,948.57
T-33: Chesson Hadley, 276/-12, $45,948.57
T-33: Garrick Higgo, 276/-12, $45,948.57
T-33: Ryan Palmer, 276/-12, $45,948.57
T-33: Davis Riley, 276/-12, $45,948.57
T-33: J.J. Spaun, 276/-12, $45,948.57
T-40: Ludvig Aberg, 277/-11, $33,000
T-40: Trevor Cone, 277/-11, $33,000
T-40: Satoshi Kodaira, 277/-11, $33,000
T-40: Kelly Kraft, 277/-11, $33,000
T-40: Sam Ryder, 277/-11, $33,000
T-40: Adam Svensson, 277/-11, $33,000
T-40: Vince Whaley, 277/-11, $33,000
T-47: Tyler Duncan, 278/-10, $23,707.20
T-47: Brice Garnett, 278/-10, $23,707.20
T-47: Russell Knox, 278/-10, $23,707.20
T-47: Alex Smalley, 278/-10, $23,707.20
T-47: Kevin Tway, 278/-10, $23,707.20
T-52: Luke Donald, 279/-9, $21,076
T-52: Harry Higgs, 279/-9, $21,076
T-52: Kyle Reifers, 279/-9, $21,076
T-52: Carson Young, 279/-9, $21,076
T-56: Christiaan Bezuidenhout, 280/-8, $19,888
T-56: Ryan Gerard, 280/-8, $19,888
T-56: Nate Lashley, 280/-8, $19,888
T-56: Greyson Sigg, 280/-8, $19,888
T-56: Scott Stallings, 280/-8, $19,888
T-56: Robert Streb, 280/-8, $19,888
T-56: Brendon Todd, 280/-8, $19,888
T-56: Nick Watney, 280/-8, $19,888
T-64: Charley Hoffman, 281/-7, $18,656
T-64: Chase Johnson, 281/-7, $18,656
T-64: Andrew Landry, 281/-7, $18,656
T-64: Hank Lebioda, 281/-7, $18,656
T-64: Ryan Moore, 281/-7, $18,656
T-64: Sepp Straka, 281/-7, $18,656
T-70: Zach Johnson, 282/-6, $17,776
T-70: Martin Laird, 282/-6, $17,776
T-70: S.Y. Noh, 282/-6, $17,776
T-70: Robby Shelton, 282/-6, $17,776
T-74: Will Gordon, 283/-5, $17,072
T-74: S.H. Kim, 283/-5, $17,072
T-74: Sam Stevens, 283/-5, $17,072
T-74: Danny Willett, 283/-5, $17,072
T-78: Justin Suh, 284/-4, $16,456
T-78: Matt Wallace, 284/-4, $16,456
T-78: Kyle Westmoreland, 284/-4, $16,456
T-81: Ryan Brehm, 285/-3, $16,016
T-81: Henrik Norlander, 285/-3, $16,016
T-83: Paul Haley II, 287/-1, $15,664
T-83: Matthias Schwab, 287/-1, $15,664