Rocket Mortgage Classic
54 holes isn't enough. Rickie Fowler needs to finally convert a Sunday chance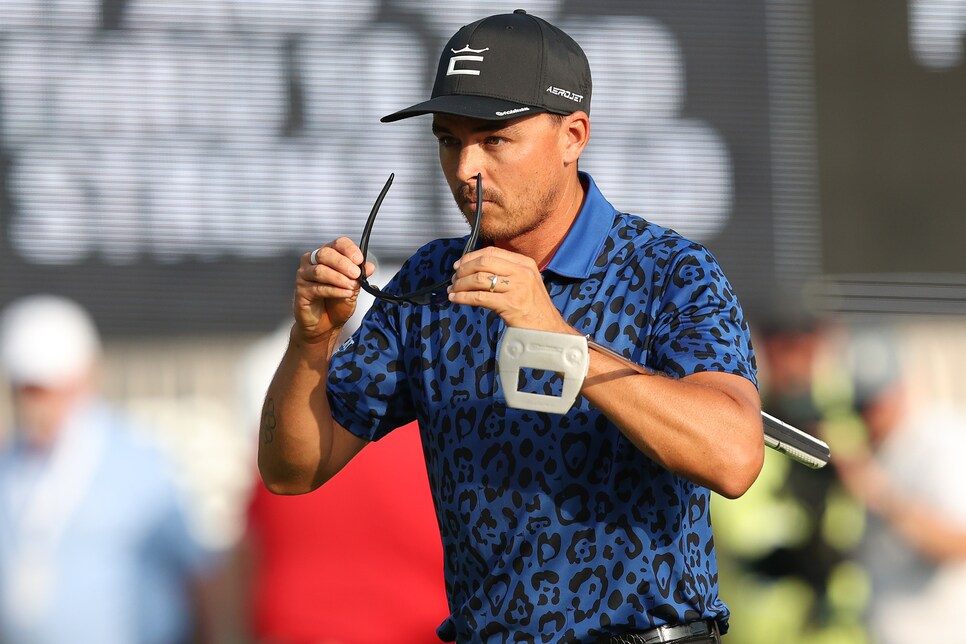 Rickie Fowler walks off the 18th hole during the third round of the Rocket Mortgage Classic.
Jorge Lemus
Ask Rickie Fowler whether he needs to win the Rocket Mortgage Classic on Sunday and his answer is a version of, "Not necessarily." He's contending regularly on the PGA Tour, and after a slump that saw him plummet to 185th in the Official World Golf Ranking, that's satisfying for right now.
But four years removed from his last PGA Tour victory, and with seven top-10s from 19 starts this season, a win at Detroit Golf Club would certainly feel good. In fact, the 54-hole leader by one can't help but visualize walking up the 72nd hole Sunday leading by three.
"I'd love to have a few-shot cushion coming down the last and a tap-in to win by a comfortable margin," Fowler said, after six birdies over the closing eight holes gave him a 64 on Saturday and a 20-under-par total. "That will be tough to do, but it would be nice."
It will be tough because there are nine players within four shots of Fowler's lead. Canadians Adam Hadwin (63, 19 under) and Taylor Pendrith (67, 18 under) are among a chasing pack that includes two-time major winner Collin Morikawa (67, 16 under).
Hadwin's bogey-free 63 was the low round on a weather-delayed Saturday. "I knew that in order to [be within a position] to win the golf tournament I had to have a round like I did today," he said. "I have a chance tomorrow and it'll be a lot of fun."
It would be especially fun for Hadwin or Pendrith, given either can become the fifth different winner from Canada this season, so close to the northern U.S. border.
Fowler said it didn't matter who was chasing on a soft Detroit G.C., where storms allowed everyone to make a loads of birdies. "I'm going to have to play well regardless," Fowler said. "There are plenty of guys right behind me so it's not going to be given to anyone."
No player on the PGA Tour this season has had more reminders than Fowler that victories aren't just given to those who play well for three rounds. Fowler and Wyndham Clark have the most 54-hole leads (three) on tour this season. But Clark has converted two of them, at the Wells Fargo and the U.S. Open, and Fowler hasn't captured any.
At the recent U.S. Open, Fowler and Clark were tied atop the leaderboard through 54 holes at Los Angeles Country Club, only for Fowler to shoot 75 while Clark shot 70 to capture his first major.
Fowler, though, contends he is putting no additional pressure on himself to earn a sixth career PGA Tour victory on Sunday.
"Whether it happens tomorrow or not, it's going to happen here soon," he said. "I'm not pressing that, hey, I need to go get it done tomorrow or it means absolutely nothing. I've been playing a lot of really good golf and been putting myself in good positions. This definitely won't be the last, but yeah, it will be fun tomorrow."
Fowler isn't tired of answering reporters' questions on Saturday nights as a tournament leader. After climbing out of a prolonged slump, the World No. 35 relishes those press conferences.
"Like I mentioned at the U.S. Open, being through these last few years, I'm not scared to fail," he said. "I've dealt with plenty of bad golf. I just need to keep trusting my swing thoughts, staying in my timing, rhythm and tempo, and go play some golf."
Due to forecasted inclement weather, final-round tee times at the Rocket Mortgage Classic will be 6:45 a.m. to 8:55 a.m. ET in threesomes off Nos. 1 and 10.