Glory years
From a few surprises to the game's most dominant force, here are the 20 best 365-day stretches on the PGA Tour in the last 20 years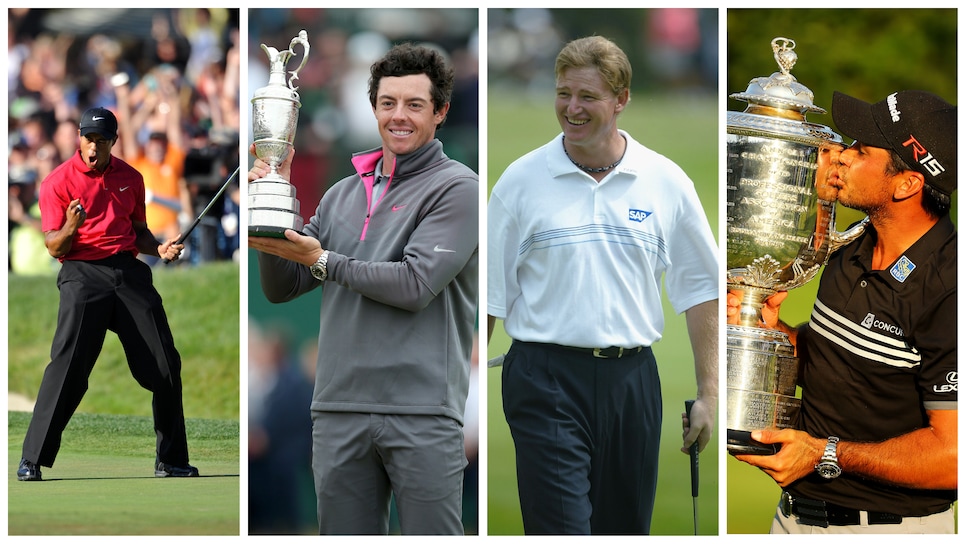 Earlier this year, recognizing that Jon Rahm just had a blistering 365-day stretch, we tried to put his success into context by comparing it to his contemporaries and looking at his strokes-gained numbers. Now, a few weeks later, we thought, why not take it a step further? What are the absolute best 365-day stretches we've seen in the last 20 years? Before we get to the list, a couple quick notes on our methodology:
♦ We set the minimum rounds number at 40 for a 365-day period. Anything less, and we felt that we'd get some statistical noise in there. Due to ambiguities with off weeks, the year-long samples can range from 51 to 53 weeks.
♦ We used a strokes-gained metric that accounts for strength of the field, as this is a more accurate measure of performance than simple strokes gained. The "usual" SG total that is reported on pgatour.com measures a player's score relative to the field. But if a round was played in the Tour Championship or other elite events with a stronger-than-average field, the value understates the player's performance compared to a player in an opposite-field event such as the Barracuda Championship.
♦ The number accompanying a player's time period is the average strokes gained within single rounds, which we use rather than total strokes gained to account for different total round numbers.
♦ In order to make sure we didn't just get 20 Tiger Woods stretches of 365 days set a week apart, the methodology found a player's best 365-day stretch, and then removed those 52 weeks from consideration. This means that while you will see some players represented multiple times, you won't see those instances overlap in dates.
♦ This is not all about wins, but about consistently great play over a full year.
20. Rory McIlroy, 2012 Honda Classic to 2012 BMW Championship: 2.74 average strokes gained per round
This one figured to make the list just by virtue of McIlroy absolutely crushing the field at Kiawah that year in the PGA Championship, and thus giving him boatloads of strokes gained. But he also won the Honda and went back-to-back at the Deutsche Bank and BMW in the FedEx Cup playoffs.
19. Retief Goosen, 2004 Memorial to 2005 Masters: 2.79 SG/round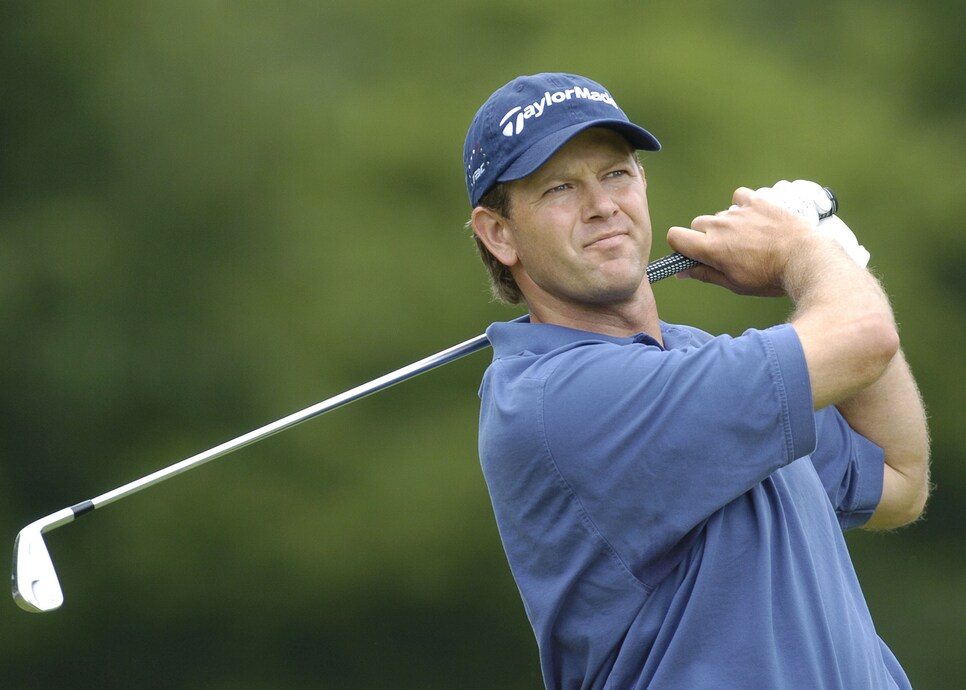 Retief Goosen competes in the final round of the 2004 Memorial.
Al Messerschmidt
This was when the Goose was truly loose and encompasses the stretch when he won his second U.S. Open and the Tour Championship. He's one of only three players on this list who didn't miss a cut in his year of dominance.
18. Jon Rahm, 2022 Mexico Open to 2023 RBC Heritage: 2.79 SG/round
This is the exact stretch we covered in the piece linked in the opening paragraph, and it's a little bit wild that this heater just barely cracks the top 20.
17. Scottie Scheffler, 2022 U.S. Open to 2023 U.S. Open: 2.82 SG/round
Spoiler: This is the first and only time Scheffler appears on this list, meaning the way he's playing now (this stretch includes his Players Championship win in March) is even better than the stretch of four wins culminating at the '22 Masters. Imagine if he could putt!
16. Justin Rose, 2018 Valspar to 2019 Farmers Insurance Open: 2.83 SG/round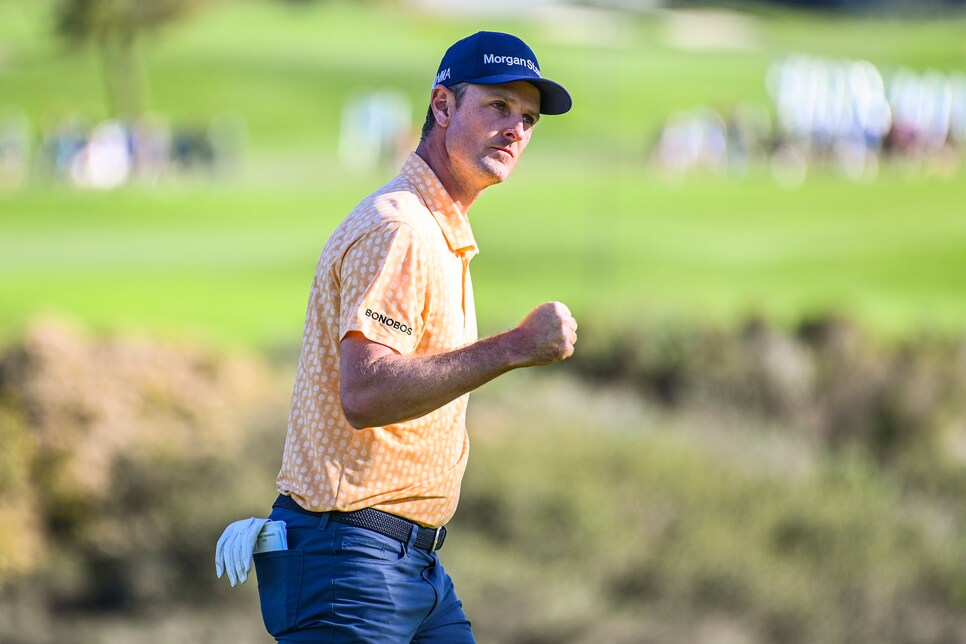 Justin Rose won the 2019 Farmers Insurance Open.
Keyur Khamar
He punctuated this stretch with a win at the last event of the 365 days, beating Adam Scott by two strokes at Torrey Pines.
15. Jordan Spieth, 2015 Pebble Beach to 2016 Hyundai Championship: 2.88 SG/round
No surprise, this includes Spieth's two major wins in the Masters and U.S. Open at Chambers Bay, along with his two near-misses at St. Andrews and Whistling Straits. Turns out that if you compete to win all four of the biggest tournaments in a given year, and bag two of them, you're probably going to rank pretty highly on a few lists.
14. Rory McIlroy, 2022 Genesis Invitational to 2022 CJ Cup: 2.86 SG/round
Interestingly, we found when researching the original Rahm piece that even in Rahm's hottest 365-day stretch, McIlroy was extremely close, and as we see here, the Northern Irishman had his own stretch where he was even better. This included three wins and top-10s in all four majors, but, of course, is defined largely by him not managing to win any of those events.
13. Vijay Singh, 2004 Memorial to 2005 Byron Nelson: 2.89 SG/round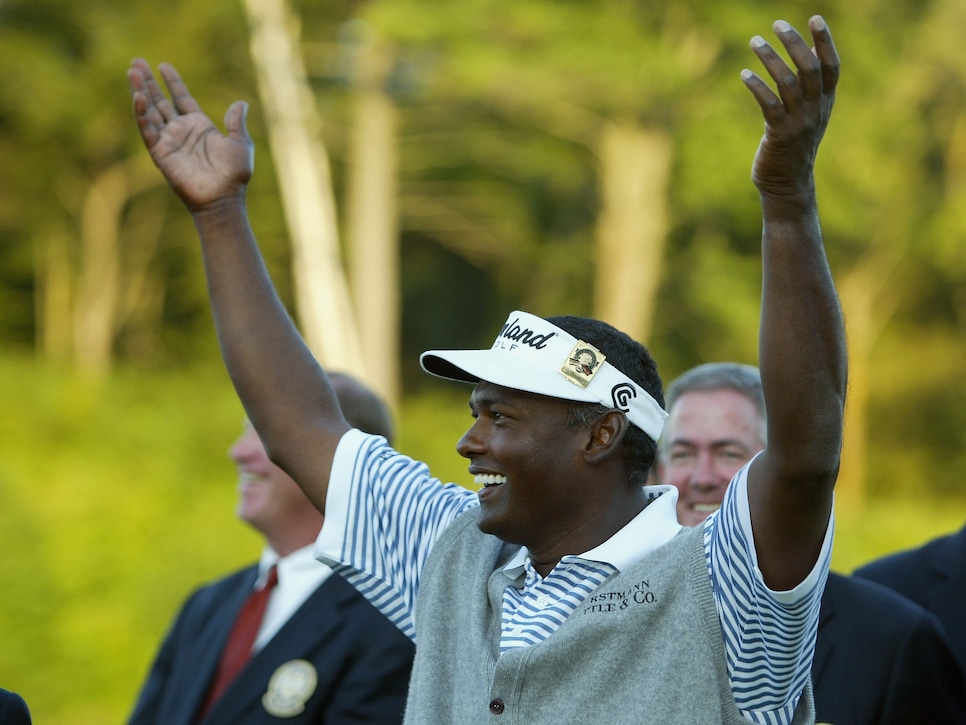 Vijay Singh celebrates winning the 2004 PGA at Whistling Straits
Harry How
This might be my favorite entry. Singh won nine times in 29 events, the most of anyone on the list. (To be fair, 29 is also the most on the list.) This included the PGA Championship at Whistling Straits and, well ... a lot of other ones, too
12. Jim Furyk, 2006 Arnold Palmer Invitational to 2007 Honda: 2.89 SG/round
He won twice, at Quail Hollow and Canada, but the consistency is awe-inspiring, and the epitome of a quality we'll call Furykian steady: 14 top-10 in 22 events, only one missed cut.
11. Jon Rahm, 2021 Players Championship to 2022 Genesis Invitational: 2.90 SG/round
Only one win here, which makes him the only player without multiple victories in the top 10, but 11 top-10 finishes in 17 starts vaulted him to the upper echelon.
10. Dustin Johnson, 2017 PGA Championship to 2018 WGC-Bridgestone: 2.92 SG/round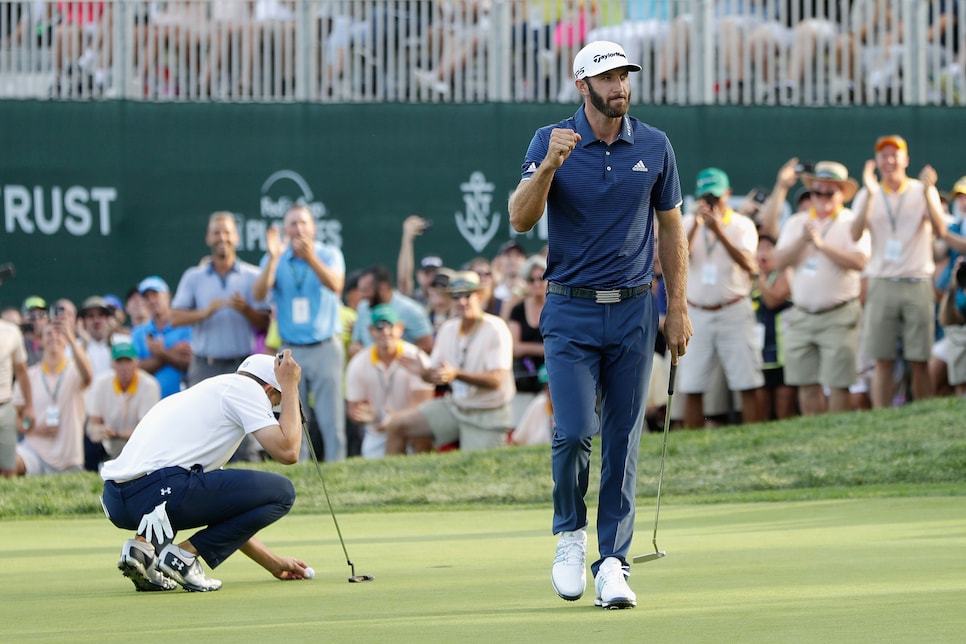 The four wins he accumulated here started at the 2017 Northern Trust, where he hit one of the most alpha-male drives in the history of alpha-male drives to beat Jordan Spieth in the playoff.
9. Jason Day, 2015 Open Championship to 2016 U.S. Open: 2.94 SG/round
One of the joys of watching the Aussie's recent return to form is remembering how good he was at his peak. This was it. Not only did he win his only major at that year's PGA Championship, but he won six times total in 20 events, with 12 top-10s and only missed one cut. It's also interesting that this overlaps with Spieth's 2015 season; that year will always be remembered primarily for what he did at the majors, but arguably Day was the better golfer.
8. Ernie Els, 2004 Masters to 2005 Players Championship: 3.00 SG/round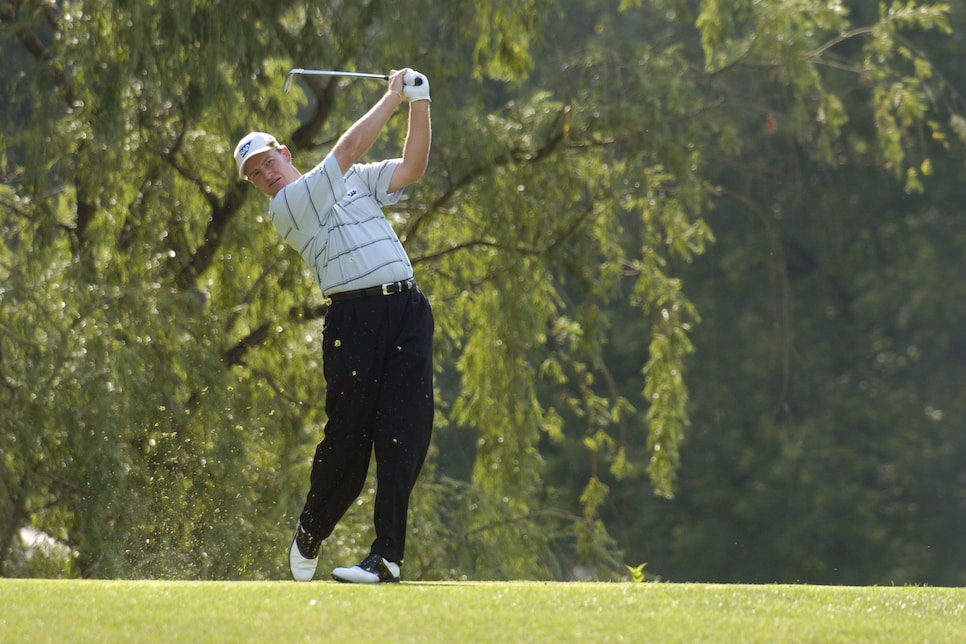 Els is our first member of the 3SG club, averaging three strokes better than his competitors for an entire year. With 12 top-10s in 16 events and wins at the Memorial and the WGC-American Express (he also won twice more in Europe, which doesn't count for this study), it's one of the underrated great years in golf.
7. Rory McIlroy, 2019 Canadian Open to 2020 Arnold Palmer Invitational: 3.15 SG/round
When you see these year-long heaters from McIlroy, it only becomes more mind-boggling that he hasn't won a major since 2014. Right?? It can be hard to remember years like this, when he won the Players, Canadian Open, Tour Championship and WGC-HSBC, and that's probably as good an indication of how much the majors overshadow everything else.
6. Tiger Woods, 2012 BMW Championship to 2013 Barclays: 3.19 SG/round
Get ready—you're about to get Tiger'ed in a big way, and this is like the rumblings before an earthquake.
5. Rory McIlroy, 2014 Open Championship to 2015 Wells Fargo: 3.22 SG/round
This was when McIlroy was king and includes his last two majors at Hoylake and Valhalla. After watching him stare down Mickelson and Fowler in Kentucky at that 2014 PGA, if you put a gun to my head and asked me if he'd have 10 career majors within a decade, I would have had a very hard time saying no.
4. Tiger Woods, 2004 WGC-NEC Invitational to 2005 PGA Championship: 3.29 SG/round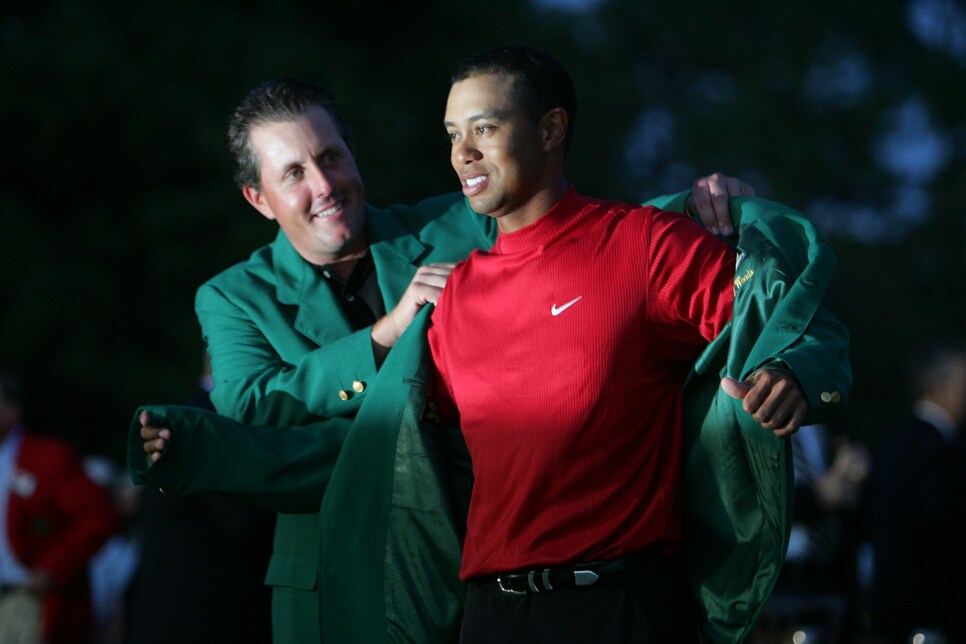 Thus ends the appearance on this list of anyone not named Tiger Woods. His four wins here included the Masters and the Open in 2005.
3. Tiger Woods, 2009 Quail Hollow to 2010 Masters: 3.70 SG/round
This stretch doesn't include a major; it does include the WGC-Bridgestone and BMW Championship. Plus, of course, there is the only time he's ever lost a 54-hole lead at a major, at the PGA Championship. It wasn't long after this particular heater that Thanksgiving rolled around and, well … you know.
2. Tiger Woods, 2006 U.S. Open to 2007 Wachovia Championship: 4.17 SG/round
In the last 20 years, there is exactly one human being who has gained an average of more than four strokes on the field for an entire year, and that man did it twice. This is the first time, and the numbers are ridiculous to behold: nine top-10s in 11 events, two major championships (Open Championship at Royal Liverpool, PGA at Medinah), and eight wins. He also missed a cut! Pour one out for the 2006 U.S. Open, where Winged Foot somehow humbled the unhumble-able man.
1. Tiger Woods, 2007 WGC-Bridgestone to 2008 U.S. Open: 4.58 SG
Here it is: The greatest one-year stretch of golf in the last 20 years, complete with major wins at Southern Hills (2007 PGA) and Torrey Pines (2008 U.S. Open). Zero missed cuts. Interestingly, although we didn't include Tiger's peak years, we can confirm that this was his best stretch ever, and that's counting the unthinkably great 2000 season. This man could really golf.
Mark Broadie is the Carson Family Professor of Business at Columbia Business School. He is the inventor of strokes gained, author of "Every Shot Counts," and the developer of the ranking algorithm used by the OWGR since August 2022.