Payday in New Jersey
Here's the prize money payout for each golfer at the 2023 LPGA Cognizant Founders Cup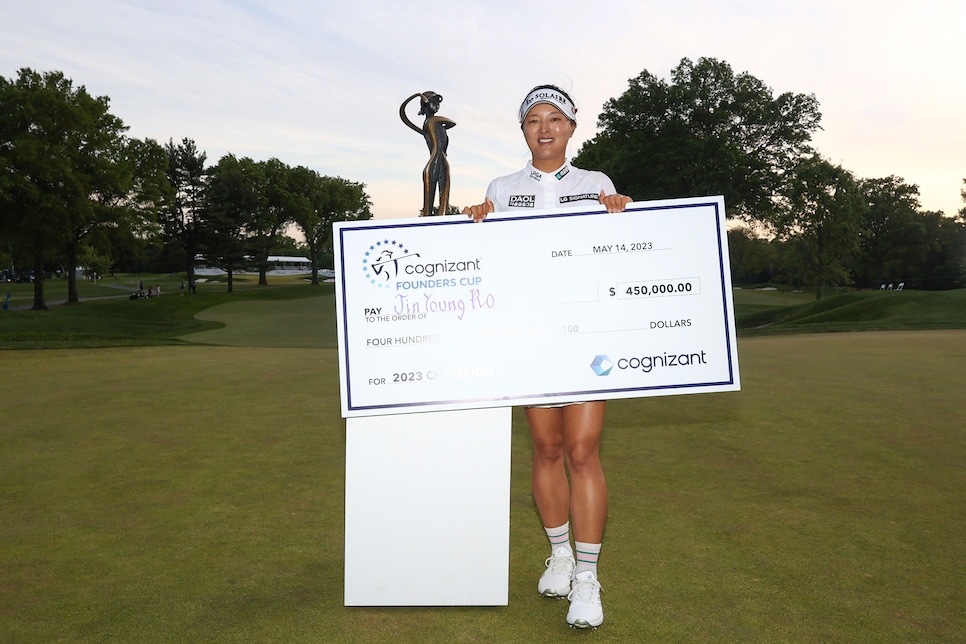 Jin Young Ko poses with the winner's check after a playoff victory at the Cognizant Founders Cup.
Mike Stobe
Aberration or turning point? That was the question regarding Jin Young Ko and her disappointing 2022 LPGA season. The 27-year-old South Korean had high expectations after winning Rolex Player of the Year honors in 2021, only to face the first true adversity in her professional career—a wrist injury that caused her to have the worst stretch of play since joining the LPGA Tour in 2018.
And now we seem to have an answer: aberration. With a closing five-under 67 at Upper Montclair Country Club in Clifton, N.J., Ko rallied to catch Minjee Lee in regulation at the Cognizant Founders Cup, then beat her on the first playoff hole with a par to record her second win of 2023 and her 15th career LPGA title.
With her win, Ko earned a first-place prize money payout of $450,000, from an overall purse of $3 million. That boosted Ko's season earnings to $970,692 and her career earnings past the $11 million ($11,334,148).
Here's the prize money payout for each golfer who made the cut at the Founders Cup.
Win: Jin Young Ko, -13, $450,000
2: Minjee Lee, -13, $282,165
3: Ashleigh Buhai, -10, $204,690
4: Hae Ran Ryu, -8, $158,344
T-5: Atthaya Thitikul, -7, $106,336
T-5: Aditi Ashok, -7, $106,336
T-5: Angel Yin, -7, $106,336
8: Nasa Hataoka, -6, $76,470
9: Cheyenne Knight, -5, $68,746
T-10: Madelene Sagstrom, -4, $58,188
T-10: Georgia Hall, -4, $58,188
T-10: Grace Kim, -4, $58,188
T-13: Ariya Jutanugarn, -3, $46,344
T-13: Hye-Jin Choi, -3, $46,344
T-13: Anna Nordqvist, -3, $46,344
T-13: Sarah Kemp, -3, $46,344
T-17: Min Lee, -2, $37,694
T-17: Albane Valenzuela, -2, $37,694
T-17: Celine Borge, -2, $37,694
T-17: Morgane Metraux, -2, $37,694
T-21: Jennifer Kupcho, -1, $32,442
T-21: Narin An, -1, $32,442
T-21: Sei Young Kim, -1, $32,442
T-21: Stacy Lewis, -1, $32,442
T-25: Mel Reid, E, $26,829
T-25: Lizette Salas, E, $26,829
T-25: Wei-Ling Hsu, E, $26,829
T-25: A Lim Kim, E, $26,829
T-25: Ryann O'Toole, E, $26,829
T-25: Lauren Coughlin, E, $26,829
T-31: Celine Boutier, +1, $20,276
T-31: Lexi Thompson, +1, $20,276
T-31: Karis Anne Davidson, +1, $20,276
T-31: Pajaree Anannarukarn, +1, $20,276
T-31: Yuna Nishimura, +1, $20,276
T-31: Alison Lee, +1, $20,276
T-31: Ruoning Yin, +1, $20,276
T-31: Stephanie Kyriacou, +1, $20,276
T-39: Gemma Dryburgh, +2, $16,066
T-39: Frida Kinhult, +2, $16,066
T-39: Samantha Wagner, +2, $16,066
T-42: Luna Sobron Galmes, +3, $12,498
T-42: Sofia Garcia, +3, $12,498
T-42: Emma Talley, +3, $12,498
T-42: Perrine Delacour, +3, $12,498
T-42: Peiyun Chien, +3, $12,498
T-42: Lydia Ko, +3, $12,498
T-42: Maria Fassi, +3, $12,498
T-42: Maddie Szeryk, +3, $12,498
T-42: Jenny Shin, +3, $12,498
T-42: Mariajo Uribe, +3, $12,498
T-52: Brittany Lincicome, +4, $9,269
T-52: Bronte Law, +4, $9,269
T-52: Pavarisa Yoktuan, +4, $9,269
T-52: Megan Khang, +4, $9,269
T-52: Lucy Li, +4, $9,269
T-52: Bailey Tardy, +4, $9,269
T-59: Yealimi Noh, +5, $7,879
T-59: Azahara Munoz, +5, $7,879
61: Ally Ewing, +6, $7,571
62: Yu-Sang Hou, +7, $7,414
T-63: Annie Park, +8, $7,184
T-63: Lauren Stephenson, +8, $7,184
65: Allisen Corpuz, +9, $6,951
66: Pauline Roussin, +10, $6,797