U.S. Women's Open
'I'm in': Annika Sorenstam accepts exemption into U.S. Women's Open at Pebble Beach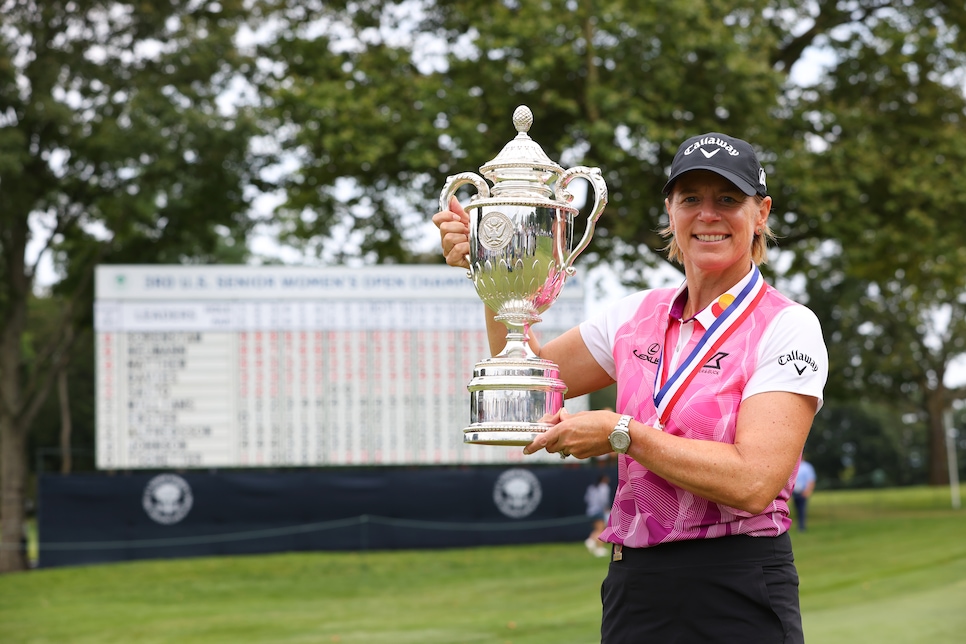 Annika Sorenstam holds the trophy after winning the 2021 U.S. Senior Women's Open in Connecticut.
Rich Schultz
Annika Sorenstam is ready to give the U.S. Women's Open another go, saying she just couldn't pass up an opportunity to play at Pebble Beach.
The 72-time LPGA winner and 10-time major champion accepted a special exemption into the Women's Open July 6-9, making it her 17th appearance in the championship. The USGA made the announcement Tuesday.
"I am incredibly grateful to the USGA for the opportunity to play in this year's U.S. Women's Open," Sorenstam said. "It is a championship that has helped to define my career, and to play in the first one at Pebble Beach, which will be a defining moment for women's golf, with my family by my side will be a week we never forget."
Sorenstam, 52, captured her first professional victory at the 1995 U.S. Women's Open in Colorado where she defeated Meg Mallon by a shot. A year later she defended her title at Pine Needles, then won again in 2006 at Newport (R.I.) Country Club, where she topped Pat Hurst in a Monday, 18-hole playoff. Sorenstam is one of four golfers in the championship's history to claim three victories. Only Betsy Rawls and Mickey Wright, both with four, have more.
Two years ago, after turning 50, Sorenstam returned to competitive golf and easily won the U.S. Senior Women's Open by eight shots. That gave her an exemption into last year's U.S. Women's Open, where she missed the cut at Pine Needles, site of her 1996 Women's Open victory. It was the first one she had played since 2008.