Payday at Tiburon
Here's the record prize money payout for each golfer at the 2023 CME Group Tour Championship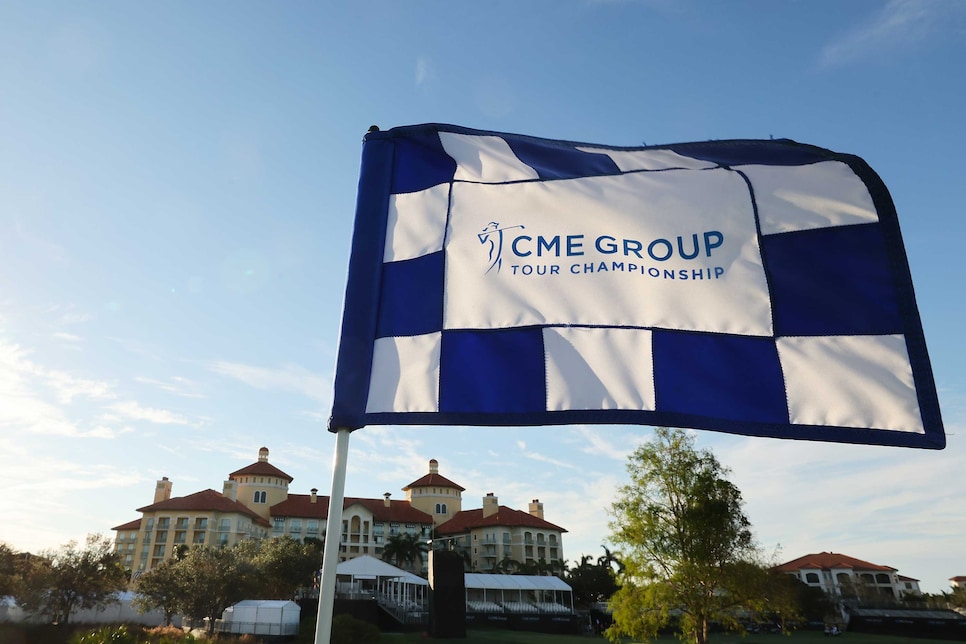 Starting next year, the field at Tiburon Golf Club in Naples, Fla., will be playing for $11 million overall, with the champion earning $4 million—the biggest winner's payday in all of women's sports. (Yes, not just golf, but all sports.) Suffice it to say. if players didn't already have an incentive to be among the top 60 in the Race to the CME points list and qualify to play in the CME before …
All that said, there was a whole lot of loot being offered this week, too. With an overall purse of $7 million, and $2 million going to the last woman standing come Sunday—34-year-old Amy Yang shooting a closing 66 to claim her fifth career win but first since 2019 and first in the United States—the LPGA's season finale was a lucrative four days for the eventual champion.
Yang, playing in her 16th year on tour, took control of the tournament in the final round when she holed out for eagle on the 13th hole, pulling away from runners-up Nasa Hataoka and Alison Lee to win by three shots.
She finished with a 27-under 262 total and became just the second player (along with Ashleigh Buhai) older than 30 to win on tour in 2023.
And if you need a reminder of just how much consider where this tournament was a few years ago. During its first year at the CME Group Titleholders in 2011, the overall purse was $1.5 million with the winner claiming $500,000. And here's how it has evolved over time:
2013: $2 million/$700,000
2017: $2.5 million/$500,000
2019: $5 million/$1.5 million
2022: $7 million/$2 million
Here's the prize money payout for every golfer in the field in this no-cut event. Come back shortly after the end of the tournament and we'll update this with individual names and prize money money.
Win: Amy Yang, -27, $2,000,000
T-2: Alison Lee, -24, $445,000
T-2: Nasa Hataoka, -24, $445,000
4: Lilia Vu, -21, $250,000
5: Atthaya Thitikul, -20, $195,000
T-6: Ruoning Yin, -19, $135,000
T-6: Xiyu Lin, -19, $135,000
T-8: Nelly Korda, -18, $98,500
T-8: Minjee Lee, -18, $98,500
T-10: Yu Liu, -17, $85,250
T-10: Carlota Ciganda, -17, $85,250
12: Brooke M. Henderson, -15, $80,000
T-13: Rose Zhang, -14, $75,000
T-13: Yuna Nishimura, -14, $75,000
T-13: Hyo Joo Kim, -14, $75,000
T-16: Celine Boutier, -13, $66,714
T-16: Madelene Sagstrom, -13, $66,714
T-16: Jasmine Suwannapura, -13, $66,714
T-16: Charley Hull, -13, $66,714
T-16: A Lim Kim, -13, $66,714
Of the public options sprinkled across Naples, Greg Norman's Tiburón courses at the Ritz-Carlton provide the best balance of quality golf and convenience, situated in the heart of North Naples. That ideal combination comes at a cost, though, as green fees can be upwards of $300. The Gold course—ranked on our Best Courses You Can Play in Florida list—features stacked sod wall bunkers and no conventional rough and is home to the LPGA's CME Group Tour Championship and the PGA Tour's QBE Shootout.
View Course
T-16: Georgia Hall, -13, $66,714
T-16: Ayaka Furue, -13, $66,714
T-23: Sei Young Kim, -12, $60,500
T-23: Hye-Jin Choi, -12, $60,500
T-23: Hannah Green, -12, $60,500
T-23: Yuka Saso, -12, $60,500
T-27: Ariya Jutanugarn, -11, $57,000
T-27: Cheyenne Knight, -11, $57,000
T-27: Patty Tavatanakit, -11, $57,000
T-30: Linn Grant, -10, $53,125
T-30: Ally Ewing, -10, $53,125
T-30: Linnea Strom, -10, $53,125
T-30: Jennifer Kupcho, -10, $53,125
T-30: Gaby Lopez, -10, $53,125
T-30: Gemma Dryburgh, -10, $53,125
T-36: Megan Khang, -9, $49,375
T-36: Hae Ran Ryu, -9, $49,375
T-36: Alexa Pano, -9, $49,375
T-36: Leona Maguire, -9, $49,375
T-40: Chanettee Wannasaen, -8, $47,000
T-40: Allisen Corpuz, -8, $47,000
T-40: Esther Henseleit, -8, $47,000
T-43: Peiyun Chien, -7, $45,750
T-43: Jenny Shin, -7, $45,750
T-45: Maja Stark, -6, $44,750
T-45: Danielle Kang, -6, $44,750
T-47: Angel Yin, -5, $43,500
T-47: Bianca Pagdanganan, -5, $43,500
T-47: Grace Kim, -5, $43,500
T-50: Aditi Ashok, -4, $42,000
T-50: Sarah Kemp, -4, $42,000
T-50: Pajaree Anannarukarn, -4, $42,000
T-50: Ashleigh Buhai, -4, $42,000
T-50: Anna Nordqvist, -4, $42,000
55: Perrine Delacour, E, $41,250
56: Elizabeth Szokol, +1, $41,000
T-57: Andrea Lee, +2, $40,625
T-57: Stephanie Kyriacou, +2, $40,625
WD: Jin Young Ko, $40,125
WD: Jodi Ewart Shadoff, $40,125