NAPLES, Fla. — Lilia Vu losing the windshield wiper off her car shortly before last year's CME Group Tour Championship punctuated a stressful 2022 season that culminating with tears of frustration on the 18th green at Tiburon Golf Club. In her return to the LPGA after winning the 2021 Symetra Player of the Year award, that she was treating golf as if it was life or death all season had worn her down.
A year later, Vu arrives at the CME on the verge of completing one of the best American LPGA seasons in the last 30 years. The No. 1 player in the Rolex Women's World Rankings is the heavy favorite over Celine Boutier to win LPGA Player of the Year honors after a four-victory breakout season. If she can close things out, the 26-year-old would become the first American to claim the award since Stacy Lewis in 2014 and only the third since Beth Daniel won in 1994—three years before Vu was born. A T-7 finish or better by Vu, or Boutier not winning the tour championship, locks up the award for Vu.
"I think it's just been wild," Vu said when asked about the difference between last year and this on Tuesday ahead of the LPGA finale. "I don't think I expected this at all. I have said this before. I came in with no expectations because last year I had too many and was too hard on myself. I'm trying to enjoy every moment and be grateful I'm out here."
Vu's journey to four wins—two of them being major championships—and a 27-point Player of the Year lead began with a promise to herself after last season's CME. Should she win an event, Vu said she would buy herself her dream car, a Mercedes G 550. Vu broke that promise and purchased it before her first start of the year at the Honda LPGA Thailand in February.
"I was like, oh, it's because I knew I was going to win," Vu said.
In April, Vu took the next step in her career by claiming the title at Chevron Championship. Winning her first career major in a playoff over Angel Yin for her first major title also led to her signing with her first sponsor. After finding herself in a slight lull, missing four consecutive cuts from late April through the U.S. Women's Open in July, Vu won the AIG Women's Open in August after recognizing once more the mindset she was taking to the course wasn't conducive to playing her best golf.
"I came into that week just soggy diapers and not feeling great about how I played at the Scottish Open," Vu said. "I think just putting a lot of pressure on myself just post Chevron, and I was just kind of on this decline, just trying to make my way back up just post U.S. Open. So I remember my team just sitting me down and saying, all we need to do is be in contention, as I said before. That was my goal that week. I don't know, just from there got into contention and then the weekend just came by and worked out really well."
In a sign of her ascending stardom after winning at Walton Heath, Vu signed with Wasserman, represented by Chris Mullhaupt and Cosette Chaput. Mullhaupt is the agent for the sisters Jessica and Nelly Korda.
The victory catapulted Vu into historic American golf company. She became the World No. 1 for the first time, joining Stacy Lewis, Nelly Korda and Christie Kerr as the only four from the U.S. to earn that spot since the rankings were created in 2006. Vu became the first American to win two majors in a year since Juli Inkster in 1999. She also won the Rolex Annika Major Award, one of two Americans to earn that honor alongside Michelle Wie West in 2014. Vu took the Player of the Year lead as well.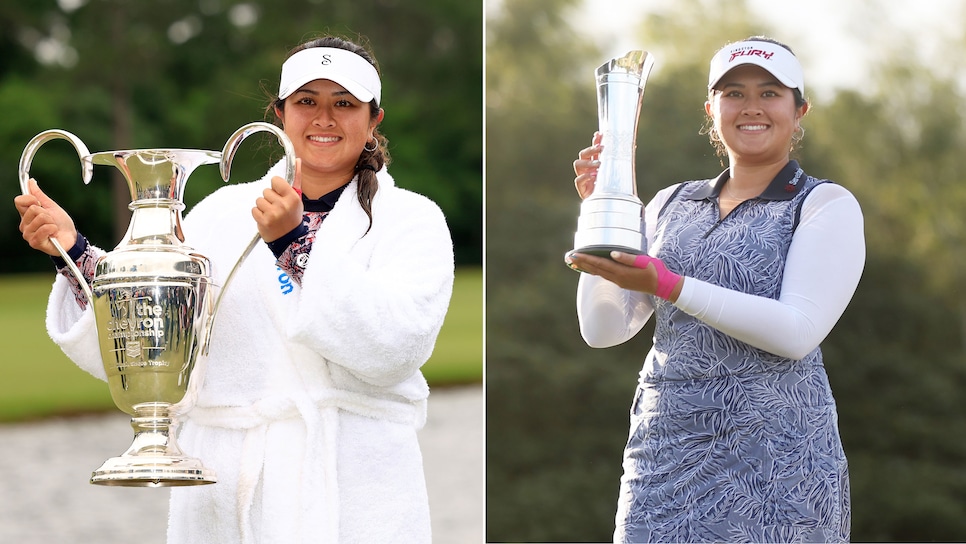 With victories at the Cheveron Championship and the AIG Women's Open, Vu became the first American to win multiple LPGA majors in one year since Juli Inkster in 1999. (Getty Images)
However, Vu explained to the media that she doesn't pay attention to the season award standings, only aware that she had won the Annika since that award concluded after the British.
"I don't really know how any of the points system works, to be honest," Vu said. "I just kind of hear and [the media] tell me."
Vu held the lead in the Player of the Year race until Boutier passed her with the Frenchwoman's fourth win of the season at the Maybank Championship in late October. That gave Boutier a three-point lead with two events remaining. While a three-point lead may seem small on paper, points are only earned for top-10 finishes. It would have taken a T-8 at last week's Annika driven by Gainbridge at Pelican to tie Boutier heading into the CME. Instead, Vu ripped the lead from Boutier by winning the Annika to reclaim a substantial points margin headed to the CME.
"I was just honestly very impressed [of Vu's win]," Boutier said. "Being able to pull it off under the circumstances and pressure, I'm like, yeah, she deserves it. We'll see what happens. Like I said, she's had such an amazing season. Even if I don't get it, I'm very happy for her. It's hard to beat four wins and two majors, so whatever happens I'll be happy."
Last week's victory gives Vu an opportunity to cement herself in the LPGA record books this week in Naples. A win at the CME, and its $2 million first-place check, would deliver not only POY honors but also allow her to crack $5.2 million in single season earnings, surpassing Lorena Ochoa's LPGA record for the most in a year ($4,364,955 in 2007).
Instead of imagining what those additional accolades could mean for her season resume, Vu is sticking to her simple, consistent week-to-week goal.
"I think if I stay to my normal trying to win I think it's just going to solve itself and it'll happen," Vu said.