Payday in Thailand
Here's the prize money payout for each golfer at the 2023 Honda LPGA Thailand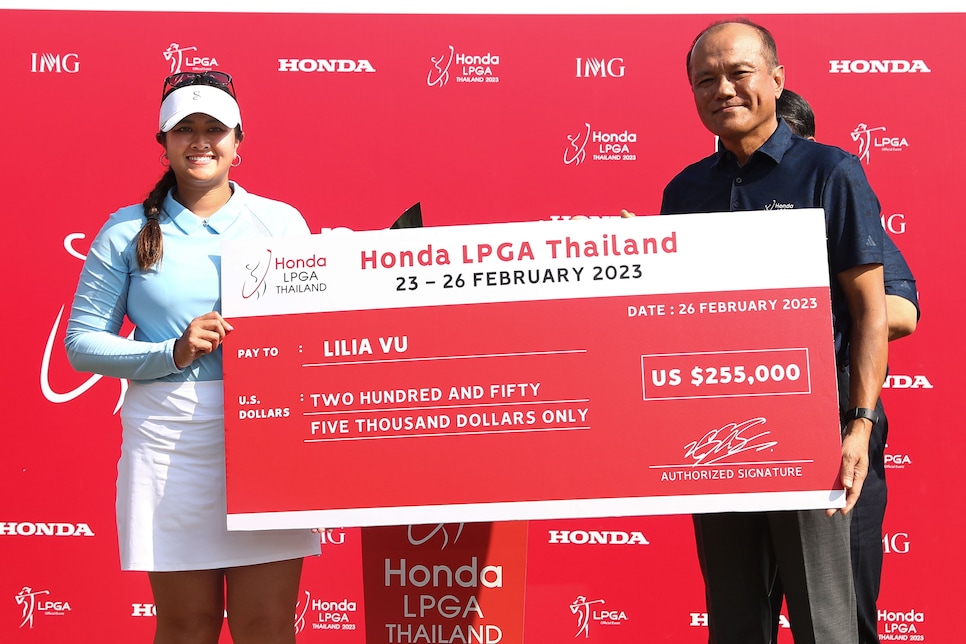 Lilia Vu claims the winner's check after shooting a bogey-free Sunday 64 to win her first LPGA title at the Honda LPGA Thailand.
Thananuwat Srirasant
A flawless final round from Lilia Vu propelled the 25-year-old to her first career LPGA title on Sunday at the Honda LPGA Thailand. With a bogey-free 64 at Siam Country Club in Chonburi, Thailand, the three-year veteran overcame a six-shot deficit entering the final round to beat LPGA rookie and local favorite Natthakritta Vongtaveelap by one stroke. Vu finished with a 22-under 266.
"Yesterday my dad told me that just one good round and I could win. That's all I kept thinking about," said Vu, whose first tour victory came after three third-place finishes in 2022. "Basically today I just blacked out and tried to birdie every single hole I could."
Vu, a former UCLA All-American and U.S. Curtis Cup team member, had previously had seven top-10 finishes on the LPGA Tour in her 33 starts. She was also a two-time winner on the Epson Tour. The victory earned Vu the $255,000 first place prize money payout from the $1.7 million overall purse and pushes her past $1 million in career earnings in just 34 professional starts.
Here's the prize money payout for the entire field in Thailand.
Win: Lilia Vu, -22, $255,000
2: Natthakritta Vongtaveelap, -21, $157,780
3: Atthaya Thitikul, -20, $114,458
T-4: Maja Stark, -17, $79,904
T-4: Celine Boutier, -17, $79,904
T-6: Jin Young Ko, -16, $47,079
T-6: Leona Maguire, -16, $47,079
T-6: Lydia Ko, -16, $47,079
T-6: Nelly Korda, -16, $47,079
T-10: Jodi Ewart Shadoff, -15, $30,510
T-10: Georgia Hall, -15, $30,510
T-10: Ashleigh Buhai, -15, $30,510
T-10: Hyo Joo Kim, -15, $30,510
T-10: Anna Nordqvist, -15, $30,510
T-15: Xiyu Janet Lin, -14, $24,360
T-15: Maria Fassi, -14, $24,360
T-17: Ryann O'Toole, -13, $21,481
T-17: Jaravee Boonchant, -13, $21,481
T-17: Cheyenne Knight, -13, $21,481
T-20: Sei Young Kim, -12, $19,177
T-20: Alison Lee, -12, $19,177
T-20: Yuka Saso, -12, $19,177
T-23: Madelene Sagstrom, -11, $16,824
T-23: Emily Kristine Pedersen, -11, $16,824
T-23: Nasa Hataoka, -11, $16,824
T-23: Charley Hull, -11, $16,824
T-27: Muni He, -10, $13,599
T-27: In Gee Chun, -10, $13,599
T-27: Eun-Hee Ji, -10, $13,599
T-27: Carlota Ciganda, -10, $13,599
T-27: Hinako Shibuno, -10, $13,599
T-27: Hye-Jin Choi, -10, $13,599
T-27: Pornanong Phatlum, -10, $13,599
T-34: Amy Yang, -9, $11,057
T-34: A Lim Kim, -9, $11,057
T-34: Saki Baba, -9, Amateur
T-34: Jenny Shin, -9, $11,057
T-38: Nanna Koerstz Madsen, -8, $9,200
T-38: Akie Iwai, -8, $9,200
T-38: Moriya Jutanugarn, -8, $9,200
T-38: Megan Khang, -8, $9,200
T-38: Linn Grant, -8, $9,200
T-38: Danielle Kang, -8, $9,200
T-44: Hannah Green, -7, $7,360
T-44: Paula Reto, -7, $7,360
T-44: Elizabeth Szokol, -7, $7,360
T-44: Brooke M. Henderson, -7, $7,360
T-44: Frida Kinhult, -7, $7,360
T-49: Mina Harigae, -5, $6,435
T-49: Ayaka Furue, -5, $6,435
T-51: Andrea Lee, -4, $5,528
T-51: Chanettee Wannasaen *, -4, $5,528
T-51: Yuting Shi, -4, $5,528
T-51: Ariya Jutanugarn, -4, $5,528
T-51: Allisen Corpuz, -4, $5,528
T-51: Gemma Dryburgh, -4, $5,528
T-51: Lizette Salas, -4, $5,528
T-58: Gaby Lopez, -3, $4,751
T-58: Sarah Schmelzel, -3, $4,751
T-60: Arpichaya Yubol, -2, $4,298
T-60: Narin An, -2, $4,298
T-60: Chisato Iwai, -2, $4,298
T-60: Jennifer Kupcho, -2, $4,298
T-64: Wichanee Meechai, -1, $3,974
T-64: Jeongeun Lee6, -1, $3,974
T-64: Matilda Castren, -1, $3,974
67: Minjee Lee, E, $3,801
68: Stacy Lewis, +1, $3,715
69: Sophia Schubert, +2, $3,627
70: Pajaree Anannarukarn, +3, $3,542
71: Chella Choi, +6, $3,456
72: Patty Tavatanakit, +8, $3,413