Payday in Hawaii
Here's the prize money payout for each golfer at the 2023 Lotte Championship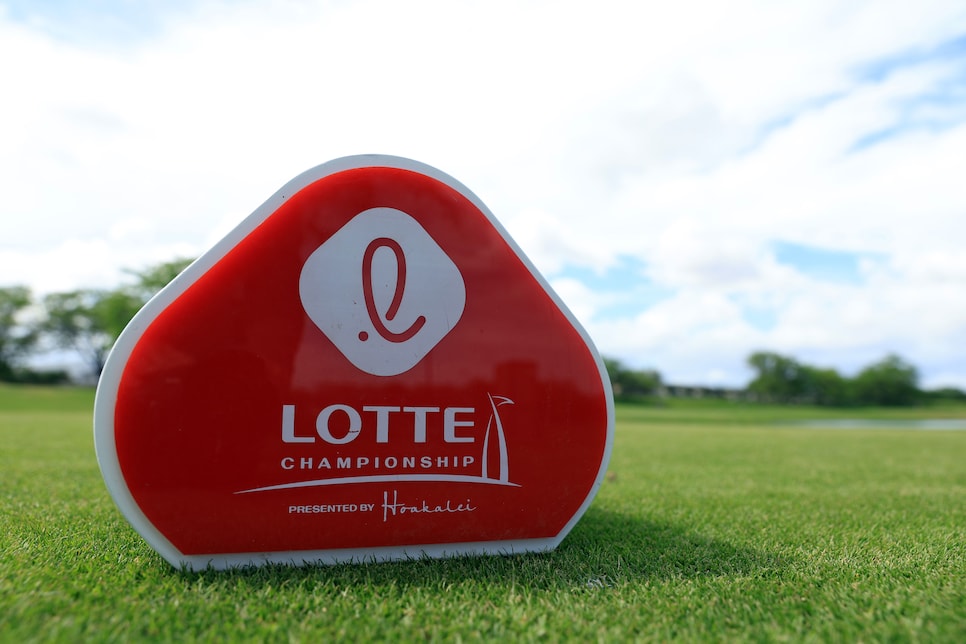 If you were looking for signs that Australia's Grace Kim was on the brink of her first career LPGA win, well, there weren't many. In her two previous starts in the 2023 season, the rookie had missed a cut and finished T-59, earning a grand total of $4,460.
That all changed Saturday night as the 22-year-old shot a closing four-under 68 at Hoakalei Golf Club outside of Honolulu—with birdies on her last two holes—to get into a three-way playoff with Yu Liu and Yu Jin Sung, then birdied the first extra hole for the victory.
There are numerous spoils of being a first-time winner: She got the last entry into the upcoming Chevron Championship, the LPGA's first major of 2023, and she jumped from 103rd to ninth in the Race to the CME Globe points standings.
And then there's the prize money payout. Kim claimed $300,000 from the $2 million overall purse.
Here's the prize money payouts for every golfer who made the cut this week in Hawaii.
Win: Grace Kim, -12, $300,000
P-2: Yu Liu, -12, $159,346
P2: Yu Jin Sung, -12, $159,346
T-4: Peiyun Chien, -11, $93,539
T-4: Linnea Strom, -11, $93,539
T-6: Natthakritta Vongtaveelap, -9, $58,483
T-6: Lauren Hartlage, -9, $58,483
T-6: Georgia Hall, -9, $58,483
T-9: Youmin Hwang, -8, $42,978
T-9: Siyun Liu, -8, $42,978
T-11: Caroline Inglis, -7, $36,656
T-11: Brooke M. Henderson, -7, $36,656
T-13: Hye-Jin Choi, -6, $31,213
T-13: Esther Henseleit, -6, $31,213
T-13: Celine Boutier, -6, $31,213
T-16: Perrine Delacour, -5, $27,000
T-16: Nasa Hataoka, -5, $27,000
18: Celine Borge, -4, $25,079
T-19: Karis Davidson, -3, $22,854
T-19: Amanda Doherty, -3, $22,854
T-19: Gabriella Then, -3, $22,854
T-19: Emma Talley, -3, $22,854
T-23: Erika Hara, -2, $18,278
T-23: Charlotte Thomas, -2, $18,278
T-23: Frida Kinhult, -2, $18,278
T-23: Ayaka Furue, -2, $18,278
T-23: Stacy Lewis, -2, $18,278
T-23: Dewi Weber, -2, $18,278
T-23: Lucy Li, -2, $18,278
T-23: Bailey Tardy, -2, $18,278
T-31: Stephanie Meadow, -1, $13,536
T-31: Aline Krauter, -1, $13,536
T-31: Mi Hyang Lee, -1, $13,536
T-31: Dana Fall, -1, $13,536
T-31: Arpichaya Yubol, -1, $13,536
T-31: Jing Yan, -1, $13,536
T-31: Christina Kim, -1, $13,536
T-38: Maria Fernanda Torres, E, $9,576
T-38: Polly Mack, E, $9,576
T-38: Marina Alex, E, $9,576
T-38: Yuna Nishimura, E, $9,576
T-38: Sarah Kemp, E, $9,576
T-38: Ryann O'Toole, E, $9,576
T-38: Stephanie Kyriacou, E, $9,576
T-38: Xiaowen Yin, E, $9,576
T-38: Lauren Stephenson, E, $9,576
T-38: Brittany Altomare, E, $9,576
T-48: Soo Bin Joo, 1, $6,708
T-48: Jennifer Song, 1, $6,708
T-48: Valery Plata, 1, $6,708
T-48: Magdalena Simmermacher, 1, $6,708
T-48: Hyo Joo Kim, 1, $6,708
T-48: Gina Kim, 1, $6,708
T-48: Sarah Schmelzel, 1, $6,708
T-48: Pauline Roussin, 1, $6,708
T-48: Pavarisa Yoktuan, 1, $6,708
T-57: Hinako Shibuno, 2, $5,360
T-57: Pernilla Lindberg, 2, $5,360
T-57: Ilhee Lee, 2, $5,360
T-57: Emily Kristine Pedersen, 2, $5,360
T-61: Amy Olson, 3, $4,804
T-61: Wei-Ling Hsu, 3, $4,804
T-61: Ines Laklalech, 3, $4,804
T-65: Hae Ran Ryu, 4, $4,500
T-65: Yaeeun Hong, 4, $4,500
T-67: Riley Rennell, 5, $4,298
T-67: Jaravee Boonchant, 5, $4,298
T-69: Jeongeun Lee5, 6, $4,062
T-69: Luna Sobron Galmes, 6, $4,062
72: Yealimi Noh, 9, $3,943
73: Cristie Kerr, 11, $3,893