Takeaways
Harry Higgs' potentially big 'bonus' week, Russell Henley's familiar (and ominous) position, and Matt Kuchar's book-reading goal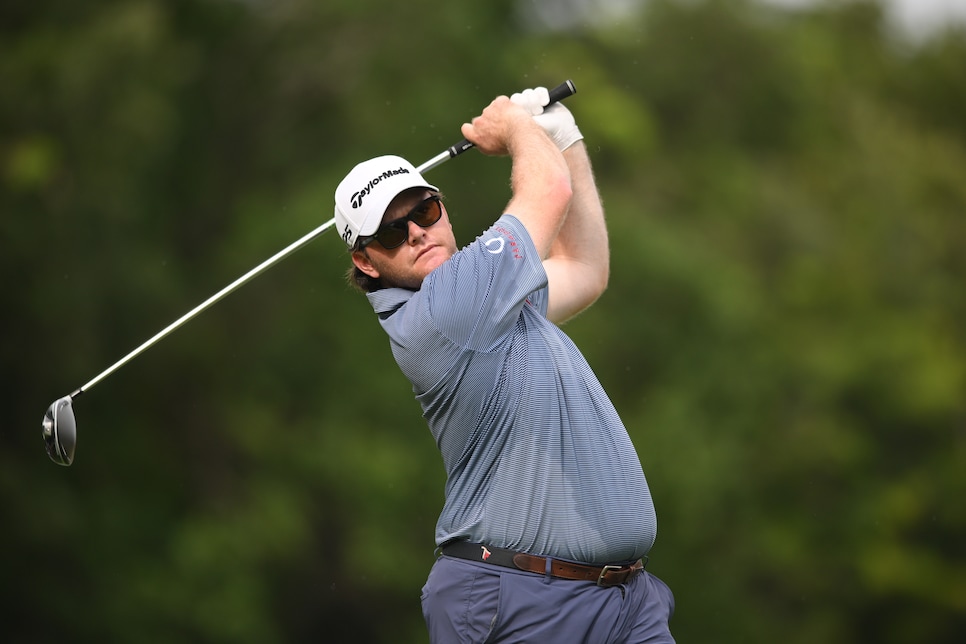 Harry Higgs plays his shot from the ninth tee during the first round of the World Wide Technology Championship.
Orlando Ramirez
There are a lot of golf fans that probably don't realize PGA Tour fan-favorite Harry Higgs isn't on the PGA Tour anymore. The affable 30-year-old lost his tour card after a tough season in which he didn't record a top-10 finish and missed 10 of his final 14 cuts following a T-14 at the Masters.
Despite his lack of status, though, Higgs is already making his fourth start of the young 2022-23 campaign thanks to sponsor exemptions and getting into events as an alternate. The fall portion of the wraparound season has its perks for some. And his latest "bonus" tournament might just wind up being the big break he needs.
Higgs shot the low round of the day on Friday at the World Wide Technology Championship at Mayakoba, a bogey-free 62 that put him in a tie for sixth entering the weekend at El Camaleon Golf Club.
"I had a very poor year by my standards and kind of fighting uphill for the entirety of this year," Higgs told reporters at Mayakoba after his round. "This week is a bonus that World Wide Technologies gave me a sponsor exemption."
So far, Higgs is certainly taking advantage of it. This is his first made cut of this season, even though it's not his first low score. He opened last week's Butterfield Bermuda Championship with a 64 before shooting a second-round 75 to miss the cut.
"I mean, all over the place," Higgs said. "Like I have had a lot of poor days and a lot of consecutive poor days, and then I've also had not as many as I would like, but I've had some days that were great where I had full control, I was making good decisions, I was kind of, as we all say, getting out of my own way."
Now that he's got making it to the weekend out of the way, Higgs hopes to keep, as he calls it, "spiraling upwards." But he knows he's got a lot of work to do—especially if he wants to get his old job back.
"It's only going to get more difficult now, right?" Higgs said. "Tomorrow, like I have a lot to—we all have a lot to play for, but I have a lot to play for."
Here are the rest of our takeaways from Friday at the World Wide Technology Championship.
Russell Henley in a familiar—and ominous—position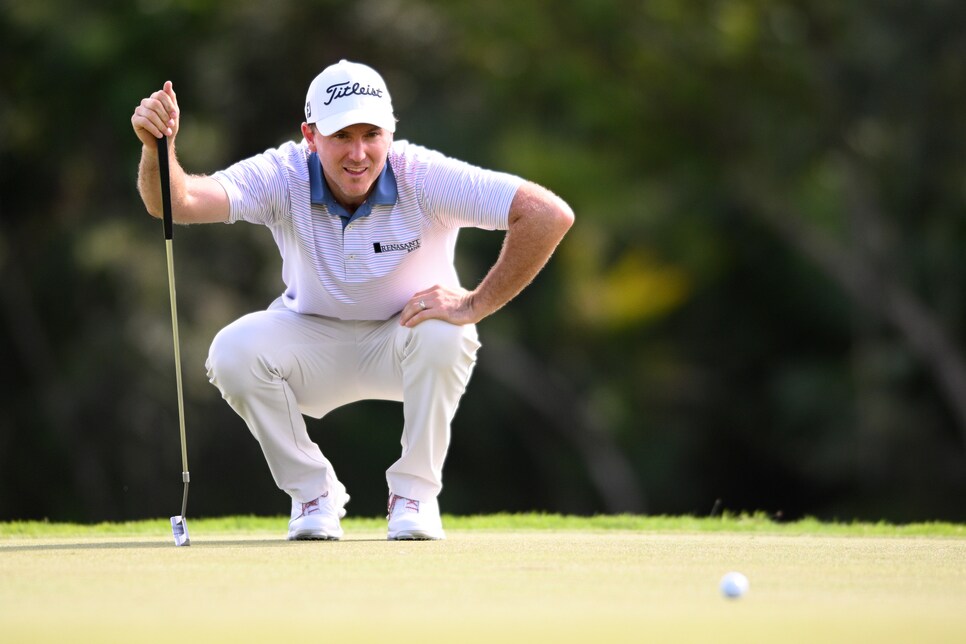 Russell Henley lines up a putt 17th hole during the second round of the World Wide Technology Championship.
Orlando Ramirez
Taking a 36-hole lead at a PGA Tour event is something every player wants. Unless that player happens to be named Russell Henley.
The University of Georgia product turned his first such lead into a win back at the 2013 Sony Open, but he's failed to convert six consecutive halfway leads, including a particularly painful playoff loss at last year's Sony Open. Now he's hoping to break that streak while ending a winless drought that dates back five-and-a-half years after taking a three-shot advantage into the weekend at 16 under par.
Wait, there's a HENLEY LEGION on Twitter? Anyway, here's what Henley had to say after.
"Yeah, I felt great the last two days," said Henley who broke Matt Kuchar's 36-hole tournament scoring record by two shots. "Mentally felt confident and believing in what I was doing. Hit a lot of fairways and had some nice par saves today that kept my round going. Obviously very happy with where I am."
OK, so obviously even Henley likes having the lead at halftime despite his rough history of halftime leads. And if he's able to keep it this time, it's going to be one heckuva weekend—especially if his beloved Bulldogs beat Tennessee on Saturday.
Sam Ryder's runaway start
Early Friday morning, Sam Ryder didn't just look like he might win his maiden PGA Tour title, he looked like he might make it a rout. The 32-year-old went out in 29 to take a five-shot lead. He cooled off with a one-over-par 36 on the back, but at 13 under he's just two behind Henley.
After, Ryder admitted to letting the big lead affect him.
"I think I'm definitely trying to just stay the course, but it's impossible to not know that, OK, I've got five shots on the field right now or, you know, it creeps in," he said. "I haven't won out here and I haven't put myself in position enough recently."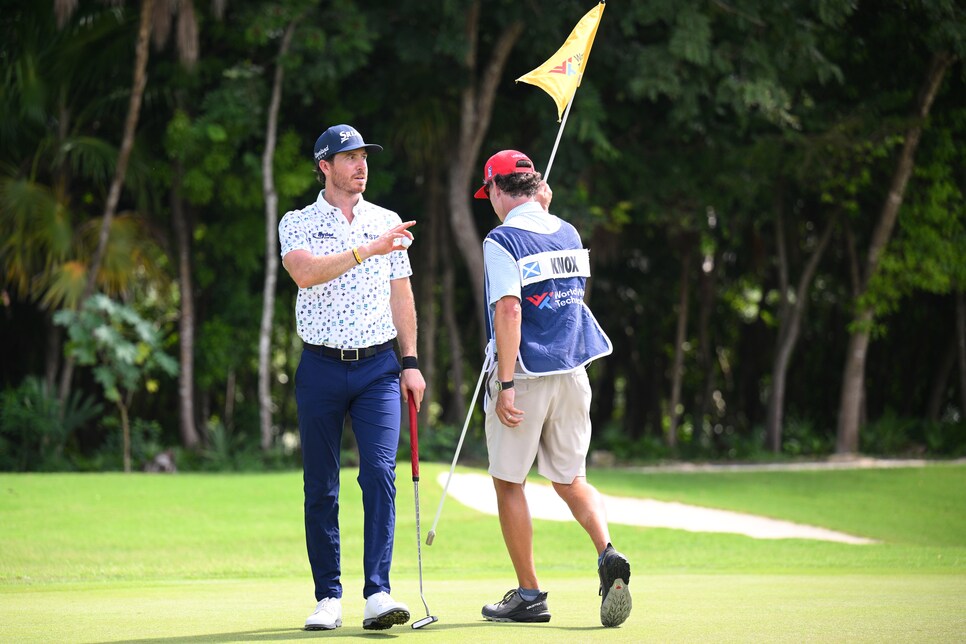 Sam Ryder talks to his caddie after finishing the round on hole 18th during the second round of the World Wide Technology Championship.
Orlando Ramirez
Ryder has six career top-three finishes, including a pair of runner-ups. But his most recent third-place finish came paired as a duo with Doc Redman at this year's Zurich New Orleans Classic. Since then he has zero top-20s in 16 starts. But he feels a continued aggressive approach should change that.
"I think once you start a place like this, the wind starts blowing, once you start kind of guiding it around and steering it out there, that's when you start to get in trouble," Ryder said. "So for me, I'm playing smart, I'm not playing reckless, but I just want to be aggressive and continue to try and make birdies."
At the very least, he certainly can't be accused of being not aggressive when it comes to shirt choices.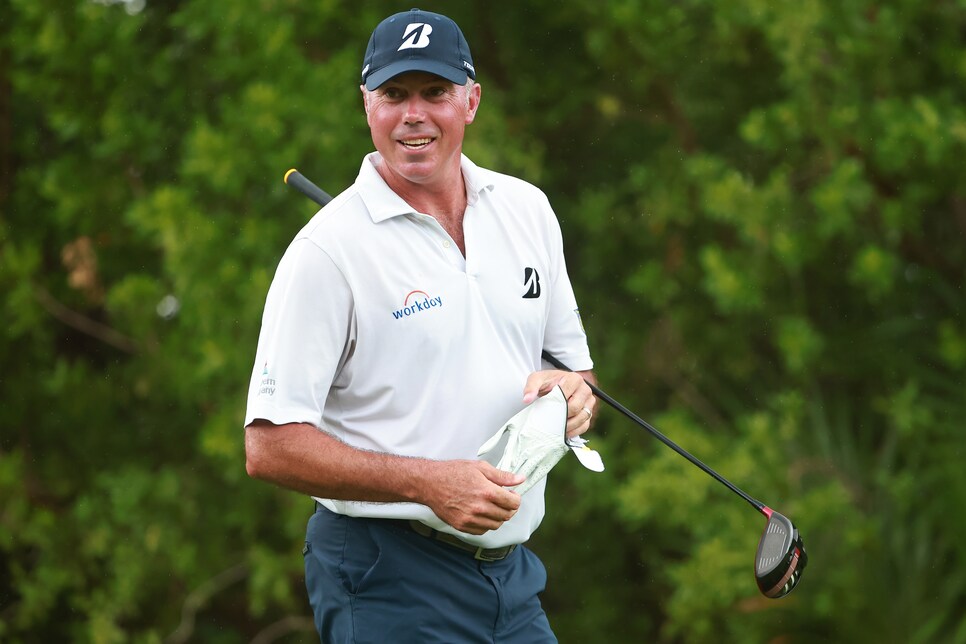 Matt Kuchar prepares to make a shot on the third hole during the first round of the World Wide Technology Championship.
Hector Vivas
When it comes to Mexico, Matt Kuchar has a terrific playing record—it's his paying record that's been suspect. Kuchar, of course, won here in 2018, then made bad headlines for how much he paid a local caddie who helped him to victory.
Considering all that's gone on since in golf—and in the world—that seems like ancient history. But his track record at El Camaleon continues to carry over following rounds of 66 and 67 that have him heading into the weekend inside the top 10. But don't expect any extra grinding over the weekend with a potential 10th PGA Tour title on the line. Especially because it sounds like he's in the middle of a real page-turner.
"No, this will be take advantage of being at a beautiful place, hang on the beach, kind of chill out," Kuchar said. "Been working on a book I'm hoping to finish this week, so I've got a couple little not-too-exciting activities, but it's a great place to kind of chill and relax a little bit."
Unfortunately, no one asked a follow-up question about what book Kuchar is reading. I'm looking for a good one myself.