Memorial Tournament
Harris English is back and recounts the agony he endured before undergoing hip surgery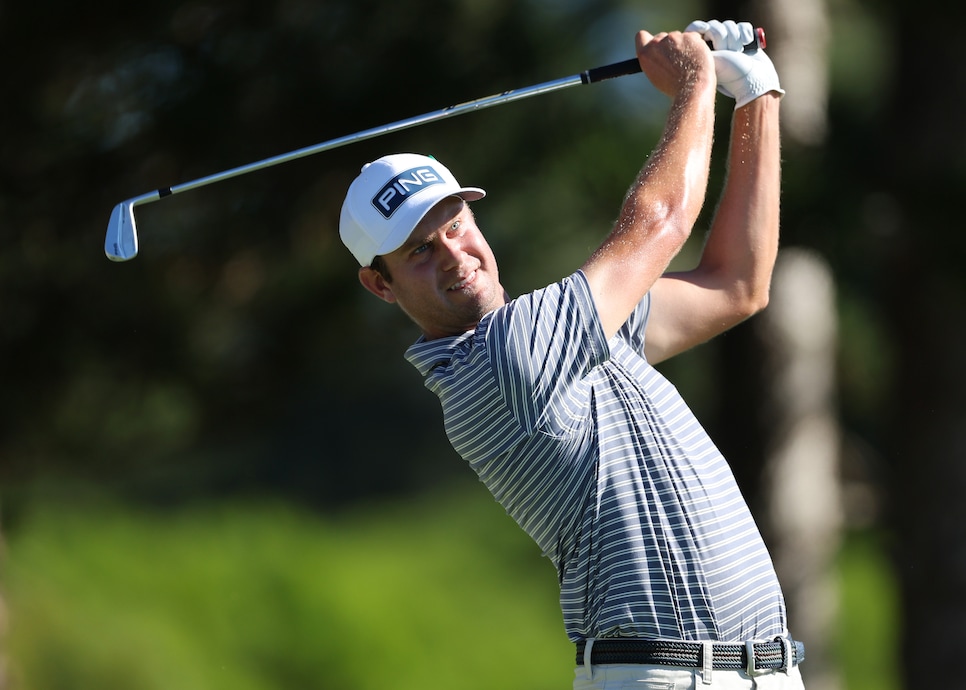 Harris English plays his shot from the second tee during the third round of the 2022 Sentry Tournament of Champions.
Gregory Shamus
DUBLIN, Ohio — Harris English received a warm welcome in his return to the PGA Tour on Tuesday at Muirfield Village Golf Club after more than four months on the sidelines. He had just arrived at the course when he was informed that he had been randomly selected for drug testing—the more thorough variety that entails drawing blood. Which means a needle. English doesn't like needles. After 20 minutes he emerged with a large band-aid taped over a cotton ball in the crook of his right arm.
"I didn't pass out," English said rather proudly with a huge grin. He was ready to go to work.
"I'm pretty tired of watching everyone on TV," he said. "I'm just can't wait anymore to go play. I love competitive golf."
English, 32, is set to compete in this week's Memorial Tournament, and he has every reason to be hungry. He went from riding the momentum of the best golf of his career to playing in his first Ryder Cup in 2021, but he's been riding the bench since the Sony Open in Hawaii after undergoing surgery to repair a torn labrum in his right hip.
Turns out that Harris was enduring almost persistent pain in the midst of a career year.
"When you're at a three or four pain level every day, that becomes your normal and you just go with it," English said. "You know what to not do in the gym. You know what shots you should not hit. You play around it. You do your physical therapy and work around it. Until one day you just can't do it anymore."
English, who won two of his four PGA Tour titles last year, propelling him to a spot on the U.S. Ryder Cup team, had been dealing with hip problems for nearly 10 years, he said. But he reached a point where he could no longer function on the golf course. After finishing T-55 at the Sony Open, English knew he needed time off. He'd felt fine at the Ryder Cup, where he went 1-2-0, but struggled at the outset of the new season with two missed cuts wrapped around a withdrawal from the CJ Cup.
He decided to rest for three weeks after back-to-back Hawaii starts, but when he showed up at the WM Phoenix Open, he knew he couldn't function. "I was going to put it off until the Tour Championship," English, ranked 26th in the world, said. "I just had three weeks at home; I should have been feeling great. That's when I knew."
English underwent surgery on Feb. 14—some kind of Valentine's Day present. He had hoped to be back for the PGA Championship at Southern Hills in Tulsa two weeks ago, but walking 18 holes still wasn't possible, so he had to withdraw. Since then, he's walked a full 18 holes five times, so he believes he is finally ready to put his body to the test at this week's Memorial. Muirfield Village isn't the easiest walk on tour, but that's part of the allure for the Georgia native.
"The hardest part," he said, "is walking and playing. You can practice at home, sure, but there's a difference between working on some stuff on the range, getting a good on the range, then going to play some holes at home and then kind of taking that next step to being ready to play tournament golf. I feel I'm close."
Actually, the hardest part was sitting at home in Sea Island, Ga. He wasn't used to that. And he didn't want to get used to it, so he is pushing things a bit to get back on the course. "I don't want to miss any more majors," he said flatly. "I want to play in the U.S. Open and the British, so I want to do whatever I can to be ready for those."
English, who will be making just his fourth start in the Memorial, not only has had to rehab his surgically repaired hip, but he also has to acclimate to a slightly different swing—one that no longer requires extra stress on his back to protect his hip. When he won last year's Travelers Championship in a record eight-hole playoff with Kramer Hickock, he was in agony as overtime progressed. "I remember telling my caddie [Eric Larson] on the seventh hole that my back was done and we need to end this thing right now."
Which English did with a birdie on the eighth extra hole.
How was it that he played so well feeling so poorly? English, in his 11th year as a pro, can only shrug. "I just got used to being in pain. I made it work."
Whatever happens this week—English has two top-20 finishes at the Memorial—isn't as important as what transpires in the succeeding weeks. Which English hopes will be nothing. He has no expectations. He's testing things out, progressing towards the year's final two majors, but also beyond that.
He's tired of sitting around when there is a career he'd like to resume. He loves the work, loves the practice, and he loves the "fraternity," as he calls the tour and being in the company of his peers.
"Yeah, I did have the best year of my career last year. It was a lot of fun and accomplished one of my main goals in making the Ryder Cup team and being a part of that, which was unbelievable," he said. "But at the same time, I knew I had to take that step back. I still want to play this game for the next 15 years. I've been playing a lot of golf over the past 20 years or so. So, it's about keeping your body healthy and playing at a high level not just now but for many years to come."