Decisions, Decisions
It sounds like Harold Varner III's wife had final say on his decision to go to LIV Golf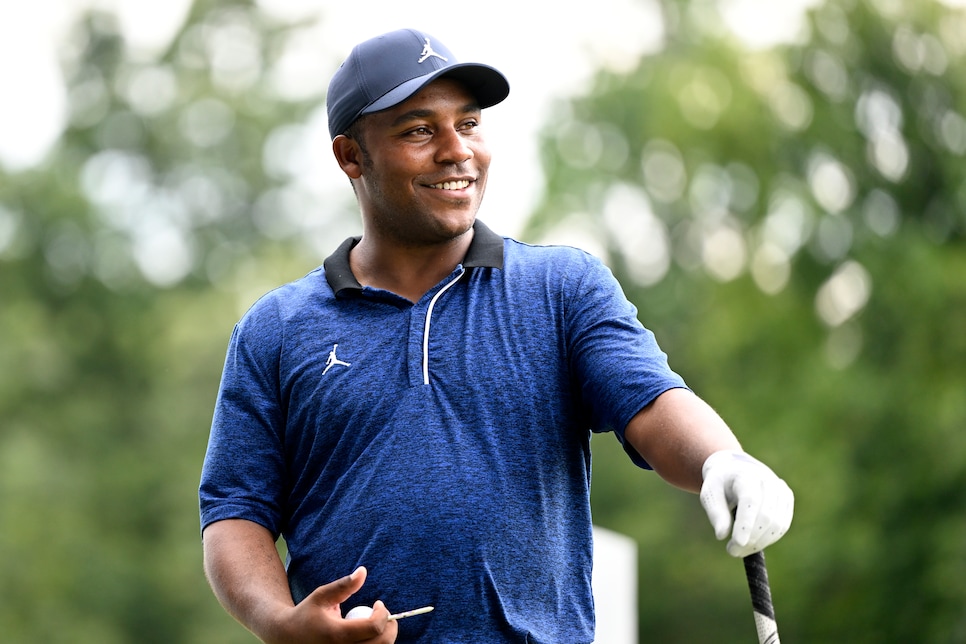 On Tuesday, Harold Varner III made the semi-shocking announcement that he'd signed with LIV Golf, a decision that undoubtedly kept him up at night (there were even reports Michael Jordan had talked him out of it). Ultimately, though, he admitted it was for financial reasons, which has earned him much more respect than some of his peers who have attempted to justify their jump to LIV for other reasons.
There was another key factor at play for Varner, however. His wife, Amanda Varner, decided to say what was on her mind as her husband went through the difficult decision-making process, which, Varner says, is not usually her style.
"I think it's very easy to get in a situation where you do what everyone else says you should do," Varner said on Wednesday in Boston, where he'll make his LIV debut this week. "I don't know, I just sat there. I think it's pretty bad when my wife is like, 'F--- everybody. Do what you want to do.' "
The comment took Varner a bit by surprise, as he explained his wife is not normally the type to offer such a stern opinion.
"And I was like, that is so cool," he said. "My wife is the most nicest person. She's like super, like, 'Oh, I don't know about this, I don't know.' And for her to say that, meant the world to me."
As Varner stated Tuesday, his decision will set up his children and his children's children with a solid financial base to begin their lives, something Varner did not have growing up in Gastonia, N.C. When framed that way, the move seems like a no-brainer, but as one reporter reminded him on Wednesday, there's a possibility Varner never tees it up in a major or a PGA Tour event again. While that may have swayed others who had dreams of wearing a green jacket, it wasn't that big of a negative for the 32-year-old.
"I mean, I went to college and I didn't even know what the U.S. Am was," said Varner. "Golf's never been a way for me to get my name on a trophy. It was a way for me to get out. I play golf so I could go to college. I would not have been able to go to college without playing golf. And then I turned pro because my brain wasn't smart enough to work 9:00 to 5:00 and still make the same amount of money. The only thing that sucks about golf sometimes is most of the people that are in golf will never understand it. My kid will never understand it; I'm going to make sure of that.
"I'm okay with it. Like it is what it is," he said. "I can't hate on what situation I'm in or what situation I'm not in. I can only do what's best for me at the time from the experience I've had as a kid and I'm actually super proud I made a decision based off of what I believe in."