News
Harold Varner III shines on Thursday and four other takeaways from Day 1 at Colonial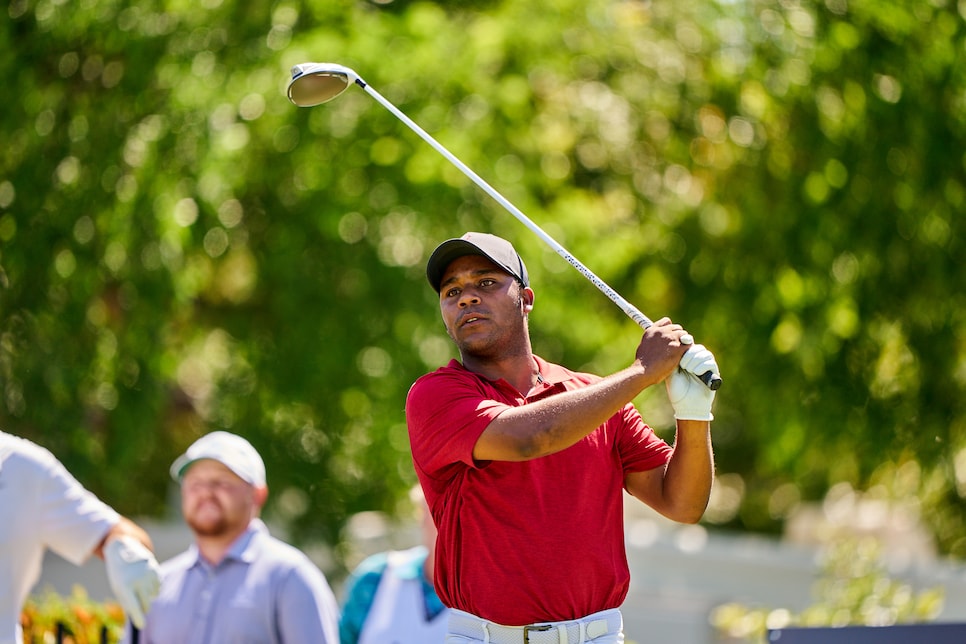 Harold Varner tied his second-best score on the PGA Tour by shooting 63 on Thursday in the Charles Schwab Challenge.
Darren Carroll for Golf Digest
You've heard it a million times already this week—"Man, this Charles Schwab Challenge sure feels like a major!" In reality, it's still the Charles Schwab Challenge. Pandemic or no pandemic, there's no claret jug, Wanamaker Trophy, U.S. Open trophy (can we give that thing a name please?) or green jacket being handed out on Sunday. Just a plaid coat and a nice $1.35 million check.
But after an exciting, albeit fan-less, day at Colonial Country Club, that whole "feels like a major" take certainly has some merit. The leader board is a who's who of world-class players, there's already an abundance of tasty storylines and, even without Tiger Woods in the field, the event has captured the attention of not only the golf world, but the entire sports world. Sounds pretty major-y if you ask us.
We figured we should treat it like one of the big four, with a good old-fashioned "takeaways" treatment. Here are five things that grabbed our attention on Thursday in Fort Worth.
Harold Varner III plays inspired, and shares some history
Make no mistake, the best story in golf this week would be Camilo Villegas winning the Korn Ferry Tour Challenge after announcing his 20-month-old daughter Mia is battling tumors (he's three off the lead after the first round). But an extremely close second would be Harold Varner III contending at Colonial. Ten days ago, Varner, who is one of just three African-Americans inside the top 200 of the Official World Golf Ranking, penned a passionate letter on the senseless killing of George Floyd in Minneapolis. Varner called for more unity and social justice and added that he believes there is a lot of beauty and love in the world.
On Thursday, Varner shot a seven-under 63, matching the second-lowest round of his career, and earned a share of the lead with Justin Rose. In the process, he made Colonial history, hitting all 18 greens in regulation in the opening round, something only Tiger Woods (1997) and Kris Blanks (2010) have done in the last 25 years, per stats guru Justin Ray.
When asked if he was playing inspired, Varner just called it another day at the office, even though he hadn't been to the office in 91 days.
"I didn't think about it out there on the golf course, I kind of got in my zone," Varner said. "I love playing golf, I've been fortunate enough to do it for a living, so when I got on the golf course I wasn't thinking about anything."
Varner has to know that a win this week, which would be his first on tour, would mean a lot to a lot of people. He's just trying not to think about it.
"If I'm thinking about winning a golf tournament right now, I've probably lost it," Varner said. "Yeah, I know what's going on [in the world], but when I'm on the golf course, I'm trying to play well. The reason I have a platform is because I'm really good at golf. I just need to focus on that, and to be honest with you, being on the golf course, it helped me. It's my getaway, I guess. But I didn't think it would be like that until I got on the first hole and I hooked one super far left and I was pissed. ... Those juices are awesome."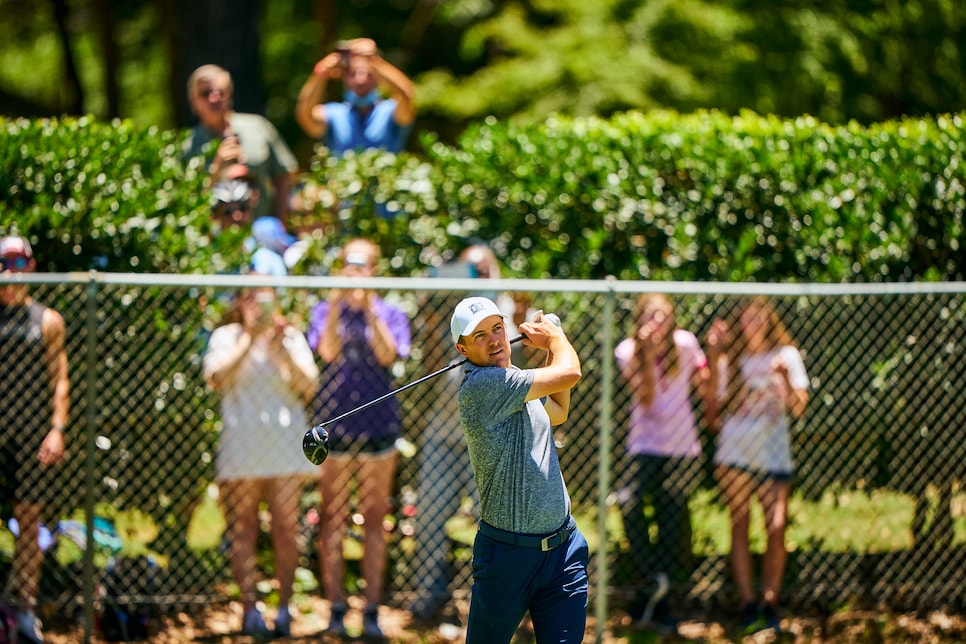 Darren Carroll for Golf Digest
Jordan Spieth from the clouds
In the gambling and daily fantasy community, Jordan Spieth got a lot of love this week. With odds of 45-to-1, he was an attractive bet, as many believed his time in quarantine could have been useful for the three-time major winner to fix whatever was plaguing him.
Yet from the start he looked exactly like he did pre-pandemic. A blocked drive at No. 1, an unlucky punch out, a poor chip for par. Just like that, he bogeyed the very gettable par 5. The struggle, for the early part of his round, remained very real.
A few hours later, Spieth had surged to the top of the leader board thanks to a back-nine 30. He finished with 65, putting him just two off the lead. Over the last year or so, we've seen this story before. Hot start, weekend fade for the golden child. Will this week be different? There are quite a few folks holding on to Spieth 45-to-1 tickets who hope it will.
The big question this week for the entire field was: How much rust will there be on Thursday? After three months of no tournament golf, surely there'd be a little. But the leader board says very different, with 77 players under par through one round. Twenty-three are four under or better, and six posted rounds of 64 or lower. These guys remain very good, even in these unprecedented times.
Justin Rose is back, Bryson DeChambeau is BIG
The two biggest storylines from the morning wave were the surprising play of Rose and the bomb-and-gouge act from Bryson DeChambeau. Rose, who was going through a Spieth-ian slump in the early portion of the season, is officially back to his old TaylorMade equipment, the clubs he reached world No. 1 with. Many are saying that was a smart move, and his first-round score of 63, which has him tied with Varner, confirms that.
As for Bryson, my esteemed colleague Joel Beall couldn't have said it much better here. DeChambeau showed up bigger and beefier than ever and was naturally mocked, because everything he does is usually worthy of mocking. Well, mock away people. Whatever he's doing is working. He bludgeoned Colonial on Thursday to the tune of a five-under 65. Gainz SZN didn't stop for COVID-19.
Like a major championship, the biggest names are going to get the most attention, and there are quite of few at Colonial who are in the mix early. But the lesser-known guys, at least among casual fans, like Abraham Ancer and Jhonattan Vegas, played some impressive golf on Thursday.
Ancer, who had a strong week at the Presidents Cup in December (minus that match against Woods), opened with a 64, as did Vegas. Later in the day, the young stud Collin Morikawa matched them. Brian Harman, Daniel Berger, Adam Hadwin, Tyler Duncan and 61-year-old Tom Lehman (!!) all shot 65s. Hell, Xander Schauffele, hardly a "forgotten man," shot a 65 and didn't even show up once on the broadcast. If Thursday is any indication, this weekend should be a fun one in Texas.